Cover photo by Emily Tidwell
_
Ski: Moment Meridian 107
Length skied: 181 cm
Actual Length (Tip-tail w/ straight tape): Hard to measure with the tip/tail shape, approx 180cm.
Measured weight (each ski): 1989g / 2046g
Shape: 137-107-127
Sidecut: 21 meters
Mount: -5cm
Binding: Pivot 15/ Cast Freetour
Days skied: 25
Review Location(s): Jackson Hole, Grand Targhee, Big Sky, Squaw Valley
Conditions skied: pow, groomers, corn, slush.
_________________
The Meridian 107 has been in the Moment line up for a few years now, it has remained unchanged in terms of rocker and sidecut since it was introduced into the lineup, originally called just the Meridian, it had a bigger brother for a short period of time called the Meridian 117. There has also been a 107 tour that was available for a while with regular tips and a lighter lay-up. One of the standouts when you first look at this ski is the funky tips. Moment has for a long time been recognizable by the square tips featured on their skis, the meridians take it a step further with symmetrical angled tips. This tape shape is purely aesthetic, it does not serve any other purpose other than to start conversations, which I have had plenty of with people in line or at the base of the mountain asking if I had two left skis on.
My pre-review impressions will be just based on visual build quality and things that I noticed while mountain and inspecting the ski. They are clearly made well, I didn't spot any visual abnormalities or voids, the finish is exceptional, the bases are flat, and there is a deep pattern through the whole base. There are a couple of odd lines on the base that I have pictured, but they shouldn't affect performance at all. I also did notice that the base was in need of wax, I'm not sure if this pair missed the hot box before going out the door but the other pair of Moment skis we have gotten this year seemed to have arrived with a perfectly waxed base. As with the other Moments I have tested, the edges were extremely sharp out of the package. I know that they do this because it is much easier to take material off to detune them than it is to sharpen an edge that is detuned too much, but if you plan on doing butters or want the ski a little looser from the get-go I would recommend a heavy tip and tail detune right out of the plastic.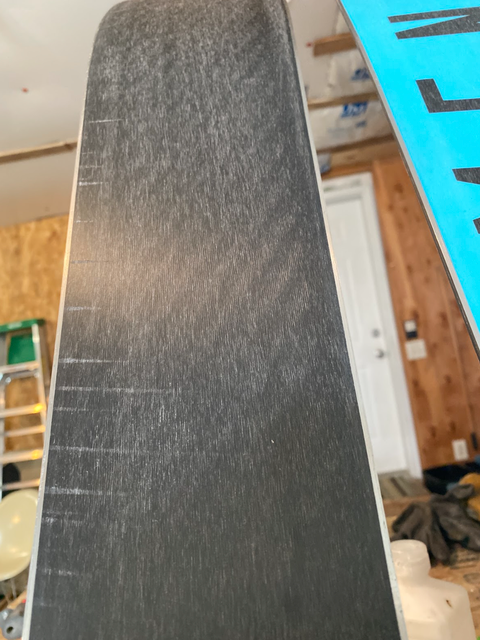 _
Shape/Flex/Construction:
Once you get past the funny tips and tails the Meridian has a pretty standard sidecut profile, there is a minimal amount of taper and a single radius sidecut of medium length at 21 meters. Where things get interesting with the Meridian is the rocker profile, it features a fully rockered profile with zero camber, the rocker is long and low but there is no flat spot underfoot. I personally love skis with this profile for all-around use, but some people, especially those who grew up racing do not enjoy the way skis like this feel. Skis without camber tend to lack energy and rebound out of turns and also sometimes lack edge bite in truly firm snow. If those are high on your priority list these skis most likely aren't for you. That said you may want to keep reading if you are looking to deviate from your standard ski choices. There have been numerous highly sought-after skis with profiles similar to these, meaning, fully rockered but a low splay compared to the fully rockered pow skis that people know of, a lot of them are no longer in production though. There aren't a lot of modern options for someone who likes the fully rockered profile, especially when looking for an all-mountain performer and not just a pure powder weapon.
The construction of this ski is pretty standard, a full sidewall with a tiny bit of semi-cap construction. The top sheet is capped over just a bit so that there isn't as sharp an edge between the sidewall and top sheet. This is done to prevent the top sheet from chipping as much, and to reduce weight slighty. The Meridian also features an aspen and ash wood core that is claimed to provide a blend of pop and damping to the ski. It features a 2.2mm edge which is standard on all Moment skis, not as wide as the 2.5mm edges used by ON3P, but wider than a lot of company's 1.6-1.8mm edges that are used to keep the weight down.
Overall the ski is very stiff throughout and doesn't change much from tip to tail, I'd rate it 8/10 in the tips, 10/10 underfoot, and 8.5/10 in the tail. There really isn't a lot of flex to make use of in these skis, this should combine well with the full rocker to provide a lot of the stability that would normally be provided by the cambered section of the ski.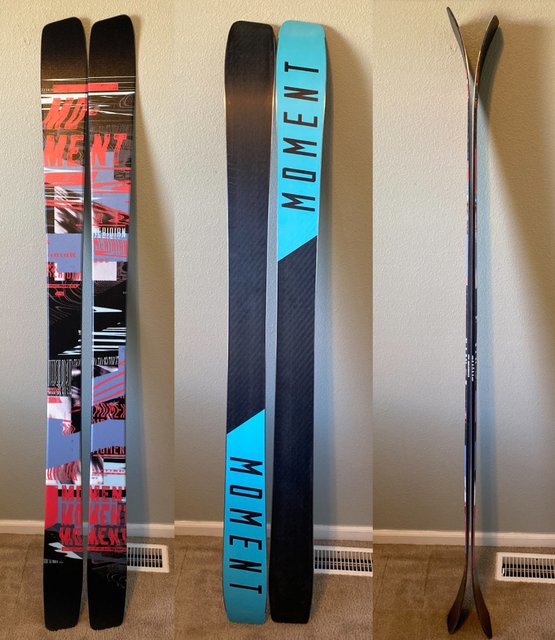 _
On-Snow Performance:
Groomed trails:
Dylan: For a ski with no camber I was very surprised how well these ripped up the fresh cord. I should add the disclaimer that I tend to ski fairly soft groomers based on where I live now (Jackson Hole), but I was excited by how well I could lean them over and arc turns. The only difference I could tell from being fully rockered is that they don't have quite the same rebound out of a hard turn, there's not as much energy bouncing you out of each turn and into the next. Otherwise, they are pretty intuitive, you lean them over, the tip engages and they go where you want them to go. It was also noticeable how easy the tails could release out of a carve into a speed slash when you need to ditch a little bit of speed.
Erica: Like Dylan, I love how well the Meridians ski groomers. Although they're not as chargey as a ski with a ton of camber, they link smooth turns, hold an engaging edge, and don't chatter at high speeds. My only complaint is on flatter terrain, mostly cat tracks, the flatness of the ski underfoot leads the skis to wander to the side which is quite common in most of the flat skis I ride.
_
Steeps:
E: The Meridians slay all over the mountain. They're easy to turn in steeper, icy, or moguled terrain thanks to their natural pivot-y feel, and also gave me confidence on airs and running out in chunder.
D: With almost zero tip taper comes a lot of effective edge, that combined with a long turn radius left me with a confident feeling on steeps where I had to rely on edge hold to keep me going where I wanted. The lack of camber takes away a little bit of bite I feel, but there is still plenty to get down all but the iciest of steep slopes. The skis stiff platform leads to a high confidence level that you aren't going to wash out, and the rocker profile makes it easy to ditch speed when things get a little too fast.
https://www.instagram.com/p/CKeV2NTAwDC/?igshid=jnzhqfuov32r
_
Powder/Float:
D: For a ski of this waist the Meridian does just fine in pow, there are skis of similar waists with more tip rocker or softer tips or both that will float better, but at the same time there are a number of similar waist width skis that float worse. Overall the Meridian is about average for its waist width in terms of float. I'd be perfectly happy on it in anything under around 8-10 inches of snow, of course, they can ski deeper snow but past that I would prefer to be on something a little wider. Moment does make a ski called the Chipotle Banana that is very similar but 122 underfoot, I can't speak to how it skis because I've never used it, but if powder performance is top priority I would look there instead of the Meridian.
E: Dylan isn't wrong that on a way deeper day a wider ski is nice, but if you're going on a trip and you don't know what the snow is going to be like, or you get hit with a sleeper pow day, the Meridian floats surprisingly well for a 107 waist ski. I did experience one tip dive to front tomahawk in really deep snow. But I took the ski out on a very deep day of blower pow at Jackson Hole and they performed/floated extremely well and I had no tip diving issues.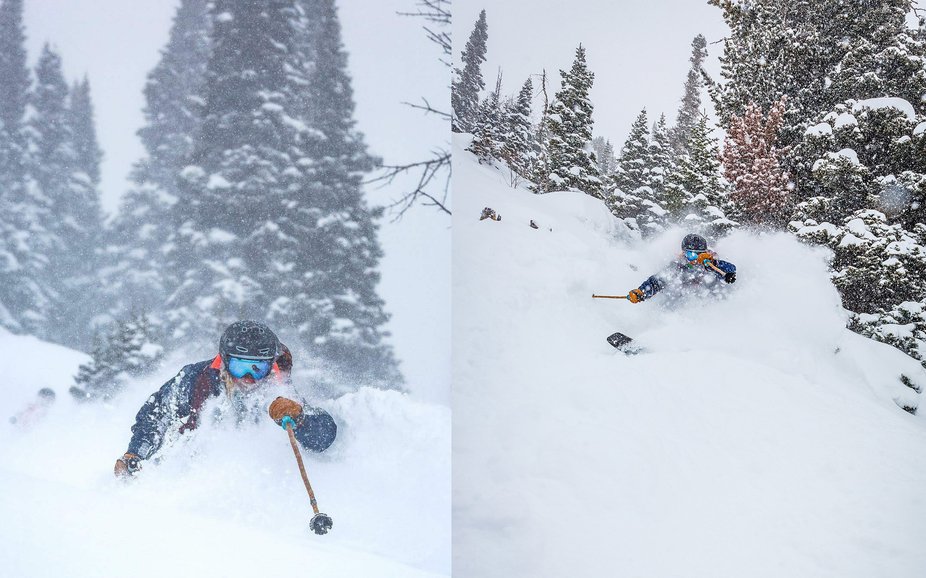 Pow! Photos by Emily Tidwell
_
Mixed conditions (Crud/Slush/Ice):
Soft crud: A stiff ski with almost no taper adds up to a ski that can blast through softer chop. I didn't notice any catching and the tips had plenty of heft and stiffness to explode anything relatively soft.
Hard/refrozen crud: This is where the Meridian haltered a little, and maybe I've just spent enough time on some seriously damp and heavy skis, but I think the Meridian could use some more damping to up its hard snow crushing ability, of course, this would come with added weight that would most likely take away from some of the playfulness.
_
Park/Playfulness:
D: These skis have an amazing blend of playfulness and stability, they aren't playful in the way that a softer ski is in that you are encouraged to do presses and butters everywhere, it more playful in the way that it is willing to do any kind of turn shape you desire and it is extremely easy to break out of a carve into sideways slarve and roll it back on edge into a carve. This ski is pretty hard to do good butters on, it's pretty stiff and hard to get the tip to flex, it is easy to do more shallow butters where you are really just rolling onto the rockered portion of the tips but not really flexing them. In terms of park use, I've only hit jumps on them, but the swing weight is pretty light, I had no issues doing any of my standard tricks, which really only means spins up to 5 and sometimes 7. The skis are stiff and easy to land on if you're on top of them, if you land too backseat you might get punished with some shin-bang since the tails are pretty stiff, but you sure won't be wheelieing out of landings at all, that tail will put you right back into the front seat.
https://www.instagram.com/reel/CJ_dZuGgN3p/?igshid=1kakq3dhlw9ka
E: Echoing what Dylan said here! The Meridians are playful but not in the sense of a 'jibby/playful' park ski, and more of the sense that they're easy to maneuver around and make the mountain your playground. I love being able to quickly dip into different zones all over the mountain or find little side hits, and the Meridian does great for just that.
_
Durability:
We have hit quite a few rocks between early season at Targhee and a trip to Big Sky, so far we have managed to get some base damage but nothing serious or more damage than expected based on the hit, they are obviously built well and have the durability one would expect from the more boutique companies. Nothing has caused a gash all the way to the core that would require ptex or a base weld.
_
Comparisons:
Meridian 107 181cm vs. 2019 4frnt Devastator 184cm:
The Meridian is significantly lighter than the now old version of the Devastator. The Devastator shared a lot of similarities with the Meridian, they are both fully rockered and have minimal taper. The Devs have a more pronounced rocker profile and even less taper than the meridians do. The Meridians are more jib-friendly, float a little better, and have a bigger sweet spot. The Dev does better in both soft and hard chopped snow, but didn't float well at all, additionally sometimes to me it seemed that the Dev had a small sweet spot and I found myself kind of rocking horsing back and forth from the front of the ski to the back, most likely from the more pronounced rocker profile. Disclaimer: the Devastator has now been revised to be lighter as well as have a different rocker profile, I have not spent time on the new one but these changes seem like they would bring these two skis closer together.
Meridian 107 181cm vs. Rossignol Sickle 186cm (measures about 182):
These skis are again very similar, but the Sickle stopped production in 2013 and has a cult-like following. I had a pair of the 2013 versions in 171 back on the East Coast and that was the first skis that I started skiing well on so they always have a soft spot in my heart. I now have a pair of 2012 models in a 186 that I don't think I will ever sell. The Sickle's rocker profile is flatter than the Meridians, but it is slightly wider at 111mm underfoot. The Sickle is also heavier and has rubber tip and tail spacers that were common on Rossis of this era. The comparison here is pretty similar to the devastator, the Sickle does better in variable snow due to being heavier and having a more damp smooth ride, which I like to think is assisted by the rubber tip and tail spacers. In contrast, I actually think the Meridian floats better despite being narrower, and also doesn't have the horribly slow base that the sickle has. I also don't experience the rocking horse effect on either ski, most likely because they both have a larger flat spot underfoot than the Devastator.
Meridian 107 181cm vs. Wildcat 101 184cm:
Unlike the other comparison skis, the Wildcat has camber. These two skis are what we have been using when there isn't a lot of fresh snow on the ground and we have been swapping on and off pretty frequently between them. The Meridian feels looser overall, but also stiffer throughout the whole ski, I found it more comfortable in soft chop and at speed, and also found float to be about the same between them. The Wildcat is more playful in the sense that it can do more butters and jibs, but gives up some of the high-speed abilities of the Meridian.
Meridian 107 181cm vs. Blizzard Cochise 185cm (2013/14):
This is another comparison that only some people will know or care about. This is the second year of the Cochise, but was unchanged from the first year, this ski is also fully rockered with the first generation of Blizzards flipcore technology, the rocker profile between these two skis is actually pretty similar, but the Meridian has a twin tail added. This Cochise isn't the same dad carving ski as the one currently produced, this old one was actually a fun freeride ski. It features two sheets of metal and the full rocker makes it a much looser ski. The Cochise provides a smoother ride in choppy snow than the Meridian which shouldn't come as a surprise since the Cochise is about 250 grams heavier per ski and has a significant amount of metal in them. The Meridian takes the upper hand on groomers where the slightly tighter turn radius feels more lively. The Meridian is also more playful as well as floats better which shouldn't come as any surprise to anyone who's ridden these skis.
_
Conclusion:
If I had to describe the Meridian in one word it would be nimble. It has a crazy ability to move side to side almost effortlessly, but still be stable enough front to back to charge pretty hard. The Meridian is for someone who wants a one (or maybe two) ski quiver that can ski harder charging lines, carve groomers, and float on most powder days.
This season will be the last season of the Meridian, though there will be limited stock of the tour version in the future. That means this is your last chance to grab a pair of the full-fat version of this ski.