Ski: Faction Candide 1.0 2021
Reviewer height/weight: 6'1" / 160lbs
Ski weights: 2084g/2074g
Length skied: 178cm
Actual length (with straight tape): 175.8cm
Dimensions: 122-92-120
Radius: 18m
Mounted: True Centre
Bindings: Tyrolia Attack 13
Locations: Val D'Isere/Tignes, Cairngorm, Les Deux Alps
Conditions skied: Park, Summer Park, Slush, Groomers, Hardpack, Crud, Scottish
Days Skied: 10
_
Cover Photo: Max Allcock (@maxpower8916)
Intro
The Candide series has been a staple of the Faction lineup for years. This year's Candide 1.0 has had a complete redesign to make it an out-and-out, balls-to-the-wall park ski. Though the 1.0 is no longer the fully symmetrical shape of last year, it now features the Candide Thovex Signature Shape, slightly directional but still very much jib oriented. Titanal and rubber have been added to beef up the construction and make a stiff, chargy, supposedly bomb proof set of sticks for hardened park riders. Leaving the Prodigy series as the option for more playfulness and with more all-mountain rocker in similar widths.
Other changes to the 1.0 include; a change in turn radius – up to 18m from last year's 17m – a tweak to the lengths; the 19/20 1.0 came in 164, 170, 176 and 182 and the 20/21 line includes a shorter 158 alongside similar lengths to last year's iteration (165, 172, 178, 183). These changes in length don't look like a lot on paper, but lengthening the top end of the line a little and adding in a 158 gives these skis a much broader appeal to skiers of all sizes. Even as someone who almost exclusively skis 180+, I found the 178 to be plenty long enough with its minimal taper, early rise and stiffness. This means that the 183 will do very well for taller/heavier skiers than myself, the 6' 4" giant that is A Hall for example.
_
Shape/Flex/Construction
The first thing I think any of us do when we pick up a set of skis is hand flex them to test the poppiness and assess the difference in flex across the ski. The 1.0s are stupidly stiff in hand, they take some serious force to get them bending at all. But this means they rebound like crazy! These skis are full sidecut and nearly full camber except for a tiny bit of early rise in the tip and tail. Full sidewall, a Titinal plate underfoot and rubber in the tips and tails combined with the uber stiff in-hand flex make these skis feel very solid, durable and able to charge. This year's 2.0 and CT ladies' skis also have these new features.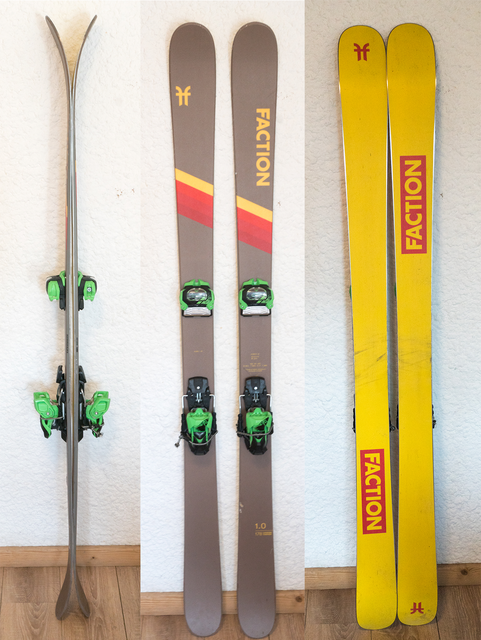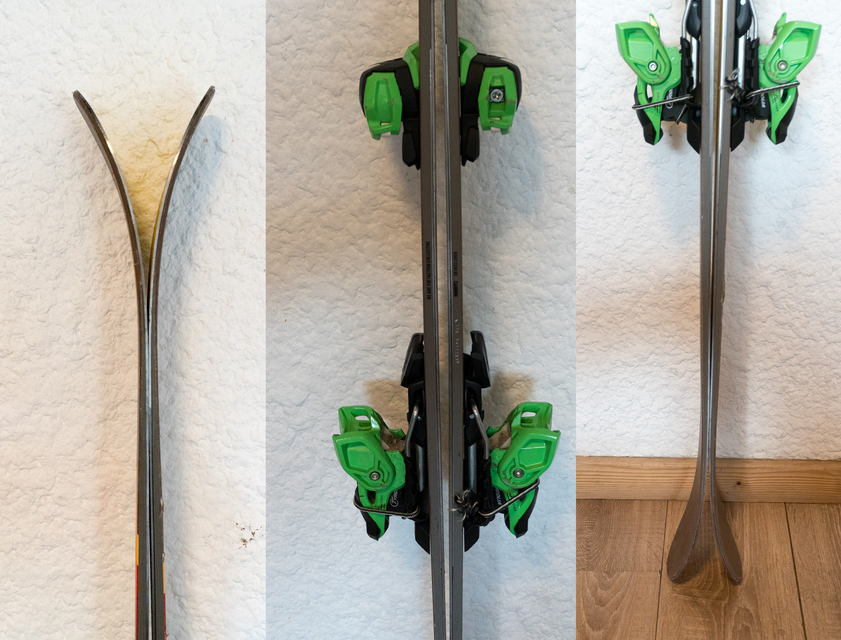 At 92mm underfoot these skis sit just below my preferred width of a park ski (around 95-105mm) although their big brother, the 2.0, has that covered. This ski is not quite a true twin, with a 2mm difference in tip and tail and recommended mounting at the narrowest part of the sidecut. I felt these fit the bill of a specialised park ski with the waist width, flex and camber profile and would have liked to see them stay fully symmetrical myself. It is important to note as well that out of the box the edges on these skis are razor-sharp and my recommendation is a hefty detune is in order before you take these onto rails, or if you like to be able to disconnect the edge and wash out turns, a little detune would do the trick.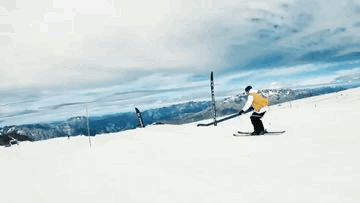 Lipslidin' - Shot by: Row Emery
On Snow
For the first couple of days I took these skis out, I left the edges in their out of the box condition, sharp. As they were super stiff with fresh edges I wanted to truly see how they would handle at high speeds and cranked over into turns. The ski did not disappoint.
I found the ski responsive, fast edge to edge and an absolute joy to carve on. While the 18m radius is not tight by any measure I found them more than capable of sharp fast turns. These skis charged through everything I put in front of them and I was up a few notches on the speed gun compared with days I spent on my softer, more rockered ARV 96s (17/18 model), which I find to be much less stable at higher speeds. The rubber in the tip and tails acts to dampen that chattery effect you experience at higher speeds on harder, cruddier snow and I must say in my experience this did the job. These skis go FAST. The Candides also blew me away with their ability to jib and pop around the mountain which I had not anticipated. I was not expecting much playfulness from such a stiff ski, but they do offer some. They felt light around the hill with a minimal swing weight which made small spins and shiftys while ripping around a joy (although bear in mind, these are shorter skis than I am used to).
The skis will rail and hold an edge due to the camber and sidecut. They lend themselves to being cranked over more than smeared and chucked sideways. More than once, however, I had wished to have mounted on the recommended line to improve the feel of initiating turns and carving the hill – although with plans to mainly test these skis in the park and on rails true centre was where I was always going to mount them.
The Prodigy 1.0 already has a directional shape and a tighter turn radius, 16m compared to 18m, and it felt like Faction missed a trick by not making this a symmetrical ski to compliment the directional Prodigy. I did enjoy making fast turns on these skis but I felt there wasn't much need to add directionality to this ski for this year's line. Switch performance on these skis was by no means ruined by the shape but again I feel like they would have benefited from being fully symmetrical. At least for my tastes. As with any centre mounted non-symmetrical ski on-piste performance is sacrificed when you centre mount. However, they still skied really well, which suggested to me that they might not be the out-and-out park skis I had originally expected, rather a narrower all-mountain, freestyle oriented charger in the mould of the other skis in the Candide line.
The stiffness (increased in the tip and tail from last year) meant that crud and harder snow were not a problem, even in the windblown and variable conditions of Scotland these seemed to perform well. I do not have quite as much experience on as wide a range of skis as someone like Twig so my personal flex rating is a looser gauge but I'd say these come out on the top end of my stiffness scale. I'd say underfoot these are easily up there at like a 9 (out of 10), going to 8 through the tips and tails and maybe a 7.5 in the extremes [Twig's note: These skis felt super stiff to me at the OR test, too stiff for me to ski as a lightweight].
With the footprint of the ski on the smaller side and the stiff flex, these did not float in softer stuff and the fresh I did get them into. That's not to say they're not manageable in such conditions but it's not what they're built for and it shows when you put them out of their comfort zone.
_
Park
Having tested these sticks out at high speeds, with edges intact it was high time to get the file out and give them a detune and get them on some rails and jumps. My first detune was quite light and just underfoot, I went back and did a much more thorough detune after a few nasty hang-ups. You've been warned!
I found these skis very balanced on rails and the narrow width underfoot made them easy to lock into slides. The Candides performed well spinning, having a light swingweight and a snappy feel. I found spins on and off rails came around with relative ease. I did find, however, that the ski did feel 'heavy' on my feet when getting onto higher rails and when the speed on the glacier had slowed, probably due to the stiffness. This took away some points for me on this one, Especially as other bigger park skis I have ridden haven't had this same feeling. The ski comes in heavier than other similar skis in a with slightly larger footprints like the Line Chronic and my Armada ARV 96s, which are 184s. Even the set of Marksmans I borrowed for a couple of laps felt less work.
Overall I loved these skis for high-speed rail lines, and the weighty feeling was more of an issue later in the day and on sorer legs; I don't want to rule out my fitness being a factor here either.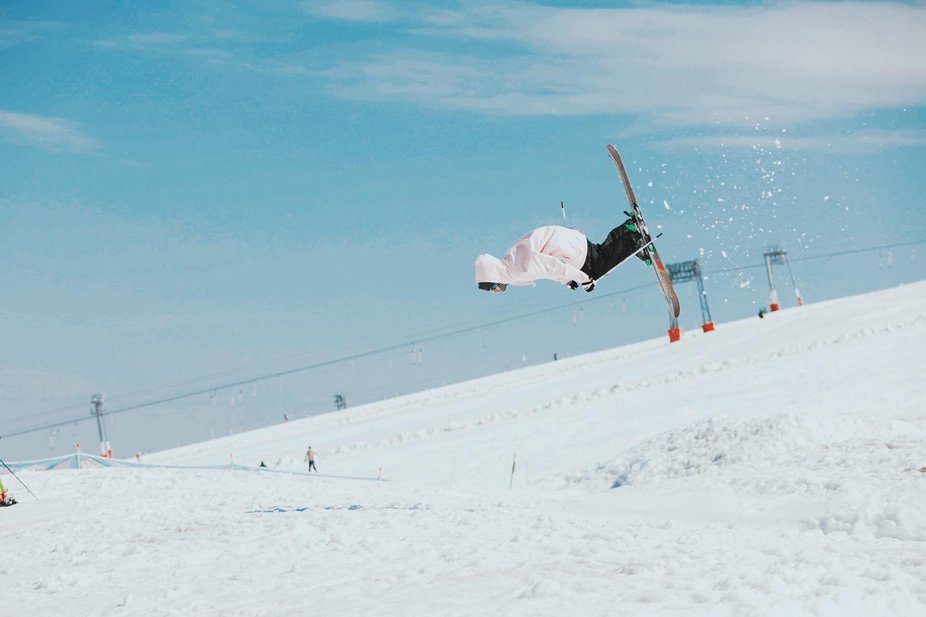 Can you tell I came up way too short on this flip? Photo: Max Allcock (@maxpower8916)
I must admit I skied way more rails on these skis than I did jumps but I still managed to get some falling out the sky on them.
The enjoyable swing weight translated from all-mountain jibbing to jumps and the stiffness meant that I rarely washed out of any
less than bolts landings. I'd release from my bindings long before I'd ever fold the skis beyond the point of recovery. This is where I feel these skis excel due to the stability. For those who like to ride fast and go big, these sticks are unlikely to let you down.
I did manage to butter on these with some perseverance and a few big stacks. You can flex the ski with some effort, but you'll feel that effort back from the ski and get sent. It took me some time to tame that beast. It was fun when I got the rewarding snap out of butters but they definitely took some work. I'm not the biggest guy by any means and that must also factor into it. This also gave me the feeling that with a little more time on the skis and some more days flexing and buttering them that they'd break in beautifully and open up those doors for some big poppy butters off knuckles. They can be hard work at times, but they also reward that hard work.
_
Durability
A season cut down in its prime meant that I didn't get to put as many days on these as I'd have hoped. Therefore, I feel as if my comments on durability may be more speculative than gospel but I'll try to get the key points I'd noticed with them.
As someone who doesn't crack many edges, because I detune pretty heavily, I feel it doesn't do much to say that in 10 days of riding the edges were intact. It's definitely not as much a sign of good durability as cracking an edge in 10 days would be of bad durability. That said, I like big disasters and transfers onto rails; and rails is where these skis spent most of their days. In this time the edges held up well. Most of what I saw in terms of damage to the ski was cosmetic; top sheet beginning to peel off where it meets the sidewall on the back of one ski. I filled this with some Araldite to prevent it worsening, and carried on with little further issues.
The new Titanal plate underfoot is for impact reinforcement, to help prevent the caving in of the sidewall and edges when impacts to these occur. I know sidewall blowouts are common for people who are really hard on skis, so I'm hoping this does what it's supposed to. SadIy, I didn't get a chance to truly test it out but they are holding up well so far.
_
Conclusion
Overall, I had an absolute blast on these skis. I was expecting them to feel like just another park basher because of their shape and flex. I was surprised to find they were great when taken on pistes, bumps and sidehits. Much better than the hand flex would have suggested. Therefore, I'd recommend these to someone who likes to charge all-mountain but either doesn't ski much deep snow, or has another ski in their quiver for deep days. It's worth noting that the Candide 1.0s would definitely perform better on-piste mounted where they're supposed to be, and would do just fine in the park with that mount too.
The stiffness of these skis makes me feel that they're definitely more for strong intermediate and advanced skiers than an entry- level rider, they're certainly not as forgiving as their softer counterparts. The new Candide 1.0 bridges the gap nicely between an all-out park ski and an all-mountain freestyle ski with enough stiffness to give them great groomer performance and crud busting. The one-ski quiver is a bit of a unicorn in skiing but these would definitely work perfectly as one half of a two-ski quiver that rips park and maintains all the fun of a charger ski out of the park. For those wanting a more playful and jibby park/all-mountain ski under 100mm I'd look towards the, Prodigy Series, Reckoner 102, Chronics or ARV 96s among others. For those who spend more time laying into turns than into butters and want a solid platform to hit big jumps and get techy on rails these really hit all the key points. These skis are at their happiest charging and chewing up jumps and rails. I loved them for it.
_
To see our reviews before anyone else, download the Newschoolers App: iPhone - Android
Next up on The Roofbox - 2021 Armada ARV 106