An in-depth look at Armada's revamped ARV 106 ski for 2021, with specs and full review.
_
Ski: Armada ARV 106 2021
Length skied: 180
Actual length (Tip-tail w/ straight tape): 178.6
Shape: 134 / 106 / 124 mm
Measured weight (each ski): 2150/2195g
Mount: -1.5cm
Binding: Tyrolia Attack2 16
Days skied: 10
Reviewer height/weight: 5'9, 135lbs
Review location(s): Winter Park, Copper Mountain, Saas Fee
Conditions skied: Freshly groomed, deep pow, crud, park.
[Editor's note: Our review was conducted on the 2021 Armada ARV 106, which is unchanged for 2022 & 2023 except for graphics]
_
The ARV 106 has become a staple of the Armada lineup. Introduced in 16/17, the ski has been going in two-year cycles. The original shape was fairly soft and playful, a wide park ski that was something of a blend between the Sir Francis Bacon and the EDollo. The ski was changed for 18/19 and gained a slightly stiffer flex and a more freeride oriented shape. It still held its own as a park ski but gained more freeride credentials. For 2021, we have another new ARV 106 and the changes are pretty significant this time around. Read on for a look at what's new and to find out why this ski is a very different beast.
_
Shape/Flex/Construction:
On paper, the new ARV 106 doesn't look too different from its predecessor. At 134/106/124 the dimensions are identical to the 2018-2020 ski and the rocker profile is very similar too. The ski does gain Smear Tech, Armada's name for edgeless horizontal rocker but otherwise, it does look quite similar to the previous model in shape and construction.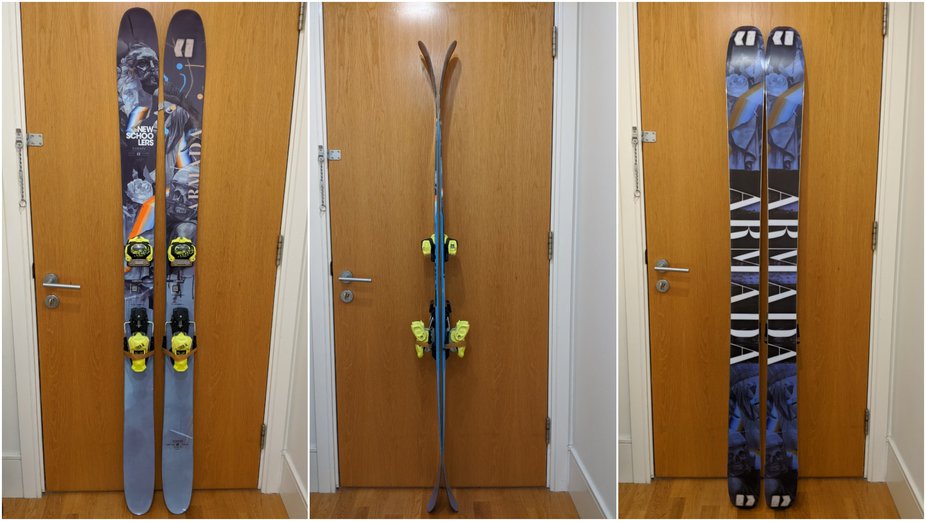 The flex, however, is very different. The second iteration of the ARV was slightly stiffer and damper than the original, but it was still fairly playful in the extremes of the skis. The new ski is just stiff full stop. Similar to the Kartel 108 would be my closest comparison, but with far less rocker. Armada calls the flex pattern 7-7.5-7 (out of ten) but I'd say more like 8-9-8. At around 200g heavier per ski than the last model, that weight is coming from somewhere and wherever that is, it's stiffening up the ski.
_
On Snow:
In recent years, the ARV 106 has been one of my favourite do-it-all options. Playful enough to ski park and butter around, narrow enough that it isn't excessively hard work in the park but wide enough to really enjoy pow days when they come around. So when the new ski arrived, I mounted it up, chucked it in my bag and headed for Colorado with just the one pair of skis. I was out there for Outdoor Retailer and Dew Tour, but we skied 8 days in total between Winter Park and Copper. When I took my first run, however, I realised just how much the ski has changed versus the previous version.
As mentioned, that change is largely in the flex. Buttering is probably my favorite thing to do on skis, so it's pretty much the first thing I try. I also find it useful to get a feel for what the flex is like before the ski breaks in. I'm usually pretty good at buttering anything, I have no issue on most skis. But in this case, I was definitely shocked by how hard I had to work to get any flex out of the ARV 106 at all. After a week or so of skiing them, I got used to it and the ski softened a smidge but these are not a ski I'd want to use for any kind of low-speed buttering, especially on hard snow. They don't have much rocker, so you really do need to flex the ski to butter properly, unlike an ON3P Jeffrey for example, where you can just lean on the rocker to raise the rest of the ski off the ground.
We did not nail the media side of this review.
The stiff flex and increased weight really affected how much fun I had on these in the park. I didn't feel confident throwing tricks I was happy doing on older versions of this ski and everything I could do felt like hard work. On jumps and off-center landings, they were super stable but as a park ski, they were just too stiff/too heavy for me now. I've generally always preferred fat skis in the park but I found these too much to handle.
When it comes to groomer performance, though, the ARV felt great. I feel like I should point out that the edgeless, horizontally rockered tips and tails have no effect here, these skis grip and rip. The medium turn radius handles most kind of turn shapes well and they don't feel like there is any kind of speed limit. With stiffer flex and increased dampness, I found these had a little less energy out of turn than the previous 106, but they made up for that in the form of even greater comfort at speed.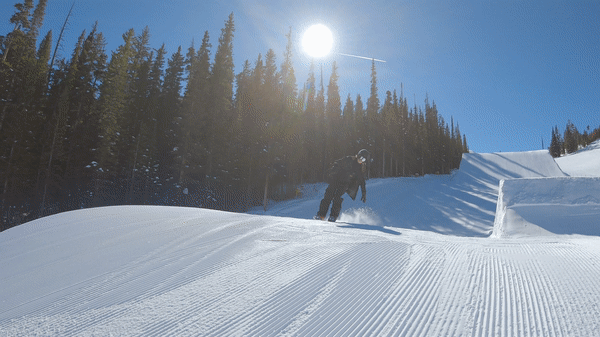 _
Powder/Big Mountain
What the change in flex, weight and dampness amount to, to me at least, is a complete refocussing in direction of the ARV 106. For reviews of the previous versions of this ski, I've mainly commented on the playfulness and park ability, because it was those kinds of skiers that the ski was designed to fit. For this ski, however, park and jibbing do not seem to be the primary focus. If you're buying a 102-110mm ski to ski in the park, there are countless more comfortable options. My one addendum to that is that if you are a big guy, you might really like the stiffness of the ski.
However, the Armada ARV 106 now absolutely crushes all-mountain. For me, they are stiffer than they need to be. I can more easily ski a mid-flex ski (like the Prodigy 3.0) or a more rockered one (like the Jeffrey 108) without losing out too much because of my own low-weight. But the ARV is now chargey, damp, powerful. I felt like I could gun it through just about any condition comfortably. The extra weight helped with minimizing deflection in mixed snow and powering through heavy conditions. I felt super comfortable hitting drops too knowing I had all the support I could ever want in the nose and tail on landings, even if I landed badly. It sits right up there with Jeffrey 108 as one of the most powerful all-mountain jib skis around.
And despite, what I've said so far, this is still a ski designed to jib. It has a forward mounting point and enough tail to land switch in pow fairly comfortably. It's getting towards having the flex of a charger, but the shape still works well enough for playing in soft snow, it just makes things much more tiring on hardpack.
Soft snow, though, is where these skis really blew me away. At Copper Mountain (of all places), I got to ski probably the deepest, lightest snow I've ever skied in my life. I only had the ARVs with me, so that's what I skied and they blew me away. The Smear Tech really does work, these skis felt unreasonably good for a 106mm ski going sideways in 3-4ft of pow. In fact, I've never really understood horizontal rocker before. I'd only tried it on really fat skis, which surf just fine anyway. It's on narrower skis like the ARV 106 where that extra looseness in the tip and tail really makes a difference. The stiff flex really came into its own bouncing down pillows, because they never even came close to washing out when I got things wrong. For their width, I think these might be the best performing soft snow ski I've tried (at least with a near-centre mounting point), narrowly beating the Jeffrey 108. And when the snow gets tracked or heavier, they just keep on powering through.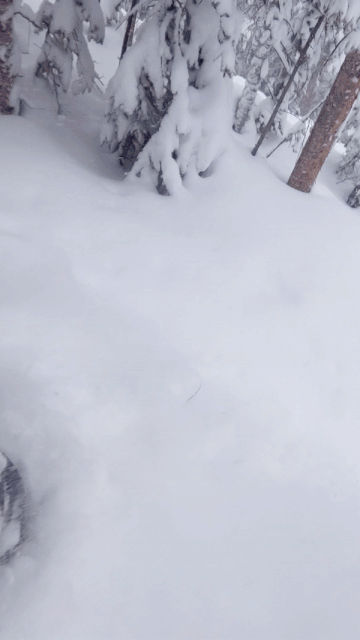 This adds nothing to the review, it was just a good day
_
Durability:
I don't have a ton of insight on durability from my 10 days with the ARV 106. I spent the majority of that time skiing all-mountain and only hit minimal rails when skiing park. I also found it too hard work to butter them a lot, so I didn't run much risk of delaminating the tips and tails. However, they do feel like very solid skis. That's only a feeling but with them being fairly heavy and fairly stiff, my expectation would be for the 106 to last well.
_
Conclusion:
Armada has, in my opinion at least, somewhat abandoned the park ski DNA of the ARV 106. They are still solidly built, so you could ride them in the park from that perspective and I'm sure lots of people will. But for me, they were too stiff, too charge-y to really enjoy there. However, they do still jib well in softer snow, so they still definitely belong in the all-mountain jib bracket. The focus is now the mountain, and softer snow, so bear that in mind when comparing to skis like the Line SFB, Vishnu Wide, Magnus 102 (all much softer, more comfortable in the park)etc.
I would say the closest ski to the ARV 106 in terms of performance is the Jeffrey 108, another stiff all-mountain jib ski. Both skis are stiff enough to charge, but relatively symmetrical shaped offerings so you can still go both ways comfortably. They make do make different slightly compromises with their designs though. The Jeffrey 108 is much more rockered, making it easier to butter/play on and giving it more 'bounce' in pow. It also pivots quicker. The ARV 106 cuts through snow better, feels more stable on landings and performs better on groomers in my opinion. In fact, I'd say the ARV is now the most charge-y of the all-mountain jib skis I've tried, which is a surprise, given the original was basically a fat park ski. It's still a great ski, but will now appeal to a slightly different crowd.
_
Other Comparisons:
2021 ARV 106 vs 2021 Faction Prodigy 3.0
The closest on-paper, big-brand competition for the ARV 106 is probably the Faction Prodigy 3.0. Also featuring a 106mm waist and with a similar target market, the Prodigy 3.0 is more balanced in the playful vs charge-y tradeoff than the ARV. The Prodigy 3.0 with its middle of the road flex, is much more usable day to day in the park, at least for someone who skis like I do. It's not quite as good going sideways in pow as the ARV and its more generous rocker is more floaty/poppy but less good at slicing through mixed snow. The main compromise of the Prodigy is that it has less power behind it in mixed conditions. If you're erring more towards the big lines and big features side of things, the ARV wins out, and it's marginally better on hardpack and in soft snow. But the Prodigy 3.0 is a far more 'fun' ski in my opinion at least, especially when taken to the park and for playing around all over the mountain.
2021 ARV 106 vs Line Sir Francis Bacon
The Sir Francis Bacon is far softer again, even than the Prodigy. It surfs in pow as well as the ARV, perhaps floats and goes sideways a touch better, but the compromises when it comes to power are significant. As soon as you push the SFB it really is quite soft and that's why I have the ARV in my mind as the best soft snow mid-fat out there, it just has that bit more to give when the snow gets heavier or you want to ski faster without compromising much at all on the floatation front. The SFB is a butter machine, fun in the park and a great ski in soft snow, it has that signature Eric Pollard of the older Bacons, and even the EP Pro. It carves nicely, thanks to the radius but it lacks the true all-mountain performance, in terms of power, of the Prodigy, and falls even further behind the ARV in mixed/hard conditions.
_
To see our reviews before anyone else, download the Newschoolers App: iPhone - Android
Next up on The Roofbox - 2021 K2 Reckoner 112
Shop For Armada ARV 106

Merchant

Sale Price

Retail Price
Shop For Armada ARV 106

Merchant

Sale Price

Retail Price