This is the first in a series of 'In Depth' reviews here on Newschoolers. If you're in the market for new skis and want some info from people just like you, check out the massively underused review section, there is tons of info in there. And keep your eyes peeled for reviews from our gear editors, coming soon!
Ski: Faction Candide 2.0
Lengths skied: 172/178cm
Actual length tip tail: 170.5 (172)
Sidecut: 132-102-132
Radius: 15m (172), 16m (178)
Mount: True Center
Days skied: 40+ (172) 3 (178)
Reviewer height/weight: 5'9, 135-140lbs
Conditions: Indoor (Hemel Hempstead). Ice, Slush, Summer 'Powder' (Saas Fee).
The Candide 2.0 is Faction's entry into the already stacked mid-fat park/all mountain ski market. It's also one of the most anticipated releases of this year, with interest growing ever since they appeared on the feet of Adam Delorme in his Welcome to Faction edit back in December '13. But hype aside, how do they measure up to the competition?
Of the many jibby mid-fats available, I've owned the 178 Line Blend, skied the 179 K2 Shreditor 102 and briefly the 177 Nordica Soul Rider. The Lines and K2s are very soft, with a significant amount of rocker. They are great fun on rails and in a little soft fresh snow but I found them limited outside of those two environments. They don't feel stable through the turn and heavy/variable snow eats them alive. The Soul Rider is a little stiffer and a bit more stable all mountain but it's still prone to overflexing, especially when broken in. I was expecting the 2.0 to feel very similar but in reality it turned out to be a more stable and versatile ski.
In a 178 the 2.0 feels solid, predictable and precise. The flex pattern is fairly stiff for a jibby ski and smooth throughout the ski. As a result, you can rail turns all day and there is never a feeling that the nose might wash out, despite generous tip rocker. They hold up great on jumps thanks to the solid flex and I never felt any risk of overpowering the ski, something I experienced a lot with my Line Blends. In fact, the 2.0 feels longer than similar skis and so the 178 felt slightly unwieldy in the confines of an indoor slope. I ride more indoors now than I ever have, so I ordered my own pair in a 172, the shortest rockered ski I've skied.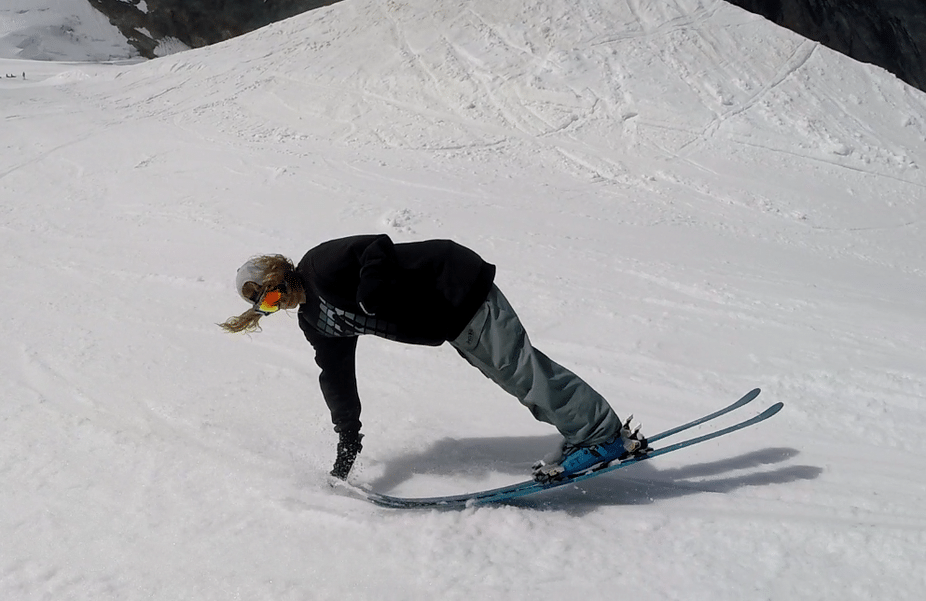 Smooth flex, no hinge points
There are of course a couple of downsides to having gone for the shorter size. When I poached some race gates in Saas Fee, the 172 couldn't quite handle being pushed to the limit in turns. Right at the apex they would start to overflex in the nose. It never caused a major problem but didn't inspire confidence at high speeds. On Ice, the reduced effective edge of a short and detuned rockered ski was a nightmare. I ride rails a lot so my edges are completely rounded under the binding and because of the short length and rocker, I was left with almost no effective sharp edge. It's not a problem unique to these skis, I've had it on every detuned rockered ski, but it was particularly bad on a shorter length. That said, the 172 still holds up just fine on jumps and in all other park situations thanks to it's solid flex. It feels more stable on landings than the longer sizes of the other skis I've skied in the category.
The rocker/camber/rocker profile (below) is the now customary smooth transition from tip to mellow rocker, to mellow camber and back again without any significant kinks or flex points. This makes them perfect for surfy, playful skiing while a full sidewall allows them to remain solid and grippy throughout the turn. I know I mentioned some issues with flexing and grip in the shorter size, but these were non-existent skiing the 178 so clearly that is a size issue rather than a problem with the skis.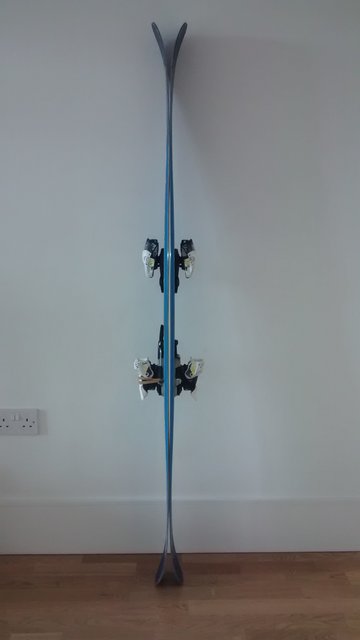 Candide 2.0 Profile
The rocker profile combines with the solid mid-stiff flex to provide the perfect stable butters and snappy responsive ollies and pop. They are more stable and more poppy than anything similar I've skied. They happily charged through crud and floated well enough in the 30cm of thick summer 'pow' we got on a couple of occasions. However, the symmetrical sidecut does make the tails reluctant to sink. On deeper days and especially at centre mount, this could become an issue, and is something that plagues all symmetrical skis.
The tradeoff is that the skis are perfectly balanced. The combination of this and them being a lightweight ski for the specs means swingweight on the 2.0 is ridiculously low. It goes without saying therefore, that they feel really good in the air. I never really attempted progression in the form of big spins, I've always been a fierce supporter of the 'slow spins only' style of skiing but I have to say the ease of spinning on these has encouraged me to rotate towards victory more than I normally would. The 102mm platform is near perfect for me on rails. It's not so wide that it takes an age to set an edge but wide enough that surface swaps, makios and back/fastslides all feel stable.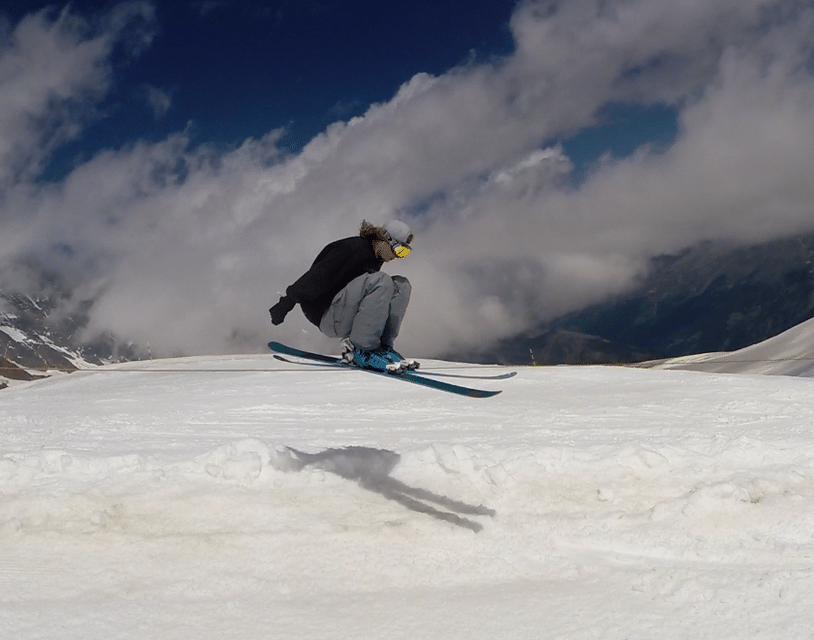 Poppy.
My final word on these skis has to be reserved for the construction. I've ridden my pair around 40 days now and aside from some normal topsheet chipping, they are unmarked. I've hit rocks skiing lines that really shouldn't be skied in summer and the bases emerged unscathed. I've hit rails pretty much constantly every day I've used them and don't have a single edge crack (I've always had several after this length of time before). There are no signs of delam, the flex hasn't washed out and the camber is as it was on day one. They feel more solid than any ski I've ever skied and I can only praise build quality.
The only issues I've had with the 2.0 have been related to my choice of a 172 over a 178. When it comes to buying make sure you get the sizing right. I'm happy with my choice to ride the 172, they do ski a little longer than similar skis thanks to the stiffer flex. But if I was going for more all mountain and less indoor, I'd take the 178. If I were forced to come up with a criticism of the actual skis, I'd say the sidecut radius is slightly too short. It never caused me any discomfort skiing but slightly narrowing the tip and tail to give a longer radius would make them even smoother to ski.
However coming up with anything to criticize at all was a struggle. The Candide 2.0 is more or less the perfect ski for how I ski. If you're a jib oriented skier and can only afford one ski to do it all, I highly recommend you take a look at these skis. They are a lightweight, stable and versatile ski that still feels great doing the playful surfy stuff. With great build quality to boot, Faction are on to a winner with these.