Words by Colston J.V.B
Photos by Mason Mashon, Brian Frost & Sam Nelson
Eric Norman aka Tight Pants Eric (ETP) single handedly coordinated a full on all-expenses-paid superpark shoot on the 18th-22nd of March at Silver Mountain, Idaho. Not every shoot like this goes according to plan and although we all had a ton of fun and I'd like to take the time to appreciate Eric's efforts, at no fault of his own...it pretty much sucked. This is our story...
The lowdown of the shoot according to the poster included North America's "top 12" wintersport athletes as well as an apparent 90 foot step-over. We were put up in very nice room and pretty much everything was paid for, all we had to do was session this jump and get shots for five days.
For us low budget up-and-comers, this sounded comparable to being invited to ski at a North American version of JOSS, so we were stoked.
Athlete list:
Alex Schlopy
Mike Mertion
Matthew Potheir
Alex Wall
Adriann Geraets
Cam Schuster
Voleurz Snowboarders
Colston Beatson
John Ware
Blake Nyman
Ian Wade
Jeff Kiesel
AJ Dakoulas
Witt Foster
Collin Collins
When I arrived at the Voleurz room...no wait...palace (this place was ballin), I was happy to see my good friends Mike Mertion and Cam Schuster. Despite the six-year age difference we are all at about the same maturity level and I was a bit concerned about us getting enough sleep to be able to ski on point. My thoughts were confirmed about an hour later when the Voleurz snowboarders came tumbling in loudly. It turns out there was no chance that anyone would get any sleep whatsoever for the next three days. Voleurz if you didn't know is actually "havoc" spelled backwards.
On the morning of the first day we got to see the park venue, and it needed alot of work. The "75" foot step over (more like 45 feet) along with many creative jibs and tranny features were all tiny and unfilmable, so we took to the trees and cornices of Silver Mountain where there were many natural wind lips, poppers, and tree features. Everyone else continued to session the park and came up with these: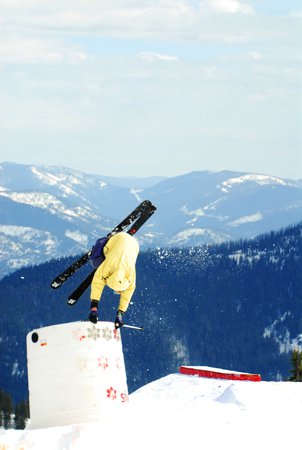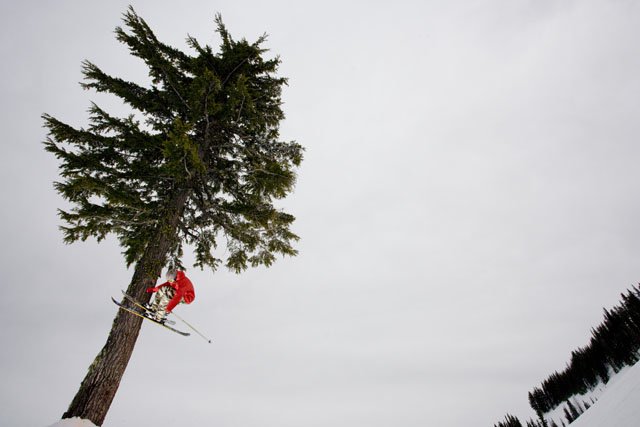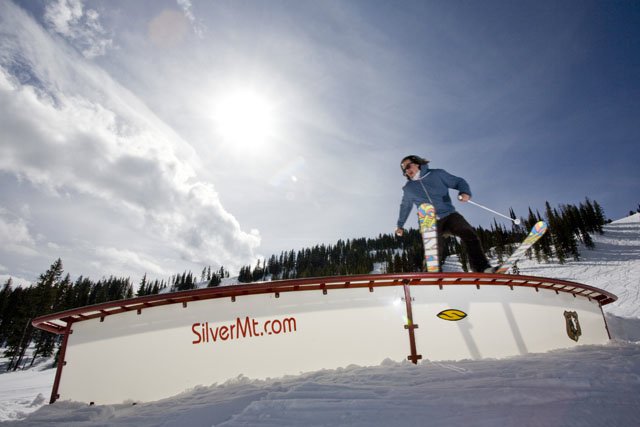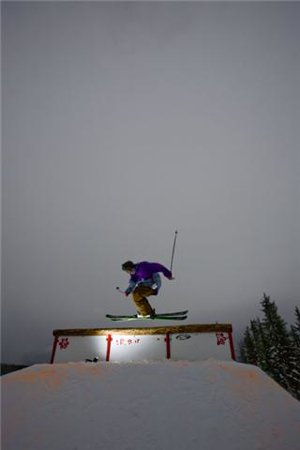 However our day ended around 1pm when we took "the world's longest gondola" past the "world's largest Dodge dealership" down to the hick mining town of Kellogg. We then hit the local waterpark with a vengeance and learned how to surf on the infamous Flow Rider (an indoor artificial wave). We were there for about an hour or so until some people responded to us by threatening to call the police. We were kicked out of the entire water park for an apparent six misdemeaners; although I could personally count about 15. We were soon to learn that Idaho is a very strict place.
After the amazing water park session we went back to the hotel room, made a scene on the way, and what occured after that happened in the room and will stay in the room. The next day we headed up for another dissapointing day, although Evan Heath and Hennie VJ were able to come up with these edits of Alex Schlopy, Collin Collins and other dope 4bi9ers:
 
The Voleurz crew (earlier that day called the "fall-earth" crew while being shut down by local ski patrol) proceeded to scope for any nearby urban features in dirty Kellogg. We found nothing and were almost shot at by an angry resident. It was becoming very clear that we needed to return to Canada... and fast. That night certain members of the shoot may or may not have hit the local strip club until 3am... may or may not have.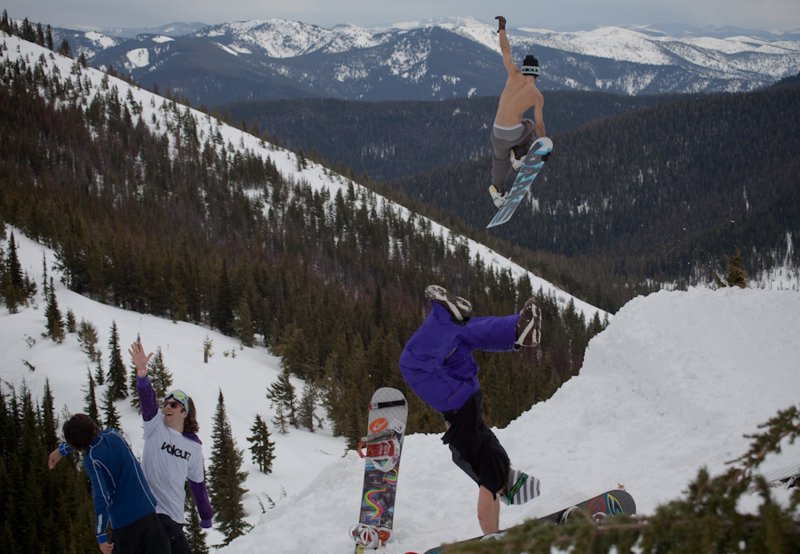 Fed up, I left and drove back the next afternoon, some did the same, while others were kicked out of the hotel that night. Although we had tons of fun in Idaho I'm sure by the end of the trip all of us were thinking the exact same thing: you-da-ho Idaho.