Bozeman knows how to put on a show, just ask anyone who went to this year's Inspired Tour Stop. This year, the Montana State Backcountry Club rented out the ballroom and used a split screen system to project the films and trailers. Phil Casabon, Tanner Hall, and Henrik Harlaut came out in support of their trailers for the highly anticipated two year projects, "BE Inspired" and "Ring the Alarm." Along with these trailers, Inspired brought Kye Petersen's "In Search", and Super Proof Inc's "The Masquerade." Film season is here which means ski season can only come that much sooner.
Fans waiting for the movies to start // Photo: Erica Aarons
Like most years, fans slowly moved into the venue, making sure they got to talk with the pros, snag a picture, and have their posters signed. Some who asked for pictures with Tanner Hall got a non-typical response to today's social media, "Is this that snapchat thing? I don't get it man." The Backcountry Club was selling raffle tickets, and seats began to fill up. Erica handed out cupcakes (sorry if you missed them) and the show began.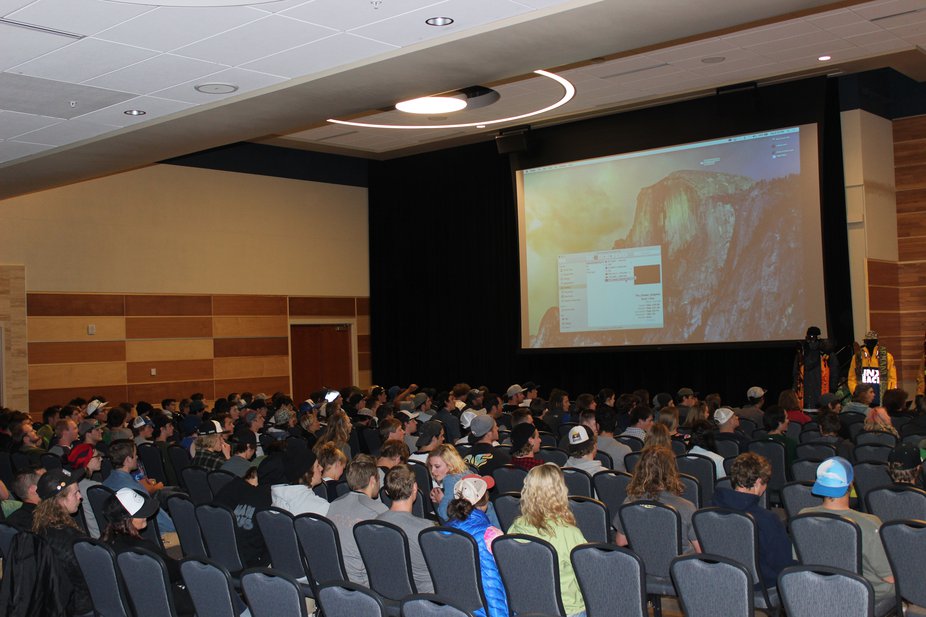 Picture: Erica Aarons
The First feature of the night was the "BE Inspired" a trailer composed of footage from this past winter. BE Inspired is Phil and Henrik's project, and we're very excited to see it. Tanner Hall's reaction says everything, "Hell yeah! This is gonna be sick."
Next we were treated to the brutal big mountain trailer for "Ring the Alarm." The crowed was shocked to see Ski Boss snowed in for a week straight in Alaska. In the past few years, THall has turned away from park skiing, and focused on honing his big mountain skills. From near mountaineering excursions, to incredible pillow lines, next year's film will be amazing.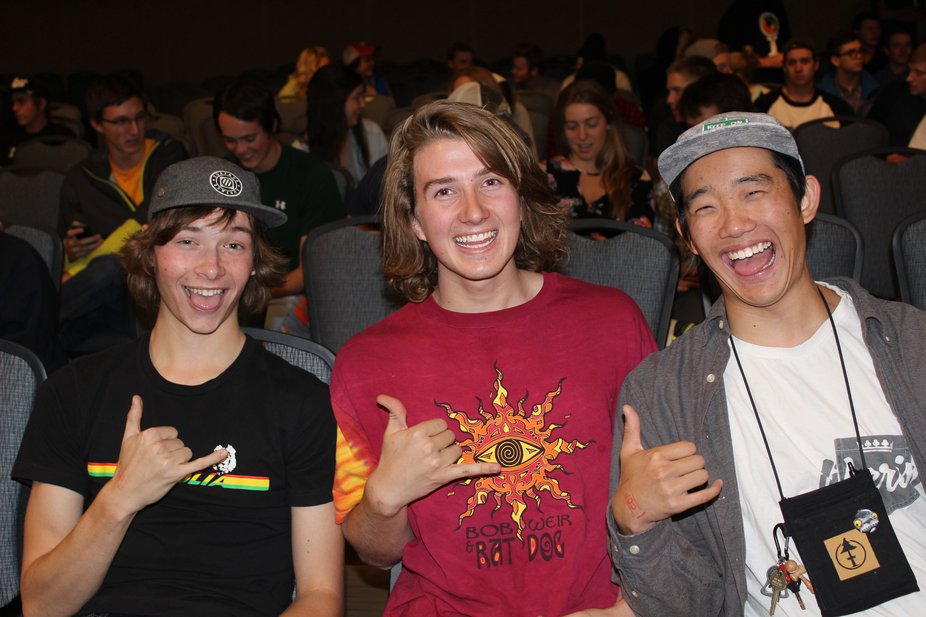 More stoked skiers! // Photo: Erica Aarons
The final two screenings were reserved for the full length films. Kye Petersen's first solo film, "In Search" showcased his incredible abilities. We've seen him in several film segments before, but having a chance to watch his own film put him in a new light. Kye understands skiing in its most basic form, breaking down his feelings into several small parts allowed the viewer to truly feel his struggle and achievements. The final film was produced by Super Proof Inc. "The Masquerade" starts out with a heat attack inducing scene, accurately setting up the rest of the movie. Similar to last years Super Proof's film, they effortlessly incorporated acting with skiing, creating a unique ski film experience.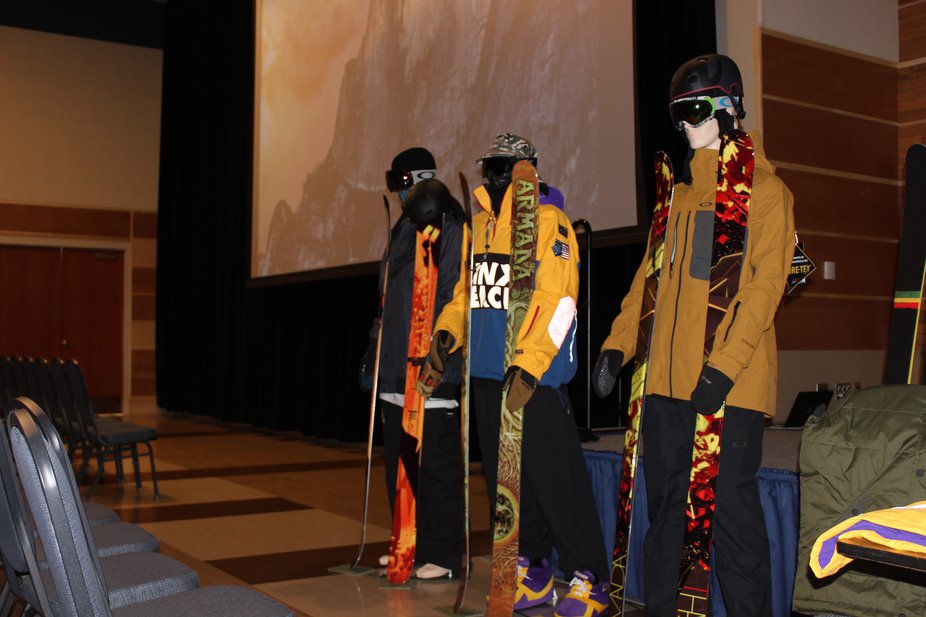 I wished they gave out these skis. // Photo: Erica Aarons
To top off the night, there was an epic swag toss feature SPY sunglasses, T Shirts, and other goods. There was a raffle held by both Inspired and The Backcountry Club. We'd like to thank all the sponsor for making this event possible, and the athletes for showing up/filming. One of the best parts of this tour is being able to meet your heroes, talking to them one on one, and knowing you're connected because of this sport we all love. For the Bozeman homies, The Backcountry Club meets roughly twice a month, and is even more active during the winter. Big ups to them for organizing this stop of the tour.[/center]