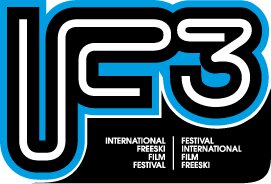 The third annual International Freeskiing Film Festival is just over a month away, so we figured now is as good a time as any to give you the skinny on everything that's going to be going down in a loud, wild and crazy way at the the biggest and best ski film festival in the world.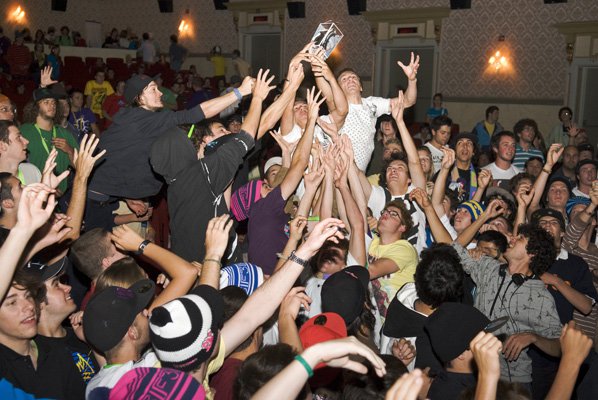 But before we begin, in case you just emerged from the bomb shelter your parents made you hide in since the Cold War, the International Freeskiing Film Festival (better known as IF3) takes place every September in Montreal, Quebec, Canada and is quite simply the ultimate way to kick-off the upcoming season. 18 premieres, three parties, two outdoor screenings, an awards show, an industry meeting, appearances by all your favorite athletes, and a whole lot more!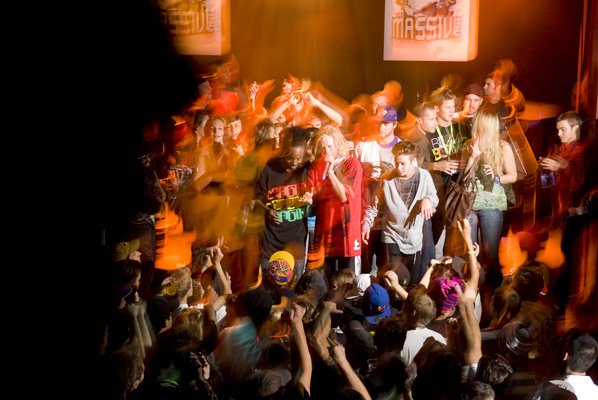 This year's festival begins on Thursday, September 17th and runs until Sunday, September 20th, and here's a look at all the fun that will be jam packed into those four days...
Thursday, September 17th
IF3 will begin and end with two FREE outdoor screenings presented by The North Face and in assocation with Red Bull, SBC Skier and Mirror. The first of two screenings will be held in the fabulous Old Port of Montreal at 8:30pm on September 17th to kick off the festival with the Red Carpet World Premiere of Tranistions, the two-year documentary on Simon Dumont directed by Riley Poor.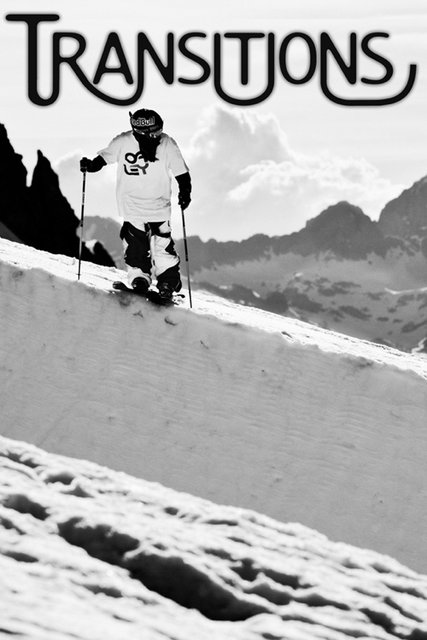 Following The North Face Outdoor Screeening, the first of many rocking parties will go down with the NSX Party at Club La Mouche presented by CoreUPT. Yeah that's right...Newschoolers.com is 10 years old! So come out and celebrate the 10-year anniversary of the most popular freeskiing website in the world, as there'll be no finer and wilder way to kick off partying at IF3 than with the Newschoolers crew. DJ A Rock along with Hathbanger & Daywalker will be spinning the wheels of steel and the entire NS staff will be on hand along with a host of nostalgia, surprises and special guests to celebrate 10 good years of good times on Newschoolers.com.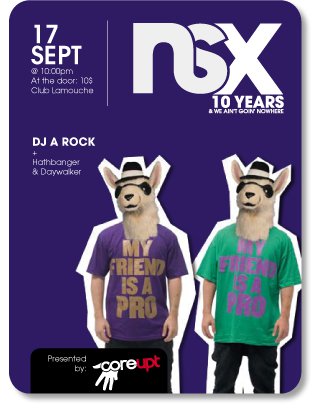 Friday, September 18th
Amidst all the parties, DJ's, performers and gatherings, there's one aspect of IF3 that unquestionably stands above the rest...the premieres. And this year will be no different, and actually, it'll be even better, as over the course of two days 17 premieres will be going down at the iconic Cinema Imperial in downtown Montreal, and you're not going to want to miss a single one of them! Here now is the schedule of what movies will be shown to the masses on Friday, September 18th...
2:30pm - 4pm: AM Category Film #1 (film TBA)
4:15pm - 5pm: AM Category Film #2 (film TBA)
5:30pm - 6:30pm: Mad in France by SVP
6:30pm - 7:15pm: Pretty Good by Rage Films
7:15pm - 8pm: Wild Stallions by Meathead Films
8:30pm - 9:15pm: Can't Stop by Ride The Planets
9:15pm - 10:15pm: Refresh by Level 1 Productions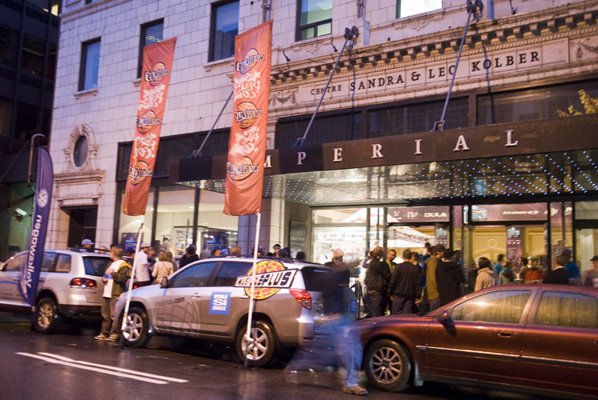 And while you're taking in this year's crop of ski movies, be sure to purchase some popcorn from the concession stand, as 100% of the proceeds will be donated to Alpine Initiatives.
Then after the first day of premieres is all said and done the second party of the weekend and the first of two parties at the Telus Theatre will go down with the Reebok Classics Party presented by Reebok, Dose.ca and Nightlife Magazine. Celebrate the past with a touch of the future, as Reebok presents performances by artists that witnessed the debut of the Classics to those that represent its continuity, including Imposs (who can be seen here performing with Wyclef Jean and Will.I.Am), the world-renowned Rahzel featuring DJ JS-1, and the man Source Magazine named as one of the five greatest producers in hip-hop history, DJ Premier.
Saturday, September 19th
Then on Saturday it'll be time to grab some poutine to help fight off your hangover relatively early and get you and your stoked-for-winter self back to the Cinema Imperial for the last batch of premieres...
12pm - 12:45pm: AM Category Film #3 (film TBA)
12:45pm - 1:30pm: AM Category Film #4 (film TBA)
1:30pm - 2pm: AM Category Film #5 (film TBA)
2:30pm - 3pm: !What Else? by Invert Productions
3:15pm - 4:15pm: Signatures by Sweetgrass Productions
4:15pm - 5pm: So Far So Hood by 4bi9 Media
5:30pm - 6:15pm: Contrast by Nimbus Independent
6:15pm - 7:15pm: Eyes Wide Open by Field Productions
7:45pm - 8:30pm: Every Day is a Saturday by Poor Boyz Productions
8:30pm - 9:30pm - In Deep by Matchstick Productions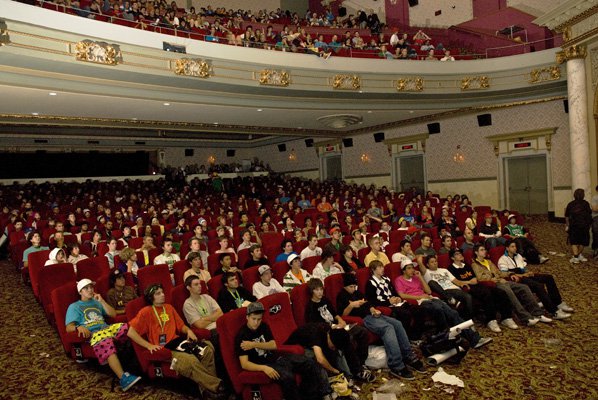 *and just a little reminder to all your AM filmmakers out there...the deadline to submit your film for a chance to have it shown at IF3 is this Saturday, so get er done!
Once the premieres have all wrapped up, it's time for the grand poobah of it all, the Newschoolers Awards. Presented by Skullcandy and featuring a DJ set by Payz Play and a performance by Juno Award Reggae Artist of the Year Mikey Dangerous (who rocked the house last year at IF3), the third annual highly acclaimed Newschoolers Awards will honor the best of the best of this year's crop of freeski films at the Telus Theatre. With 18 different awards spread out amongst Pro and Am categories, all the top athletes and filmmakers in attendance, this is an event you won't want to miss! The show will bring in more than a 1,000 people to culminate the festival, and if they're anything like last year, expect to witness more crazy antics on stage along with some new twists.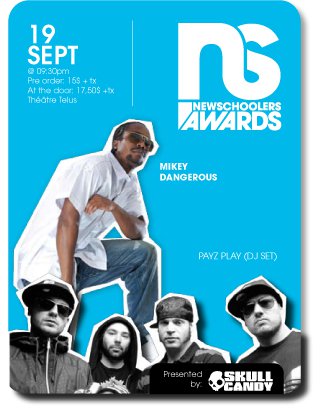 Sunday, September 20th
The festival will then continue on Sunday, as IF3 and Origin Design & Communications are pleased to present Canada's first ever freeski focused conference: Carte Blanche: The Freeski Summit. This invite-only meeting of the freeski industry's thought leaders, business vanguards and cultural icons will explore the role of marketing in moving the sport from the margins to the mainstream. This one-of-a-kind gathering will feature two panel discussions and Q&A periods that will explore topics such as bridging the gap to the mainstream, the role of media, manufacturers, events, competitions and industry associations in building the sport, athlete marketing and sponsorship, among others.

And then on Sunday evening, The North Face will be present a second outdoor screening again in the Old Port of Montreal where the IF3 2009 Movie of the Year will be shown to the public for free to officially close out the festival. Both of these outdoor screenings are poised to create a precedent in Montreal that people will be talking about for years to come, and are IF3's way of saying thank-you for all your continued support!
So we know what you're thinking...judas priest that sounds like one hell of a good time! So if you're not already planning on being there, and are just 'considering' coming...what are you waiting for?!?! On top of the action the kick-ass and hard-working people at IF3 have packed into the weekend, they've also set up packages for you to get the most out of coming to IF3...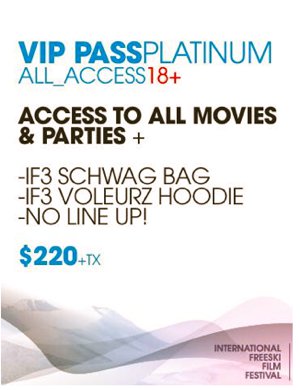 click above to purchase
If you don't want to miss a thing at IF3 you need to get your hands on this amazing offer! With the Platinum VIP Pass you get access to all the movies and parties (you must be 18+ to purchase the package), no line-ups, a special edition IF3/Voleurz hoodie worth $95 (which will also be sold separately at the show for anyone else who wants one), a goody bag valued at $150 which includes a Dakine Pivot pack, Kombi gloves, a pair of Skullcandy Icon headphones and an IF3 t-shirt, beanie and stickers. There were only 20 of these made available and now only 9 are left, so take advantage of this amazing offer before they're all gone!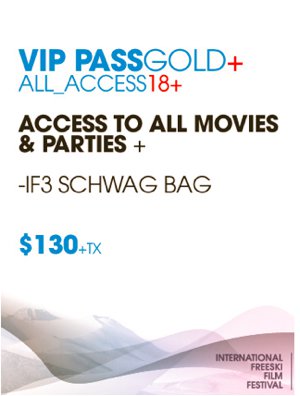 click above to purchase
With the Gold VIP Pass (which you also must be 18+ to purchase) you get to see all the movies, go crazy at all three parties and receive the same goody bag at the Platinum VIP Pass. 230 of these were made available but they're going fast, so get on it!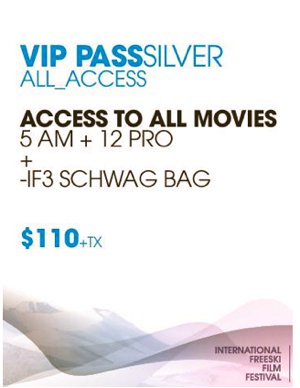 click above to purchase
If you're not over 18 but still want to check out all the movies and score yourself some swag the Silver VIP is the way to go, as it gives you access to all the movies along with the goodie bag.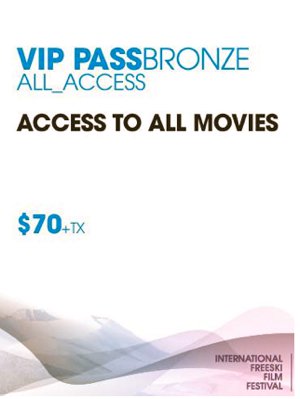 click above to purchase
And if you're only interested in checking out the movies, then the Bronze VIP Pass is what you're looking for.
For more info on packages for select premieres and parties, groups and accommodation rates, and all things IF3, go check out their slick new website at http://www.IF3.ca, and stay tuned to NS for more exciting news on the third annual International Freeskiing Film Festival.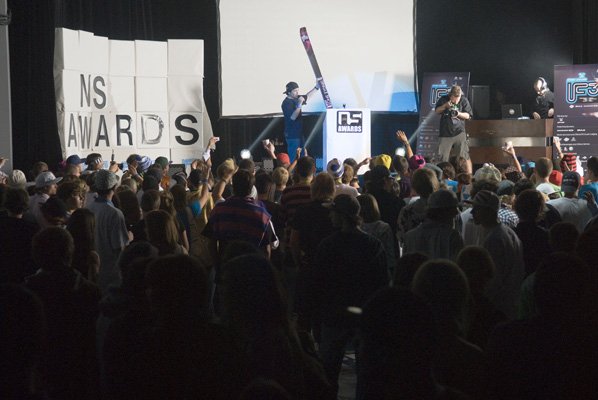 See you in Montreal!