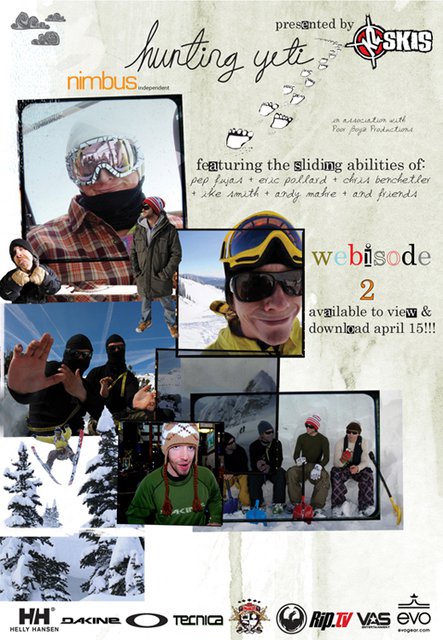 The wait is over! It's been two months since Nimbus Independent premiered their first installment of a five part webisode series titled, "Hunting Yeti". Now on April 15th, the Nimbus crew delivers another stellar episode of documented ski culture and filmmaking. Witness the crew of Pep Fujas, Chris Benchetler, Andy Mahre, Ike Smith, Justin Wiegand, Eric Pollard, Christian Sirianni, and Shin Campos as they hit the backcountry slopes around Whistler, BC, Sonora, CA and Cooke City, MT.
The second webisode takes you more behind the scenes with injuries, travel challenges, down days, herding Bison and the crew's snowmobiling skills, while maintaining the same signature vibe only Pollard edits bring. Also returning are some original music tracks from H-Mob Productions, the group that brought you the original soundtrack to the debut film "IDEA".
Nimbus, along with Rip.Tv and its partners, is building a new model for filmmaking and what it means for audiences, athletes and sponsors through exclusive online distribution. "Hunting Yeti", presented by K2 Skis, is streamed using the Rip.Tv media player on our supporting partner websites: K2 Skis, Evogear, Helly Hansen, Oakley, Tecnica, Marker, Dragon, Dakine, Atomic, Line, Bern, VAS Entertainment, Freeskier, Fri Flyt, Transition, Fall Line Skiing, Skieur, Freeskiers.net, Raiders.ch, Skizofrenia, Chill Factor, Poor Boyz Productions, and Rip.Tv.
Three versions of "Hunting Yeti" webisode two are available for viewing. Streamed versions on the partner sites consist of two segments at 13 and 16 minutes, with a third full-length 35-minute download version available for computers and iPods. You can find it all on the producer's page at http://www.rip.tv/nimbusindependent.
"Hunting Yeti" is presented by K2 Skis and produced by Nimbus Independent in association with Poor Boyz Productions. Nimbus is producing five webisodes premiering on the 15th of February, April, August, and October. Check out the final cut of "Hunting Yeti – The Film" in early September on DVD or on tour in a city near you.
Hunting Yeti Webisode 2, Part 1
 
The Nimbus crew gasses up, grabs their snowmobiles and heads north to explore the backcountry of Whistler, BC.  Here they team up with pro snowboarder Shin Campos for a tour of his favorite zones, hitting pillows, cliffs, and natural features. 
Hunting Yeti Webisode 2, Part 2
 
The Nimbus crew continues to showcase their backcountry snowmobiling skills with road trips to Sonora, CA and Cooke City, MT.