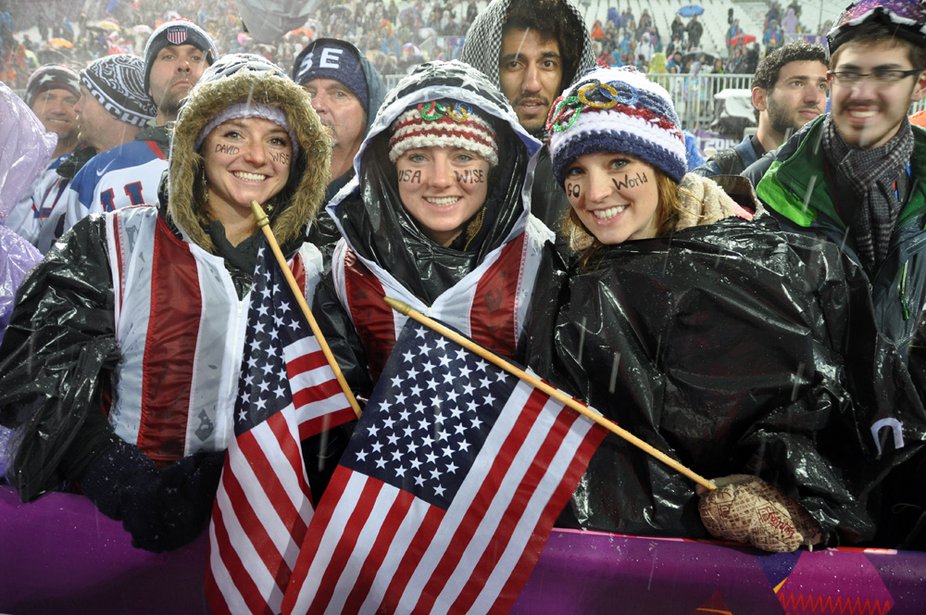 The David Wise fan club.
Words & photos: Ethan Stone
"No photos! No photos!" The volunteer is waving her hands in front of my lens, blocking my shot of the ceremony as David Wise mounts the podium as skiing's first Olympic halfpipe gold medalist, flanked by Mike Riddle in the second-place position to his right, and Kevin Rolland to his left in third.
I'm in the "mixed media" zone, which means that I'm not allowed to shoot photos--but as any decent journalist knows, at events it's not about what you're allowed to do, but what you can get away with. I've been having no problem up until now either sneaking up to the great angles in the coaches' section, or surreptitiously snapping away photos from the mixed media zone. But now they've got my number.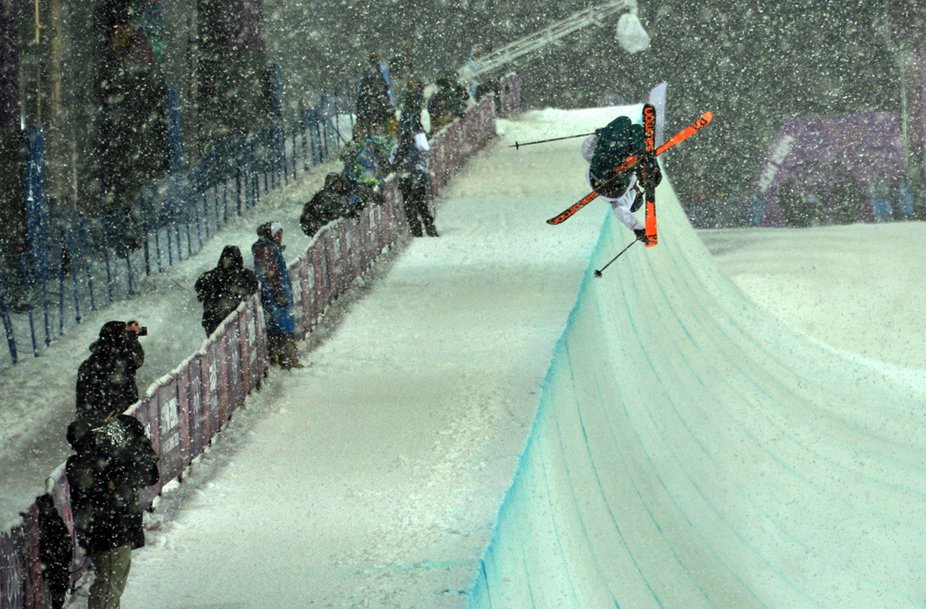 This photo of AJ Kempainnen was shot from a location unauthorized by the IOC. Suckers.
"This is the fourth time we've caught you shooting photos," the volunteer informs me pertly. "You know, we're supposed to kick you out." Thankfully though, they let me stay to grab a few audio interviews, provided my camera is tucked away underneath my jacket. God forbid I bring it out again; I'd probably end up in the gulag.
Camera safely stowed, I'm able to grab some interviews with competitors, who can describe the night's events more poignantly than me. First up: Matt Margetts.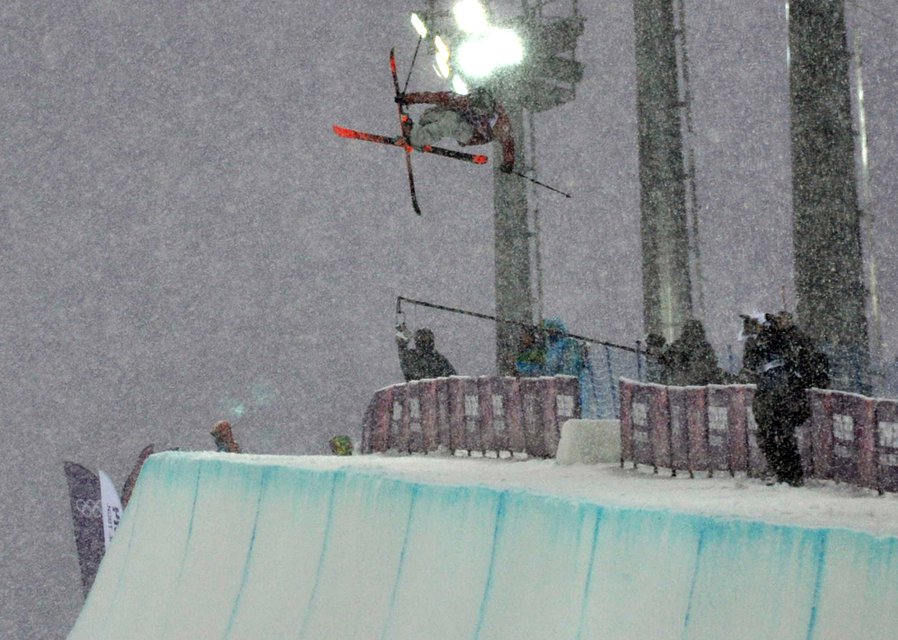 Margetts put down a clean run in the qualifiers despite terrible conditions, but couldn't break into the finals.
"Two years in a row we had bad weather competing here," says Margetts--referencing last year's test event. "I hope it didn't make skiing halfpipe look too bad, because that was a big bummer to have weather like this after it's been sunny and beautiful and warm the past two weeks."
"I could not be more stoked for Mike Riddle to get second. I really wish Bone had landed his run, because he could have topped that podium."
Next up for an interview: Jossi Wells, who together with his brother Beau-James (Byron watched from the sidelines tonight with a leg injury sustained during practice) put on a style clinic that won't be quickly forgotten.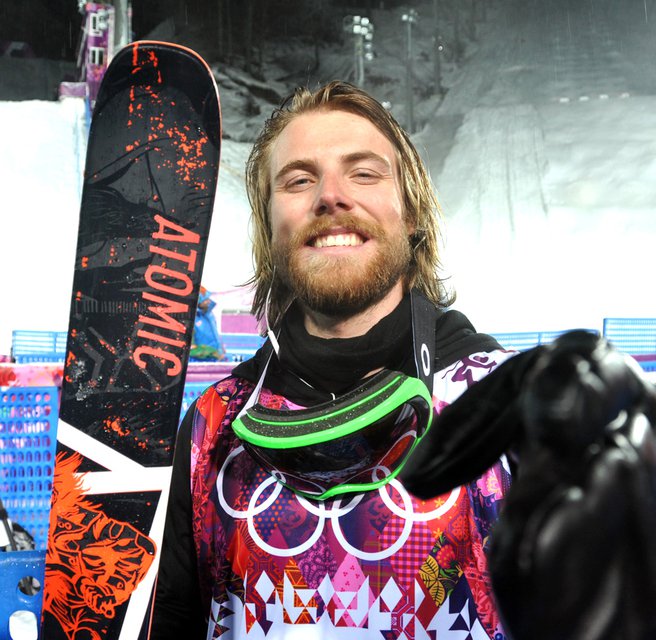 This single photo almost got me kicked out of the venue. Thanks, Jossi.
"I came fourth, and that's kind of the worst place to get in the Olympics," Jossi says. "It's so close, but so far away. I skied the best I've ever skied in halfpipe tonight. Those are the best pipe runs I've ever done. Although it didn't land me on the podium, I'm really stoked on how I rode."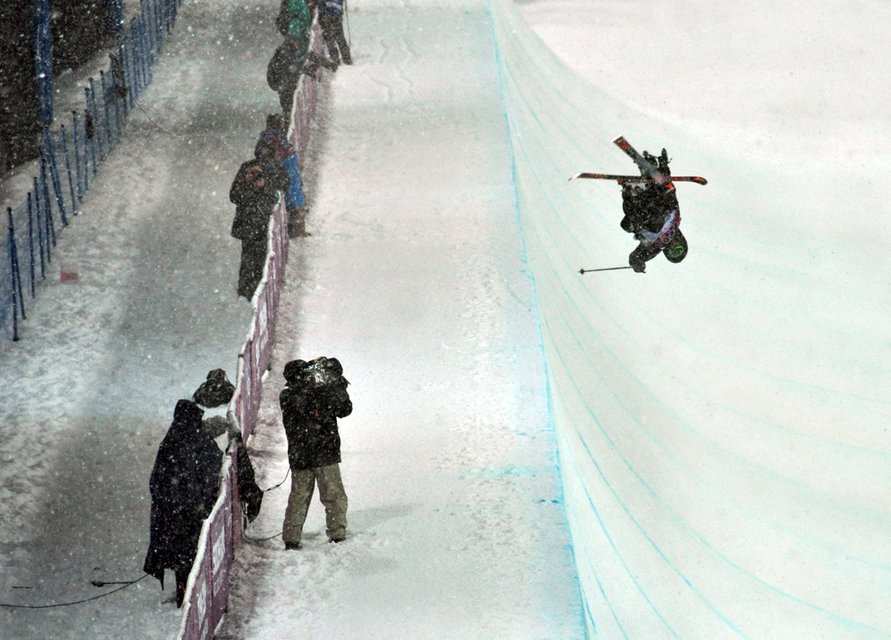 Jossi in the middle of another clean, stylish run. Fourth place ain't nothin' to scoff at, bud.
I ask Jossi how tonight's wintry conditions affected the riders.
"It was so slow. The more it snowed, the worse it got," he answers. "It was all about landing perfectly on the transition to link your runs together."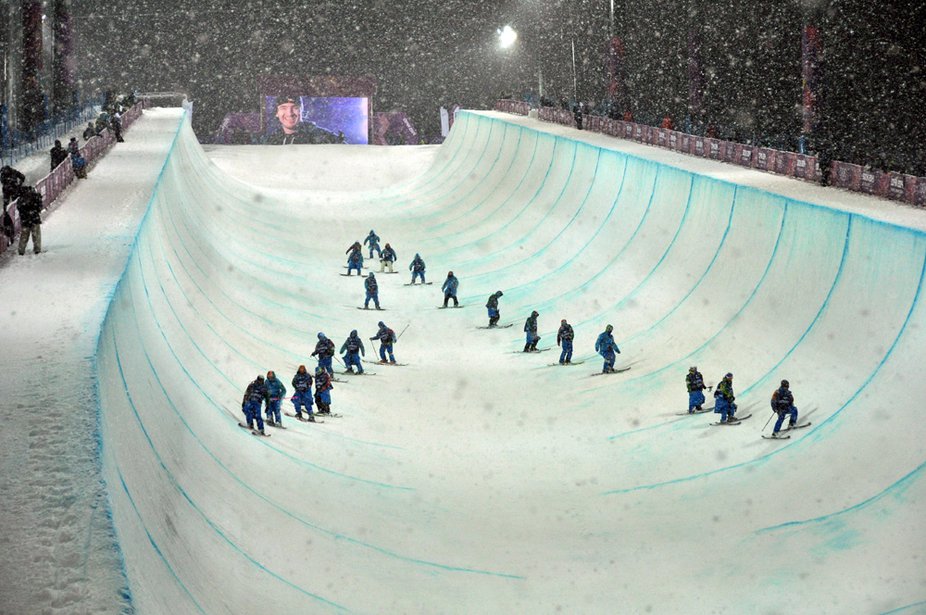 The slippers do their best to clear out the new-fallen snow.
Shoutouts to other riders? "Shoutout to my boy Torin. Real bummed that he couldn't make finals. He's my favorite pipe skier to watch. But he's like 12 years old, so he'll have like six more Olympics to go to."
Later, at the official press conference, I get the quotes from the three medalists, who are all but unreachable at the venue for those lacking adequate accreditation to get past those pesky volunteers.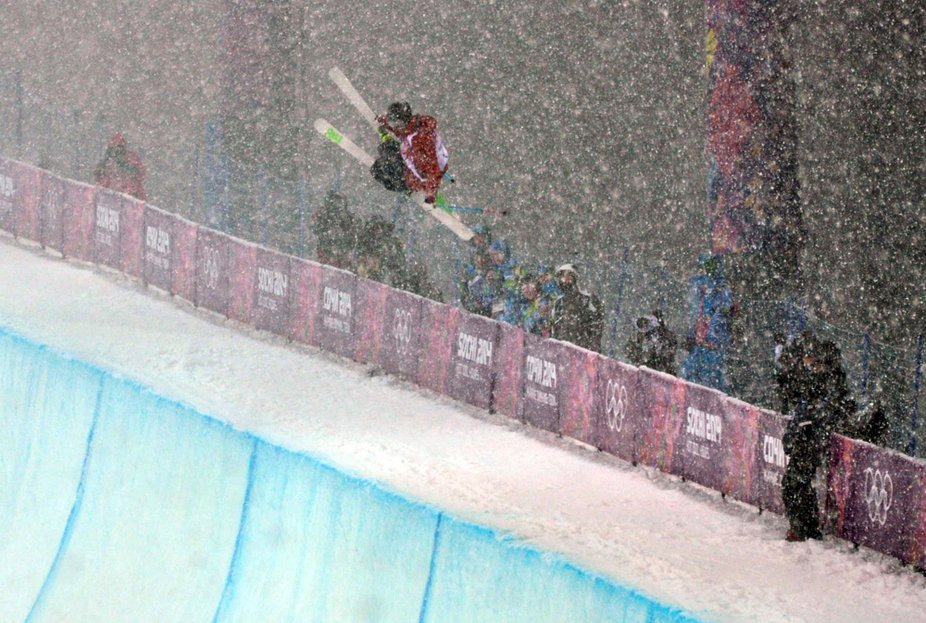 Kevin Rolland alley-oop flat 3's his way into an Olympic bronze medal.
"The conditions tonight were really tough," says Kevin Rolland. "Especially for me, because I'm not that good when it's slow. My goal was to win, but I found someone who's better than me."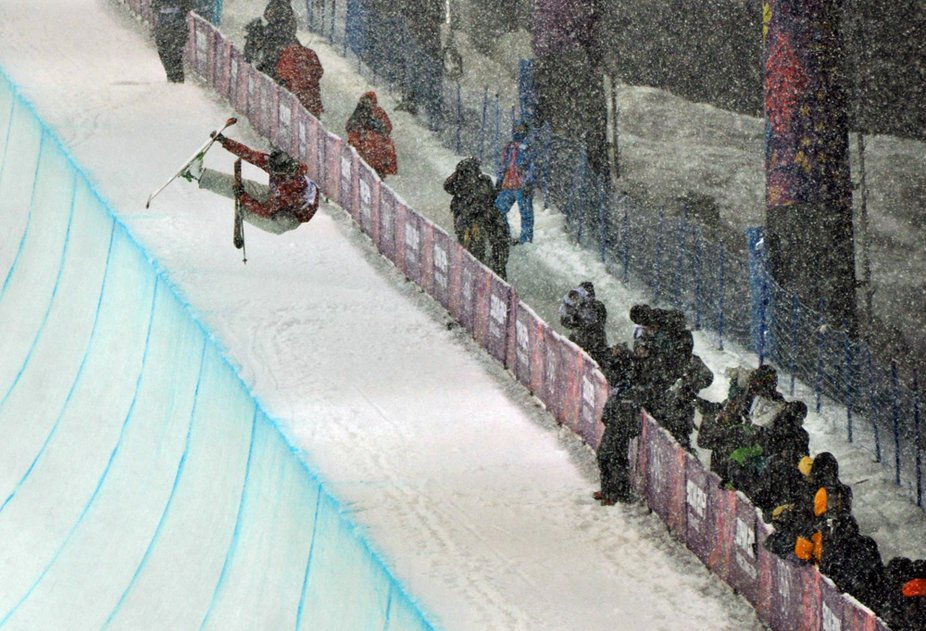 Mike Riddle, with his own alley-oop flat 3 bow-and-arrow, on his way to second place.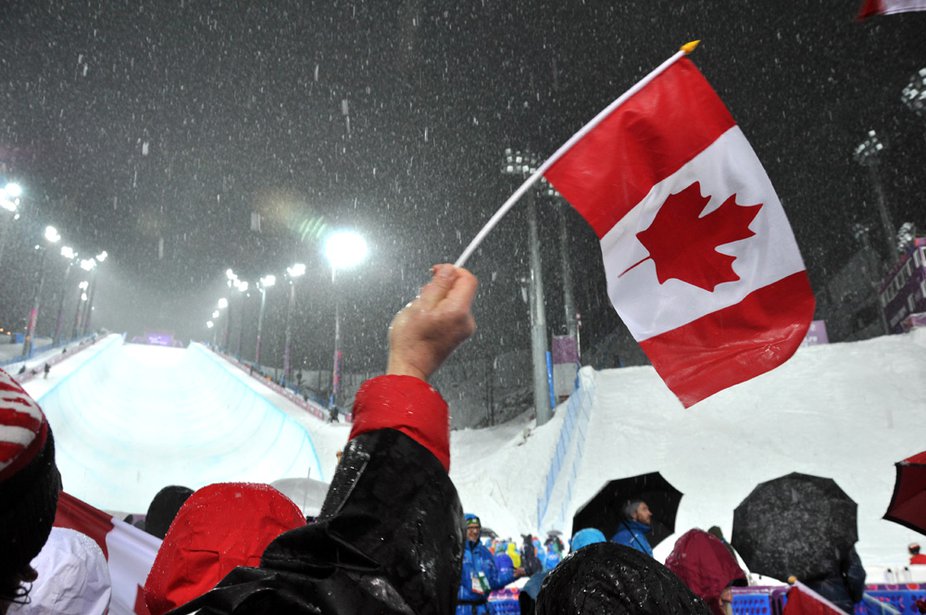 Canada rallies for Riddle.
"I tried the right double, which i was working on at our training camp in France before we came here," says Mike Riddle. "I landed it first try, and then it was game on. I'm unbelievably happy that I put my run together when it mattered."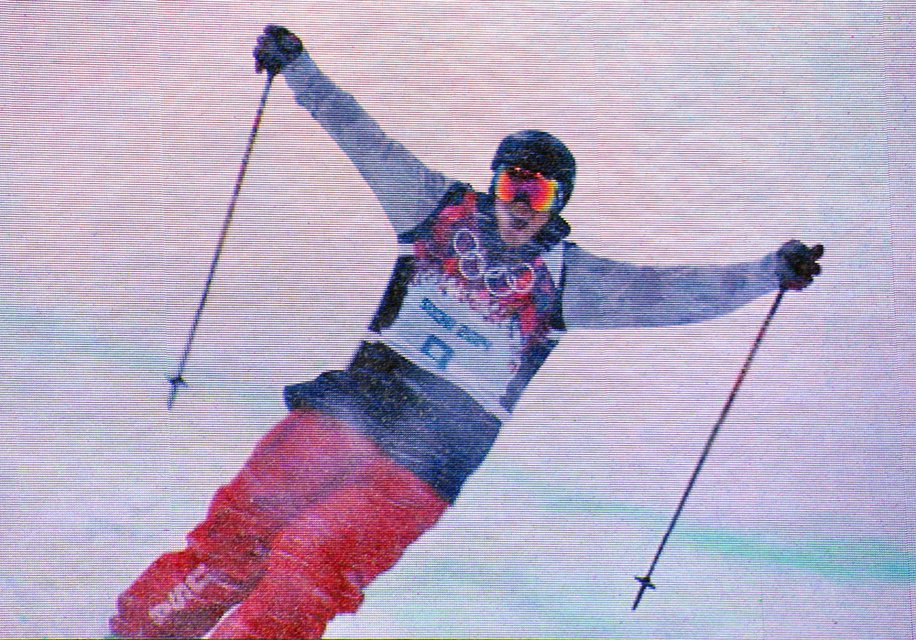 Wise: holding it down for the back-to-back World War champs.
"I'm still trying to believe this whole crazy thing," says David Wise."Conditions tonight weren't optimal, but we had a good field of riders and I was really stoked to see everyone come out and throw down."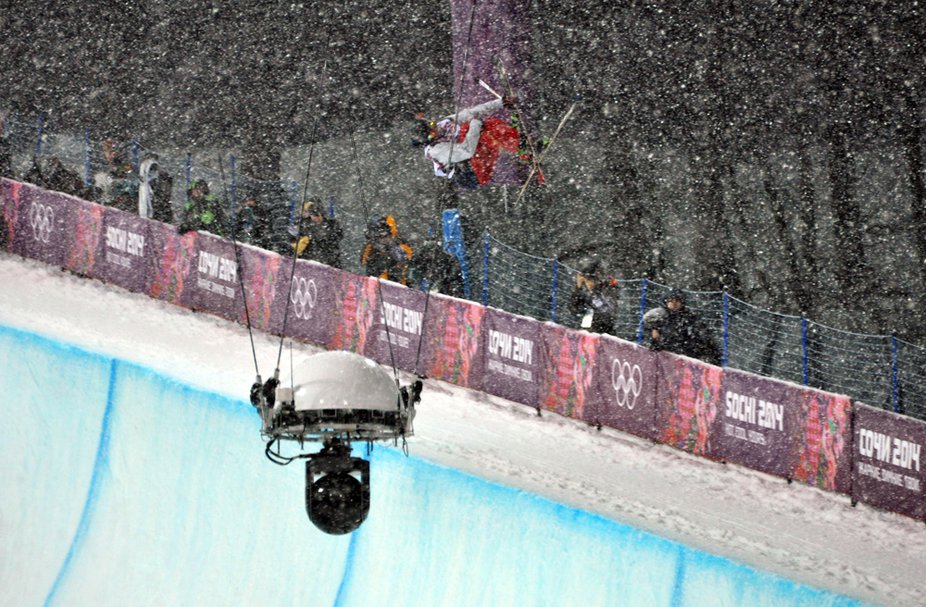 Wise's last-hit rightside double cork 1260 mute sealed the deal.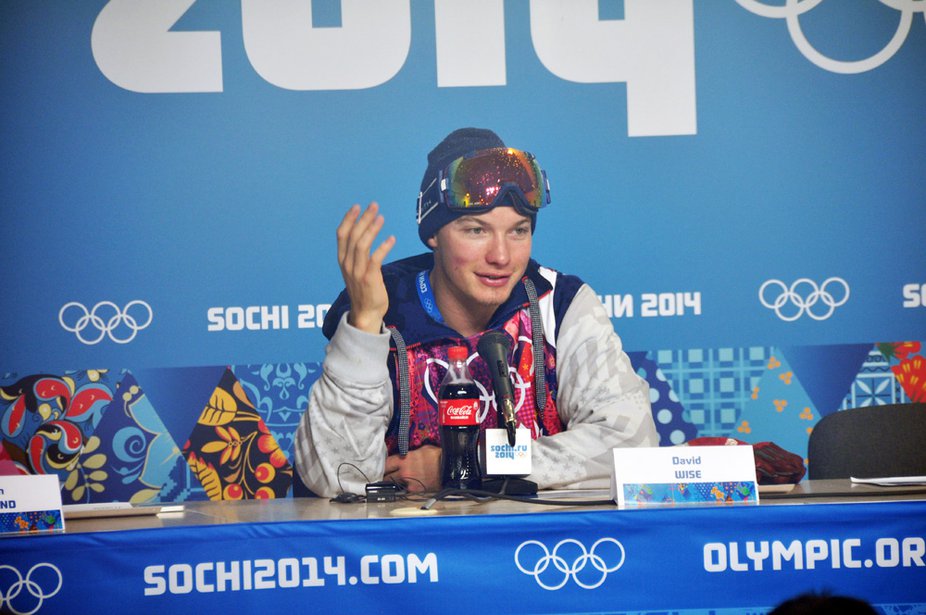 Rad dad at the press conference.
"I was honestly stoked to be able to even put both double corks in my run," continues Wise. "I have the switch double cork and a couple of new tricks that I haven't shown anybody yet that I really would have liked to do tonight, but the conditions just werent allowing it. So I had to look through my run and see what I could do the best considering the conditions."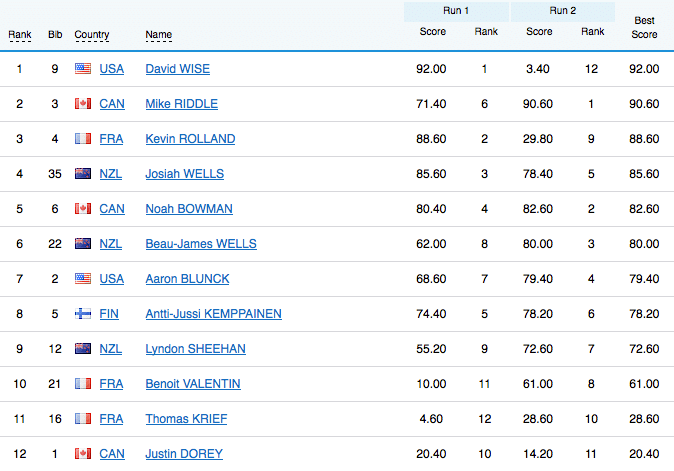 Finals Runs Breakdowns
Run 1
Aaron Blunck
Right double cork 1260
Left cork 1080
Switch right 720
Alley-oop right double flatspin 900
Right cork 1080 tail
Score: 68.6
Thomas Krief
Double cork 1260 (crash)
Score: 4.6
Beau-James Wells
Left 540
Right double flair safety (hip check)
Left cork 900
Right 720
Switch 720 stale
Score: 62.0
AJ Kempainnen
Switch left 900
Switch right 720
Double flair safety
Right cork 900 tail
Left cork 900 tail
Right double flair
Score: 74.4
Lyndon Sheehan
Switch left 720
Right 540
Left cork 900
Right cork 900
Left cork 1080
Score: 55.2
Noah Bowman
Alley-oop left 360 mute
Switch left 900
Switch left 540
Switch left 720
Right cork 720 tail
Switch left 540
Score: 80.4
Mike Riddle
Left double cork 1260
Right double cork 1260 (hip-check)
Left cork 900
Alley-oop flat 360 bow-and-arrow
Switch 900
Switch left 540
Score: 71.4
Jossi Wells
Left double cork 1260
Right cork 900
Left double flair
Right 720
Switch 1080 (afterbang)
Score: 85.6
Kevin Rolland
Left double cork 1080 safety
Switch right 720
Left double cork 1260 mute
Alley-oop left flat 360 safety
Switch 720
Score: 88.6 (Bronze medal run)
Benoit Valentin
Flair
Alley-oop flat 540 (HUGE: washes out)
Score: 10.0
David Wise
Right cork 900 tail
Left double cork 1260 mute
Right 720 leading mute
Switch 720 japan
Right double cork 1260 mute
Score: 92.0 (Godl medal run)
Justin Dorey
Right double cork 1260
Left 720
Switch right 720
Left double cork 1260 (crash on the coping)
Score: 20.4
Run 2
Aaron Blunck
Right double cork 1260 mute
Left cork 1080
Switch right 1080
Right alley-oop double flat 900 japan
Right cork 1080 tail
Score: 79.4
Thomas Krief
Left double cork 1260
Alley-oop flat 360
Switch left 720
Right 900 lead mute
Left double cork 1440 (fall)
Score: 28.6
Beau-James Wells
Left 540 tweaked safety
Right double flair
Left double flair
Right cork 1080
Switch left 720 stale
Score: 80.0
AJ Kempainnen
Switch right 720
Left double flair
Right cork 900 tail
Left cork 900 tail
Right double flair
Score: 78.2
Lyndon Sheehan
Switch left 1080
Right 540
Left cork 900
Right cork 900
Left cork 1080
Score: 72.6
Noah Bowman
Alley-oop left 360 mute
Switch left 900 tail
Switch right 900
Switch left 720
Right 720 tail
Switch left cork 540
Score: 82.6
Mike Riddle
Left double cork 1260 mute
Right double cork 1260 safety
Left cork 900 japan
Alley-oop left flat 360 bow-and-arrow
Switch left 720
Score: 90.6 (Silver medal run)
Jossi Wells
Left double cork 1260
Right 900
Double flair
Right 720 tail
Switch left 1080
Score: 78.4
Kevin Rolland
Left double cork 1080 safety
Switch right 720
Left double cork 12 mute
Alley-oop flat 360 safety
Switch double (falls)
Score: 29.8
Benoit Valentin
Left flair
Alley-oop flat 540 (HUGE)
Left cork 900
Right cork 900
Double cork 1260 tail (washes out)
61.0
David Wise
Right cork 900 (decks out)
Score: 3.4
Justin Dorey - game face on
Right double cork 1260
Left cork 1080 (HUGE)
Switch right 720 (sits down on landing)
Score: 14.2