To put it simply; you can't ski without a pair of skis. So if skiing really wants to be environmentally friendly, finding a sustainable way to make them is vital. We spoke to two freeski legends (and friends) who come at this issue from different angles; Pep Fujas explains what WNDR Alpine is about and his Nimbus Independent pal, Eric Pollard, discusses his new company, Season Eqpt. Lib Tech has been banging the environmental drum for a few decades and they've started taking skiing seriously now too. There aren't many teams more stacked with talent than Faction Skis, they also have a big focus on sustainability. And if you want a pair of homegrown skis, then Grown Skis, are a company actually doing that!
_
WNDR ALPINE
WNDR Alpine is Matt Sterbenz's (formerly of 4FRNT) new ski brand. Eco-friendly and sustainable materials are integral to the business, as freeski legend and WNDR athlete/ambassador/employee, Pep Fujas, explains:
"The main value proposition with our AlgalTech technology platform is to create performance-driven materials created from renewable resources. That means, we're specifically making materials to provide some sort of performance benefit in outdoor recreational activities. By the nature of our resource, microalgae, yes, it is more sustainable and takes a lot less energy to create than petroleum."
Because of that WNDR have also vowed to be more responsible in the other activities required to create, sell, and distribute their products:
"One of the foundational principles is that of responsibility for the stewardship of our planet, which we hope one day will lead us to sustainability."
WNDR's factory uses completely renewable energy and Pep hopes they can be a role model for other businesses, to encourage them to do the right thing in whatever capacity they can. "I think the investment in 100% renewable energy is not currently the norm, but it should and will be in the future."
The AlgalWall material, that WNDR uses to make its skis, is 62% ASTM bio-based certified and the Algal Hard Foam is 40% ASTM bio-based certified. All of their skis are equipped with both technologies:
"Going forward we are confident we can up both of these percentages as we improve the chemistries."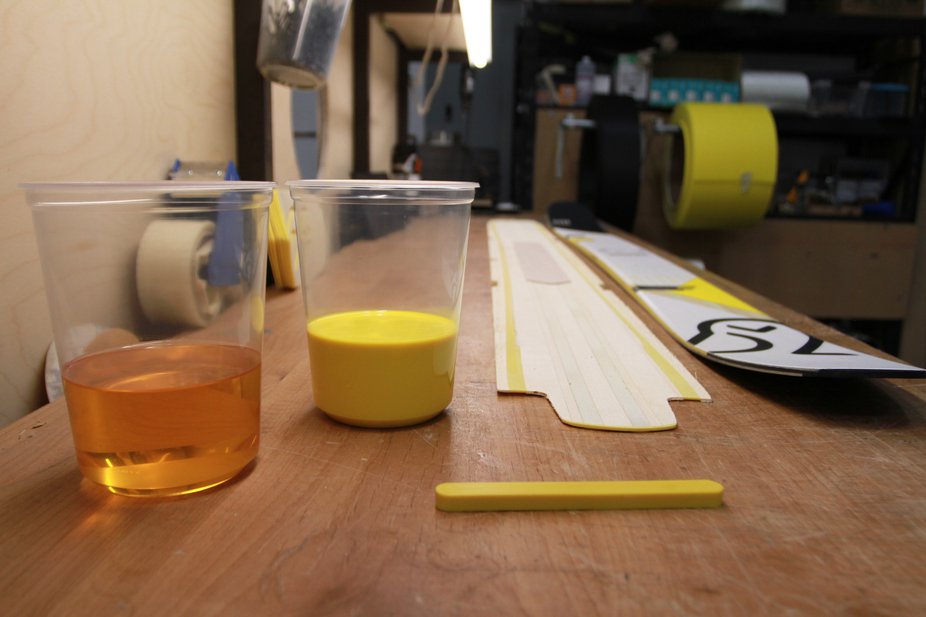 It might not look like much, but this stuff could be vital to the skis of the future.
WNDR has plans way beyond just using this revolutionary material. "The first is to repurpose our waste material into new material components. To make a pair of skis, approximately 30% of the materials used are wasted and typically go straight to the landfill," Fujas tells me. "Right now, we're grinding all that waste up and storing it. Our in-house material scientist is currently working with that conglomerated material to discover where it could possibly be reintegrated into our skis as a valuable component that adds benefit. "
"A second project in the works is to re-purpose base material into other useful products", he continues. "Last year we enrolled in a renewable energy program that powers our facility from 100% renewable sources and uses carbon offset shipping. Even with all of these conscientious activities, we are not sustainable and won't be until we are able to create a more circular economy where we no longer rely on virgin inputs. In the end, that is our goal. The future of our planet's health depends on corporate behavior."
_
SEASON EQPT
Eric Pollard is a freeski legend, not just because of what he does on his skis, but as a true pioneer of ski design as well.
Pollard ending his partnership with Line was huge news in October, but he had long decided to move on to his own project. He explains the simple idea behind the new company that he has started with snowboarder Austin Smith and long time friend and ex-Line head honcho, Josh Malczyk:
"We are being really selective with the materials that we use, but more than anything, the stuff either ends up in a landfill, or you hang on to it and put it on the wall or make it into a piece of furniture, that's the end of the life-cycle for these products. For us, longevity is at the heart of Season Eqpt., which is to say; can we possibly build a product that we can help people keep and use for as long as possible."
"For me, the biggest thing is just to take care of your equipment and try to ride it as long as you can. It certainly doesn't have to be Season, it could be any product that they have. Just take care of it, wax it, make sure that you're repairing it. Don't just chuck it when it's lost it's appeal to you.
The new Season Eqpt. lineup.
With the life I've led, I've basically lived out of a suitcase for the last couple of decades, globe-trotting around. Over the last decade, I've gotten my fill and the wanderlust is quenched to a degree. I've seen a lot of the world and recently, I've just been riding locally. I know that's easy for me to say, but that's what I do, to mitigate my impact on the world. I've had such a big carbon footprint with the number of flights that I've been doing and skiing all over the place. For me personally, it's new, skiing locally. But I realize that's maybe silly for me to say to people at large, because I think people are just skiing locally, for the most part.
It dawned on Pollard that every year he would just create a new graphic. "The ski's the same, but we're just selling this new graphic; year in and year out," he tells me. "People were buying them to have the newest product, even if the last graphic was perfectly good. It started to weigh on me, like wait a minute, this doesn't seem compatible, it certainly didn't feel like we were in balance with the world at large."
In addition to offering lifetime servicing and a repair program, Season Eqpt. will shun the trend of releasing new graphics each year, instead consistently offering the same models with plain black top sheets and classy small details for years to come. The longer a product's life cycle, the more sustainable it is. Making that as long as possible is the brand's mission.
_
LIB TECH
Lib Tech is definitely not new to environmentally friendly production. They are still relatively new on the ski scene though, after years of producing skateboards and surfboards. CEO Anthony De Rocco, says that they are committed to skiing and to continuing and expanding their environmentally friendly practices.
"Over the course of my 30-year career in the Wintersports business, I've been to many of the key factories throughout Europe and pretty much every major factory in China and Taiwan. I've been around the block, from a factory standpoint. My background is mechanical engineering. When I started at K2, the factory was still in the US. I've been at Lib-Tech for five years now. It's quite interesting, in terms of how we do things. In regard to discussing an environmental aspect of a factory's footprint, the one key question to ask is: 'Do you have solvents in your factory?'
Anthony says that every factory he's been in has used solvents because most printing inks are solvent-based and solvent products typically provide the best adhesion properties. But once you introduce solvents into your manufacturing system, you have to deal with solvent waste, which is hazardous. You can't dump it and there are a lot of related issues. Lib Tech is run out of a completely solvent-free factory. "The biggest thing Mike Olson, one of the founders of the company, did was that he came up with a new sublimation system which allows us to get really, really rich and deep colors, using water-based inks on both our topsheet and base materials", he tells me. As a former competitor, Anthony used to look at the Lib-Tech and GNU graphics and try to figure out how they were getting those sharp oranges and bright blues and reds.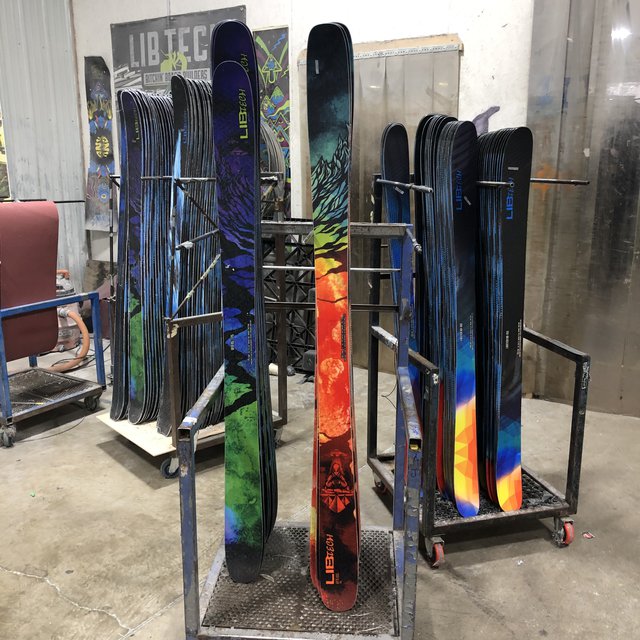 Those colors really do POP!
Removing toxic solvents from the sublimation process and avoiding clear coating, typically a solvent heavy process, are the key environmental cornerstones of Lib Tech's production. Doing so has entirely removed the need for solvents in the factory. And that means you can recycle your waste.
For example, when you sublimate ski bases, you cut out the shape of the ski, and you have a lot of waste because it's coming out of a rectangular piece of material. "The polyethylene we use is a high-value material because it's super wear-resistant," Anthony tells me. "We're very different from any manufacturer that has printed bases because we can recycle all this excess base material. We also recycle the excess wood from our core milling process. The thing that allows all the recycling we do, is the fact that we don't have solvents in the factory."
"If you look at our websites from 10-15 years ago you'd have seen us talking about eco-friendly processes: sublimation, bio-bean top materials, bio-resin, all words that everybody uses now. But Lib Tech was first", Anthony concludes. And Lib Tech HAS been at the forefront of environmentalism in the snowsports industry for the best part of two decades. They might not always get the credit for it as a relative newcomer to skiing, but they've been totally consistent with their environmental message and now they are crushing the ski game too.
_
FACTION SKIS
Sarah Hoefflin tuning a well-used ski. Credit: Will Derrick
Faction Skis have one of the most talented teams in skiing. Kelly Sildaru, Alex Hall, Sarah Hoefflin, and even Candide Thovex! But in 2020, it doesn't matter how many XGames and Olympic medals or Candides you have if you're not committed to looking after the planet. Sustainability is one of their top concerns when developing new products. They even have an in-house sustainability manager, Sara Asmoarp.
Going forward, their number one policy is to make their products more durable so that they last longer. Faction has been quite open about the fact that their skis haven't always been the most durable, and this year their main focus with production has been to address that issue. "The longer a ski lasts the more sustainable it is", Sara explains. "We want people to keep skiing their Faction skis for a long time or be able to sell them second hand at a good price because the ski is still in good shape and has a good reputation." Production is made more sustainable by using materials sourced and produced either in Austria, where the factories are based, or otherwise very close by.
But as a major brand with a worldwide network of offices and distributors, Faction has other aspects of the business to think about when it comes to sustainability. Despite the global spread of employees, they minimize travel and have done for years. "We always try and do things on calls, and never travel unless it's essential," Sara says. The Faction head office is in Le Chable, below Verbier, and it's run on 100% renewable energy. The location comes with a number of advantages too. The team are 50m from the lift, which means that most of their testing and R and D doesn't even require a car. A major focus of said, R&D at the moment is looking at bio-resins as well as recycled sidewalls, bases, and topsheets. "We'll have a sample out soon for testing and the ski will our line up next year as a special ltd edition collaboration," Sara tells me at the end of our chat.
_
GROWN SKIS
If you read last week's article, you may have seen this Jeremy Jones quote:
"We're never planting a seed and skis are popping out of the ground."
While the president of Protect Our Winters is not wrong per-say, Grown Skis do take a more natural approach when making their skis. In 2018, Grown produced the first ski with a 100% industrial hemp fiber/paulownia wood core. I'll let them explain:
"The hemp fibers are used as a substitute for the conventional non-renewable fibers used in skis and many other technical products, such as glass and carbon fibers. Hemp is renewable, organic, and captures carbon dioxide as it's grown, thus removing it from the atmosphere and actively slowing down human-induced climate change. Based on a life cycle assessment, this new hemp technology decreases the environmental footprint of skis by about 47%, compared to conventional skis with the same production quality and sourced in Europe."

They say that industrial hemp, a widely misunderstood plant, is currently experiencing a renaissance as a multifunctional environmental asset.
"Due to its many uses... in food, fabric, in the building industry, in cosmetics and medicine, and now also for technical composite materials, Hemp has incredible potential. It can incubate a more circular economy and thereby help to restore the economy of vulnerable mountain regions," the folk over at Grown explain.
Swapping his POW hat for his Jones Snowboard hat, Jeremy tells of how exciting companies like Grown can be:
"If you come to our ISPO booth and tell me that you've got hemp cores, then you're going to get a meeting with me... and I'm really busy at these trade shows. There are certain things that I understand as the crux issues of manufacturing and when these people introduce potential solutions, not only do we talk to them, but we try them." High praise indeed from a man at the forefront of the snowsports industry's fight against climate change.
_
As with softgoods, I'm sure that there are other companies doing great things with skis, give them a shout out in the comments. Next week we speak to some pretty serious scientists as we take a look at how resorts can be more sustainable.