Words by Jeff Schmuck
Anthony Boronowski first told me he was going to make a Joystick team movie last fall at IF3. I was immediately excited about the project, as after being friends with Anthony for so many years I know how creative and dedicated he is when he sets his mind on something that's meaningful to him, whether it be his skiing, his art or his growingly successful company Joystick.
As the winter wore on, Anthony and I spoke periodically and more details emerged about his film. It wasn't going to be your typical over-planned, high-budget, heli cam, dedicate your entire season to making a segment type of film. He and his team were going to get in a van in the spring, and start driving south from Whistler…and see where they'd end up.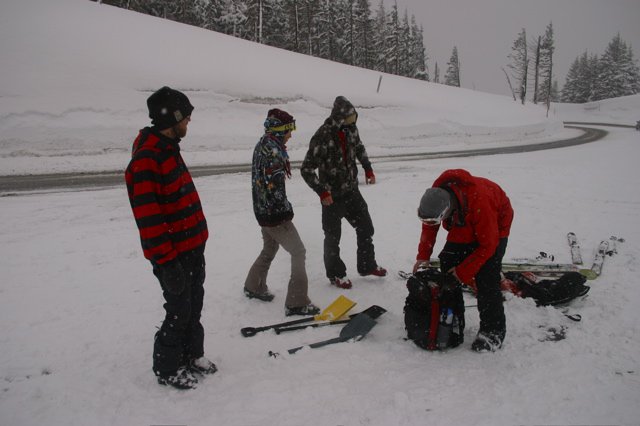 photo: Jeff Schmuck
So after some mild headaches planning the venture, along with some mild delays and mild attendance changes before it got going, Anthony Boronowski, Blake Nyman, Jordan Seldin and Paco Garcia saddled up and got the hell out of Dodge during Whistler's World Ski and Snowboard Festival, and headed south, hoping to find snow along the way.
Roughly halfway through their journey I was fortunate enough to meet up with them at Mt Hood and decided to go out on a shoot with them. So after a long night of poker we awoke to greybird skies, piled into the van, and left Windells for Timberline with no real concrete plan in mind other than a few briefly discussed options amongst the team.
The boys had scoped a zone the day before where they wanted to build a jump, there was a campsite off the highway with a little snow and some potential unique jibs, or we could make use of the high snow banks created by Timberline's plows on the side of the roads to build a quarterpipe.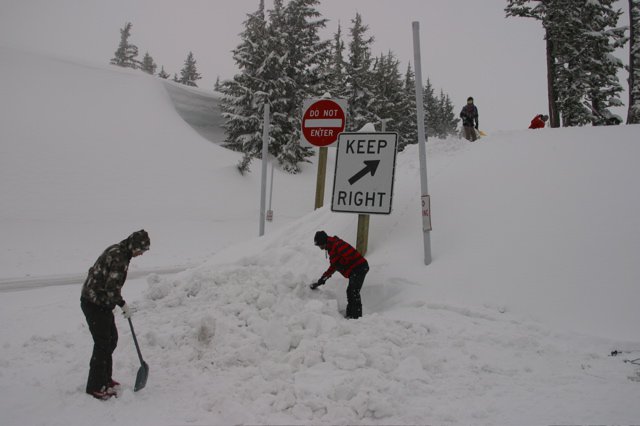 photo: Jeff Schmuck
As the boys considered the options they had creatively come up with before deciding to build a burly jump over a road sign they wanted to tap, I began to realize how refreshing the scene before me was. After being at my fair share of over-planned, high-budget shoots with heli cams in the past year, here was just a small group of friends, who happen to be extremely talented and creative skiers, going out on a road trip with no big budget and no real plan other than have as much fun skiing as possible, while hopefully getting some shots along the way. It was on that day that I began to truly understand and appreciate the meaning of Anthony and his team's project, and it was one of the most fun days I've had all year.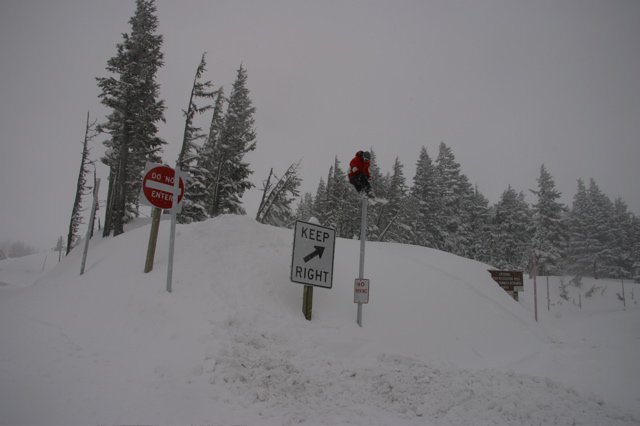 Anthony Boronowski. photo: Jeff Schmuck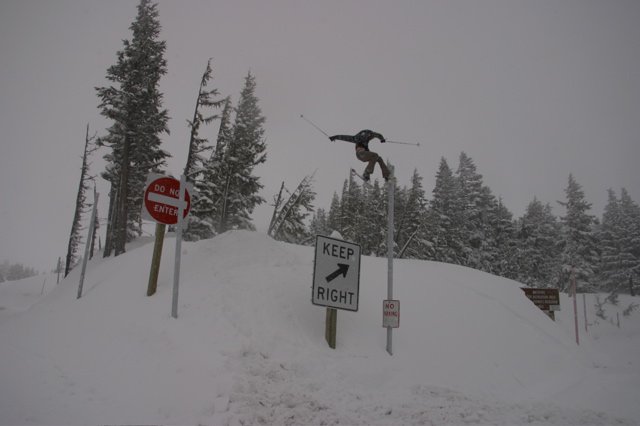 Paco Garcia. photo: Jeff Schmuck
After recently receiving the trailer from Anthony for the film, titled Hot Lunch, I met up with him after arriving in Whistler for the summer to get some more insight on the project, see how the editing process is treating him, and to talk about the upcoming Joystick week at Camp of Champions, where he will unveil his project to the masses at a world premiere next week.
So tell us about the movie and the project as a whole.
Well basically me and a couple of guys from the Joystick team just got a van and drove from Whistler to Los Angeles in the end of April until the beginning of June. 24-day road trip.
Where all did you guys go?
Whistler, Mt Hood for the West Coast Session and Mammoth. We went to lots of other places as well, but that was basically all the skiing we did.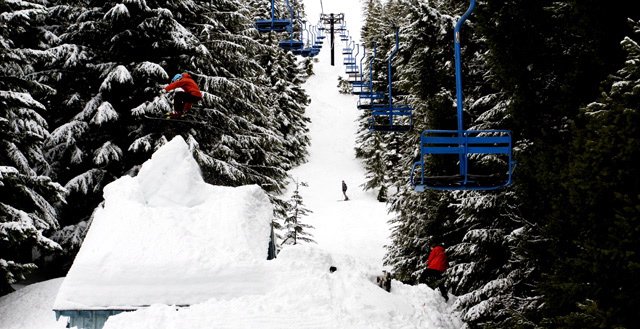 Blake Nyman. photo: Josh Anderson
Who was along for the ride?
The main guys were Me, Paco Garcia, Jordan Seldin and Blake Nyman, and we met up with some of the other guys from the team along the way, like Garrett Russell, Chris Benchetler, Christian Sirianni, Kevin Malone, Bernie Rosow and Rob Heule, who's a new young kid from Calgary.
What prompted you to make a movie?
It was just something I've always wanted to do, and it seemed like a fun project. I just thought it would be cool for the team to do it together, because they're a really talented group of people and they don't get much attention.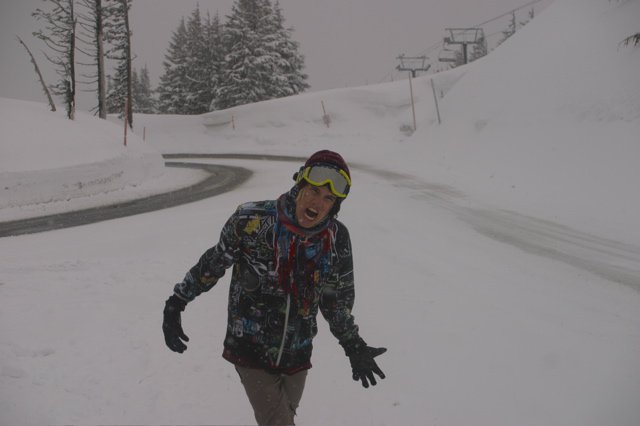 Paco. photo: Jeff Schmuck
What would you say is different about this film in comparison to the onslaught of other movies coming out this year?
It's fun. It doesn't take itself too seriously. I find that a lot of films right now are pretty serious about making their movie the best thing ever, where as our film is just about having fun and going skiing together. So I just really tried to reflect that in the film because that was our attitude along the whole trip, to have a good time and film it along the way, rather than go out every day and try to get these gnarly bangers. We just tried to have fun together as a crew and sometimes that's hard when you're filming but I think we did a pretty good job of making it happen.
Tell us about the original van you bought for the trip.
(laughs) Well originally we wanted to have a 15-passenger van for the trip because we thought we had more people coming. So Blake was down in Salt Lake looking at all these 15-passenger vans and found a really good one, so he bought it and I ended up giving him the money for it. But after buying it Blake was kind of having regrets and saying, 'Dude I don't know if the van is going to make it through the trip,' so we just re-sold it. Maybe it would have made it though, but we figured better safe than sorry.
What year was it?
1986 (laughs).
So how's the editing process going right now?
It's good. I'm psyched on it. It's taking a lot of time and it's slow, but I think it's important to work hard on editing, however the film isn't going to be crazily edited and technical in that way. I just want to make it represent what we set out to achieve with this trip and I think that's really important.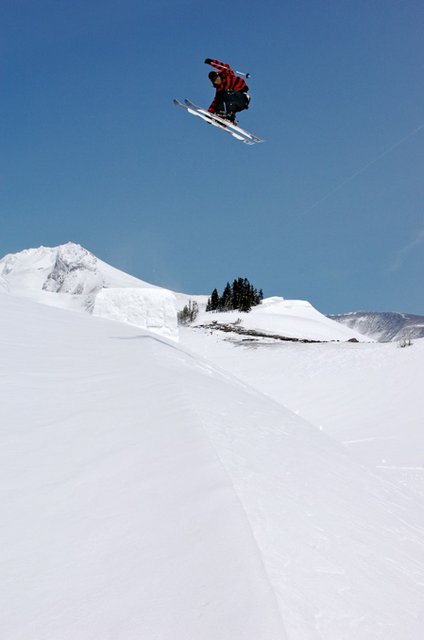 Jordan Seldin. photo: Felix Rioux
Another thing that's going to be different about this film is how it's going to be available. How about you explain to everyone how they can check it out.
Well I wanted to make it so everyone could see it, and that was really my biggest goal in making the film, so it's going to be a free online download. I'm going to have a page where you can just watch it directly online or download the high quality version.
And when will it be released?
August 15th. I think that's a good date
So who filmed the video?
We did (laughs). Me, Blake, Jordan and Paco, and Benchetler filmed a bit as well. We basically just filmed eachother like we use to back in the day when were kids. So the filming isn't the most outstanding (laughs), but I think it's alright and I'm happy with it. Maybe next year we'll take more of a step forward and get a filmer.
How's this whole experience been for you personally with being a professional skier, and running a business, and now filming and editing a movie?
It's been really cool. It's kind of the full circle of running a business and understanding what our industry is about rather than just skiing. It changes the way you look at a lot of things in our industry, because you don't really understand the way things are made up when you're just a skier. And once I started to work on the back end and learn how the industry is structured, it really taught me a lot about the industry and business in general. But in the same breath it's been pretty cool for me to see how it works with editing and making a movie and deciding how to distribute it, which is a really interesting concept.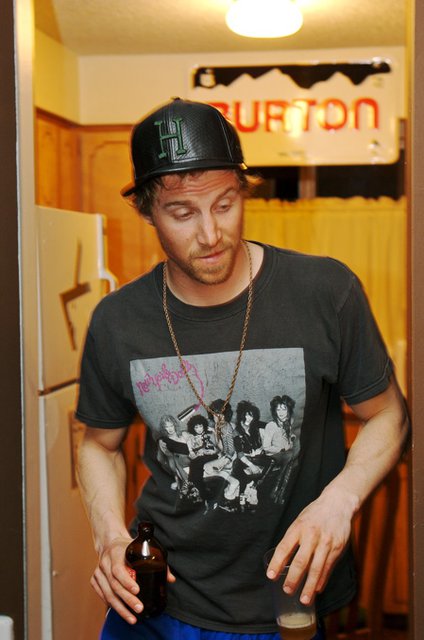 Anthony. photo: Felix Rioux
Speaking of your business, what's next for Joystick?
I can't talk about it (laughs). Not yet. We're going to continue to expand the poles and gloves and we're working on some other ideas that need to be flushed out before I can really start to get into them.
So beginning next week at Camp of Champions it's going to be Joystick week. What's going to be going on?
It's basically just a really good and fun opportunity for the kids to come out and ride with the team at camp, which is great because Camp of Champions is going to have such a sick park this year and so it's so much fun to be up there in the summer. Summer shredding is always rad.
Who's all going to be there?
Abma, Paco, Jordan, Max if he gets up before 2:30 (laughs), myself, Rob Heule, Sven Kueenle, Jamie Puigdengoles and another Paco, Paco Benguerel.
Is Blake going to be there?
No he can't make it unfortunately. He has to work.
Bummer. So the big news about Joystick week is that you're going to premiere the movie during it.
Yeah it's going to happen next Thursday (the 26th) at 5pm at the Village 8 Cinemas in Whistler, so everyone who's in town should definitely come and check it out.
Nice. Well, that's all the questions I have. But Max is sitting here and says he has some...
Max: Did anyone get laid on the trip?
(laughs) No. Not at all.
Max: Who would you vote out of the van?
(laughs) No one man. We all got along pretty good I think.
Max: Were you the only one with baggy pants on the trip?
Yeah totally (laughs). And my pants aren't even that baggy dude. I was thinking I was going to have to sew them in halfway through the trip to fit in (laughs). It's funny because I guess this is kind of going to be the tight pants movie for skiing but I don't even notice it anymore.
Fair enough. Well thanks for taking the time to tell us about the movie Anthony.
No worries, I hope everyone enjoys it.
The world premiere of Hot Lunch will take place Thursday, June 26th at 5pm at the Village 8 Cinemas in Whistler.
The film will be available for free download on August 15th.
Joystick week begins tomorrow at Camp of Champions runs until June 28th.