Traveling to ski gets all the hype, in fact, it seems like most of the industry is built around it. We're inundated with ads for multi-mountain passes, airlines tout their ability to drop you a short shuttle ride from the slopes, and if I hear one more person describe their perfect "travel" ski and binding setup, I'll throw my Shift bindings and perfect 50/50 one ski quiver into the ocean.
Don't get me wrong, I love traveling to ski. I did it for a living for a few years, and I still get out and ski a few different hills every season. But somewhere in our rush to chase storms and "legendary" terrain, we've undersold ourselves on the magic of the home hill.
It's a little hard to define what really makes a ski area your home hill. The obvious factor would seem to be proximity, but I know from experience, that's not really true. My first season pass was at a resort so far from home that it required a 3.5 hour drive each way, every time I wanted to slide around on snow. But even though I spent more time driving than skiing most weekends, it was undoubtedly my home hill. It was my place, it defined what skiing was to me, I felt at home there.
So if it's not proximity, what makes a hill so special? The amount of time you spend there maybe? The number of lift rides you make small-talk through? I'm not sure, sometimes I think it happens on a more personal level, how skiing there makes you feel.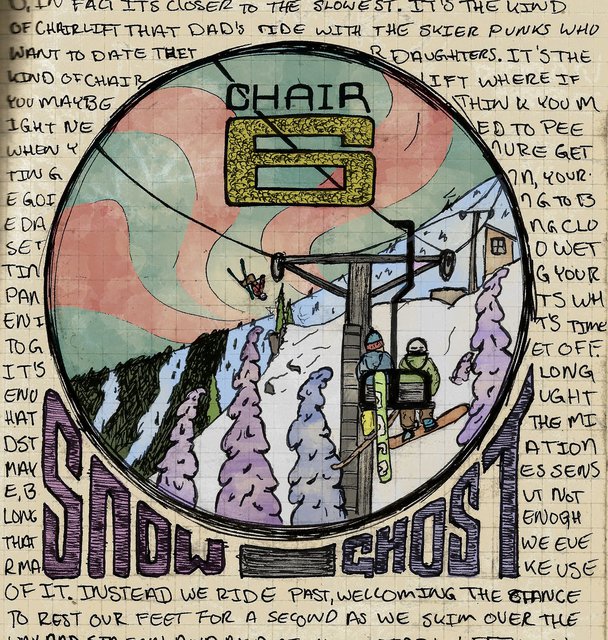 Chair 6 at Schweitzer made me feel some kinda way, so I drew this.
What I do know is that some places feel more like someone's home hill than others. I had a conversation about this with a stranger I met in the singles line recently. She called them "duct-tape ski hills." The kind of places where the personalities of the people who haunt them shine brighter than the corporation that runs the ski area. They feel lived-in, like the local skiers their assert their ownership over every chair, every run.
I get the appeal of mega-resorts. I understand why people center their spring break trip around the Jackson Holes, the Sun Valleys, the Big Skies of this world. And plenty of my friends call big-name places like that their home hill. But so much of that experience is centered around visitors who come, ski their famous runs, take their pictures in front of recognizable landmarks, buy their expensive lodge food, slap that iconic sticker on their helmets and then head home after their week of ski vacation. And at this point in my life as a skier, I'm not really trying to tell my friends how rad I am because I skied somewhere famous. Instead, I'm more interested in skiing places that are lovable for what they are. For what their skiers make them.
When I left home to seek my fame and fortune in the ski industry I figured I'd land eventually at one of those big-name hills. I'd shoot photos with a rotating cast of professional skiers as they came through town, and build my industry credentials. I ended up at a sleepy resort where I don't wait in lift lines unless it's a holiday or a weekend. The photo on my pass is a drawing I did, and the lifties get it because they know I'm the weird drawer dude.
For me, much of my affection for a ski hill comes down to an odd form of ownership. At home I'm guaranteed to run into someone I know every few runs. I have my favorite laps memorized, a series of hits and turns I can repeat indefinitely. I know what the best food deals are, where I can poach some wifi, what runs will make out-of-town friends giggle when they visit, and which lifties I can give a hard time. I know that when I hitchhike home with strangers, I'm almost guaranteed to know someone in common with them. It's my place, our place, not some invisible corporation's.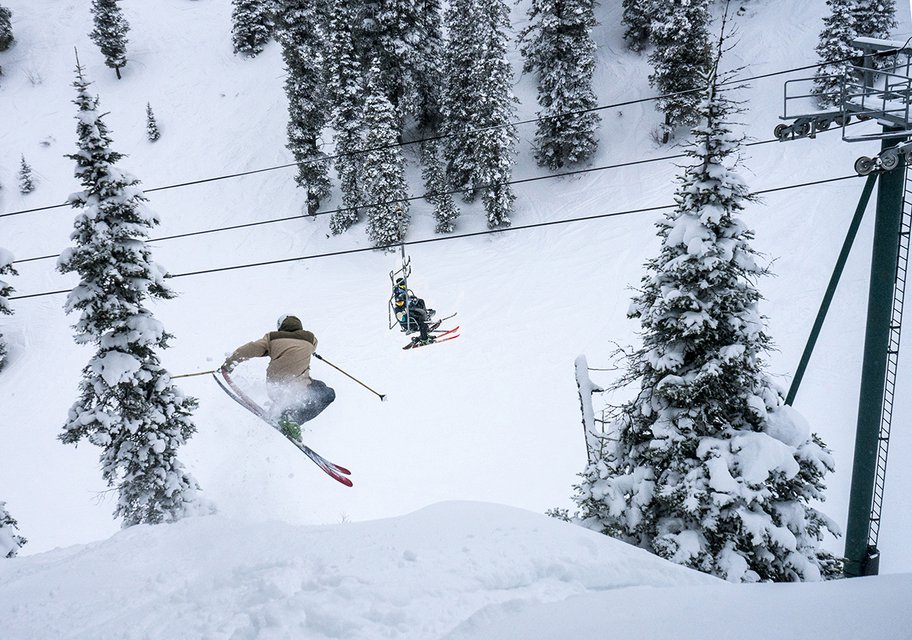 A key element of the home hill is chairlift heckling.
When I travel I'm not really interested in snow totals, number of runs, and acreage. Don't bore me with your stats. Who cares how many high-speed lifts you have? What's the "cooking your own Cup Noodles in the lodge" situation? Communal microwave or carafe of hot water? Is a pack of local kids skiing on the edge of control in Carhartt bibs under the lift? Is that guy really tele skiing on old Hellbents? Yeah, he's here every day, takes Sunday mornings off for church though.
I have a friend who brings a pack of Oreos for the lifties and parking lot guys every time he skis. It's his home hill after all, he knows those guys could use a snack. And they give him better parking spots because of it.
I want un-ironic onesies. I want patrollers on straight skis, that one guy hard boot snowboarding in a cowboy duster. I want shrines to past skiers tucked around the mountain. I want weird wiggle lines and dangerous tree jibs. I want the kind of locals who are tickled you came to ski with them and can't wait to show you around.
On opening day we have mimosas and bloodies in the parking lot. Everybody's there, even friends who don't ski. Because the hill is opening. It's a big deal.
I want sketchy rails, and questionable jumps, and the sort of side hits you have to carry speed into based only on blind trust. I want awkward gaps that only the locals know because they've been skiing this run for fifteen years and they know how every mogul forms.
A few years ago someone underrotated a backflip and caught his tips and a bunch of people on the chairlift booed and heckled him to be better because, based on my signature style, they thought it must have been me.
I want fixed-grip double chairs. I want a pack of friendly local dogs roaming the parking lot. I want comp tickets based not on who your sponsors are, but whose car you helped fix Tuesday. I want informal rail jams and features named after legendary locals. I want stickers on the lift poles, and easy conversations in line. I want to feel at home.
I want magic.