Words: Ethan Stone
So it's late summer and you've completely exhausted your supply of ski films. You could break the the vicious cycle of pining for snow in summer by getting off your ass, off NS, learning how to skate, finding a girl/boyfriend or engaging in any other such lively, positive activity. But assuming none of that's going to happen, we've reviewed a few Hollywood ski classics, available at a video rental store near you, to help keep the stoke alive a while longer.
Did we leave out your favorite? Tell us about it in the comments!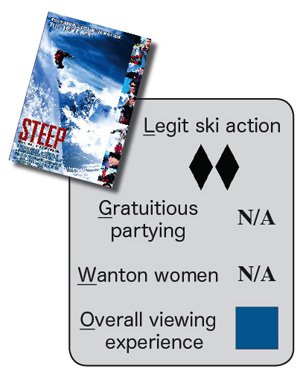 Steep (2007)
What they say: "Warning. You're about to experience the most breathtaking, exhilarating and inspirational ride of your life. Nathaniel Vinton of MEN'S JOURNAL describes it as "a super-charged chronicle of extreme skiing." The world's best skiers go beyond their dreams to conquer the steepest runs ever faced. From the sheer cliffs of Grand Teton, to the treachery of Chamonix France, to the untouched Alaskan peaks of Valdez, these "extremers" sacrifice their lives for a thrill – but what a thrill it is. Fantastically beautiful images of the most magnificent peaks on the globe – along with devastating avalanches and fatal spills – only serve to push them harder. But you're about to discover not everyone who goes up the mountain returns."
What we say: Without question, Steep is a weighty tome of the exploits of extreme skiing's founders. But like the epic lines of Bill Briggs, Doug Coombs, Davenport, Morrison, McConkey and many others, the movie moves precariously on the edge of a chasm- in this case, the downward pull of melodrama, sappy narrative, and a length that will bore you to tears. Although there are frequent nuggets of great footage—Trevor Peterson ripping on a longboard, ridiculous interviews with a guffawing Plake, iconic descents by Coombs—they are far outweighed by shameless filler shots and voice-over clichés, and the real spirit and energy of extreme skiing only rarely break through the fluff. Unless you're a ski historian, There's something about McConkey might be a better choice for pure entertainment value. Watch the trailer.
Memorable quote: "To feel what the mountains are saying to you is huge. They're alive. They're totally alive. And they'll make you more alive. Or they'll make you dead."
Hot Dog... the Movie (1984)
What they say: "An avalanche of 'flabbergasting ski footage, winsome romantic interludes' (L.A. Herald Examiner) and a 'great young cast' (Los Angeles Times) propel this iconic 80s snow romp to the top of the heap! Starring David Naughton (An American Werewolf in London) and ultra-sexy Playboy Playmate Shannon Tweed, Hot Dog…the Movie 'hits just the right spot' (The Hollywood Reporter)!
"When a hopeful young American hot-dogger goes pole-to-pole with an arrogant Austrian pro, the snow really starts to fly! But as hot as it is on the mountain, it gets even hotter off when the pro's ex-girlfriend (Tweed) sets her eyes on the new blood. Who'll win the competition and the girl? Only a race to end all races can determine which skier can really cut the mustard!"
What we say: Way back before things got all confusing with this "newschool," "freeskiing," "freeriding," and "extreme skiing" business, there was only one way to show sack on the slopes: hot doggin'. From the young hotshot from Idaho to the tight-arsched European superpro, the Playboy Playmate to the scrawny hitchhiker, and the Chinese Downhill to that dark and dangerous corner of ski history called acro, Hot Dog captures all of the best and worst from the glory days of the hot doggers. A must-see. Watch the trailer.
Memorable quote: "Speed? I could do some of that."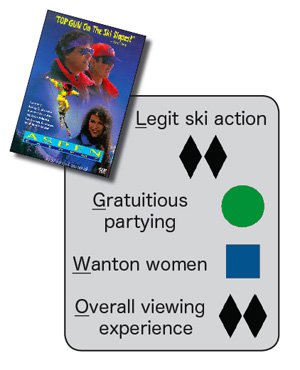 Aspen Extreme (1993)
What they say: "In this heart-pounding action adventure, two buddies abandon their blue-collar world to become ski instructors in Aspen, Colorado. There they discover the electrifying playground of the rich and famous – experiencing firsthand extreme skiing, wealth and seduction. Surrounded by temptation, and Aspen's alluring lifestyle, the two friends soon face the toughest challenge of their lives…"
What we say: Aspen Extreme is easily the best movie in this review, and calling yourself a skier without having seen it is a little like being a Christian without having read the Bible. Avoiding the excessive cheese and stereotypical pitfalls of almost every other film in the genre, Aspen Extreme is honest but funny, soulful without being overly sentimental, and still as entertaining as the day it was made. Watch the trailer.
Memorable quote: "We got a renegade going OB, we're after him."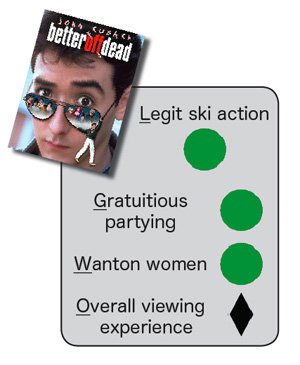 Better Off Dead (1985)
What they say: "After his girlfriend (Amanda Wyss) ditches him for a boorish ski jock, Lane (John Cusack) decides that suicide is the only answer. However, his increasingly inept attempts bring him only more agony and embarrassment. Filled with the wildest teen nightmares, a family you can't help but identify with and a host of wonderful comic characters, Savage Steve Holland's writing/directorial debut is a masterful look at those painfully funny teen years."
What we say: Better Off Dead is a cult classic, which means that if you like it, you might end up joining a cult. Yet underneath the oddball '80s humor and the claymation hamburgers, Better off Dead somehow conveys a legible account of small-town teenage life, complete with characters you can doubtless relate to: the Cool-Whip huffing wannabe druggie; the parents from another dimension; the cute French exchange student next door; and Lane Meyer, a down-on-his-luck guy whose only chance to prove himself is by skiing the daunting K-12. The film doesn't hit high marks in any of our rating categories, but only because it's too busy filling categories you never knew existed. Highly recommended. Watch the trailer.
Memorable quote: "I want my two dollars!"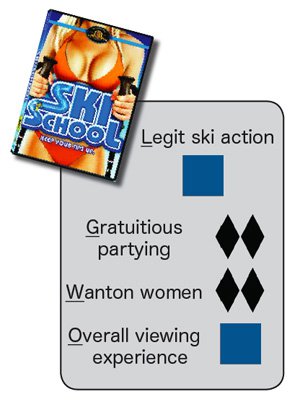 Ski School (1991)
What they say: "No school is as cool, slippery or hilarious as Ski School, especially when Dave Marshak is on the slopes. With fast skis, fast girls and 'round the clock hot tubs, he makes the class of Section 8 everybody's favorite, including the rich and mysterious Victoria (Playboy Playmate Ava Fabian). But every party animal has to watch out for trappers, and Dave's is rival Section 1 instructor Reid Janssen. When party pranks land Section 8 in hot water, Dave may lose his job – unless he can transform his team into the champions of the Annual Spring Pageant. Now their best skier, Johnny Roland, must face Reid Janssen to ski 'The Dome' in a death-defying high-speed-action race to the finish. But even if he wins, can Dave, Section 8 and the mysterious Victoria save the Ski School from the frozen stiffs of Section 1 – or will all their dreams end up on ice?"
What we say: When I was but a wee lad, ski school was a nasty and brutish affair. Every Saturday my parents would drag me kicking and screaming to the mountain, only to dump me unceremoniously into the hands of some pimple-popping geek who was too preoccupied with chasing the local tail to actually teach anything worthwhile. What's worse, all that fancy talk about pizza and French fries only made me hungry.
Needless to say, life would have been a lot better if my ski school experience had been like the movie Ski School. I'd have quickly learned all of the finer aspects of the true skiing experience: the seduction of young ski bunnies, the disruption of posh cocktail gatherings, the subtleties of the Lambada; and how can I forget the most venerable, time-honored ski tradition of them all? Yes, friends, I'm talking about partying. Watch the trailer.
Memorable quote: "To be the best, you must lose your mind."
Ski School II (1995)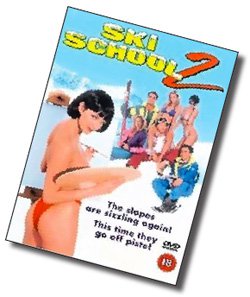 What they say: "'Just when you thought it was safe to go back to the slopes...' Can the hot-dogging dudes of the Ski School save their jobs and make the world safe for bikini skiing? Wacky, sexy sequel stars Dean Cameron and Playboy Playmate Wendy Hamilton."
What we say: The only redeemable elements of Ski School 2 are stunts by none other than Shane Szocs. Search the Internet Movie Database (imdb.com) for Shane and you'll find him listed under the following tags for Ski School 2: "skiing," "cowboy-stripper," "domineering-mother," "flatulence," "stag-night," "nude painting," and "urination scene." Need I say more?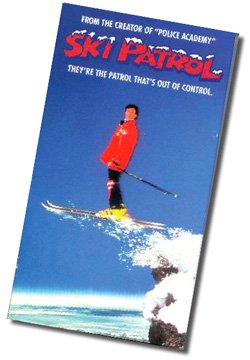 Ski Patrol (1990)
What they say: "The lease on the Snowy Peaks Lodge, a popular ski resort, is up for renewal and its owner Pops has no worries about signing a new lease. Despite his Ski Patrol, an out-of-control group of skiers led by Jerry (Roger Rose) and Iceman (T.K. Carter), the resort has an impeccable safety record. However, a devious land developer (Martin Mull) has other plans in mind for the resort and hires the talents of a young blond named Lance (Corby Timbrook) to undermine the Ski Patrol's efforts to keep the slopes safe.
"Extraordinary aerial stunts, impressive snowboarding and an incredible downhill showdown add to the excitement as the Ski Patrol does their best to save Pop's mountain."
What we say: Ski Patrol is like Animal House on skis, and if that ain't recommendation enough, then I don't know what is. The typical formula of fun-loving ski goons versus greedy businessmen is bolstered by possibly the best ski-movie villian to date, a snowboard bum with three personalities who lives in a van in the parking lot. Reminds me of a buddy of mine.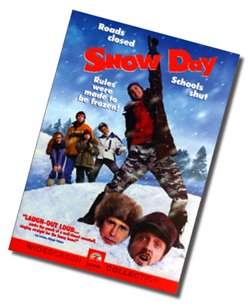 Snow Day (2000)
What they say: "School's out and fun's in! Hot young stars team up with comic favorites Chevy Chase, Chris Elliot and Jean Smart for this kids-in-charge, adults-in-meltdown comedy that "packs the punch" of a well-timed snowball, zinging straight for the funny bone!" (Chicago Tribune).
"An unexpected overnight snowfall has made roads impassable. And that means a no-school, no rules snow day! For fifteen-year-old Hal (Mark Webber), it's a chance to win the heart of popular Claire (Emmanuelle Chriqui) – or totally embarrass himself. For ten-year-old Natalie (Zena Gray) it's a chance to create something even better than a snow day: a second snow day! But to do that, she must stop evil Snowplowman (Elliott), the town's relentless, road-clearing fiend. Better watch out, Snowplowman. Because anything can happen on a snow day… and in this hilarious comedy, just about everything does!"
What we say: Containing absolutely no skiing, this movie is included here only as an act of extreme desperation, and a last-ditch option for those unfortunate souls constrained to a PG rating. More than anything else, Snow Day is an excellent means of experiencing a stunning epiphany: "Hey, it's July 24, the first day of the rest of my life! Why the hell am I sitting here watching a B-roll Chevy Chase family movie at two in the afternoon?" Watch the trailer.
Memorable quote: "Look out, Asian carbonated beverage market. Here comes trouble."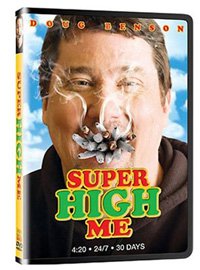 Super High Me (2008)
What they say: "Determined to find out the true effects of marijuana on the human body, stand-up comedian and former Stoner of the Year Doug Benson documents his experience avoiding pot for 30 days and then consuming massive amounts of the drug for 30 days. More than just an amusing story of one man's quest to get superhigh, this documentary also examines the hotly contested debate over medical marijuana use."
What we say: Hey, how'd this get in here? Watch the trailer.