Photos: Like That Agency
The High Five Festival. It's a new type of hangover. It's also an insane festival of all things skiing (with a little snowboarding for good measure). Somehow, despite being based in Europe and having worked in 'the industry' for four or five years now, this is the first time I've made it to Annecy for one of the ski calendars biggest events. This year there's no Big Air. Just parties, a 'university', a beautiful setting... oh and more ski porn than the brain could possibly handle. High Five, being so early in the movie season, has become the place to have your premiere for much of skiing's elite. Most of the major production houses may have already had showings in the States, Level 1 for example, has had several.
But it's not often you get this stacked a crew of riders out to watch the movies with and get a feeling for how skiing's biggest names are feeling about what's on screen. For example, which moment in ZigZag got the biggest cheer in from the riders? A 360 from Duncan Adams to perfect tranny which would have been so easy to overlook were it not for guys like Tanner and Phil shouting their appreciation.
_
This year's High Five saw the debut screening of some of the most anticipated movies of the year. Here, I'm going to focus on two from the biggest names in the game. The one I'm sure everyone is dying to hear about is Henrik's collaboration with Stept 'The Regiment'. It covers two year's of Henrik's career, from shooting his X Games Real Ski part to an insane segment filmed in Andorra this past spring/summer.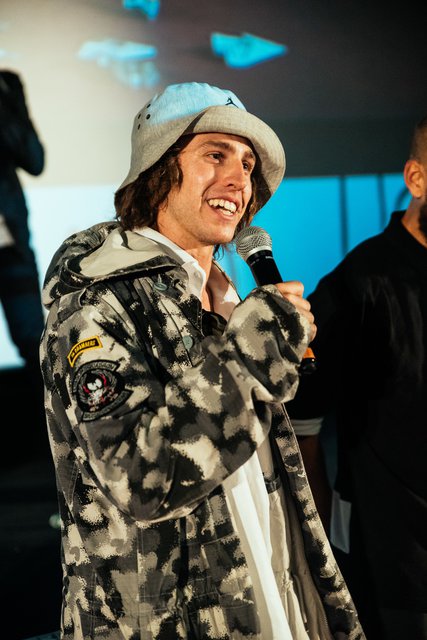 There's much more narrative and introspection than we've ever seen from Henrik. It's the first time he's ever opened himself up to talking about what makes him tick and about his drive to just ski. Everyone kind of knows by this point how good Henrik is, but his love for skiing is truly inspiring. The final segment, filmed in Andorra in June and July, long after most people in the Northern Hemisphere have hung up their boots or taken the easy route of hitting the summer parks, highlights just how much this guy loves to ski perfectly.
And the riding? What do you expect, it's fucked. Unsurprisingly, Henrik didn't have a ton of time to hit street in an Olympic year, so most (maybe all) of the street shots come from his Real Ski season. But it's crazy to see the reality of filming that part, Henrik out in the streets getting shots two hours before getting on a plane to go ski a contest (sidenote: Phil also has an amazing behind the scenes movie from filming his part called 'En Particulier'). From then on it's mostly backcountry destruction. I don't want to give away many specific tricks but there are handfuls in both the Alaska section and the Andorra ender that are NBDs. We're talking 'pipe' dubs but on a backcountry wind lip and (I think) even a backcountry triple. He's on another level.
_
The second big solo project to premiere last night was Tanner's latest collaboration with Corey Stanton and Brady Perron. This one is a back to basics, no talking, all skiing banger. It is frankly impossible that Tanner is this motivated to go out and wreck himself in the streets at 34 but his opening street segment is straight up fucked. The ender is one of the crazier street shots I've seen in a minute, it'd be at home in any X Games Real Ski... the cinema went bonkers.
After that the movie returns to more familiar territory for T, huge lines and some crazy backcountry tricks. There are also some park bangers mixed in and John Spriggs' cameo has a couple of the best shots of the movie, it's great to see him back on skis and killing it. The ender from Tanner is pure T-Hall perfection too.
When Tanner announced to the world that he was coming back and was going to ski better than ever, I honestly had my doubts. As someone who has turned 30 myself and felt the first twinklings of the body losing its edge, I didn't see how it was possible. But there's no question he IS now skiing better than ever. He's surrounding himself with the best skiers in the world and you can see the motivation that brings and also the influence on his skiing. He has borrowed a lot from those he rides with and also has plenty of uniquely Tanner tricks in there. It might be my favorite Tanner outing since Believe... he's back.