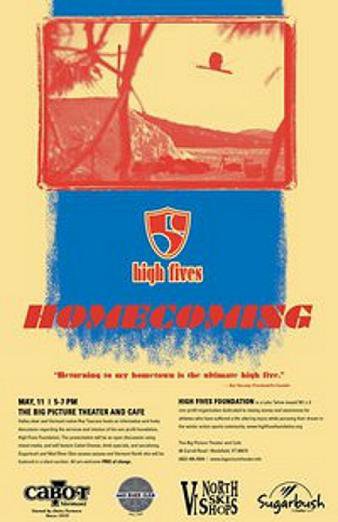 Words: Erme Catino
Wednesday May 11th, High Fives Non-Profit Foundation will be hosting a Homecoming Presentation presented by Co-Founder and President Roy Tuscany – a Waitsfield, VT native.
The presentation will host a discussion regarding the various program services as well as educate those in attendance about the mission, history, and future of the organization. If you are around the area, you should attend and learn more about this great foundation.
Below are additional details regarding the event.
You can also visit the Homecoming Presentation Facebook Page.
Date: May 11, 2011
Time: 5-7pm
Location: The Big Picture Theater (Waitsfield, VT)
Intention: To spread the mission statement of High Fives while introducing the program services available to potential Winter Empowerment Fund recipients. Funds will be raised for the foundation through a silent auction, open donations, and memberships.
Event sponsors include Sugarbush Resort, Mad River Glen Resort, Big Picture Theater, Vermont North Ski Shop, and Cabot Cheese. The event is open to the public to all that wish to learn more about the tremendous philanthropic efforts put forth by the High Fives Non-Profit Foundation.
"Bringing the foundation that I put together with amazing friends in Tahoe to the friends and family in the Mad River Valley is a dream come true. Spreading the mission of High Fives Non-Profit with the folks that formulated my path in life, is really going to be the ultimate High Five!"