Editors Note: Our friends at High Fives Foundation just announced the sponsors for their annual charity golf tournament. The event is less than a week away, and should be a blast for those who can attend. – High Five!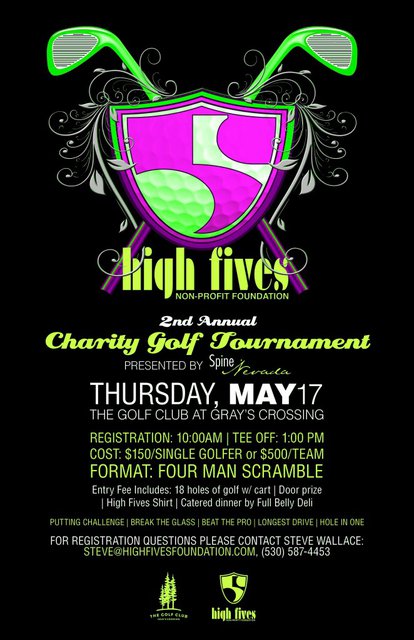 [Truckee, CA) May 10, 2012 ? High Fives Non-Profit Foundation is excited to announce the great sponsors of the upcoming 2nd Annual Charity Golf Tournament presented by SpineNevada at the Golf Club at Gray?s Crossing on May 17.
?The High Fives Foundation is fortunate to have solidified partnerships with outstanding companies such as SpineNevada (Reno, NV), Start Haus (Truckee, CA), Squaw Valley (Olympic Valley, CA) and our newest partner, Northwestern Mutual / Ryan Williams (Truckee, CA) to back the events of the golf tournament. To have the support of so many other companies as well, allows for the foundation?s program services to continue to grow and better serve athletes in the winter sports community.? ? Roy Tuscany, High Fives Foundation President and Co-Founder
Join over 100 local golfers of all abilities as they take to the course for a chance to win big while giving back to charity!Following the 10:00am-12:00pm registration, the day?s events will kick off with a ?Break the Glass? competition presented by Northwest Mutual / Ryan Williams where golfers will attempt to shatter a pane of glass by hitting golf balls at it from a challenging distance. At 1:00pm teams of four will hit the course and work together in a scramble format attempting to win great prizes from GoPro, Fifty Fifty Brewing Co., Smith Optics, 4FRNT Skis and many more sponsors.
Featured throughout the 18 holes of golf will be many exciting contests in which participants can win featured products from tournament sponsors as well. Longest drive and closest to the pin holes are presented by Squaw Valley and after the scramble round of golf, there will be a putting contest presented by The Start Haus. Rounding out the day will be an entertaining awards ceremony, a delicious catered dinner from Full Belly Deli, spirits from DBI/Miller/Coors and Sierra Nevada Brewing Co. and beats from DJ One Truest.
Presenting and Contest Sponsors:
Presenting Sponsor: SpineNevada (spinenevada.com)
Longest Drive / Closest to the Pin Contests: Squaw Valley (squaw.com)
Break the Glass Contest: Northwest Mutual / Ryan Williams (ryanwwilliams.nmfn.com)
Putting Contest: Start Haus (starthaus.com)
Register a Team:
A few spots remain for teams to join us at the Golf Club at Gray's Crossing on May 17. Contact Steve Wallace at steve@highfivesfoundation, 530.587.4453 with any questions or to sign up a team. Please visithttp://www.highfivesfoundation.org for further event details and to reserve your spot.
Hole Sponsors:
GoPro (gopro.com), Fifty Fifty Brewing Co. (fiftyfiftybrewing.com), Big Truck Headwear (bigtruckheadwear.com),Surefoot (surefoot.com), Ward & Sons Automotive (530.550.7827)
Smith Optics (smithoptics.com), Synergy Healing Arts (tahoesynergy.com), Body Armor (drinkbodyarmor.com), Ice Axe Expeditions (iceaxe.tv), DBI Beverage Inc. (dbibeverage.com)
Uncorked (uncorkedatsquaw.com), Auto Glass Express Truckee (autoglassexpresstruckee.com)
Sierra Nevada Brewing Co. (sierranevada.com), Lebel Roofing (530.587.5692), Storm Day Sales Agency(stormdaysales.com), Crux Events (cruxevents.com), POW Gloves (powgloves.com) and
Livin' the Dream Sales
–
About The Golf Club at Gray?s Crossing:
The Golf Club at Gray?s Crossing meets golf enthusiasts? demands to play a course with a traditional private club feel. Fast greens and tournament-like conditions await golfers every day. Towering Lodgepole and Jeffrey Pines line the fairways as the course weaves through a natural mountain surrounding with Mt. Rose as its backdrop. Demanding a combination of creative club choices and tactical strategies, this Jacobsen/Hardy course reveals the designers? passion for fun, yet challenging play.
About High Fives Foundation:
High Fives Foundation is a Tahoe-based 501.c.3 non-profit organization dedicated to raising money and awareness for athletes who have suffered a life-altering injury while pursuing their dream in the winter action sports community.
http://www.highfivesfoundation.org