Well, I've just about recovered enough from the 10th installment (but my first taste) of High Five Festival to operate a keyboard. The riotous weekend of premieres, pro encounters and parties has left me a little worse for wear in a lot of ways but rejuvenated in many others. The ski industry is alive and well and events like this are a salient reminder that passion triumphs above everything else in a world where you don't get far unless you believe. While the dust still settles over the city of Annecy I thought I'd take some time to share with you my experiences of the fest and highlight some of the standout projects I was lucky enough to check out.
This was my first time witnessing ski movie premieres in person. I've seen the 'gram clips, seen the announcements and itched to be in that front row tryna win free shit (I still didn't) for countless seasons, this year I got to live it.
_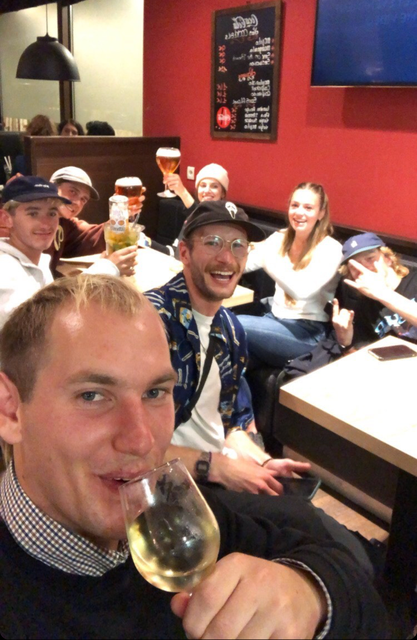 Krypto, myself & the homies enjoying a Sunday session
_
If you've never seen a ski movie in a cinema, the difference it makes is astounding. Not only is the sound insane (you really notice which producers took time over making their shit sound sick) but there's an atmosphere that you cannot replicate on your laptop… props if you can! Sick tricks get applause and big bails get a tangible wince from the crowd and you really notice everyone else going through the emotional ride that is a good ski movie.
This year was a special one for High Five, not only because the event was cancelled last year but because High Five 2021 was the tenth iteration of this beautiful amalgamation of skiing, music and stunning scenery. It did not disappoint. The festival is a fitting way to end the summer. Many of the attendees have spent the last few months chasing those summery slushy stunts in the prime glacier parks of Europe and the US; many more were heading to do just that when the festivities ended. And, like any good festival the line-up is so jam packed with awesome stuff to do and see you could attend the weekend twice over, with a unique plan of attack both times, and still feel like you've not caught everything there is to enjoy.
The main area has an outdoor screen - the most beautiful cinema location I've ever seen - stalls from top heads in the industry as well as a skatepark, airbag, and beach bar to name a few of the dope attractions on offer. There really is something for everyone. An opening and closing party on Friday and Saturday night respectively, as well as daily concerts ensure that the festival spirit is alive and well. You can get your dancing shoes on, wake up with 'The Fear' and repeat. While I'll always say that skiing is the best hangover cure there is, the plush cinema seats and ski movies make for a pretty close second.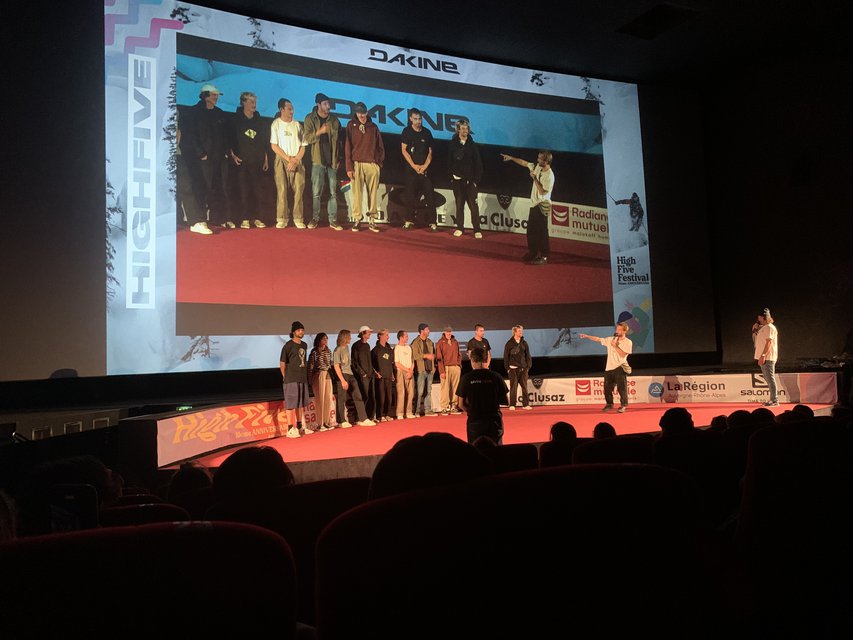 BULDOZ Crew presenting their film Chargeur. A personal highlight of the weekend for its sheer insanity
_
The screenings are, of course, the main focus of the High Five festival. The festival is the perfect chance to watch the best films of the year in style, with many chances to win some dope prizes and chat to those involved. They are also a right laugh, the on-stage antics between films are everything you'd expect. Standing backflips won free skis this year, so it's worth practising for next.
Everything I watched was excellent and it really is a credit to the people and the passion in the industry that after a year like the one we've just had there is so much amazing and varied content to go around. We are beyond blessed and there really was something for everyone on display. Here are my highlights:
_
August Light - Strictly
The return of Jonah Williams to the screen, many dad cam shots and Tall T Dan only tricking a log. What more could you want from a Strictly offering? A fun filled piece that has awesome crew vibes and just made me want to grab my buddies, get out into the mountains and make a film myself. A roaring success if you ask me!
_
Chargeur - Buldoze Life
The most zooted cut of the weekend from the dopest crew in Switzerland. I think this one almost transcends description. An absolute blast from start to finish. This is one of the most unique pieces I've seen in a while. It's a must watch and you'll get it when you see it. Easily one of my favourites I'd shout out standout parts but they all were. Buldoze, you killed it!
_
Fresh Squeezed - Good Company
LJ puts down the most ludicrous wall-ride type hit I think I've ever seen in Good Company's offering. This trick will go down in history as absolutely peak LJ and I can't believe he's still finding creative ways to go mental in the streets. Tom Wallisch also hits one of the coolest looking urban spots I've seen since Sam Zahner's sculpture hit in Strictly's Welcome
_
Freehand - Jake Mageau & Brady Perron
Individuality and expression come to mind when we think of both Jake Mageau and Brady Perron and Freehand marries these two ideas and people together perfectly. This tells a story of what Jake loves most in this world, skiing, skateboarding art and his dog. Really it's just phenomenal. From tricks that needed to be rewound plenty to understand as well as "simple" shit done well this was an 8-minute masterclass. Enjoy it and be inspired to go skiing and do some painting at the same time.
_
Here Goes - Sam Kuch
Sam Kuch burst onto the scene a couple of years ago and is famous for tearing the backcountry a new one with his tech and raw send. Here Goes was no different and hits from this film got some of the biggest crowd reactions I witnessed all weekend. This is 6 minutes of full gas and CK9 Studios absolutely annihilated the cut as well. This one will stay with me for a while.
_
Roots - Faction Collective
Faction brings their tried and true formula back to our screens for another epic film. The crew is just getting more and more stacked each year as they relentlessly add the best talent in the world to their roster. The standout for me was the ladies segment in [fuck i've forgotten]. Bella Bacon laces up the most proper nosebutter 4 on and Sarah Hoefflin goes HAM I thought this was a great juxtaposition of old and new guard. All the ladies killed it in this one. All the skiing is ludicrous as you'd expect, another banger from Faction; although sans-street shots and a bit heavy on the drone footage.
_
Simply - LDM & Titouan Bessire
Laurent De Martin doesn't seem to know how to slow down, or just doesn't want to. He has been one of my favorite skiers to watch for years now because of the way he makes skiing look effortless but never takes a backward step in terms of send. TItouan nailed the production; the spot selection and energy of this Simple piece make for an instant classic.
_
Slim To None - Keegan Kilbride & Cam Whillis
Keegan Kilbride is one of my favourite skiers to watch and it's an absolute blessing to have him back on our screens. This patreon film takes a fresh look at how ski films are funded in the modern era and Keegan wrangles together an insane cast list for this one. A bit of everything in here and everything put in is done with perfection.
_
The SLVSH Movie - SLVSH / 4bi9 Media
Joss Christensen and Napes are an awesome duo and this one blends humour and raw send perfectly. Not once taking itself too seriously but with plenty of serious tricks getting laid down by the all-star cast. Personal highlights for me were Vinny doing Vinny shit and Napes hands telling you when to be truly and utterly hyped. Ferdi's shots were all insane and seeing Øystein in the streets is something I look forward to seeing more of.
_
The Ultimate Run - Markus Eder
Markus Eder's project was the talk of the town at this year's High Five Festival. Praised by both Tanner Hall and Josh Berman as one of the best pieces of ski media they've seen in years. It was truly an honour to watch this piece go live. Markus talks of the ultimate run (funny that) where one can ski everything, from blower pow, to ice and street with everything else in between. He does just that. Cut similarly to JP Auclair's classic All.I.Can segment, although not all done as follow cam and with a few upward journeys on conventional and unconventional mountain travel. This is the realisation of a 7 year dream for Markus and deserves all the praise it has been receiving. If you check out anything from this list, make sure it's this!
_
Thank you to everyone at High Five who put this together, were hospitable at every turn and blew my socks well and truly off with an excellent weekend. I want to live it all over again… and maybe I'll see you in instalment 11.