Words: Ian KirkpatrickPhotos: Ian Kirkpatrick, Charlotte Rayner-BrownIf Colorado's Echo Mountain Park has established one thing in its inaugural year of operation, it's that they know how to have fun. They even throw fun comps! Saturday's "Liptricks, Not Lipstick" Rail Jam went down on a fairly small piece of real estate at the very top of the mountain. The chunk of snow was not small on jibable surfaces, though. There were wooden spools to stall on, wooden spools to slide or bonk, a wooden… log for more stall action and the Liberty rail car were just a few of the features. The piece de resistance, though, was this set-up…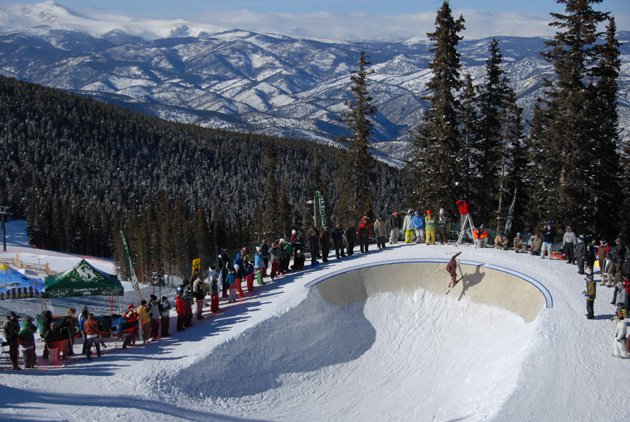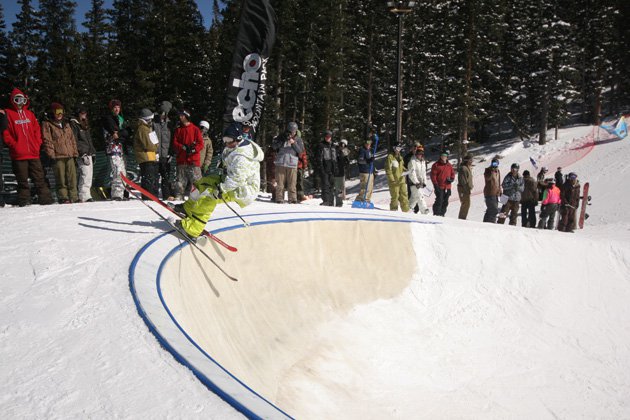 If anybody has been following snowboard comps this year, the carpeted vert bowl might look familiar from its major debut at the Honda Sessions in Vail. That off-white stuff is the same carpet on the loading area of chairlifts. All of these possibilities made for some rambunctious riders and once the opening whistle blew, the place turned into a madhouse with shredders salivating at their chance to drop in on the bowl. This made for some awesome near collisions on the lip until order was restored. None of the skiers seemed to have a hard time figuring out balance on this brave new surface but it should be said that the snowboarders… well, they're just a little more comfortable on rounded transitions. Before I get shot, there weren't any skiers making legitimate attempts at Cripplers six feet above the deck. Jon Hartman, being the handplant fanatic he is, showed up in a gas station robber's mask and proceeded to start a revolution. There were straight handplants, handplants to backflips, a McTwist handplant and a little maneuver Jon likes to call the Yankee Doodle handstand (NOT to be confused with a ho-ho.)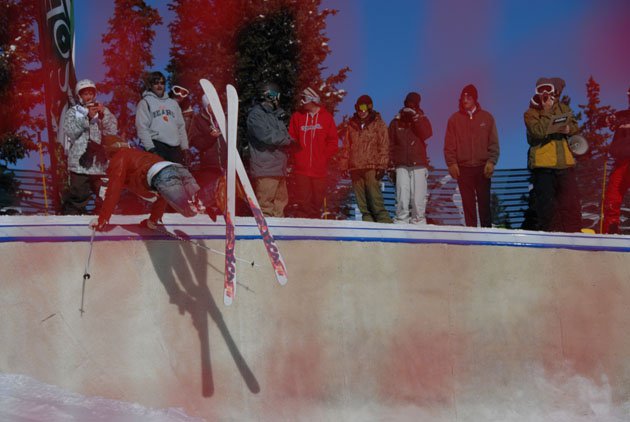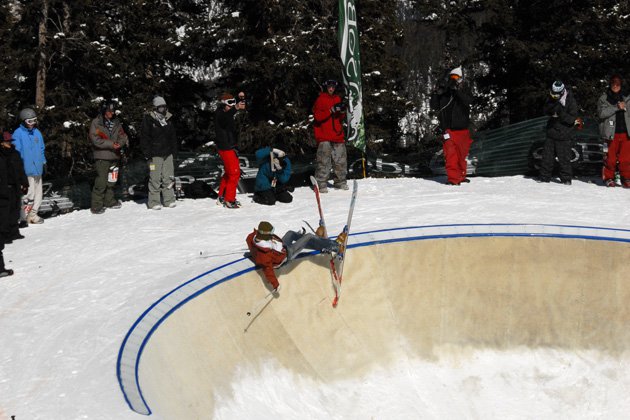 Hartman works the Recliner.Another thing Echo really likes is the use of loudspeakers, which can be really helpful for little jams like this, especially when the MC calls out what the judges want. They taunted both skiers and snowboarders like little donkeys, claiming that a clean of the whole c-box lining the top of the bowl would win an advancement to finals and even the whole shebang (remember that). One thing coming out of the bullhorn though was the desire for some creativity out of the field. When snowboarders started using the right end of the bowl as a transfer set-up, this kid…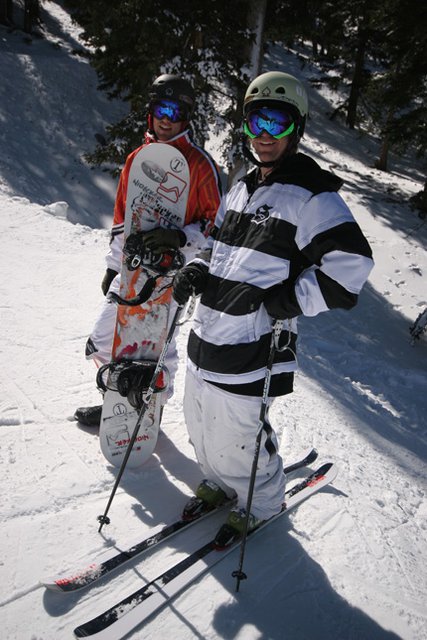 Whose bib I cannot identify in any shots (yes, I know I'm lame), launched the relatively small lip with an attempted rodeo to faceplant. One of the gnarlier crashes I've seen in awhile and some reports came back that he was having a seizure after impact. Fortunately, homie was back on his feet later in the day. Kudos to your cojones and well-coordinated set-up, unknown sir. Let's cut to the chase. Saturday's winner was Walter Wood. Got that? Good, 'cause this kid effing slaughtered it. How about 270 on the Liberty car? No? All right, 450 off. He was one of the few skiers legitimately killing it on the log stall with a double switch-up. Still not doing anything for ya? Fine, Walter was one of the few from both fields to stick the coping on the bowl. Did I say stick it? No, no, that's wrong. He nosepressed that thing like whoa. He flew into it and just stuck his head down, coming around the last half with his whole body perpendicular to the wall. Well done, Mr. Wood.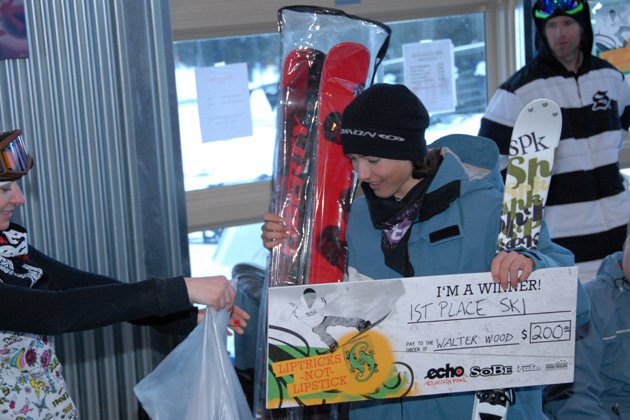 On the girl's side, Echo's own Steph Myers set herself out from both skiing and snowboarding ladies present that fine day. She was the only lady to consistently disaster the lip, even throwing out some pretzels to the transition mice. Mmmm… pretzels. But instead of me rambling some more, you should check out her forthcoming JIBIJ update.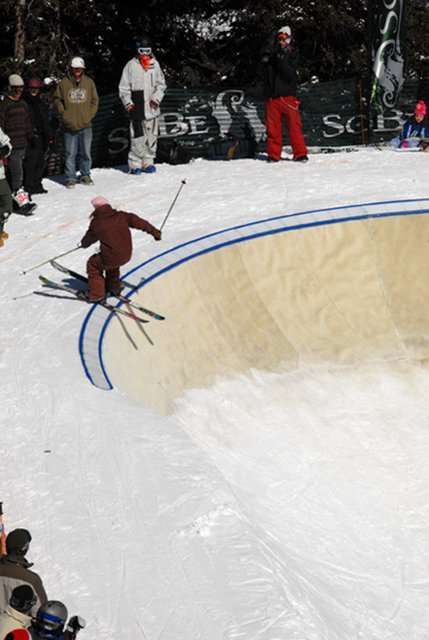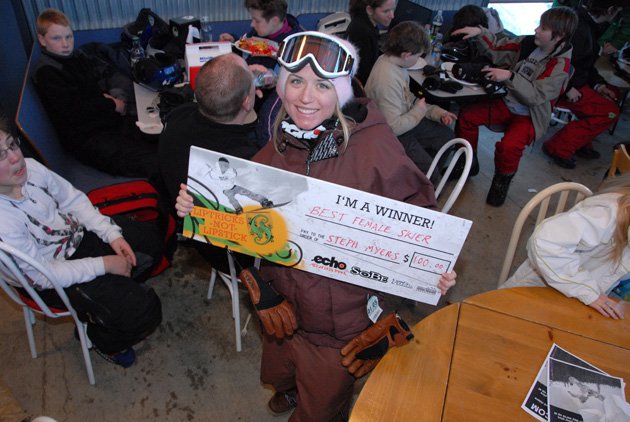 All right, let's be honest, I showed up to this thing for the party, even though I ended up as DD. Echo rented out The Shelter in downtown Denver. If there's a club for ballers in Denver, it's The Shelter. This was the place where Denver Bronco's player Darrent Williams (R.I.P.) got involved in the altercation that later ended in his death and shooting. Pretty crazy for all the bro-brah, shred-dogs in attendance who took full advantage of wearing their toques in the club and buying $2 PBRs. Hah! Highlights of the night included a Wahoo's taco bar upstairs and the Bula (proud fundraisers for the J.F. Cusson don't-call-it-a-comeback campaign) rep pitching Hartman a deal right there at the bar.It's been good seeing you grow up, young Echo. Here's to many more years of team comps, Colorado invasions and awesome set-ups. Huzzah!