Words by Jeff Schmuck
Photos by Felix Rioux
With the dog days of summer upon us, and no snow within a hemisphere of our office, the NS staff took last weekend to do what any self-respecting skier who's about to lose their mind over lack of snow would do…we went golfing.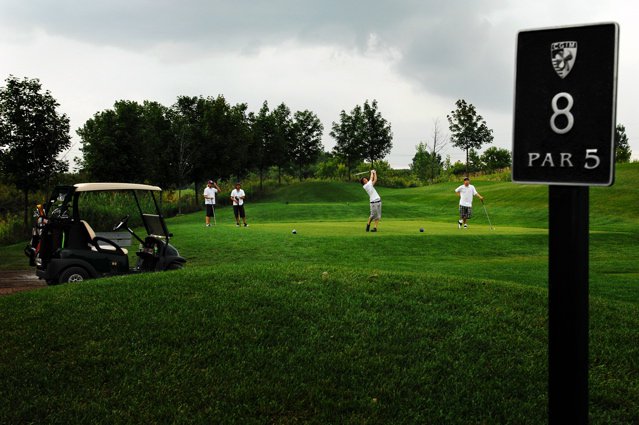 Chris O'Connell, Jason Mousseau and myself teamed up with JF Cusson and IF3 president Felix Rioux (who was on photo and video detail because he sucks at golf) to hit the links at Club de Golf de l'île de Montréal (http://www.cgimgolf.com/), site of the JF Cusson Golf Invitational at IF3.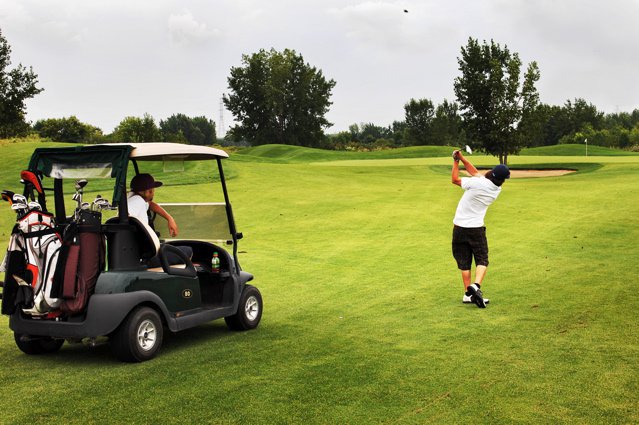 Cusson nailing an approach shot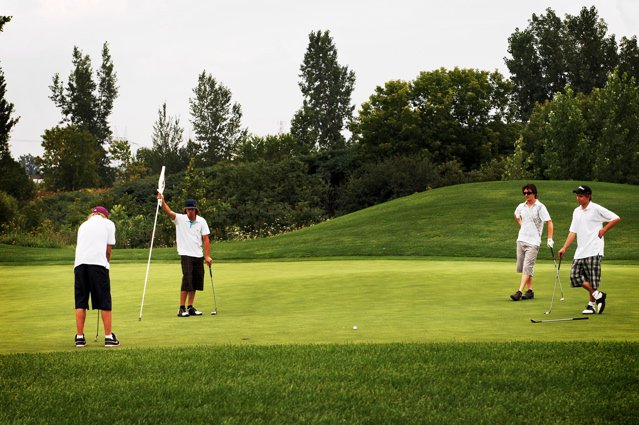 Schmuck probably missing a put
We wanted to check out the course that will host the tournament as JF had never played it before, and we figured it'd be a cool way to get some shots and make an article out of it, as JF had just come up with a cool contest idea as to how four of you can score yourselves an invite to the JFCGI.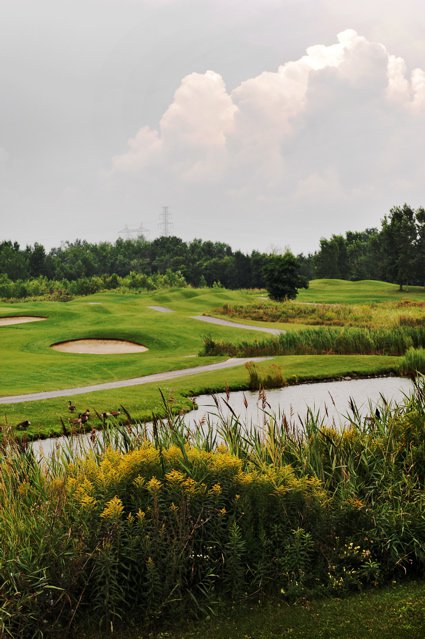 Club de Golf de l'île de Montréal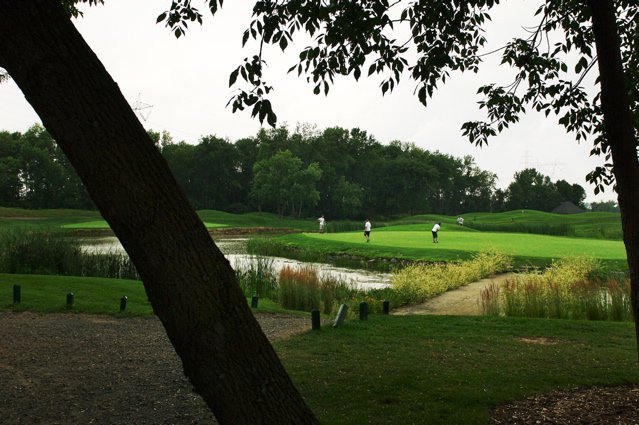 It's a beautiful course just outside the city limits of Montreal, with lots of water that Jason practically went swimming in and sand that I ended up spending so much time in I could have caught a tan. During our troubles JF, being the golfing machine that he is, was kind enough to give each of us some tips that helped improve our game.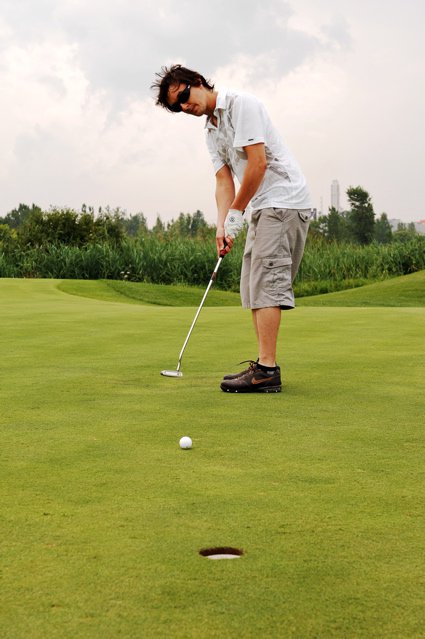 CKO draining one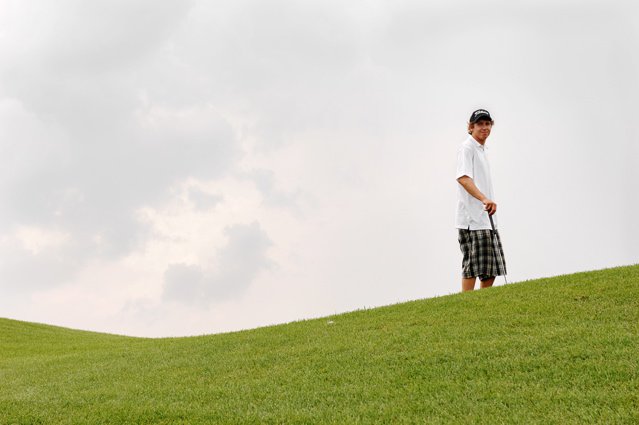 Jason contemplating why everyone thinks Tiger Woods is better than him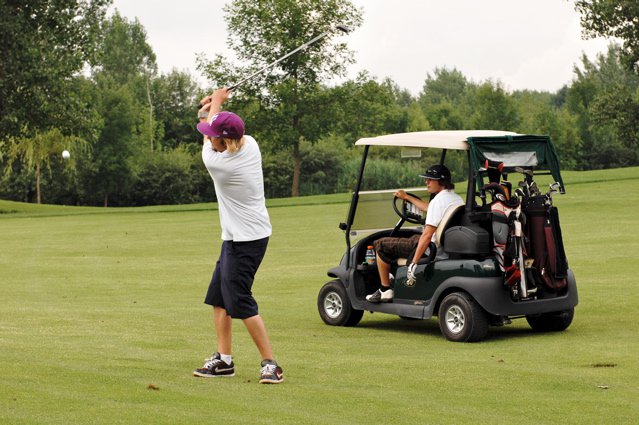 Schmuck & Coach Cusson
Following that we were all shooting pretty well and having a great day until the elements turned against us. Canadian Geese nearly attacked Chris on the 2nd hole, thunderclouds were closing in all around us, and worst of all…the snack shack was out of hot dogs.
CKO turns the tables on the killer geese
As the rain began to pour down on us on the 8th hole (much like it's been doing all summer in Montreal unfortunately), the course marshal rolled up in his pimped out golf cart and explained to us the dangers of raising long metal objects in the air while lightning was about.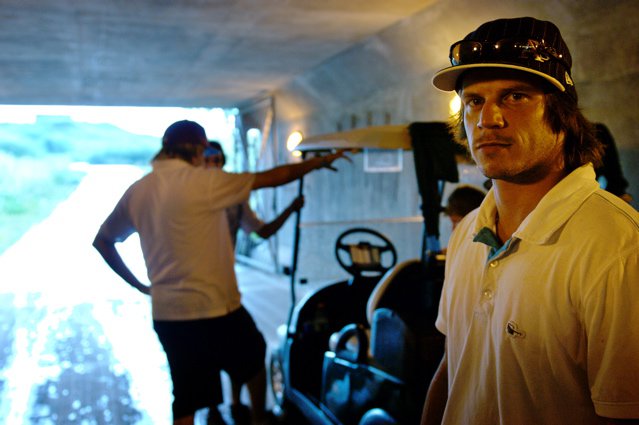 JF not singing in the rain
So we unfortunately had to call it a day after nine holes, but not before making an entertaining video of our day, complete with an interview with Cusson where he explains his contest. Check it out and then read all about the details below...
Win an invite to the JF Cusson Golf Invitational!
1) Go out to your local golf course or driving range and film yourself taking your best 3 golf swings. Be sure to say your name and username before your swings, and show only your best 3 swings, in real time.
2) Upload the edit of your 3 best swings using Vimeo (http://www.vimeo.com).
3) Post your edit in the on the Video Contest Page before September 1st.
4) JF will go through the entries and pick 4 to come play at the JF Cusson Golf Invitational on September 15th during IF3.*
5) In addition to receiving an invite to golf with JF and the best of the best of the ski industry, each of the 4 winners will also receive VIP passes to IF3, Sun Ice JF Cusson Golf Invitational polo shirts, and a pile of NS swag.
6) Winner will be announced on September 5th (a week before IF3).
* Winners will be required to pay for their round of golf and all tournament fees (roughly $100), and please ensure before entering the contest that you will be able to make it to Montreal on your own to attend IF3, as we will not be able to provide travel arrangements for you. So if you're not already coming to IF3 or you can't make it to Montreal…DON'T ENTER!