source CTV.ca News Friday Jul. 23, 2010 11:07 AM ET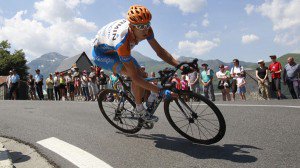 Victoria, B.C.'s Ryder Hesjedal is poised to have the best Canadian finish at the Tour de France in more than 20 years.
The 29-year-old powered to an impressive fourth in Thursday's grueling stage on the Col du Tourmalet climb in the Pyrenees, putting him in eighth overall.
This year's Tour de France marks the 100th anniversary of the first stage in the Pyrenees. Hesjedal put in a gutsy performance through rain, mist and close quarters with herds of wayward sheep and roadside fans, for the fourth place finish.
"A lot of history," he said of Thursday's climb. "I think it will set in more once we finish in Paris."
There are three stages left in the race before it ends in Paris on Sunday, but only Saturday's 52-kilometre time trial may impact the final standing.
"That just comes down to what kind of form you have and I think I've shown my form is very good, if not the best it's been in the whole race — in the third week," Hesjedal, racing for Garmin-Transitions, told The Canadian Press.
"We have the top equipment, top technology on this team. So I'm nothing but excited for the time trial. I'm definitely not thinking about moving backwards. I'm only looking forward.
The top Canadian finish at the Tour de France was in 1988 when Steve Bauer finished fourth.
After 17 stages and 83 hours, Hesjedal is slightly more than nine minutes behind the leader. He is 2:15 behind the seventh place rider.
Hesjedal has been steadily improving over the last two years, forcing his name into the ranks of the sport's elite.
Last year, he became the first Canadian to win a stage in the Spanish Vuelta.
"It's just been moving that way the last couple of years," he said. "I feel like my results over the last few years and especially this year, I've been improving at a nice rate and I was at a high level since March this year, so I was always focused on having a good Tour de France.
"My role changed early on in the race and I grabbed it full on. I'm really pleased with what I've been able to do. I think the team's obviously happy as well."
His previous best finish at the Tour de France was 47 in 2008.
Defending champion Alberto Contador of Spain hold a slim eight-second lead over Andy Schleck of Luxembourg in the 2010 Tour de France.
Contador is expected to widen that gap Saturday.