By Ethan Stone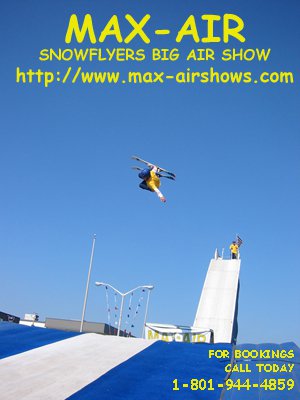 Craig Peterson has been stomping 1440s and quadruple backflips since before you were born, fool. Enough said.
The former aerials and moguls world champion is the president and CEO of Max-Air Productions, an extreme-sports show company operating out of Sandy, Utah. Peterson employs aerialists, freeskiers, and snowboarders to travel around the world, throwing down for crowds on trampolines and huge artificial ramps. And he's looking for young newschool skiers for this summer's shows.
The big ticket? Instead of losing in the WSI this year, why not throw down for crowds of screaming Asian women?! Peterson is looking for freeskiers who want to participate in an amusement park show two hours from Hong Kong. The skiers will be performing once each day, jumping from an artificial-surface ramp onto a huge angled airbag. Lodging and transportation will be provided in addition to regular pay. The show will start in February and run for one year.
"We also have many state and country fair shows running nationwide from June through November,� Peterson said. "We're looking for people to work for a couple weeks to a month at a time.� Peterson is also looking for experienced skiers to participate in his new "Tower of Power� trampoline show touring the country this summer.
"It's an opportunity for people to get paid to play– to travel the world, and have fun,� Peterson said. I've seen his show, and I'm inclined to agree. If you want to get paid to play on huge aerials trampolines and hit artificial ramps all summer, check out http://www.max-airshows.com to fill out an application, or drop Craig a line at (801) 944-4859.
Rodeo 5 on THE RAMP
The skier in the video and picture is James Hillier.