Some of the best freeskiers in the world will head to the Snowpark at Glacier 3000 on November 15th, 2011, to compete for the title of "King of Glacier 3000."
"We will be starting off the winter season with a fantastic freestyle show in order to make freestyle skiing more well-known to the public", says Bernhard Tschannen, Director of Glacier 3000. The Snowpark, which was designed by freestyle professionals, is the ideal place for such events, and the organizers claim that the Glacier 3000 Invitational will be the place to be on November 14-15th, 2011.
 
During the event, some of the world's best freeskiers will see how they measure up against one another at the beginning of the winter season in the beautiful alpine setting of Glacier 3000. Competing in the Snowpark will 20 riders from 5 countries, including the Switzerland's Jonas Hunziker, Elvis Eidsvold Harsheim from Norway, and last year's winner Laurent de Martin from Switzerland. The competition begins on Monday, November 14th, where ten additional riders will have the chance to qualify for the competition.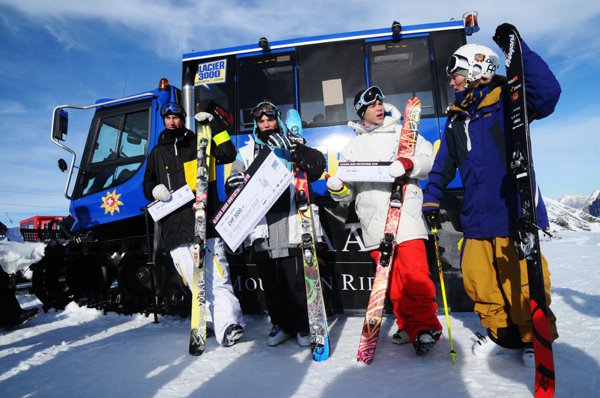 A lot of talented of riders will already be competing at the Swiss Freeski Open (for more info about this event, check out http://www.swissfreeski.ch), which will give ranked riders from the Glacier 3000 Invitational a great training opportunity.
 
This is the first time that both freeski events will take place at the same time, giving spectators the chance to watch top riders compete and demonstrate their various tricks over a two-day period. These events will also be the first slopestyle competitions to take place in Europe since slopestyle was officially approved as an Olympic sport.  
 
Day two of the Glacier 3000 Invitational begins on Tuesday, November 15th at 10am. Important judging criteria during the event will include the technique and creativity of the riders' tricks. The ten best riders from the qualifying round will then compete in the finals, and the winner will be crowned "King of Glacier 3000" and share 5000 Swiss Francs in prize money with the other top two riders. 
 
Following the event, it will be time to celebrate the day's competition with an after party, which will be held at the Chalet "Le Budokan" in Les Diablerets, and later on in the evening (around 10pm), the best photos and videos from both of the competitions (Swiss Freeski Open and Glacier 3000 Invitational) will be shown to the masses.
 
Invited riders currently include Christian Bieri, Laurent de Martin, Friedtjof  Fredricsson, Elvis Eidsvold Harsheim, Roy Kittler, Jeremy Pancras, Jonas Hunziker, Nicolas Vugnier and Elias Ambühl, along with the top 10 riders from the Swiss Freeski Open qualifying round.
For more information on the event, check out http://www.glacier3000.ch.