Killin' it in Canada's Capital and Quebec spring 08
Carleton Universtity Jib Test
Spring was in the air and examinations on the horizon so the Carleton University Ski & Snowboard club felt it was time to put on their third annual "Jib Test" rail jam March 28 on campus.  Beats were bangin, Frankie Momo Fo shosho was killin it on the mic and painted on pants were in ABUNDANCE.  The set up was poppin like my lip gloss, with a gold down bar and down flat down followed by two suuuuper smooth boxes.  Mack Jones slayed 1st place, followed by surprise pre-qualified Chris Honeywell in 2nd and Max Morello in 3rd.  Huge shout out to Bryan Snow who was absolutely dominating everyone from 2nd through last place with K-Feds, 270 on, switch ups, 450's out and pretty much any tech rail trick you could imagine.  Unfortunately he was getting no love from the judges.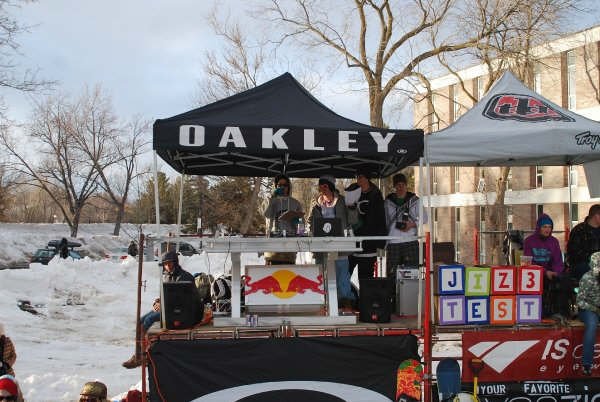 DJ/Judges tent (Picture: Alex Kotarski)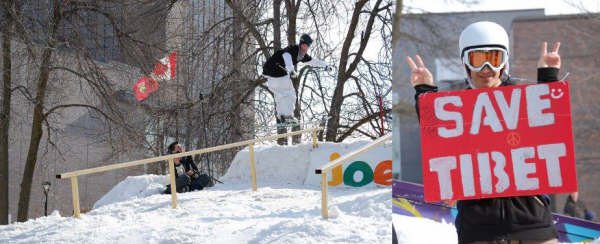 L: Mack Jones… who? R: Bryan Snow getting righteous (Picutres: Ryan Rouleau)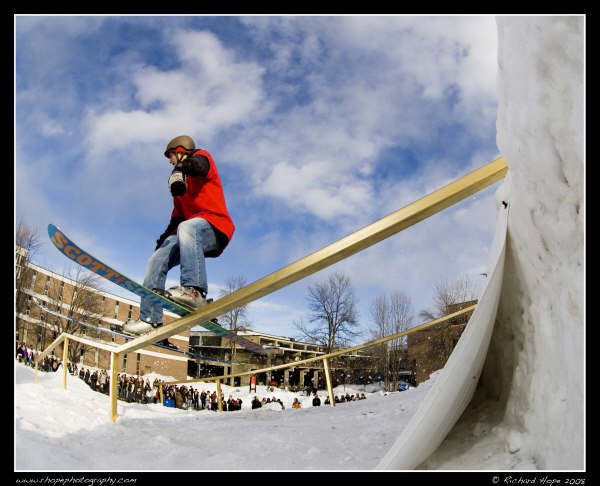 Scott Lemay… solid gold (Picture: Richard Hope)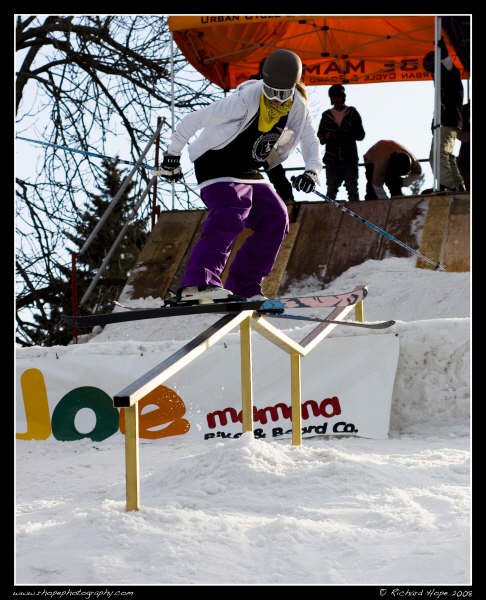 Des pianos dans ma tete… (Picture: Richard Hope)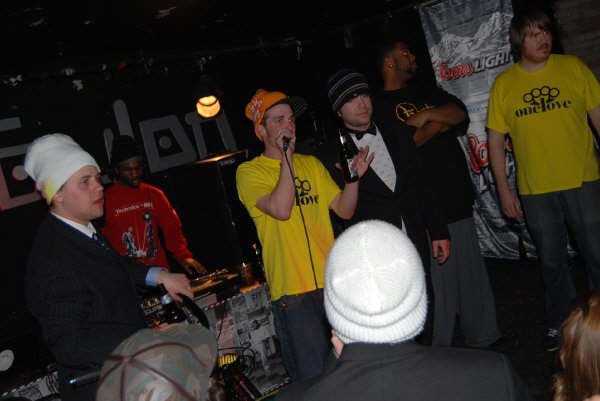 And the winner is… (Picture: Alex Kotarski)
The after party was held at the local Ottawa bar Babylon and lots of ruckus was caused as per usual.  There were lots of prizes from sponsors, dance battles and crowd surfing that was quickly brought to an end by angry bouncers.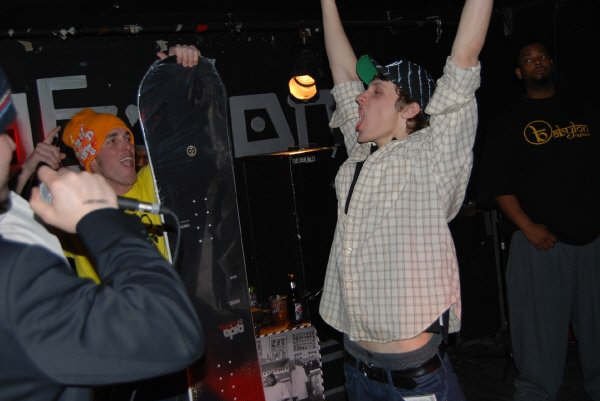 THIS DUDE!!!!! (Picture: Alex Kotarski)
And then off to Tremblant for the Telus Spin and Salomon Jib Academy!
After another bangin after party that went down in true CU Ski & Snowboard club style, Denis "THE MENACE" Jaworsky, Matt Tirrell, and I made the epic journey to beautiful Mont Tremblant for Telus Spin and the Salomon Jib Academy.  One questionable McDuuu stop filled with visible loooouuugeys in the burgs later we finally made it to the condo to meet up with my other partners in crime... the Triple Threat K-Team (Kaya, Kim, Karen) and the glue that holds us all together Ali T.  When we were through with the day time shananananagans we bundled up and headed over to watch the Coca Cola T4 contest which was one of the crazier things I've ever seen... Team Bula took home the bonafides with Ced throwing some saaaweet screamers into spins.  Mid air collisions were a slight problem for team TOP of the world but Mack Jones and his snowboarder partner both lived on to talk about it, big ups to the boys.
Even with the early morning wake up call haunting us for the next morning, Coors Light managed to lure us into boarding the gondola in the freezing cold to get down and party it up in the top chalet.  The Grand Manitou was in full party mode with Coors Light supplying the wobbly pops, and the Coors ladies dancing at Max Hill speed for the entire night.  Up and coming rap artist Taylord was seen rockin the mic, dance floor was packed, we made some moves, did work and then partied our way down the mountain cafeteria tray styles...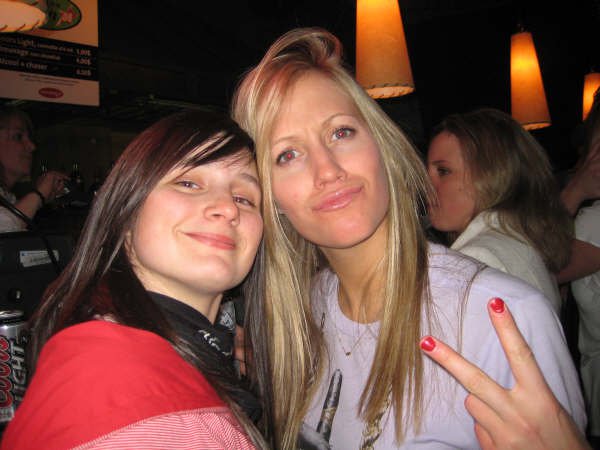 Cause if you don't look good, we don't look good (Picture: Kaya Turski)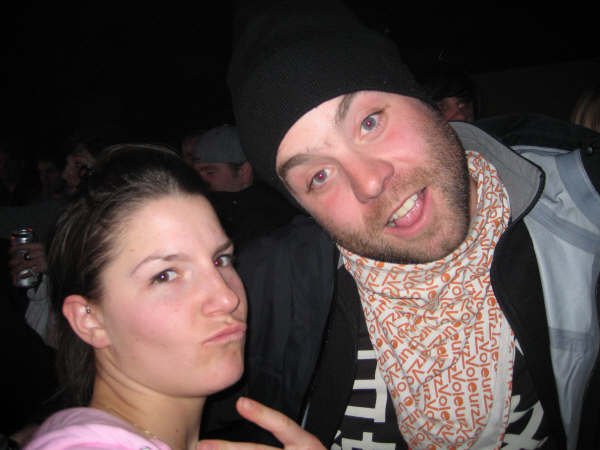 Kaya and Charles B. (Picture: Kaya Turski)
The next morning happened way too soon but we made our way down to Telus Spin ground zero to help the kiddies get registered and get them stoked on the day.  In the morning we split up into groups led by all the coaches... Alexis, Iannick, Paul, JD, Kim and Vincent, while all the ladies riding with me, Denis, and Kaya.  The vibe was pretty relaxed throughout the morning but people still didn't waste any time gettin their tricks dialed.  Lunch was oh so graciously provided by Salomon and the little sharks ate it up before you could say piccolo grande.  Due to time constraints the qualifiers and the finals both took place on the jib features and when all was said and done Alex Bellemare and Stefan Curtis won themselves trips to Mammoth for the international finals… yeaaaah!!  Not far behind them, Jamieson Irvine was throwing down and representing for Ontario, along with a solid showing from all the other riders.  A solid group of girls showed up too and let the boys know what was what, with Cassandra Ratcliffe taking home the Yeah Girl award.  All in all it was a killer day at Trembs and huge thanks goes out to Salomon for being on point and putting on such a wicked event!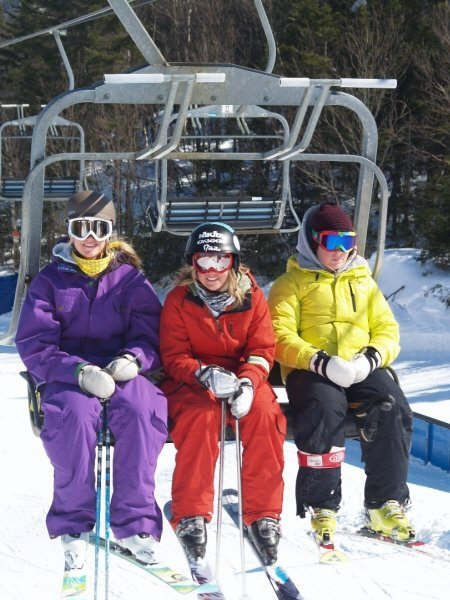 Ridin up with my new buddy Caroline and a random… (Picture: Nicolas Vincent)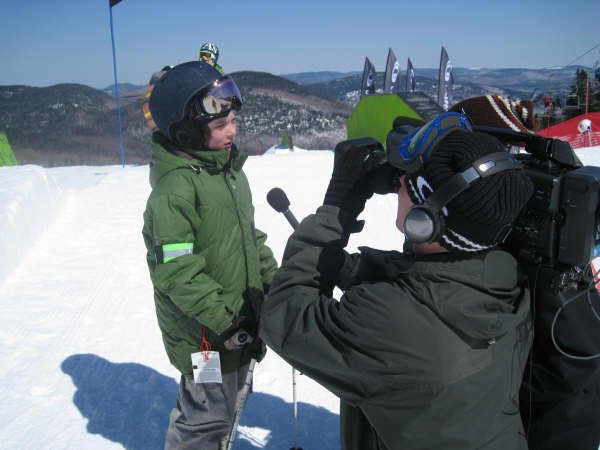 The winner from the Calgary Jib Academy, Brendan Mackay, having his first Ride Guide Interview (Picture: Allison Thompson)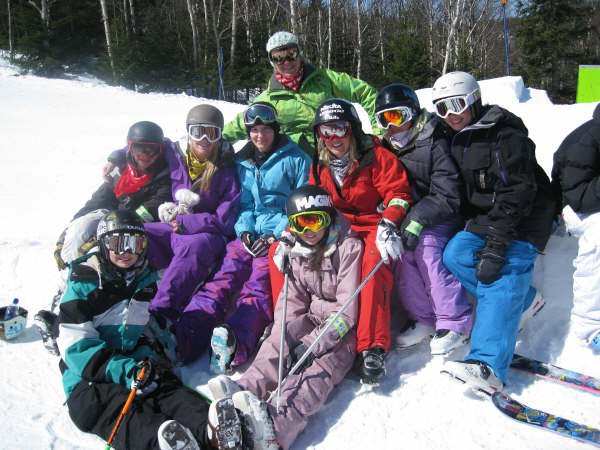 The crew of ladies... yeah girls!!
We got in some much needed rest Sunday night with sushi, 12 year old girls, napkin tricks, and some big shit poppin (I saw you blushing Karen...).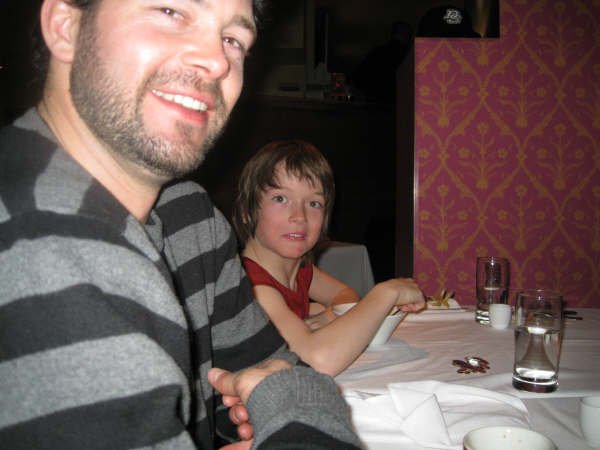 Iannick B. and Brendan Mackay (Little B) at dinner (Picture: Allison Thompson)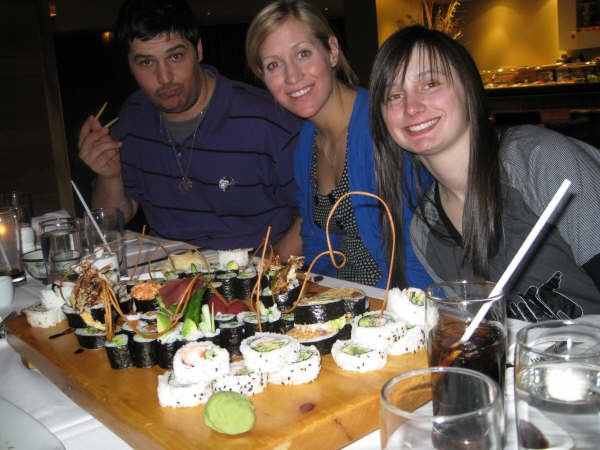 Guimauve, JC, and Kim mangent le sushi (Picture: Allison Thompson)
On Monday Alexis, Kaya, Kim, and I headed into the... errrrr dare I say... Tremblant "backcountry" to do some filming with the TV show Ride Guide who were in town doing a feature on the resort.  The weather was less stellar but we had some fun with the Ride Guide guys and also with the infamous Tremblogger helmet cam man as our fearless leader we were pretty much unstoppable.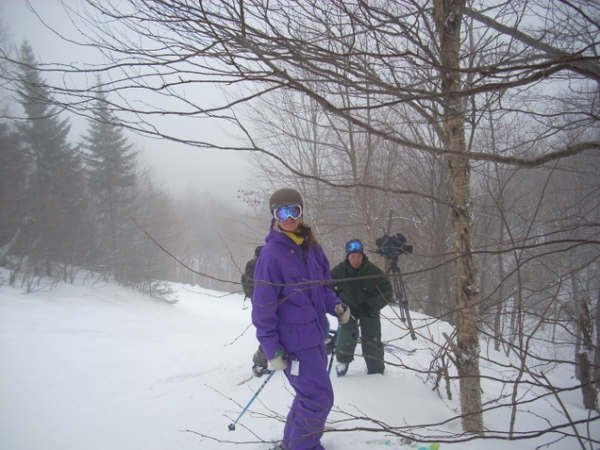 Probably about to ski waist deep… (Picture: http://www.tremblant-insider.com)
Next it was back to Ottawa so that school could really have its way with me for a couple of days.  But with a lot of snow still left here in O-town there's still tons of urban to be done.  The Highland Films crew was kind enough to invite me and some friends along to some urban rails outside of the city and we ended up hittin some pretty gnarly bangers, getting some shots and having a suuuper awesome rad cool dope time! Big ups to Richard Hope who took some really sweet pics of the night (oh ya bud!!).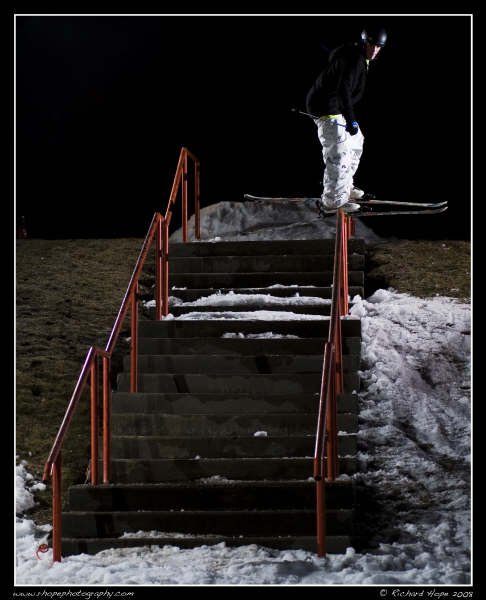 Mack Jones on the 5 kink… smooooooth like pb (Picture: Richard Hope)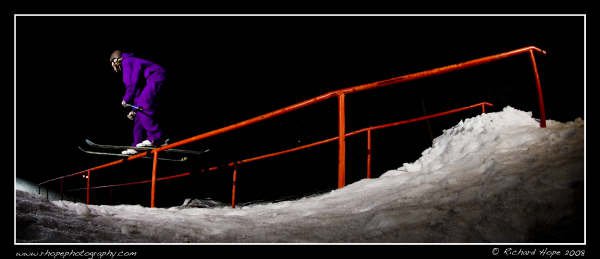 Barney sliding metal (Jen Crichton) (Picture: Richard Hope)
The snow was slowly pouching off here but the local mountains were doing what they could to keep the dream alive…
Big thanks to Mingo & Mike M from Salomon, Kaya for teaching me the ways of the world, Kim for the laughs, Karen for being my freakin hero, Allison for being the bomb/my mom, and Denis for cleaning out my glomerus.