Halfway through with the season, the Gatorade Free Flow Tour completed its second weekend of events for the 2011 season the weekend before last. Events at Tyrol Basin Ski and Snowboard Area in Wisconsin and Okemo Mountain Resort in Vermont turned out top competitors and repeat finalists. Freeskiers took on superpipe and slopestyle contests, and the winners will go on to the Gatorade Free Flow Tour Finals, taking place at Snowbasin Resort in Utah, February 10-13. At Tyrol Basin, Willie Borm took the slopestyle contest on Saturday while Sunday's superpipe contest went to Ty Willman; at Okemo, Tyler Duncan won in slopestyle and Daniel Rosenblum in superpipe.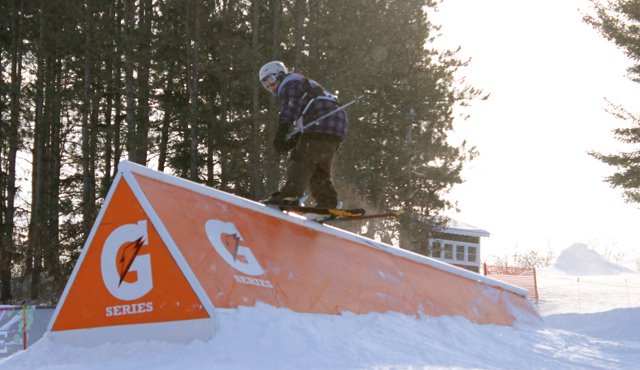 Qualifying first and holding the position all day was thirteen-year-old Borm. The Minnesota native used a run consisting of a switch left 7 high mute, to switch left 9, to gap 270 on the flat down, to 360 on 360 off the banked box, earning an 81.00. Second and third place finalists Eric Lukkari and Austin Torvinen did not make it easy on the judges, as both skiers threw down very solid runs. Their scores were 77.00 and 76.00 respectively. "This is great," said Borm. "This is a good opportunity to get on the Winter Dew Tour next year."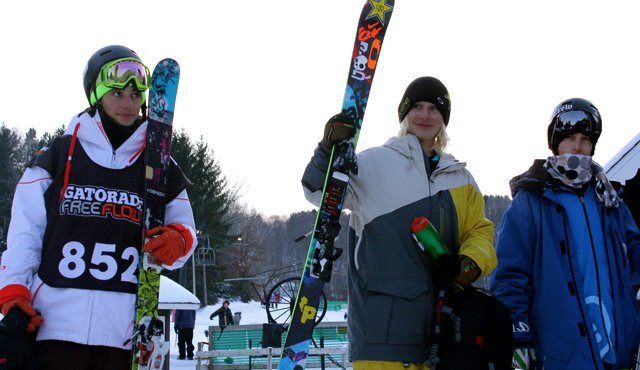 Tyrol Basin Slopestyle Podium: Eric Lukkari (2nd), Willie Borm (1st), Austin Torvinen (3rd)
17-year-old Wellman topped the freeski pipe podium with a run that started with a right 5, landed an upside down flair, and finished the run with a left 7. Ty spun both directions very well, which impressed the judges enough to earn the win with an 81.00. Scoring a 76.00 to come in second place was Aiden Smith, and with a 70.50 was Kory Kirby in third place. "I'm so psyched I won," said Wellman. "I really can't believe it!"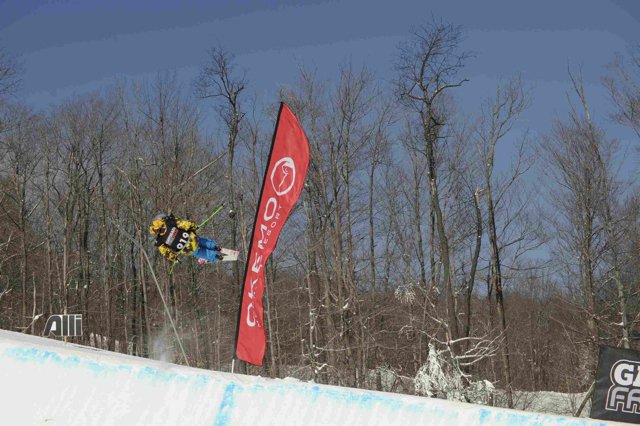 Daniel Rosenblum
Fighting off the same frigid weather as the Midwest, the amateurs at Okemo took full advantage of the day. Earning a spot in the Finals was 16-year-old Rosenblum, who used his most impressive trick first, a big 900, to lock in his win, as well as high amplitude 540's going both directions, and an ally-oop flat 540 to top things off. He scored an 89.00, while second place finisher Colby Vavolotis scored an 86.00 and third place finalist Cody Buchalter earned an 80.00.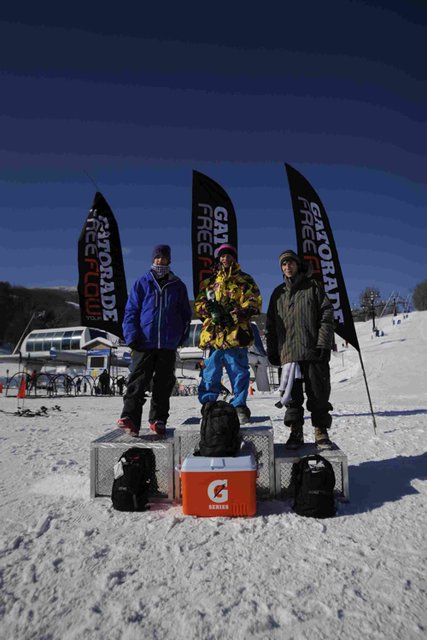 Okemo Superpipe Podium: Colby Vavolotis (2nd), Daniel Rosenblum (1st), Cody Buchalter (3rd)
In a hungry field of over 40 competitors, the freeski slopestyle competition at Okemo saw 15-year-old Duncan top the field. He solidified his spot in the Finals with a score of  93.00. His impressive finals run included a switch 9 mute, critical shifty, and a switch on front side 630 out the of legacy feature. Taking second and third place were Alex Beaulieu and Will Hibbs, who earned a 90.25 and 89.75 respectively.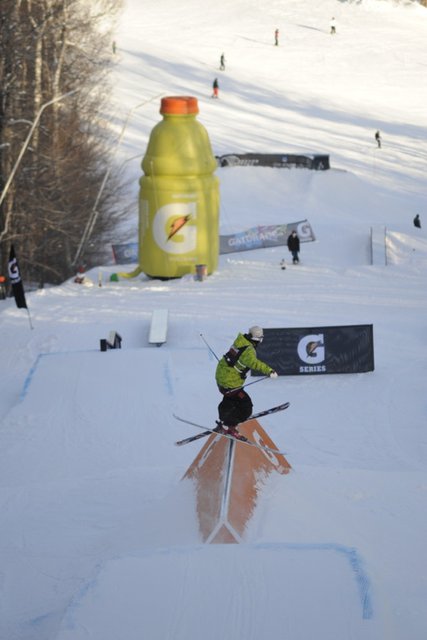 Tyler Duncan
With their wins, all four earn an automatic bid into the Gatorade Free Flow Tour Finals that will take place at the Winter Dew Tour's Toyota Championship, February 10-13, 2011 at Snowbasin Resort in Utah.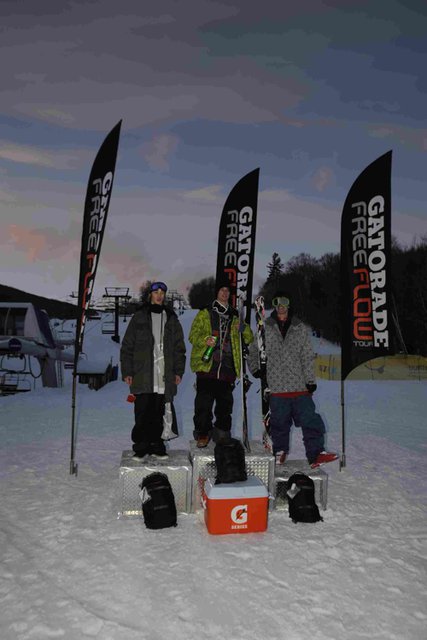 Okemo Slopestyle Podium: Alex Beaulieu (2nd), Tyler Duncan (1st), Will Hibbs (3rd)
Results
Tyrol Basin
 
Slopestyle
1) Willie Borm
2) Eric Lukkari
3) Austin Torvinen
4) Jon Bodeau
5) Ryan Haworth
Superpipe
1) Ty Wellman
2) Aiden Smith
3) Kory Kirby
4) Seamus Flanagan
5) Shane McNally
 
 Okemo
 
Slopestyle
1) Tyler Duncan
2) Alex Beaulieu
3) Will Hibbs
4) Cole Derrick
5) Brendan Wall
Superpipe
1) Daniel Rosenblum
2) Colby Vavolotis
3) Cody Buchalter
4) Sawyer Sellingham
5) Lucas Augier
The winners in each of the 54 contests (30 slopestyle and 24 superpipe) will be flown to the Gatorade Free Flow Tour Finals, taking place in conjunction with the Winter Dew Tour's Toyota Championship, February 12-13 at Snowbasin Resort in Utah. Encompassing the "Flow to Pro" theme that is the cornerstone of the Gatorade Free Flow Tour, the two overall snowboard superpipe and slopestyle champions and the overall freeski superpipe and slopestyle champions will earn a spot to compete against the pros at the first stop of the 2011-12 Winter Dew Tour the following season.