Purple! The Garmont Radium is a ski boot that I have skied in for 2 seasons. I got them to switch over to a new Dynafit setup. Last season I was decently impressed with the boots. They weren't my favorite boots of all time, they didn't seem responsive enough and had an awkward fit for me. Also last season I picked u p a pair of Salomon ghosts, I was greatly impressed with those boots. Turns out When I got my brand new pair of skis mounted with my old Dynafits this changed my perception of the Radium. The skis I used to ski the radium with were destroyed. The ski sucking actually made me think the boots were the problem. But having put most of this season on my Radiums over my ghosts I began to realize that the radium really is a great boot.
We will start off with what I was looking to get out of the winter season. For me living in Alta, and walking around most places, usually in ski gear, the fact that the Radium had a touring sole made it the obvious choice. The Garmont rubber on the bottom is in great condition even after walking many miles on pavement and rock. A din sole boot would have its plastic worn down and begin to compromise how well it worked in my bindings. Another reason I skied the radium most days this season was that I could ski my Dynafits in-bounds. I think i found a great setup with my Line Prophet 90s, Dynafits, and Radiums. The light weight is easy on the body, and when you are trying to ski all of the time you cant be tired from dragging your now super heavy legs around. My Motherships, Dukes, and Ghosts are nowhere near light, though the ghosts are a light boot with great feel. I have also often used the Radiums and Mothership/Duke set up. I only notice a problem when the snow gets hot, I would rather have my alpine boots.
Zipper lines to deep arcs, big airs to Wasatch wiggles this boot is great. Comfortable in moguls and driving skis into slalom or GS turns.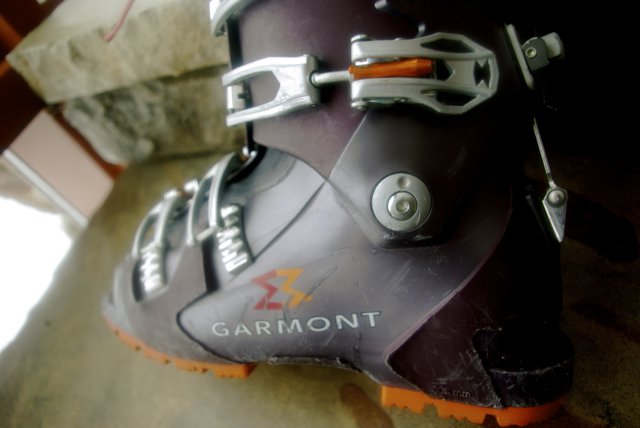 About 150 ski days in the radium.
I love the Radium in the fact that the liners are really amazing because you can leave them out in the cold, and with in 5 minutes your feet are warm. Leave any other boot over night in your car and see how long you can ski…… There was even a day up in Alta when the air temp was -10F and my feet were cozy. All of my friends in their alpine boots had to call it quits due to impending frostbite. When I took my boots off that day the liners were completely iced over, but my feet were warm. This is huge especially if you are winter camping.I also love the fact that I put on the liner, then slide it into the boot, then buckle my boots. It makes everything really easy. The same when the boots come off, unbuckle pull foot and liner out, then take off the liner. Then the liner is out and drying off for your next ski day.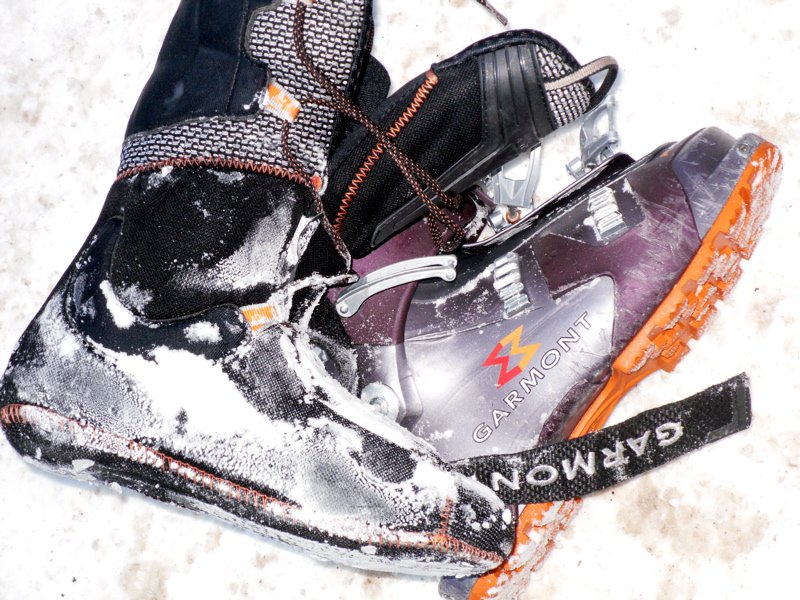 It was -10F this day, I was one of the only people on the mountain, thanks to the radiums.
Touring the boot feels great. Its very comfortable on my foot and in walk mode and top buckles loosened gives a great feel. Also the top 2 buckles have a cool gizmo that holds the buckles in place so they don't fall off when open. Also the walk mode is simple and I have never had a problem with it breaking or not engaging….cough cough black diamond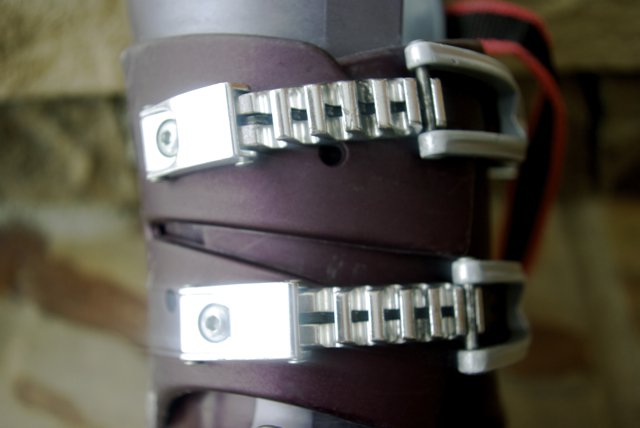 Radium has a metal bar that assists holding the top buckles in. You simply buckle the boot to engage it, then push the shiny silver tab to release.
Garmont should develop their own Dynafit attachment on the toe. Sometimes I click into the plastic of the boot without knowing. That doesn't last long and hopefully you don't get hurt when that happens. I think all boots use the same dimples for Dynafit but it seems like they could be easily enlarged, I can't be the only one with that problem.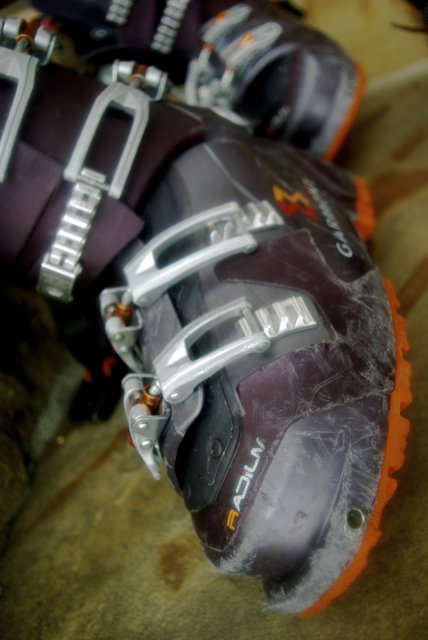 Showing wear from rocky ascents, but no other signs of damage or loss of performance after 150 days.
Do yourself a favor and go out and try on the Radium. I highly recommend the boots, they stand out from my pile of gear! The only thing i did to the boots was added SUPERFEET insoles and installed Booster Straps on them, which give any boot a better feel, and i think makes it easier on your knees by getting rid of any slack between your shin and boot tongue. One thing I would change aside from dynafit dimple size is its buckles, 4 buckles seem to be a thing of the past (my ghosts have 2) I love the instep buckle too on some boots. Get rid of some buckles and they would weigh less too.