Welcome to the first 'real' entry in my Grand Tour! No more super early season stuff! A mountain that is totally open! Crotched Mountain. (12/15/13)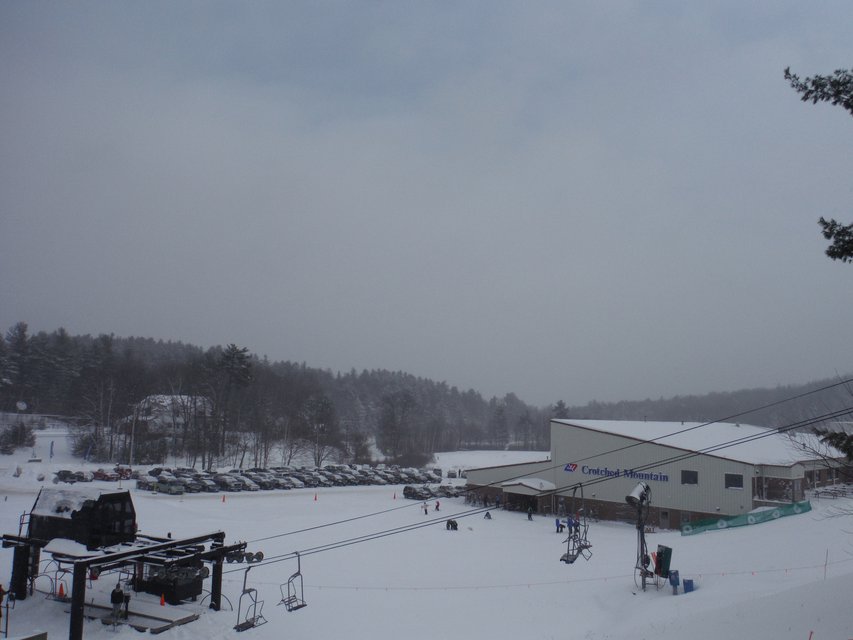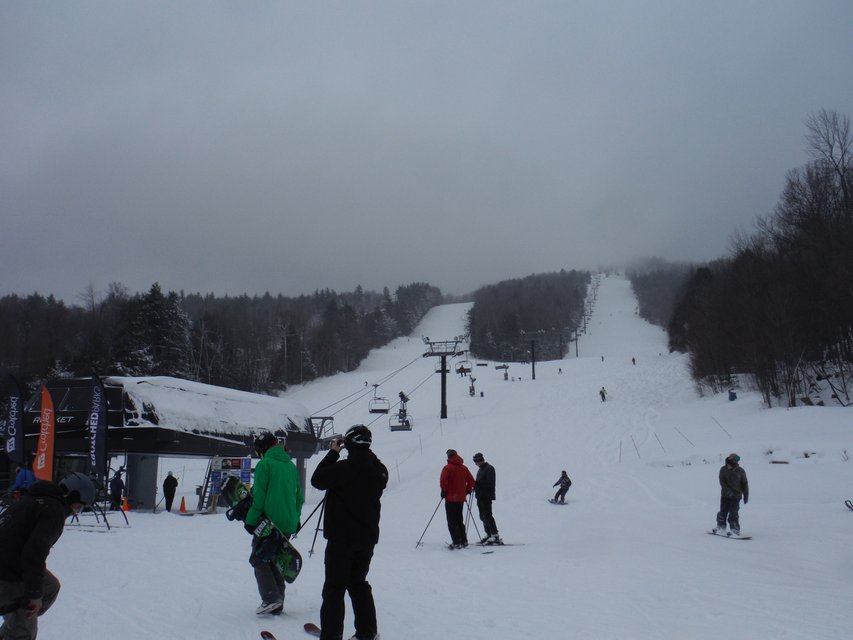 The summit was veiled in clouds most of the day
With the first major snow storm of the season moving through Saturday night, I checked out the forecast and went for the mountain that was expected to get the most pow. The forecast was for 14"+ at Crotchetd. It turned into more like 10" with my home mountain Gunstock pulling down a whopping 15", but hey, I have to get the tour rolling at some point! I awoke early Sunday, dug myself out, threw the rest of my gear in the car and headed out.
It was a good thing that it had pretty much stopped snowing early, because the hour drive it should have taken took almost two, and as I neared the mountain, I started worrying. It seemed that the snow was decreasing the nearer I got! I have never been to Crotched Mountain before, and I was surprised to see their lodge as I pulled into the parking lot. Most mountains have very traditional looking lodges, even if the lodge is brand new, Crotched bucks that tradition and went with a big warehouse style lodge with very little personality. It seems like a warehouse for skiing.
After getting my ticket, I strapped on my new powder skis, Elan Chainsaws from last year, and by far the fattest pair I have ever ridden. I jumped on the new high speed quad and headed up. I was super stoked to find out that almost every single trail was open, including the glades! The weather up top was pretty brutal, with grime ice forming on my goggles before I had even started heading down the mountain, by the end of my second run, I had to ditch the goggles, as ice was forming on them faster than I could clear it.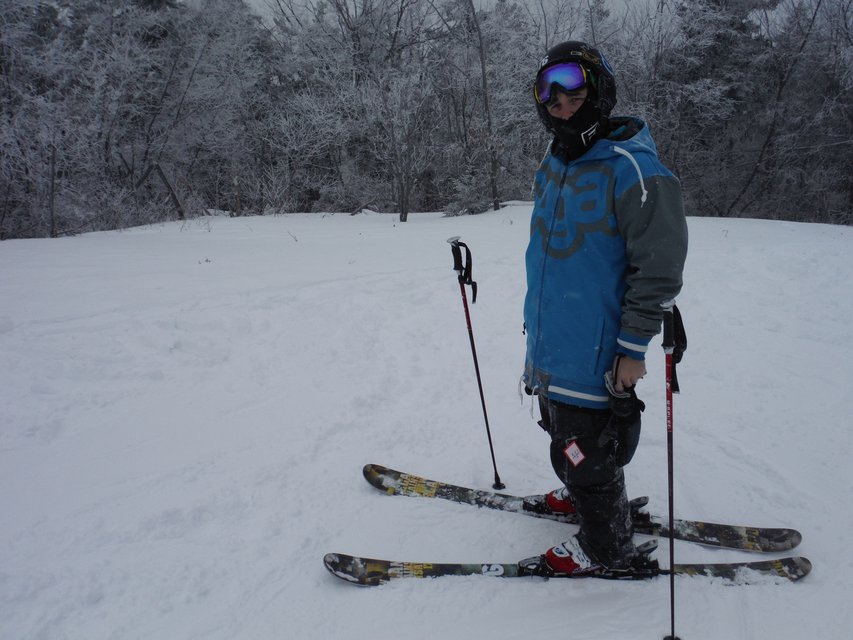 Summit of Crotched, New Pow skis ready to go - 12/16/13
Other than the minor ice problem, conditions were great! By mid afternoon it had started lightly snowing again, and the sun was starting to peek through the clouds. Trails were all un-groomed, with high-traffic trails quickly becoming minefields of big piles of powder waiting to throw inexperienced skiers and boarders to the ground. It was quite an entertaining show from the lift. Just of of most trails were field of untouched powder 10"-16" inches deep in places. I know for you people out west that's not much, but here in New England, a foot of actual, good fluffy snow is fairly uncommon. I quickly found a 'glade' (Final Frontier & Comet Drop) off of the West-lift that was in phenomenal condition. (On a side note, I love the trail names here. As a huge nerd I appreciate that there is a trail called the NCC-1701, which is the Enterprises number in Star Trek, and all the trails have sci-fi names) Very low traffic due to the depth of snow on it. I was in up to my knees in quite a few spots. I spent a couple hours lapping that, finding all the little drops. It was a hell of a good time.
Final Frontier Glade & Comet Drop, The snow doesn't look that deep
but I found plenty of places that were knee deep.
After that I finished riding the rest of the trails on the mountain, including the other two glades. One was less of a glade and more of a really narrow trail (Solstice Glade). The other (Darkstar) was quite a ride. I couldn't really find an official entrance to it, so I just bombed into it from skiers left. It was not a wise decision. I blazed a trail into it, got two core-shots to my pow skis and ended up needing to hike my way back into after getting stuck on an old lift line that didn't look skiiable with the amount of snow that was there. The back half of the glade was nice though.
At about 1 I went in for lunch, which was conveniently when the high speed quad had some kind of mechanical failure and went down for the day. As a side note, the food prices here seem higher than most other mountains. I bought a small bottle of power-aid and it ran me $3.50. Don't forget your drink like me. I was quite happy I got my all mountain riding in early in the day. With the powder getting less fluffy, and my Elan's having taken enough punishment for one day, I swapped to my park skis.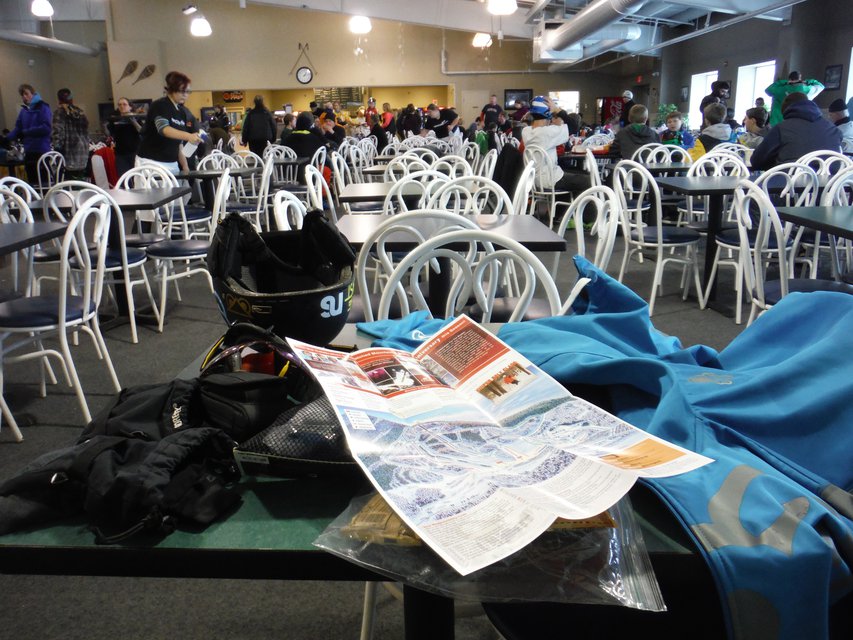 Lunch time in the warehouse that is Crotched's lodge.
Of the three parks labeled on the map, only one was open. It was on Galaxy (which is not labeled as a park, oddly enough). It had 10 features on it, and was conveniently right at the top of the old quad which had opened after the high speed quad went down for the day. It is an excellent progression park, as I was able to use almost every feature, which is something I usually cant do. The park scene was excellent, there were almost no snowboarders, just a constant horde of skiers, which is nice, because you know, skiing better. I spent most of my time working on my unnatural side for rails. I am making decent progress, hopefully I wont suck by midway through the season! There was at least one fellow Newschooler who I spoke with briefly. I should have gotten his name. If this is you, let me know who you are!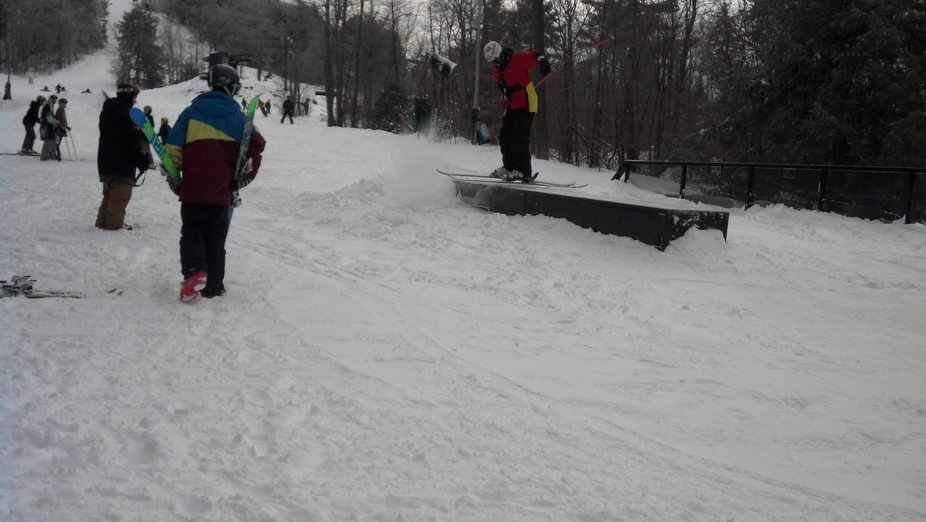 An un-named Newschooler rocking the NS Co-lab jacket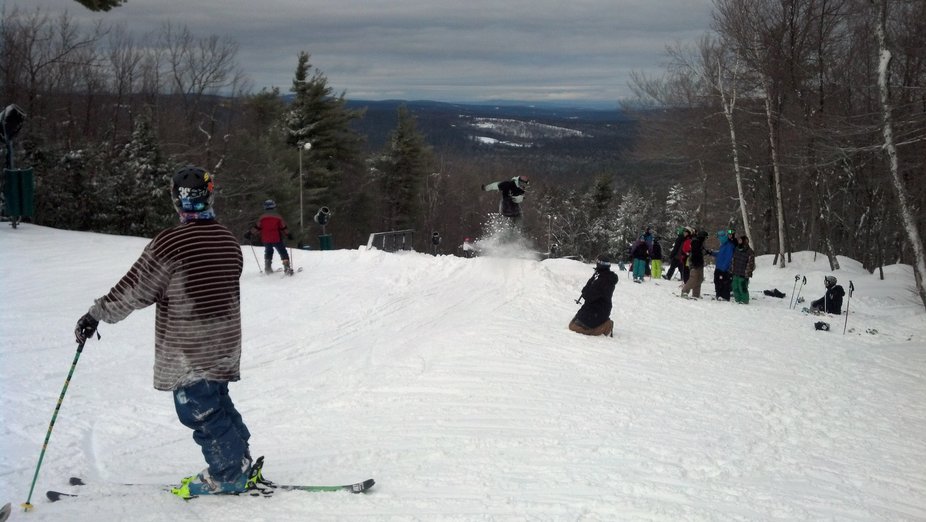 Another anonymous skier hitting the fat box
The park consisted of (from top to bottom) a up-flat-down bar, short box, down rail, small cannon, down rail, wide box/ flat rail, flat rail, round pipe w/slanted box side (such technical terms!) and a real steep propane tank at the end. Here is a shitty video walk-through of it if your interested. Remember this is as of 12/16! I will try to improve the walk-through quality in future posts, but when I took the video early in the day with my new camera (not a video camera, just a pocket weatherproof camera.) when it was still kind icing slightly. The gopro would have been just coated in it, and frankly I didn't feel like getting it from the car for a 90 second video. No editing done here, just an uncut, shitty clip.
http://www.youtube.com/watch?v=bjrU-zfbusc
As the mountain lights came on around 4, I decided to pack up and leave (This place is lit top to bottom! That's pretty sweet!) My legs were sore from all the powder, and with work early the next day, it was time to go. Crotched is a pretty nice little mountain. Its easy to ski the whole mountain 2 or 3 times over in a day, so unless you are new or there is alot of powder, it might get boring. It is clearly a good learners mountain, but if you are looking for a challenge, I would head elsewhere.
Good for -
Beginner & Intermediate Skiers
Beginner park rats (as of writing)
Skiiers on a tighter budget
Night skiers
Bad for -
Advanced & Expert Skiers looking for a challenge
People looking for lots of glades and/or tight glades
Park Skiers looking for lots of parks
Thanks for reading! As always comments and ideas for things to add are always welcome! See you again soon. I am thinking next Sunday 12/22 I will be heading to Sunapee. If my plans change I will update this article and post in the comments. If you are going to be at the mountain that day let me know!
Keep on shredding NS!