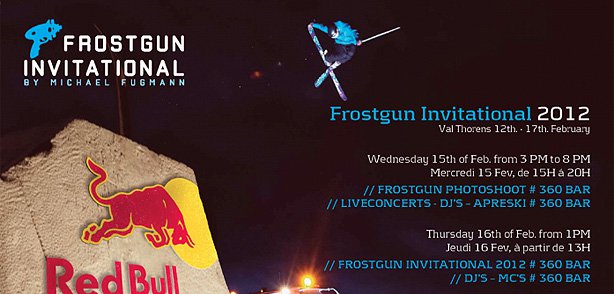 Val Thorens was host to the Frostgun Invitational 2012 and the riding did not disappoint. It was a rider field that was stronger than ever so of course we weren't going to be bored!
After postponing the comp by a day due to bad weather, the event began in bluebird conditions. 20 riders were given 3 chances with the best two counting and only the top 8 were sent through to the finals, so the riders had to be on top of their game straight from the get go.
The finals were in a head-to-head knockout format leaving only the last two to battle it out for the title. The two that it boiled down to were Kai Mahler and Rico Schuler, the to young Swiss stars. Kai threw down a left double cork 1260 double japan shifty to beat Rico's left double 1620 tail grab.
Results:
1. Kai Mahler
2. Rico Schuler
3. Russ Henshaw
4. Henrik Harlaut
Related posts:Jon Olsson Invitational 2011 Here's updates from practice and their mellow afternoon. So basically...
The Candide Invitational Story -Full Movie Crazy shots on the as yet never surpassed Candide invitational...
Eric Strand at the Candide Invitational Eric Strand dances round the hole in the wall at...