When I started writing again for Newschoolers last winter I made a rule for myself: no news, only opinion. I didn't want to interview people and report things. I wanted to cover the more touchy-feely side of skiing that I think sometimes doesn't get enough attention.
But sometimes there's a great story sleeping in your guest bedroom and you just have to cover it. That was the case with Full Send Skis. I first became aware of Full Send last winter via a thread on newschoolers.
And my initial impression was "some kid in South Dakota is making really pretty skis." Yep, I'm a sucker for veneer topsheets. But the shapes looked pretty dialed, and it was really interesting to follow along with someone just starting to build skis commercially. Things escalated as they do, and last spring Doug built me a pair of his 104's to put through the paces. I've put together a mini-review at the bottom of this piece, as well as some info on what's coming next for Full Send. For now though, here's Full Send Skis in their own words:
Founder's Name: Douglas Bachand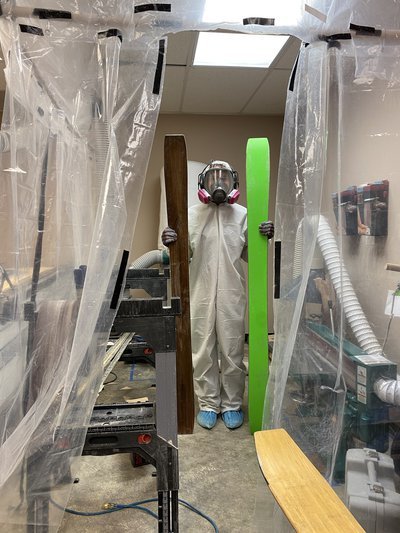 Age: 26
Number of years skiing? 8?
Home Hill? Terry Peak, SD
Favorite ski destination?
Honestly, Meadowlark Wyoming, super fun little hill with a bunch of fun side hits, laid back, decent snow, and no people
When and why did you start building skis?
I think I pressed my first set of skis back in 2016, probably. I started building skis because I ended up looking for a decent all-mountain ski in between my park and powder ski and happened upon a Blister review of the K2 Shreditor 102 which then sent me on a journey that consisted of reading as many Blister reviews as I could. This then led to me buying more and more skis every year until finally, I had the thought of, maybe I could just build the best skis for myself as opposed to trying to find it.
What's the motivation behind starting up the brand as opposed to just building skis for yourself?
A combination of money and passion. I want to have a job that is meaningful and I love to build and create things. I figured if I loved the skis that I made so much, there may be other skiers out there that would also really like them as well.
Biggest highlights/challenges of the entire process?
The biggest highlight would be finishing up the ski so that it is in its final form. I love seeing how a new shape looks in combination with the rocker profile and the flex.
Probably the most challenging part of the entire process is the layup. Even though it has gotten easier it's still a bit stressful when you finally put all the parts together before all the epoxy sets up. It's also strangely relaxing as well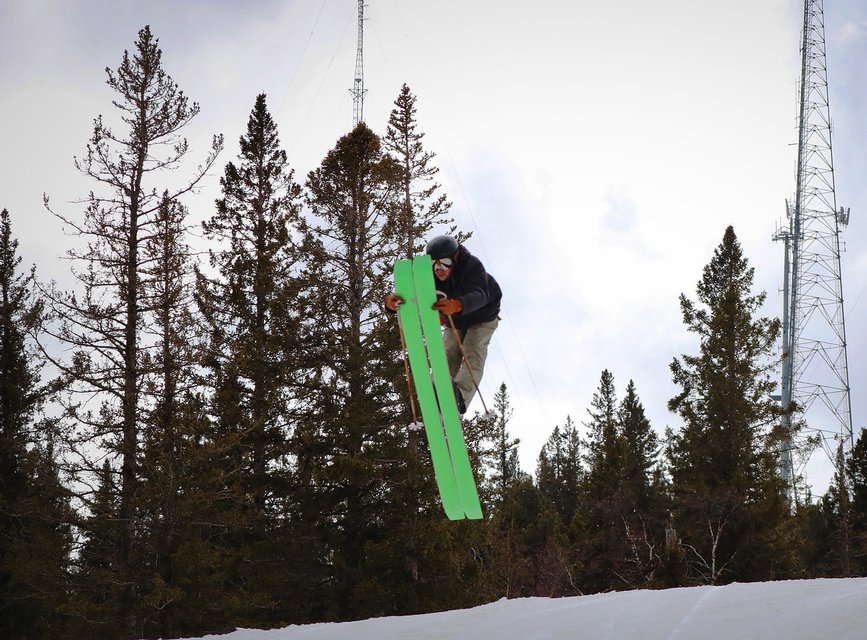 What sort of skiers are you stoked to build skis for?
Honestly, anyone. As long as whoever buys them loves them then that's all I ask for. They will definitely cater to the newschool swerve approach to skiing depending on how you want them to ride. I generally prefer the softer the better but if you want a more hard-charging ski then we can easily adjust the flex to your liking.
Any advice for aspiring at-home ski builders?
Learn how to tune a ski using a belt grinder, a stone grinder, and an edger. The biggest issues I have had have been getting a good solid tune for a ski going out the door. The second biggest issue I had was delamination due to improper epoxy spreading. Always wet out all of your layers thoroughly.
What sort of legacy or impact do you want to have on the ski industry? What do you want to be the first thing that comes to folks minds when they think of Full Send Skis?
Honesty. I want people to think of Full Send Ski Company and know that we want what's best for our customers even if it's not our skis. There are tons of great skis out there for every different style and type of rider. We hope we can build some people's favorite skis of all time but we know they aren't for everyone and we hope to be able to help people find which ski company would be the best bet for them to find a pair of skis that they love.
What are the three skis that have most influenced you as a skier/ski builder?
Gosh, I have like 5 skis that I would say influenced me. They would be the Moment Bibby Pro, the Liberty Origin 116, the Line Mr. Pollards Opus and the Rossignol Sickle. And also the Atomic Bent Chetler with the ABS spoon tip and tail. Can't really pare it down from here. They have all been equally inspiring and amazing skis.
You can only ride either ski blades, or a monoski for the rest of your life, which one do you choose and why?
Monoski by far. It would really push me to learn how to switch mono so I can zero spin everything.

Pow day with long lift lines, or low tide with no lines?
Low tide, no lines. I love empty resorts with no people. The solitude of skiing alone is a large draw to the sport for me.
What's the most interesting question I should have asked you and missed?
Why I exist, which is probably a little too philosophical but it's by far the driving force of my existence. My answer to that would be that I exist to build and create. I feel called to build skis despite not having any experience in woodworking, living in South Dakota, and not being a great skier. I don't really understand the why, as in why I feel called to build skis but it's a very guttural sense of "this is what I should be doing, this is my path in life." Maybe that will change down the road but I have been gifted with the opportunity to build and create two glorified planks that bring people joy when they slide downhill.
My Impressions of the Full Send Wunderwaffe
The Wunderwaffe is Full Send's 104 mm underfoot playful all-mountain ski. All of Full Send's skis are semi-custom with the option to choose your flex pattern, amount of carbon, and custom graphics. Because of that, I won't make any broad, sweeping statements about the model in general, because my personal Wunderwaffe might not be the same combination of custom options that you end up buying.
I'm on the 186 cm length, "soft" flex Wunderwaffe. Just out of the box, the skis are beautiful. You can tell Doug takes pride in his finishing process and all the joints are tight, no filler at base/edge transitions, and a nice clean finish. Just because you're buying skis from some kid in SD doesn't mean they're not clean and pretty. The finish matches or exceeds what I've seen from some big-name indy brands.

The "soft" flex is definitely very soft. It's easy to hand flex the ski into a deep curve, and the same feels true on snow. The closest production ski I've seen to this flex is the Line Blend, and I think the "soft" Full Send may even be a little softer. That makes it a ton of fun to jib around at lower speeds. You can bend deep into the flex and wheelie around on your tips and tails with little to no effort. If you're looking for more of an all-mountain jib ski as opposed to a new-wave park whip, I'd recommend going with the medium or stiff flex, with more carbon than I did.
All of Full Send's cores are made of bamboo. It's unwise to make sweeping statements about core materials since so much of a ski's ride quality also comes from shape, profile, and layup, but if you've had experience with bamboo skis from that hard-to-pronounce brand in Portland, the overall ride quality and level of damping will feel familiar. The Full Sends are still poppy and playful, but they do a really good job of absorbing chatter for a ski of this weight. They're a "quiet" ski.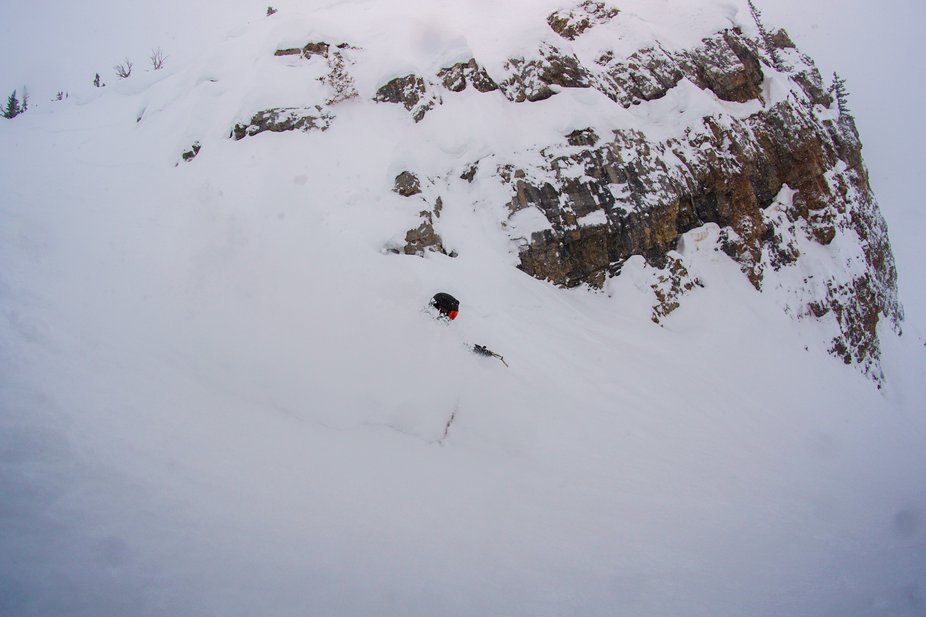 Doug getting after it on skis he built himself.
If you're looking for something in that 100-105 range that's a whole bunch of fun, I highly recommend getting in touch with Full Send and having a conversation about what combination of flex and materials would be best for you.
What's Next?
Everything! This spring Doug has been dipping into pressing snowboards and mono-skis. So if you like to stand on one plank, either forward or sideways, he's got something for you. And while he was staying at our house, we cooked up the design for a purpose-built backcountry touring snowlerblade. I'll be testing prototypes this spring, and we should have something short, lightweight, and exciting available for pre-order this summer. Because backcountry blades are truly the future.
Go give Full Send a follow on all the socials and give this video on the brand a watch. It's good people making pretty skis, and that's all we can ask for in these unprecedented times.