Introduction
New for the 2017- 18 ski season is Fritschi's Tecton binding. Sort of new for this season is the Fritschi Vipec Evo. While this review will focus on the Tecton, the Evo has also been further improved.
Both are alpine touring bindings. Both are of the "Tech 2.0" variation possessing the notable advancement of no heel gap between boot and heelpiece but instead having a heelpiece that contacts the boot thus giving better ski control. Both are RV 5 - 12 bindings. Both Tecton and Evo have the unique (to alpine touring) characteristic of adjustable RV at the toe and separate lateral toe release (a marked safety feature). Both have intermediate and high climbing aids (9 and 13 deg). Both have narrow to wide brakes (Evo goes from 80 - 120mm; Tecton from 90- 120mm; in 10 mm increments).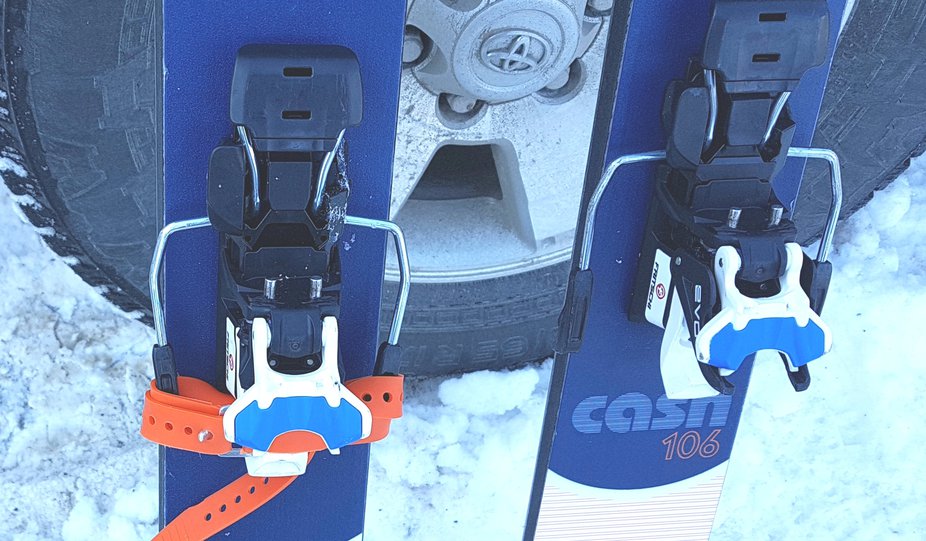 Another broken brake pad
Potential boot damage issue
There is one further nit to pick and this is quite a bit more noteworthy. It crops up when the Tecton/Evo is in tour mode. In tour mode the toe lever of the toepiece must be levered up to Tour mode otherwise you step put. In such mode, lateral release at the toe is only possible if there is a hard hit (this is not adjustable by the RV setting) and forward release at the toe is not possible.
Potentially this new Tecton/Evo feature of non-releasability when the toe is in walk mode and a skier falls forward can cause boot damage. You can see this is a design issue as the contact point on the Tecton toe lever is as pictured below. In a forward fall when the toe lever is locked out and the user falls straight ahead the boot will not release and the contact bump point will dent the boot. If you fall sideways or there is a side impact to your boot while the toe lever is locked out the boot may release if hit hard
To summarize, you have to fall forward directly while your toe is locked out for this boot failure to happen. The fall must be with substantial impact (a person's body weight will accomplish this). If you have ever fallen forward while your toe lever is locked out your boot is vulnerable.
Tecton toe in tour mode
This is a picture of a boot dent caused when the person was skinning with the Tecton toe locked out and fell forward on to their knees. Atomic Backland, Salomon Mtn Lab boot toe pictured
Fritschi response
Fritschi's response to this boils down to "Don't fall on your knees while your toe lever is locked out." and "if you're in a situation where you might have a knee fall put your toe lever into ski mode". I reached out to Fritschi for further comment. To summarize Fritschi believes that there a safety benefit to the design of the Tecton/Evo toe lever; this safety goal being to allow for toe release as soon as possible on a forward tomahawking fall; something which is accomplished when the Tecton/Evo toe is in ski mode. The trade-off is that toe release won't happen in that same forward fall when the toe lever is in tour mode. The assumption is that you won't be moving that fast when you're touring (a safe assumption).
How will this matter to you as the user? I can think of use cases where forward falls can happen. Examples below all of which can result in a dented and/or damaged boot. I can think of more examples and I'm sure others can as well
- those who ski downhill with toe locked (not recommended but it will happen as people forget)
- running tip into snow on a kickturn
- running tip into snow scootching downhill with or without skins on
- forward fall while skinning up an icy uphill
Fritschi has no plans to change the Tecton/Evo toe at this time. All one can do is think of how you use the Evo/Tecton, whether there's a risk that you'll fall forward while touring and whether the safety benefit of immediate toe release when falling forward while skiing outweighs the risk of boot toe denting when falling forward while skinning.
This is a Dynafit Vulcan with toe dent caused when coasting downhill with heel free and toe lever locked out then ramming ski tip into sastrugi. Aftereffect on boot is pictured. Tectons were set at DIN 8. The toe dent was cosmetic and repaired by punching the toe
UPDATE - re boot - binding compatibility
Several have asked what boots are compatible with the Fritschi Tecton Evo toe. There is no standard for AT boot shapes. Standard boots with distinct toe ledges and heel ledges work. Compact boot shells will NOT work. Truncated boot shells will NOT work.
More on that from Fritschi - http://www.blackdiamondequipment.com/on/demandware.static/-/Sites-bdel/default/dw8cde7156/tech-pdfs/checked_compatibility%20boots_2017-18.pdf
This video below illustrates how to check the boot toe compatibility
https://www.newschoolers.com/videos/watch/895184/Fritschi-4-item-check---Compatibility-with-boots