Introduction
New for the 2017- 18 ski season is Fritschi's Tecton binding. Sort of new for this season is the Fritschi Vipec Evo. While this review will focus on the Tecton, the Evo has also been further improved.
Both are alpine touring bindings. Both are of the "Tech 2.0" variation possessing the notable advancement of no heel gap between boot and heelpiece but instead having a heelpiece that contacts the boot thus giving better ski control. Both are RV 5 - 12 bindings. Both Tecton and Evo have the unique (to alpine touring) characteristic of adjustable RV at the toe and separate lateral toe release (a marked safety feature). Both have intermediate and high climbing aids (9 and 13 deg). Both have narrow to wide brakes (Evo goes from 80 - 120mm; Tecton from 90- 120mm; in 10 mm increments).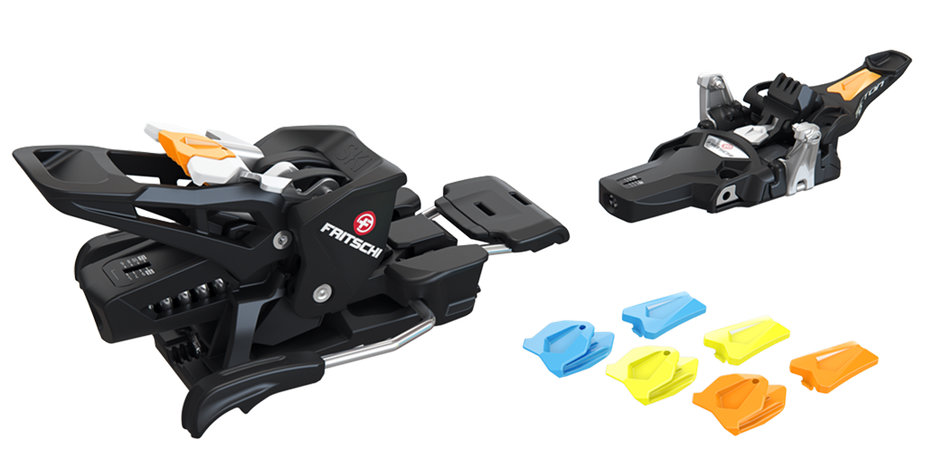 Fritschi Tecton alpine touring binding (bottom)
Here are some noticeable differences between Tecton and Evo.
The biggest difference is the Tecton's heel piece. Tecton has an alpine-like heel which cups the entire heelpiece and has rails which slide into the boot's tech heel fitting.. Evo is more traditional in being connected to the heelpiece by two pins which slide into slots in a boot's tech heel fitting.
Because of the Tecton heelpiece design only boots which have a substantial heel ledge will work with Tecton. Boots like the TLT6, Procline, X-Alp, Hoji will not work with Tecton. The Evo's heelpiece has no such limitation
Tecton has considerably more heel elasticity (ie ability for the heel to travel without releasing); Tecton's number is 9mm vs Evo's 3mm. Both have identical toes with class-leading elasticity of 13mm.
Both measured with 110mm brakes Tecton is heavier (672g) compared to Evo (581g)
Tecton has slightly less ramp angle (8.3mm delta vs 10.6 mm delta for Vipec/Evo). See here for comparison of all binding ramp angles
Tecton is more expensive at $ 649 USD vs Evo at $ 599 USD. Ski crampons are available for both bindings at $100USD each.
If one is shopping for alpine - touring bindings of the middle to heavier weight "free-touring" categories (marketing buzzword barf) either the Tecton or Evo must enter the conversation. Into their fourth generation (only the Tecton heelpiece is new - the toepiece is virtually unchanged) these Fritschi bindings can now be considered to be more refined . It is this reviewer's opinion that the Fritschi Evo and Tecton are the safest AT bindings of this category in that no other tech binding has lateral release at the toe.
***HOWEVER a caveat that one of the Fritschi's safety release design features has the potential of damaging your boot if you fall forward on your knees while the toe lever is locked out. More on that in the section entitled "Potential boot damage issue" in the body of the article. ***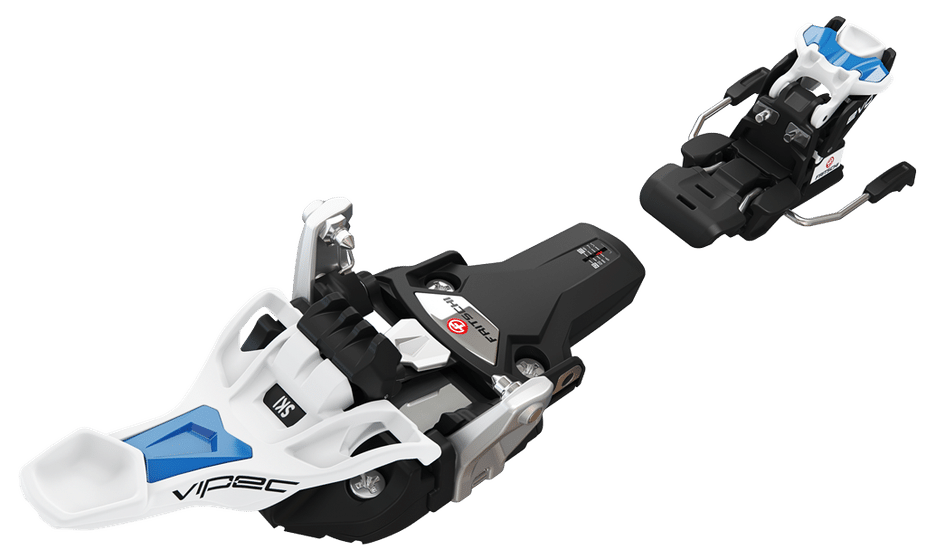 Fritschi Vipec Evo alpine touring binding
______________________________
About the tester
At just 160 pounds I am not a big guy but do spend 100+ days a season skiing, with most of those days in backcountry. I've had 6 days on the Vipec Evos and 22 days on the Tectons with all of the days spent in backcountry of Whistler, the Duffey and the B.C. Interior. My skiing is usually in high moisture-content snow. Accordingly, my preference is for bigger skis and relatively stiff boots.
I had the Vipecs mounted on Blizzard ZeroG 95 skis and the Tectons on Blizzard ZeroG 108 skis paired with Dynafit Vulcan, Salomon Mtn Lab, Atomic Hawx 130 or Dalbello Lupo AX120 boots (ie all bigger boots). I've had extensive experiences on tech bindings including earlier Vipecs and various other tech offerings. If you have questions about one versus the other, please ask in the comments.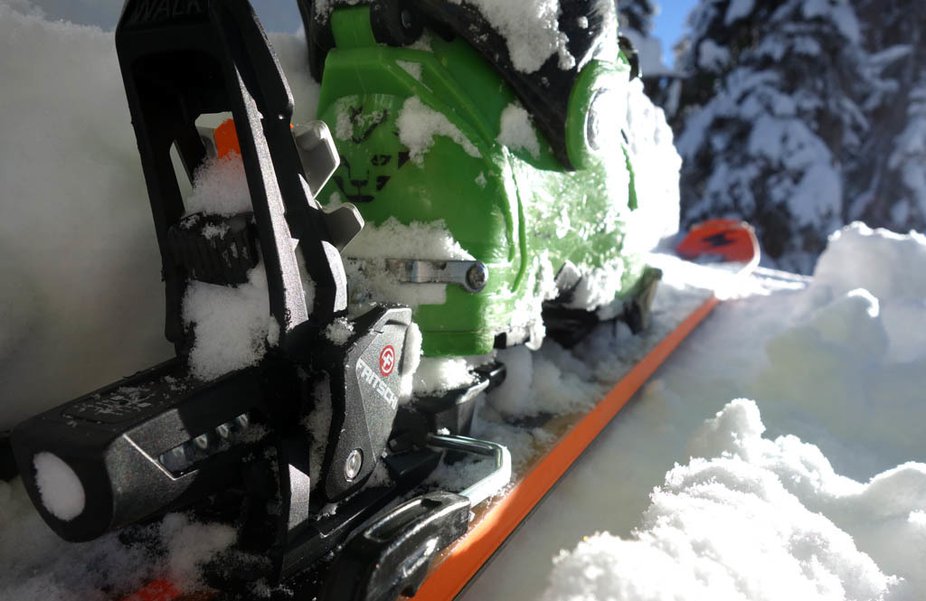 Fritschi Tecton on-snow
Toepiece Features
The Tecton and Evo's toepiece is your basic tech design being a pincer system clamping onto inserts built into an appropriate boot. The principle remain unchanged from the now-expired Dynafit patent but with its unique distinguishing feature being laterally adjustable toe release.
One major difference between the Tecton/Evo toepiece and the previous year (Black Vipec) toepiece is ease of entry. Evo/Tecton's toe lever continues to share the improvement from prior versions which required one to press the toe lever down while stepping in. Now one simply steps in. Additionally there is now also a bigger target in the toepiece making step-in even easier..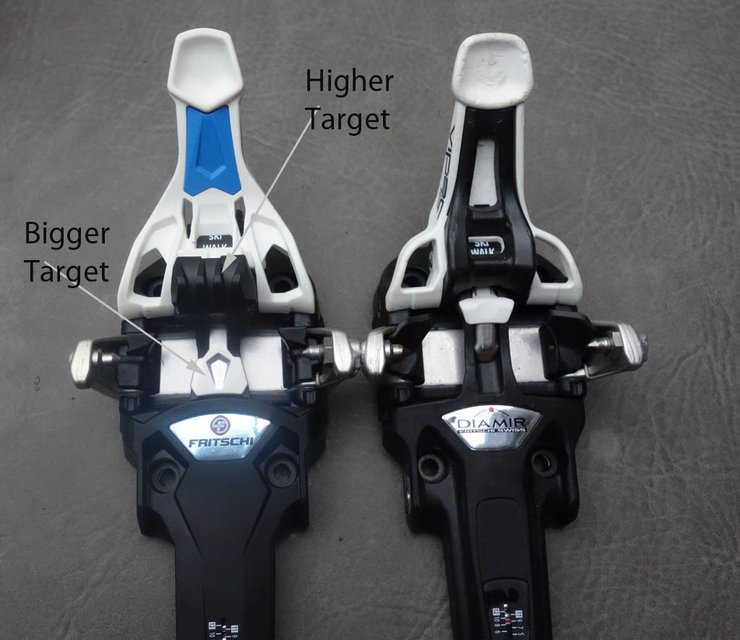 2016-7 (Black) Vipec toe left. 2017-8 Evo/Tecton toe right.
Another major difference between Fritschi binding years is a safety feature designed to allow the skier to escape the binding in a forward fall where the skier tomahawks directly ahead. Usually in a forward fall tech bindings have minimal enough retention that the skier will eject from the binding. However, the Tecton/Evo toepiece has built-in lateral elasticity so it would be theoretically possible for a tomahawking skier to eject at heel yet still be held in at toepiece.
Fritschi's design choice was to build in a rubberized bump at the apex of the toe lever. In a forward fall, the tomahawking skiers' boot would hit the "higher target" of the toepiece (see picture below) and the toepiece would then release. There is no standard for the shape of alpine touring boots so previous versions of the Tecton/Evo toes required different sized clips to be inserted on the Fritschi toepiece so that different shaped boots would be able to release in a forward fall. The new rubberized bump feature is Fritschi's attempt to make it easier for skier setup of the binding's toepiece for safety

Tomahawking skier escapes in a forward knee fall
Heelpiece Features
Unlike the toepiece, the Evo and Tecton share very different heelpieces. The Evo's heelpiece is like most traditional tech bindings in only releasing vertically and is adjusted back and forth 30mm by a worm screw on a platform mounted to the ski. It's a mature product engaged by another lever that moves the heelpiece back and forth so one goes from ski to tour mode. The Evo heel piece has almost no gap between boot heel and binding heel-piece contributing to it's solid skiing engagement performance but does not have true forward pressure. More on the Evo heelpiece is in this review of the past year's Fritschi Black Vipec.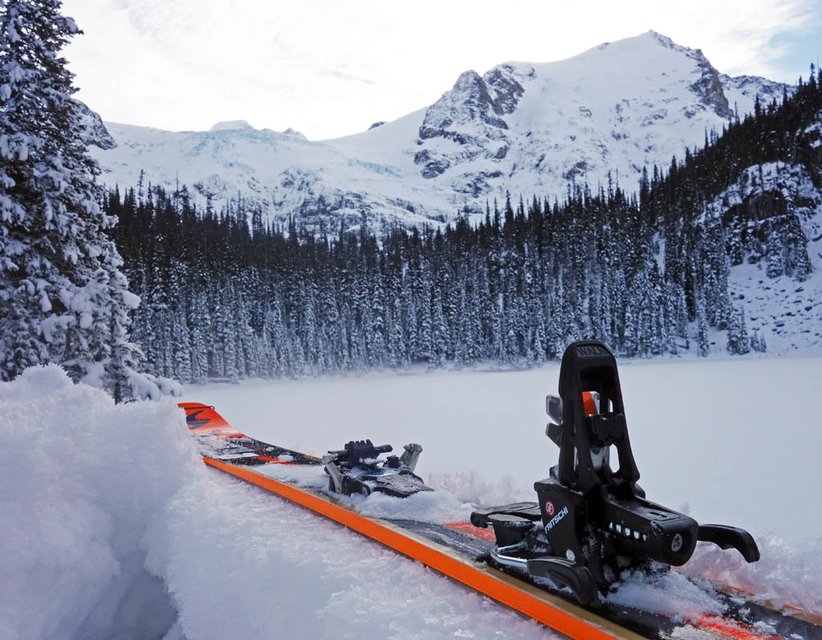 Tecton on Joffre Lakes
The Tecton heelpiece is the new attention grabber and where the innovation lies. This heelpiece is alpine style with two heelpiece - boot connection. Firstly the heelpiece ledge clamps the heel of the ski boot down onto the ski topsheet. Secondly Fritschi has built molded "Power Rails" into the heelpiece so, where pins in a typical tech binding would normally slot into heel inserts, there are now plastic rails inserted into the ski boot heel fitting. Both these aspects should theoretically contribute to a more positive heel engagement and to more predictable releases when necessary. As with the Evo heel, Tecton has 30mm of adjustment, two risers and a flat touring mode.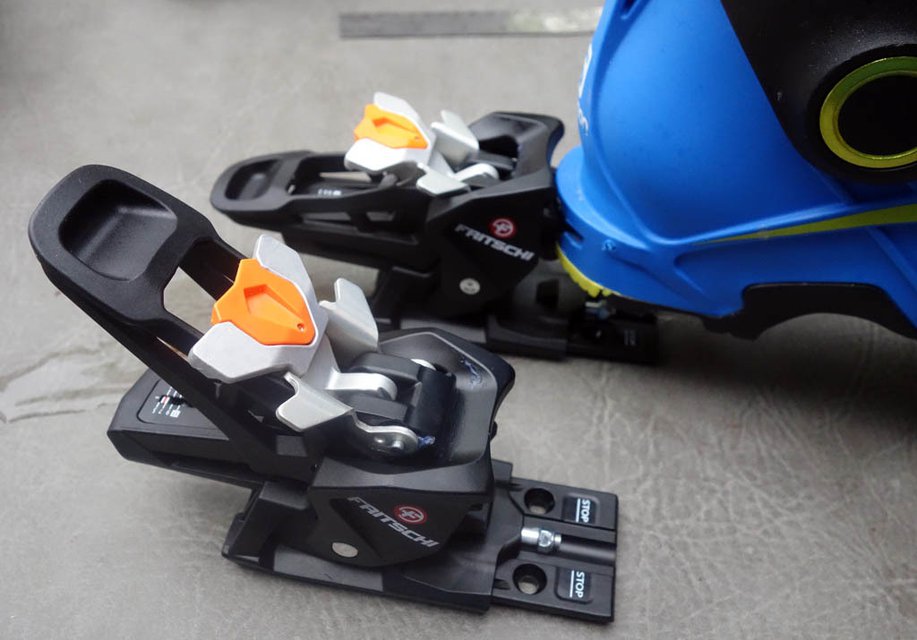 Fritschi Tecton heelpiece
Skiing
Both the Evo and Tecton ski shockingly well. They both ski so well that I would have no hesitation in using them for wide skis for slackcountry purposes ie where I was mixing up some inbounds on pow days then ducking outside resort boundaries to ski powder laps.
As mentioned previously Fritschi built in some elasticity into the toepiece so that the Tecton and Evo toe have some degree of lateral give to allow small micro-hits to be absorbed from ski deflection and accommodate side-to-side motion at toe. The Evo heel also has some elasticity in that it can glide somewhat on on a spring-equipped track that keeps the heel piece flush to the boot even when the ski is cambered violently on a big hit. However the Tecton heel has even more elasticity in that it permits even more vertical movement (and thus more shock absorption) by virtue of its design.
In particular I've taken the liberty of using the Tectons on some soft powder inbounds day and it's on chopped up snow that the binding shows its mettle. Especially when crossing from soft snow to harder snow (think mach'ing from steeps on to traverse tracks) I've gotten uncomfortably complacent about letting the skis run as the Tectons have induced that much confidence. In conditions before where I'd throttle back to avoid the dreaded pre-release to tomahawk wheel of destruction I feel a tad better about letting my knees and the equipment do its thing. Having dropped some pillows to uphill/flat and coming up seriously short I can also attest that the Tecton releases just fine at both toe and heel when occassion warrants.
In short both Tecton and Evo are heads over heel better then traditional tech bindings when in chopped up or inconsistent snow; with the edge to Tecton in having an even more positive feel. Neither Fritschi binding has the release sophistication or elasticity absorption of alpine bindings (nor do they pretend to be alpine bindings) but if you use the Tecton or Evo you won't have quite the teeth-rattling experience on sketchball downhills that one previously enjoyed with older tech bindings.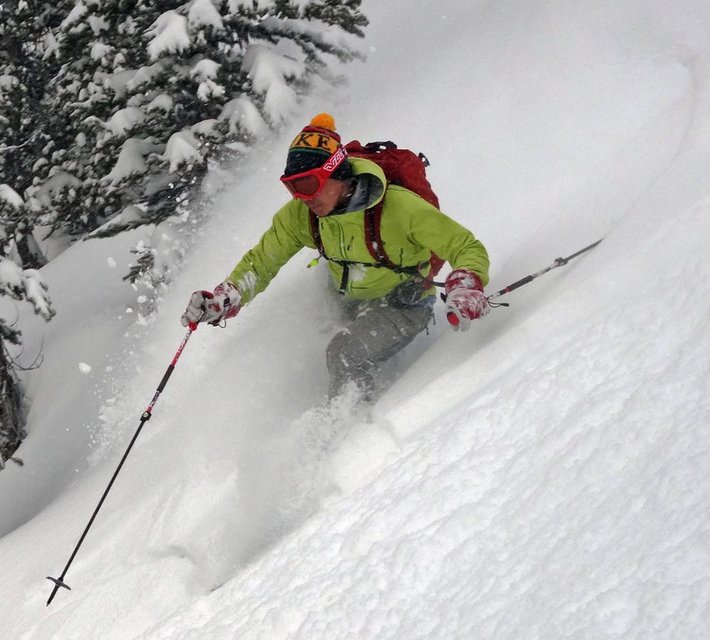 You'll have to trust me that those are Tectons on my feet
Uphill and Touring
Evo is one of the easiest touring bindings to use when transitioning from downhill to uphill. Simply hit the heel lever and you're in tour mode without having to remove boot from ski; an enormously useful feature if you're going from a descent to a flat area and have to coast. As do most other tech bindings, going from ski to tour mode on Tecton does require a bit of a fiddling. I found it best to hit the heel lever with the pole so the heel would release from the heelpiece. Then you have to move the heelpiece to a vertical position which then gives you a flat touring mode.
Both Evo/Tecton are of a design that it's possible to use risers with just a flick of a pole. Both heelpieces also allow for transitions from tour to ski mode without stepping out of ski; a useful trick to avoid postholing in deep snow on transitions. Both the Evo and Tecton heelpiece are of a design that auto-rotation (an annoying feature of older tech bindings where you had to rotate heelpieces to go from ski to tour mode) is impossible. It goes without saying that both Evo/Tecton (like all tech bindings) are about a million times better to use touring then frame bindings. A binding like the Tecton (and Kingpin) in particular which is so good on the downhill and also on the uphill are the death-knell of platform bindings (and good riddance).
There are nits to pick.
Ice can accumulate on the Power Rails plastic and the flat part of the Tecton heelpiece particularly when there's lots of wet snow. Enough snow would accumulate that you effectively lose the flat touring mode. It's fixable by periodically whacking the heelpiece but also something that could be fixed by not having so many snow-catching crevices.
On the Evo heelpiece it's possible to torque the highest heel lifter enough under aggressive cantilevered skinning for the lifter pin to displace from its slot. However the plastic is so tough I could bend the heel lifter back into the slot.
Fritschi videos show that to engage the brakes on both bindings you simply stomp on the brake pad. I find that if you do that it's possible to crack some plastic adjoining the brake pads. Instead of doing so I would suggest using your hand to press the brake pad down so that the brakes go from ski to tour position; of course after moving both Evo/Tecton heelpieces into tour mode.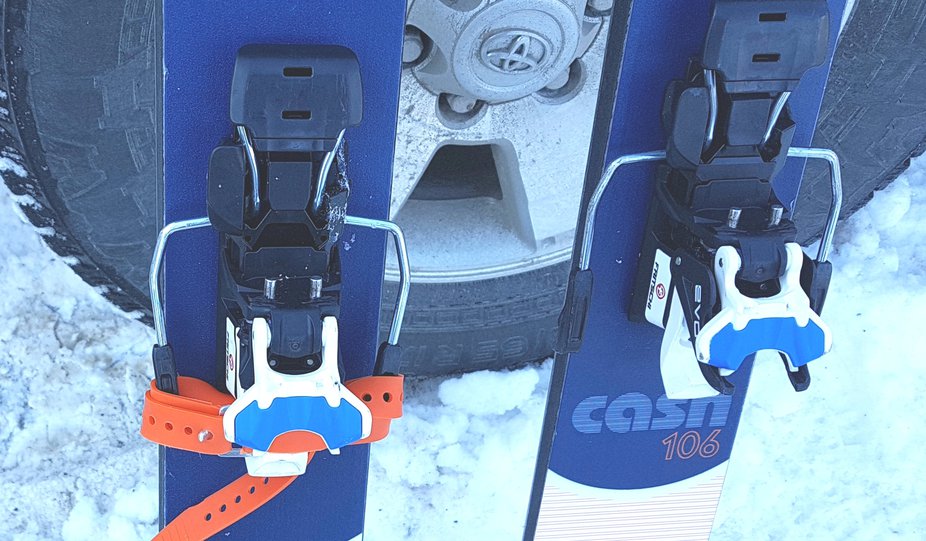 Another broken brake pad
Potential boot damage issue
There is one further nit to pick and this is quite a bit more noteworthy. It crops up when the Tecton/Evo is in tour mode. In tour mode the toe lever of the toepiece must be levered up to Tour mode otherwise you step put. In such mode, lateral release at the toe is only possible if there is a hard hit (this is not adjustable by the RV setting) and forward release at the toe is not possible.
Potentially this new Tecton/Evo feature of non-releasability when the toe is in walk mode and a skier falls forward can cause boot damage. You can see this is a design issue as the contact point on the Tecton toe lever is as pictured below. In a forward fall when the toe lever is locked out and the user falls straight ahead the boot will not release and the contact bump point will dent the boot. If you fall sideways or there is a side impact to your boot while the toe lever is locked out the boot may release if hit hard
To summarize, you have to fall forward directly while your toe is locked out for this boot failure to happen. The fall must be with substantial impact (a person's body weight will accomplish this). If you have ever fallen forward while your toe lever is locked out your boot is vulnerable.
Tecton toe in tour mode
This is a picture of a boot dent caused when the person was skinning with the Tecton toe locked out and fell forward on to their knees. Atomic Backland, Salomon Mtn Lab boot toe pictured
Fritschi response
Fritschi's response to this boils down to "Don't fall on your knees while your toe lever is locked out." and "if you're in a situation where you might have a knee fall put your toe lever into ski mode". I reached out to Fritschi for further comment. To summarize Fritschi believes that there a safety benefit to the design of the Tecton/Evo toe lever; this safety goal being to allow for toe release as soon as possible on a forward tomahawking fall; something which is accomplished when the Tecton/Evo toe is in ski mode. The trade-off is that toe release won't happen in that same forward fall when the toe lever is in tour mode. The assumption is that you won't be moving that fast when you're touring (a safe assumption).
How will this matter to you as the user? I can think of use cases where forward falls can happen. Examples below all of which can result in a dented and/or damaged boot. I can think of more examples and I'm sure others can as well
- those who ski downhill with toe locked (not recommended but it will happen as people forget)
- running tip into snow on a kickturn
- running tip into snow scootching downhill with or without skins on
- forward fall while skinning up an icy uphill
Fritschi has no plans to change the Tecton/Evo toe at this time. All one can do is think of how you use the Evo/Tecton, whether there's a risk that you'll fall forward while touring and whether the safety benefit of immediate toe release when falling forward while skiing outweighs the risk of boot toe denting when falling forward while skinning.
This is a Dynafit Vulcan with toe dent caused when coasting downhill with heel free and toe lever locked out then ramming ski tip into sastrugi. Aftereffect on boot is pictured. Tectons were set at DIN 8. The toe dent was cosmetic and repaired by punching the toe
UPDATE - re boot - binding compatibility
Several have asked what boots are compatible with the Fritschi Tecton Evo toe. There is no standard for AT boot shapes. Standard boots with distinct toe ledges and heel ledges work. Compact boot shells will NOT work. Truncated boot shells will NOT work.
More on that from Fritschi - http://www.blackdiamondequipment.com/on/demandware.static/-/Sites-bdel/default/dw8cde7156/tech-pdfs/checked_compatibility%20boots_2017-18.pdf
This video below illustrates how to check the boot toe compatibility
https://www.newschoolers.com/videos/watch/895184/Fritschi-4-item-check---Compatibility-with-boots