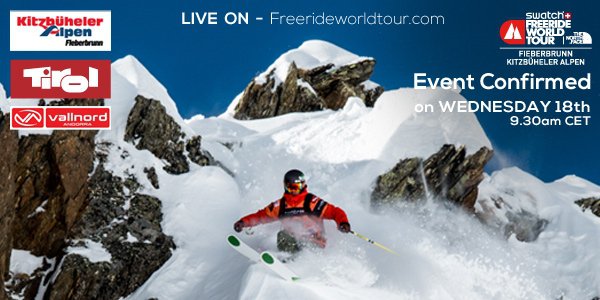 The whole FWT staff has been working extremely hard for the last few days to find the optimal competition face to resume the Fieberbrunn Kitzbüheler-Alpen competition that had to be stopped already twice in the last 2 weeks.
The challenge has been to solve the puzzle of fitting the contest into the existing FWT calendar, on a day and venue with conditions that allow for a fair and safe competition that lives up to the standard of FWT.
After several attempts with Mother Nature not quite playing along, it is now confirmed that the event will happen on Wednesday February 18th. The start for the first rider to drop in has been set to 9.30am (CET). The event will be broadcasted live on www.freerideworldtour.com
The start order will be the same than originaly planned in Fieberbrunn, with the same starting order:
Snowboard Women
Snowboard Men
Ski Men
The women's skiing category will not compete as they already completed this stage on Saturday January 31st.
The Face
The competition will take place on the face of Baser Negre in Vallnord-Arcalis in Andorra. The venue has been used for the finals of the FWQ 4-star event, Eldorado Freeride, last year and was originally planned to be used for the third stage of the FWT 2015 event last week, but strong winds made it unusable forcing organisers to seek for a plan B.
FWT head guide and former competitor, Jérôme Ruby (FRA) reports from the terrain that the face looks very good: "A 10-15 cm fresh snow cover has provided much better conditions than last week, only we will not use the very top where the snow has been blown away."
As for the athletic characteristics of the face, Jérôme states that: "It is a playful face with lots of opportunities, both to go off big cliff bands and to do freestyle. One of the challenge will be to read the snow well."
The competition on Wednesday will be decisive of who in the three categories get to move on to the 4th FWT stop in Haines, Alaska (USA).
For more information on the SWATCH FREERIDE WORLD TOUR BY THE NORTH FACE®,
please visit www.freerideworldtour.com.