Conditions in Andorra today were rideable, rather than spectacular but nonetheless, the riders threw down in what was the last event to qualify for both the finale in Verbier and the tour next year.
Full replay with timestamps here.
_
Men's
Wadeck Gorak opened things up with a huge backie to a pretty flat landing to set the bar at 80.0. Leo Slemmet spun his way down the course with three 360s in the upper section of the venue and a clean flow through the bottom for 91.00. Unfortunately, some flat light reared its head around this point and while T-Hall kept things styley up top, and threw a bonus nosebutter 3 over some exposure halfway down, he crashed on the near-mandatory cliff in the middle section. Drew Tabke charged the face with some big straight airs, a nice 360 but only scored a 71.0. Markus Eder's near flawless start to the Freeride World Tour hit a speedbump today, going down on a flat three. Kristoffer Turdell went fast and technical up top, but also managed to throw some stunts and ended up second behind Leo by just one point. Andrew Pollard sent a flawless three to straight air tweaked safety at the top of the course and charged through the bottom section, landing him on the podium in third place. Carl Regnér Eriksson slotted neatly behind him in fourth, stomping the technical couloir double up top, and throwing a nice backie off the wind lip for an 81.3.
Results: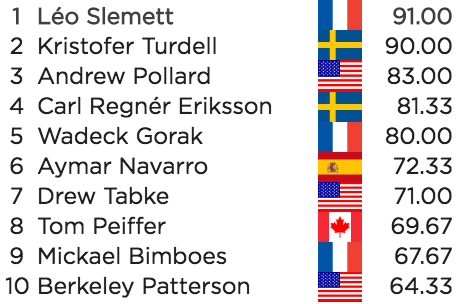 Standings (Top 12 qualified for Verbier):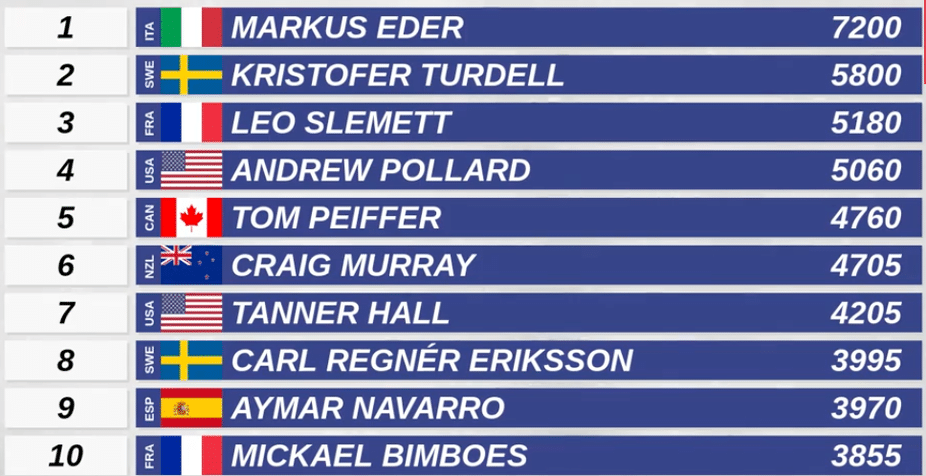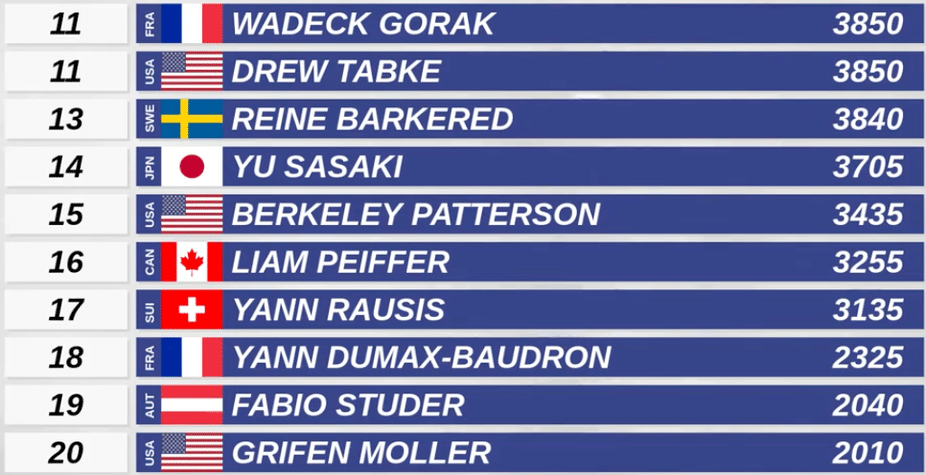 _
Women's:
Hedvig Wessel went huge on both a backie and the big, bombed out main cliff drop but had a sketchy moment or two which the judges don't love, pinning her score at 70. Jackie Passo sent it big twice in the second half of her run, scoring her an 81. Hazel Birnbaum managed to open a new line despite the ladies being last to drop for a 72.33. Ariana Tricomi put down two 360s but had a couple of control issues keeping her behind Jackie Passo. Jacqueline Pollard ripped down the face smooth and clean for third place.
Results: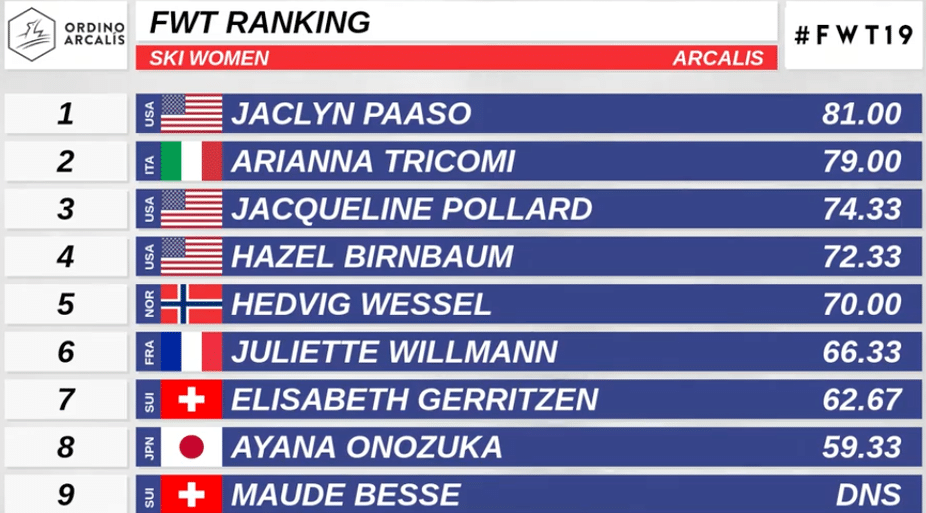 Standings (Top 6 qualify for Verbier):