The second Freeride World Tour stop in Golden, British Columbia finally went off on February 5th. A huge snowstorm threw off the start date, which created some nervous chatter that the stop would be canceled like in Hakuba. On Monday, the clouds parted ways, giving the mountain a mystical glow feel. Spectators were lined up along redemption ridge, eager to watch some of the best skiers and snowboarders charge the steeps of Kicking Horse. The Ozone looked unreal - it was an untracked venue full of many epic lines to choose from. The Ozone face was a permanently closed area beforehand, so the opening was a huge score for both the FWT and locals.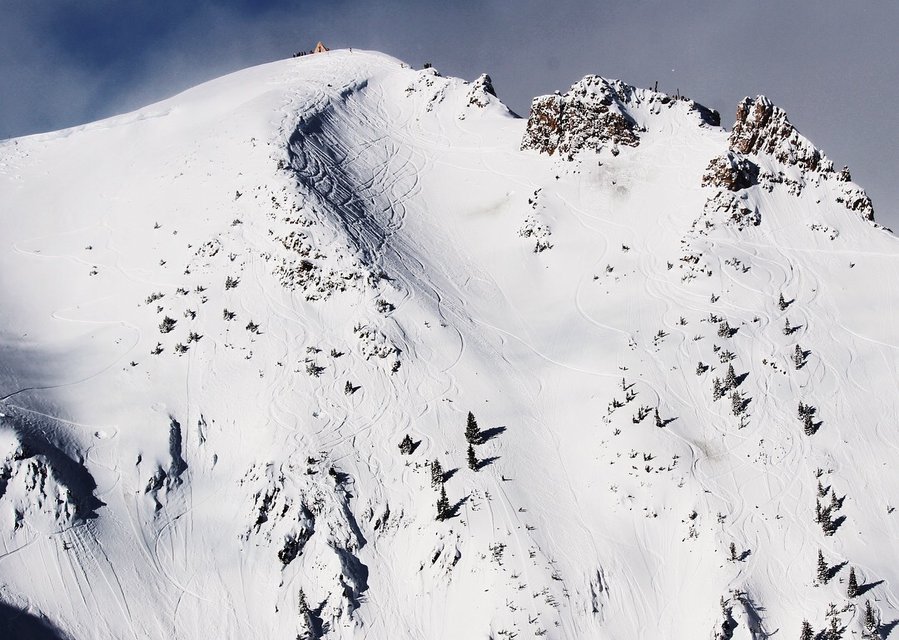 Photo by
Andrea Byrne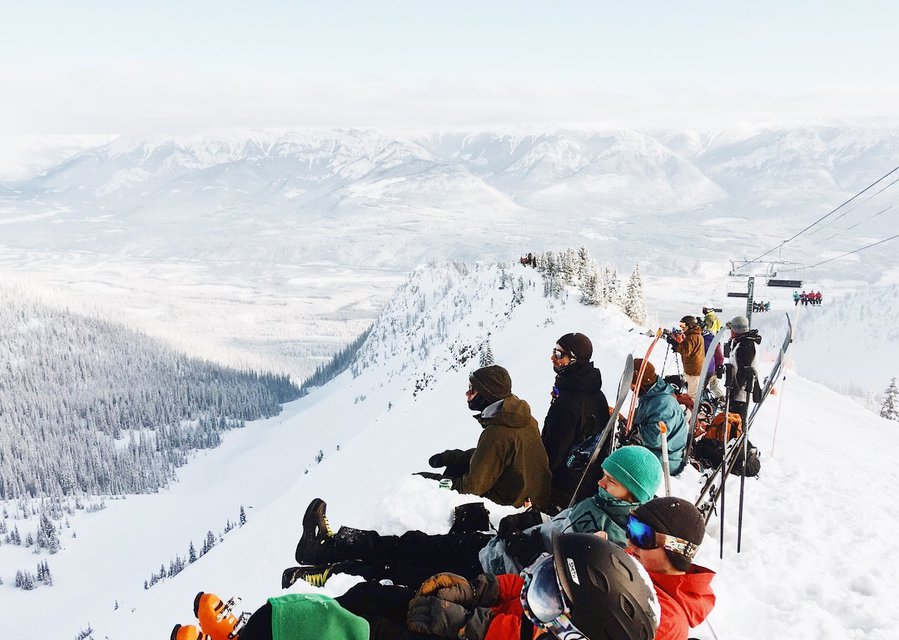 The venue featured many technical, rocky runs with huge cliffs and chutes to hit. Throughout the day plenty of sharks were revealed under the snow, which most likely hindered many tricks being thrown down. No backflips were seen, only threes. Occasionally a cloud of fog would roll in, briefly halting the competition due to visibility. Overall Ozone proved itself to be an amazing venue for the Freeride World Tour.
Both the men and women's snowboarders threw down impressive runs. Davey from Homer, Alaska was by far the standout out the snowboarders. I have personally never seen a rider go so big on a run - it could have rivaled the ski men's side of the competition. He finished first with 88 points and was stoked at the finish well after his run. "This smile could never be wiped from my face," he said, while smiling.
Women's Ski Results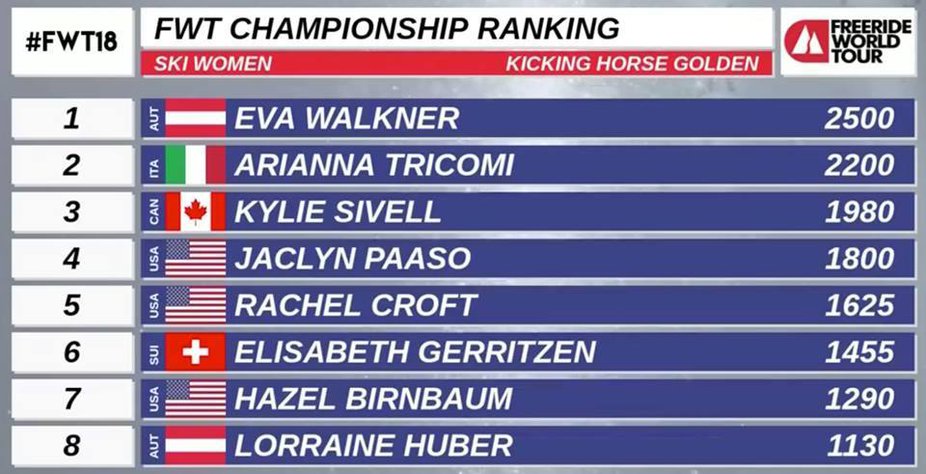 The women's ski competition was amazing to watch. It was clear that many rocks were being uncovered as the competitors skied through technical parts of their runs. Eva Walkner walked away with another first-place finish after she was the only female to ski to looker's right. She immediately hit a double cliff followed by another technical cliff air - to which she stomped both. Arianna Tricomi finished in second after an incredible no-hesitation run that led to a technical chute and finished with a huge air. In third place was Canada's own Kylie Sivell, after she skied an incredibly fluid line that ended with a huge air at the bottom. Elisabeth Gerritzen, Jackie Paaso and Rachel Croft all skied through insanely technical and sharky areas with huge airs but didn't quite make the podium. Hazel Josie Birnbaum and Lorraine Huber both had amazing lines planned, but neither was quite able to land their airs. It looked as though Hazel might have caught an edge on a rock and Lorraine might have gone bigger than she anticipated.
Men's Ski Results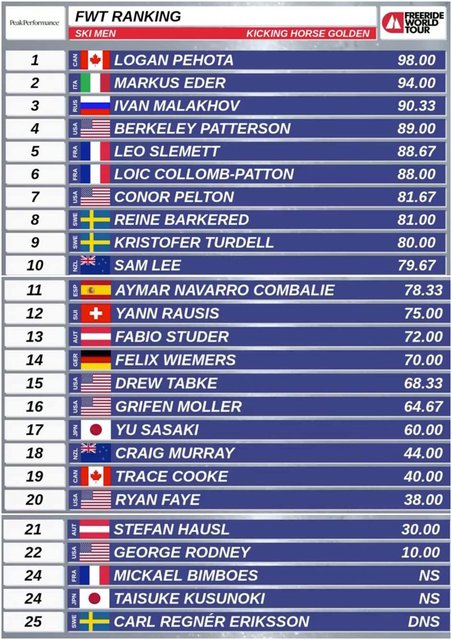 Highlight video:
https://www.newschoolers.com/videos/watch/892763/Highlight-Ski-Men---FWT18-Kicking-Horse-Golden-BC---Freeride-World-Tour-2018
The entire men's ski competition was insane to watch. Every skier went HUGE. Logan Pehota skied to win - he ended with a well-deserved first place of 98 points, one of the highest scores in FWT history. He started with a huge three, went to a double cliff and finished with a puckering send right off the nose of a spine. Even Drew Tabke jokingly said, "I was wondering why you looked so nervous, I would be too if that was my line." Logan unarguably deserved first after his full-throttle line, but the other podium places could have gone to anyone.
Markus Eder finished with second place after stomping a three at the top followed by a fluid line that took advantage of every feature offered. Ivan Malakhov received a third place. My hands were a bit too cold to write down anything about his run, but I do believe it ended in an awesome double cliff. Other standouts include Flex Wiemers, who looked like he landed on top of a tree but skied away. Yu Sasaki, a Japanese rider based in Revelstoke, went from a huge cliff air at the beginning of his run to straight-lining a good portion of the venue. Berkeley Patternson, the young-gun rookie from Crystal Mountain landed in fourth place after stomping some sketchy airs. However, the most memorable run was from George Rodney, who sent it to the moon. He was the only rider to ski to the looker's far left, which featured a massive cornice followed by the venue's largest cliff. He hit both. The avalanche debris from the cornice bobbled his run at the start. "I messed up on the other part of my run so I just went for it," which in George Rodney terms means to send a 100-foot cliff. "I felt like I was flying!" He had a bit of a bomb hole at the bottom but was able to stand up and ski down to the finish line. The run was awarded ten whole points.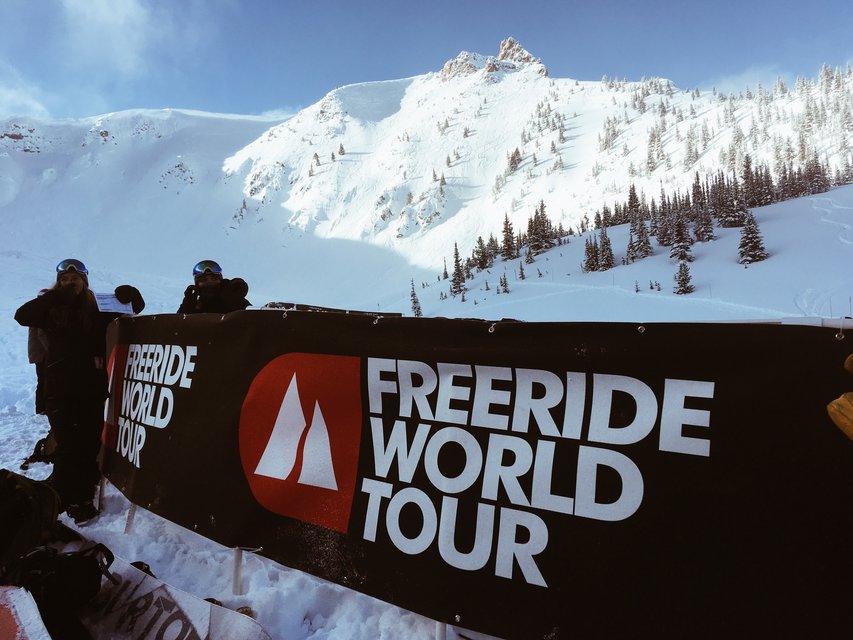 The next Freeride World Tour competition will be on February 6th, in order to make up for the Hakuba stop. As soon as today's competition was over the riders headed back up the gondola to visually inspect the venue Truth or Dare, which is the current face for the 4* qualifier event Wrangle the Chute. Two days of competing is no easy feat, so best of luck to the riders tomorrow. Stay tuned for the next FWT write up tomorrow and congrats to all of the competitors today.