When I had my flights booked for the European Open I decided to take a couple of extra days after the event before heading back across the pond. I wasn't quite sure what I was going to do but I figured that I would find some sort of trouble to get into whether I stayed in Laax, went to Zurich to do the tourist thing, or fled to some other location before my flight home.Despite many offers to head to La Clusaz for the Candide and even stick around to head up to the Jon Invitation with some of the European crews, I had no way to pay for an extended trip so those were out of the question. With weather generally shitty for the main competition days I decided I really wanted to get some sunny riding in if weather permitted. After a quick weather check, Monday looked great so I decided to stick around in Laax and then head out to Zurich on Tuesday as the rain arrived.Switzerland of course is not a cheap place to be so I was really stoked when Silke, one of the bartenders at the Riders Palace, offered to let me stay at her place for my extended stay. One little side-note: it's really nice to be able to do the 'go with the flow' thing but travelling with ski and camera gear really sucks ass sometimes, as I found out on my walk from my hotel up to Silke's place in summer-like temperatures.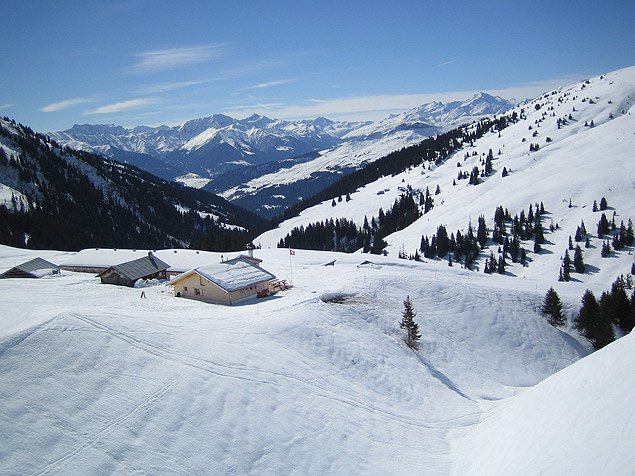 Just like the weather report had claimed, Monday was an epic blue-bird day. Silke didn't have to work until 3 so we got on pre-roll duty and then headed up the mountain. I hadn't actually ever been out very far in Laax even though this was my second time there (the idea of getting lost and ending up 6 villages away alone never really appealed to me), so it was nice to have a guide that knew where to go, and more importantly where not to. We got some really nice cruiser runs in and got to ski some pretty fun lines in some soft spring untracked.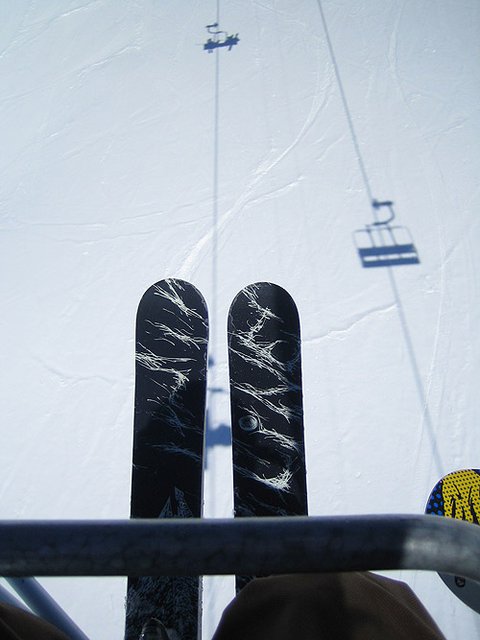 The Elizabeths were in their element in the soft snow.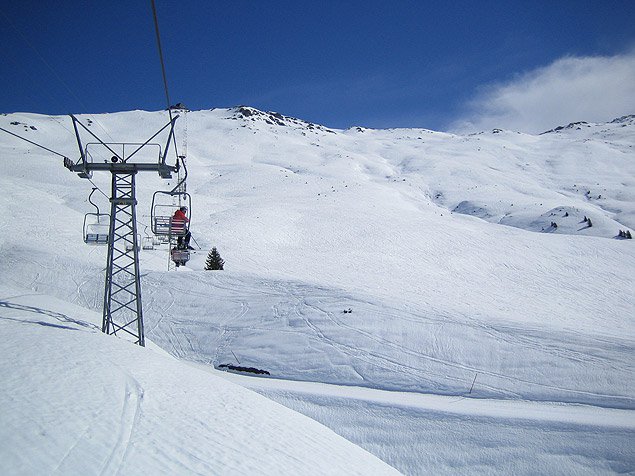 Freeriding Yay!Silke's boyfriend Mex was working in a town called Flims down the road from Laax (it's a 45 minute drunken walk at 4:00 am in case you were wondering) at one of the lodges/bars so we rode down and had a beer before Silke had to head back up the mountain to get down to Laax for work. That left me with the whole afternoon to enjoy Laax's park and pipe which were in immaculate shape.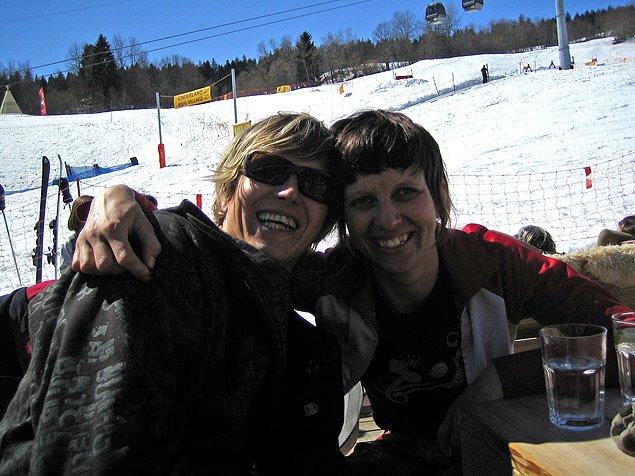 My gracious hosts Mex & Silke.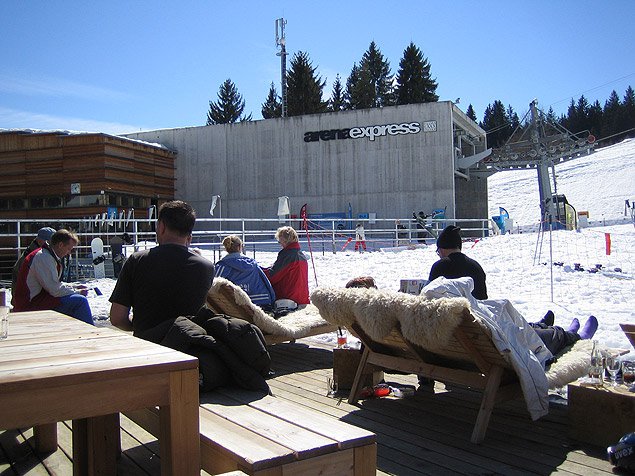 Euros do the Apres ski scene in style. Check out the fur.Some brautwurst for lunch and some quality goggle-tan time on the patio of the No-Name cafe at the top of the park and I called it a world-class day. Yet another evening in the now-subdued Riders Palace and that was it for my time in Laax. I headed off in the rain Tuesday for some tourist action in Zurich and flew out Wednesday back to the land of cheap internet and poutine. Thanks to Silke, Mex, and the rest of the crew for their hospitality.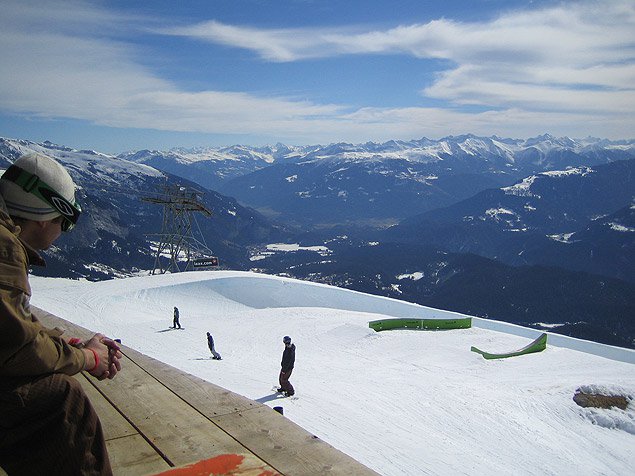 From the No-Name cafe/bar on the hill.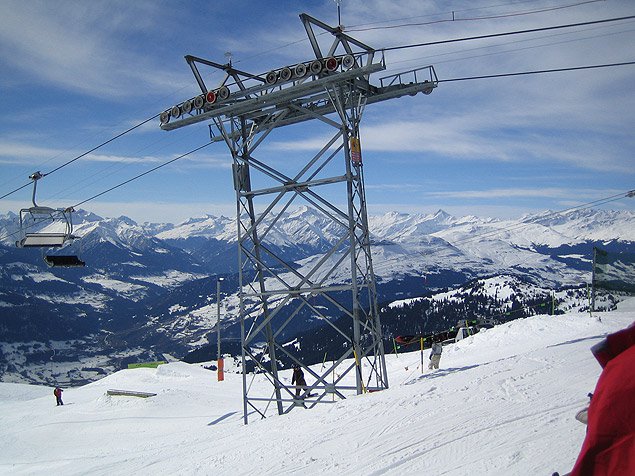 Beginner box lines, super fun for quick laps on the t-bar when you get over the pipe.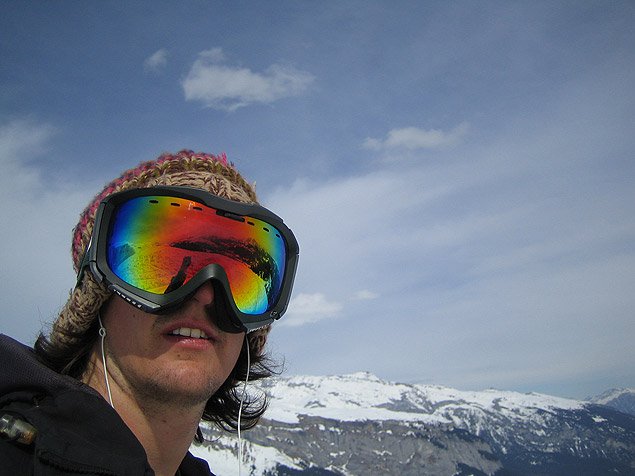 That would be me enjoying my last ride down Laax, until next year of course.