Seeing as we are currently in the heat of the 2016 Summer Olympics, it only seems fitting to think ahead to the winter right? Unfortunately for Mount Gariwang, it is feeling the worst of the 2018 Olympics in Pyeongchang, South Korea. Despite these acts already being committed over the past 2 years, they have gone pretty much unreported by the world media.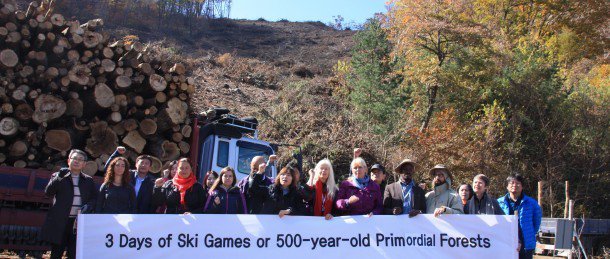 Protestors at the scene.
Mt. Gariwang is home to a 500 year old forest, of which more than 58,000 trees have been torn down for an Olympic downhill/super-G course, not to mention one that will only be used for a couple of days. Despite 2 years of environmental campaigning and 1.2 million people signing a petition, all they got out of the Olympic Committee and South Korean Government was a measly plan to return more than 1,000 trees to the land. Yup that equals out, destroy 58,000, plant 1,000. We're good!
"We were simply trying to meet FIS requirements for an Olympic venue," South Korean Minister of Culture, Sports, and Tourism Kim Jong-deok told Yonhap News Agency. Not pointing fingers at FIS, but it is a bummer that because of where freeskiing stands today (a large amount of competitions being regulated/judged by FIS), freeskiing will be bunched together with this and as a whole may be looked down on by the world audience.
Only a fraction of what has been done.
The South Korean Government is arguing that this mountain was the only plausible location due to rules stating that, "downhill events must be located at least 2,625 feet above sea level." Although, many are arguing that Yongpyong ski resort would have been eligible for the 2018 Olympics under certain FIS exceptions. With which they would have had to do far less damage, if any at all. Sadly it's too late for that.