The one everyone has been waiting for is finally out on iTunes: https://itunes.apple.com/us/movie/for-lack-of-better/id1054832769
https://www.newschoolers.com/videos/watch/793192/For-Lack-Of-Better-Official-Trailer
I spoke to Sean Jordan earlier in the winter about the making of the movie:
I guess the first question on everyone's mind is probably, given that the three of you made up a core part of the Stept crew, why did you guys choose to work under TGR rather than making another Stept movie for this fall?
Well Nick And Alex Martini both decided to pursue other types of work for Stept which left us with pretty much the same crew we have been working with, just without the name Stept. As for the TGR studio label, cam and Clayton have worked with those guys for years and they liked what we were doing and we know TGR does some phenomenal work so the connection was easy.
What has the change in studio meant for you on a day to day basis?
We have gone up to Jackson Hole to meet with TGR to brainstorm and go over a lot of different stuff. But overall it's very similar to our old procedure.
Where did you spend the winter this year getting shots for the movie?
Per usual we spent most of our time in New England, based out of boston. We occasionally went south to Connecticut, Rhode Island or north to Canada, but with all the snow in the Boston area it was hard to leave.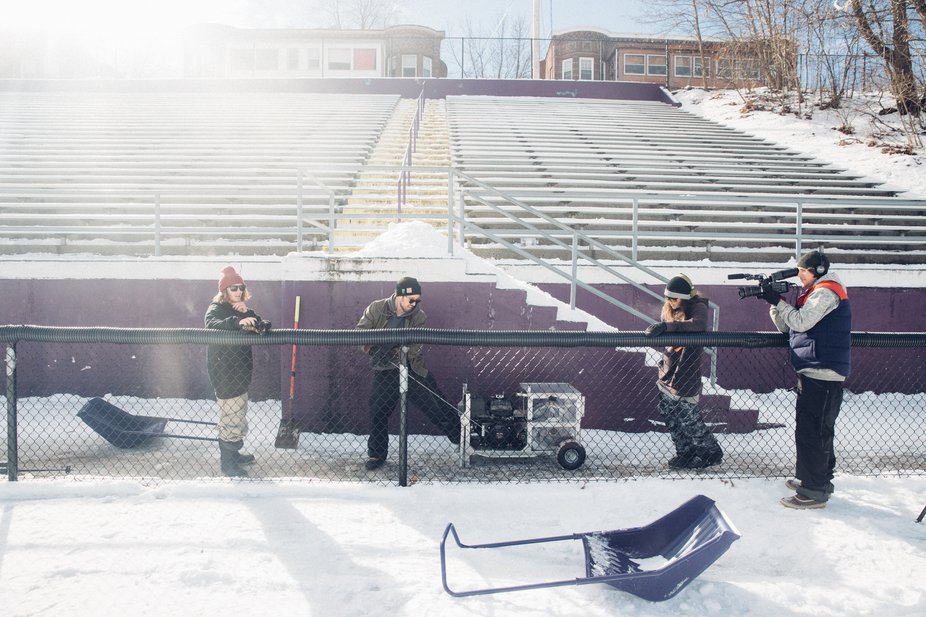 The crew at work. Photo: Topher Baldwin
Was it harder to shoot a movie with just the three of you?
We definitely were lacking some man power this year but we made it work. Clayton had a good idea of what he wanted to do in terms of the documentary and with cam there to still operate a camera and ski we had enough. We also hired Jamieson Walter for a full time camera which was a huge help. And obviously we had homies around whenever they could be.
Did you all make it through the winter without major injuries this year?
As far as injuries go, we did pretty well this year. Clayton snapped his fingers back, which was gnarly, but once he got it casted he was back out there. Other than the usual hits we take it was pretty clean.
What should people expect from For Lack Of Better in compared with other movies you guys have shot?
This documentary is very focused on the lives we live as street skiers. Other ski movies we made were a bit more traditional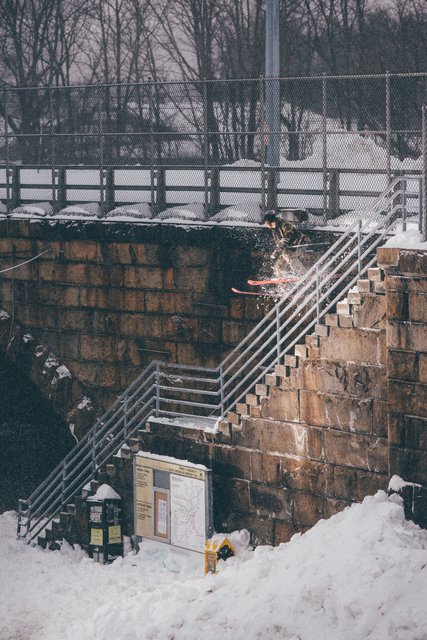 Cam doing what he does best. Photo: Topher Baldwin
What drives you to largely forgo 'regular skiing' each year and to go out into the streets and shoot a movie part?
This is where we belong in skiing. We competed, we were park rats, and still found ourselves wanting to go out into the street. It's what we are comfortable with and are good at. And there are always shots you want but you don't get, that's what keeps us coming back.
How much time do you get to spend skiing on 'real mountains' nowadays?
I usually get no more than 30 days of skiing on the mountains and that is mostly preseason. Cam and Clayton ski on the mountain even less than I do. They might have 10-­14 days on hill. It's kind of insane
Do you think there is a lack of support in the industry for guys going out and doing it the hard way like you are? If so what do you think can and should be done about it?
There definitely can be more light shed on this side of the sport but already in the time we've been involved we've seen it grow and get more exposure. More and more companies are starting to sign urban riders and that's good to see. We just need to keep pushing street skiing.