This year's FWT has been to Vallnord Arcalis, Andorra (two events) and Fieberbrunn, Austria so far. They've faced some sketch conditions at more than one of those but last weekend the athletes headed up to the dream stop of Haines, Alaska where they finally got to take their runs today. The snow took all week to settle and the clouds cleared in time for the skiers, setting up the venue for an awesome day. For reference, the athletes are judged based on their Line Choice, Fluidity, Control, Air & Style, and Technique.
Men's Snowboarding went first and from the first run you could see it was DEEP. The Men's skiers were second in the running order and Loïc Collomb-Patton dropped first. His run was nothing short of ridiculous, he went absolutely massive on a double cliff for his first hit, stomped a 3 off a big drop and finished up strong with multiple airs in the bottom section. He scored an insane 92.00 benchmark to start the day. Conor Pelton dropped next and couldn't stomp a landing up top, ending up with a 35.66. Léo Slemett hit the same double as Loic, followed by a super clean backflip where Loic stomped his three, but his bottom section wasn't quite as fluid limiting his score to 85.00. Fabio Studer sent back to back double cliffs, and just barely stayed on his feet during the first one, he went huge on a cork 3 towards the bottom but with the rough landing at top he only pulled a 72.66.
Ryan Faye started off his run with a huge backflip and kept a pretty clean run but finished with only 67.66. Ivan Malakhov wasn't going quite as big as everyone else, but kept it super smooth all the way through which was enough to slide him into 3rd with a 76.00. Yann Rausis sent a beautiful run top to bottom going huge and choosing a bit different line than his competitors and stole the provisional 3rd place spot with a 77.00. Drew Tabke dropped next and sent the smoothest and most unique line at the top, but unfortunately caught his tips on a backflip and went down, 42.33.
With 4 riders left and 92.00 the score to beat, Sam Lee dropped. He sent the first hit huge, and a massive and smooth backflip off of the second, finished off strong. 79.33 and the third place shuffle continued. Kristoffer Turdell, the current FWT leader, had an insane top section and sent it the double drop Loic and Leo hit as a massive single gap, but unfortunately went down right after. Reine Barkered set off a pretty big slide on the lookers left, but was able to get out of it right away and finish his run in another zone, he charged through everything pretty solid and kept his run together, earning a 78.50. Dropping last was Logan Pehota, he charged hard through the top section but got caught up on a couple of his turns and lost a ski shortly after, 2.00 (DNF score).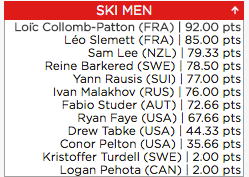 Current FWT Rankings: