Evolve Chile, Valle Nevado are giving away a free session at camp this summer along with a new pair of Armada THall 176's.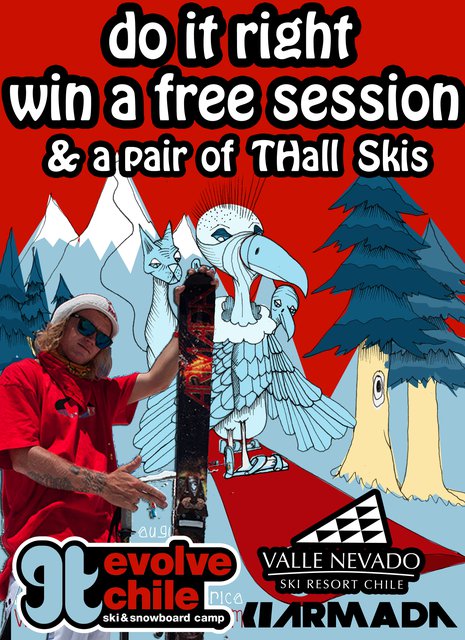 Rules of the Contest:
Simply send
us a mug shot of yourself, write us in less then a page why you should be the
lucky person to come down to Evolve Chile. We will pick the most
entertaining, sincere, funny, core, or whatever it may be entry and invite you
to Evolve Chile. 
You will
also need to:
"Like" Evolve Chile,
Valle Nevado and Armada on Facebook in order to be eligible.
Final Submission due April 30th!
The
Session will take place July 28 – August 5th.
This contest
is for señores y señoras  of
varying ability levels who want to up their ski skills across the entire
mountain.
Winner: Free Session, (Winner will be announced May 2, 2011.
Includes: Ground transportation,
mountainside accommodations, breakfast, dinner, lift tickets, sessions with the
pros. *does not include airfare to Chile.This prize
has no cash value and is non-transferable or exchangeable for any other product
or service.
By
participating in this contest, you hereby authorize Evolve Chile
and Valle Nevado to add your email address to the Evolve Chile and
Valle Nevado newsletter list. (You may opt out of the newsletter list when it
is sent to you).
Buena Suerte! (Good Luck)