Putting the "Free Ski" back in Freeskiing, The Camp of Champions, the original Free Ski Camp is, with 4FRNT Skis, giving away 25 pairs of 4FRNT Park Skis. This summer not only do you get to ski the largest summer park, with some of the top pros as your coaches, you get FREE SKIS! You'll also get coached by and hang out with the guys that designed the skis you are getting for free. 4FRNT pros David Wise, Wiley Miller, Matt Sterbenz, Eric Hjorleifson, Austin Ramaley and Mack Jones are going to be at COC all week getting you stoked and helping you fill your bag of tricks, so you don't want to miss out.


4FRNT Skis started at COC and to celebrate COC's 25th Anniversary and 4FRNT's birthday, 4FRNT is giving the next 25 people that register for Camp D - The 4FRNT Team Week, and choose an 8 Day Deluxe Day Camp or an 8 Day Deluxe Camp with Accommodation, FREE PARK SKIS when you get to camp.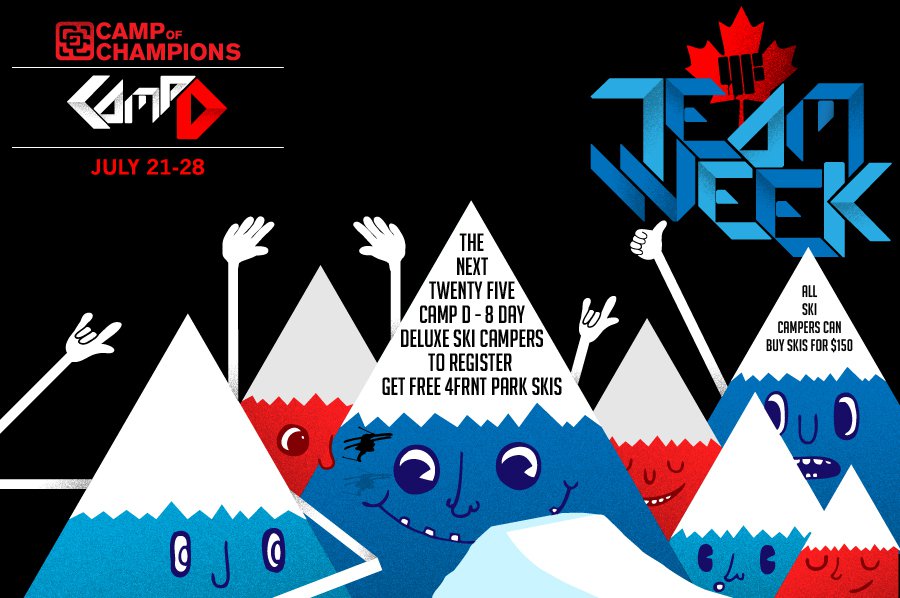 If you are coming to a different session, or you've already registered for Camp D, you can get 4FRNT Park Skis for $150. COC the Free Ski Camp! Get on it! This offer is going to be gone in days.
Click here to get a taste of what you are missing if you aren't at COC this summer.
Click Here to Register for COC 2013.
COC is the summer training home of the Canadian, USA, Norwegian, Dutch & Belarussian National Slopestyle Teams. It should be your summer home too. Camps start at $995 for an 8 Day Session.