Cover photo: Kieplenski/FIS
Austria may be locked down with ski resorts closed, but FIS has found a way to bring competition skiing back to your life. 8 women and 16 men made it into Saturday morning's final (that probably should be 12 and 12 in this day and age?), on what seemed like a fun early season setup with two jumps and three banks of rails. The jumps weren't the biggest (the smaller Prime Park jumps), which put a lot of focus on a rail setup with some creative options available courtesy of transitions around the first features and abundant gap options. It was fun hearing the Austrian TV presenters calling everyone ski acrobats first thing in the morning but to their credit, the coverage from the actual commentators was pretty good. Henrik and Woodsy both pulled out of the contest early in the weekend but despite travel restrictions and some missing names, it was a very strong field taking part.
_
Women:
Kelly Sildaru, who won qualification opted not to start after taking a crash in qualification, as did Darian Stevens. We hope neither is too seriously injured. Tess Ledeux took the early lead with a flawless dub 12 mute up top and stomps all the way through her run. Mathilde Gremaud, showed just how high the ladies have pushed the bar, starting things off with a flawless bio 9 to switch dub 10 combo on the jumps, unfortunately crashing on the rails. Johanne Killi also stomped a sw dub 10 along with a slightly sketchy but flowy line through the rails. Eileen Gu went forward dub 10 to cork 9, switch on out of the cannon, K-Fed, and 2 on 2 off for a pretty clean run but the rails were pretty basic.
Run two the course clearly had slowed down with all 4 of the first ladies to drop coming up short on the first jump. Johanne Killi made it to the second jump but came up short on her switch dub 10. It snowed overnight and as it got warm, the temperatures melted the fresh top layer and we all know how slow that can get. The top three remained Ledeux, Killi, Gu.

_
Men:
Colby Stevenson was first to drop, spinning a dub 16 stale on the first jump and a back swap gap over the kinks on the last rail feature. A slight bobble on the second rail feature switch 4 on seemed to hurt his score a little though. Christian Nummedal went huge on the first of two b2b dub 14s and kept it smooth and tech through the rails for the lead. Switch 4 continuing 2 at the bottom was on a pretty chill down rail but otherwise, a dope run. Andri put it down, as always: switch dub misty 12 tail, dub 14, kfeds, and a disaster 4 on at the bottom. Provisional 2nd place, probably because of the K-Feds. Oystein had some bobbles but shoutouts go to him for actually using the creative tranny options available in the rail sections! Nick Goepper went hard, 2 on cork 4 out, switch dub 12 to dub 15 on the jumps, 3rd place for the time being.
Ferdi's run was a thing of fucking beauty. I rarely actually get stoked on a comp run these days but he kept it steezy and stomped everything bolts. Switch dub 12, dub misty 10, dope switch 450 transfer to switch on the bottom rail. Only provisional third but you know NS would have had him first. Mark Hendrickson charged the course, the highlight being a HUGE switch 270 transfer on the first feature, but he went a bit big so it was sketchy. The others also had bobbles here and there, leaving things Nummedal, Ragettli, Dahl after the first run.
Run two, Colby found a HUGE rail transfer to front swap, but arguably didn't grease it perfectly. Only enough for fifth. Thomas Frostad deserves a style shoutout, but couldn't keep it clean through his run. Andri switched up his jumps, which is honestly pretty impressive with just two runs. Dub 16 blunt, switch dub misty 12, kfed, 270 on kfed, 450 on 2 off. First place. Was it exciting? That's up to you, but it was flawless. Kim Gubser's first hit forward dub misty 12 was another highlight, but he couldn't put down a clean run. Sebastian Scherve managed a front 3swap (to switch) on a regular downrail, which is always impressive, and grabbed seatbelt out of the cannon but had a sketchy landing on jump 2 which hurt his score. Oliwer Magnusson put down a clean one too, highlighted by a dub 14 tail up top and a back swap pretz 2 at the bottom. Not remarkable but solid for 6th. Fabian Boesch looked on course to win, before catching on a switch 2 on and not even sliding the bottom rail. Mark Hendrickson went too slow on his second switch 2 disaster attempt. And so it turned out that in this crazy world there is still one constant: Andri Ragettli winning world cups. It looked like a pow day though, so I hope the guys get to enjoy that now.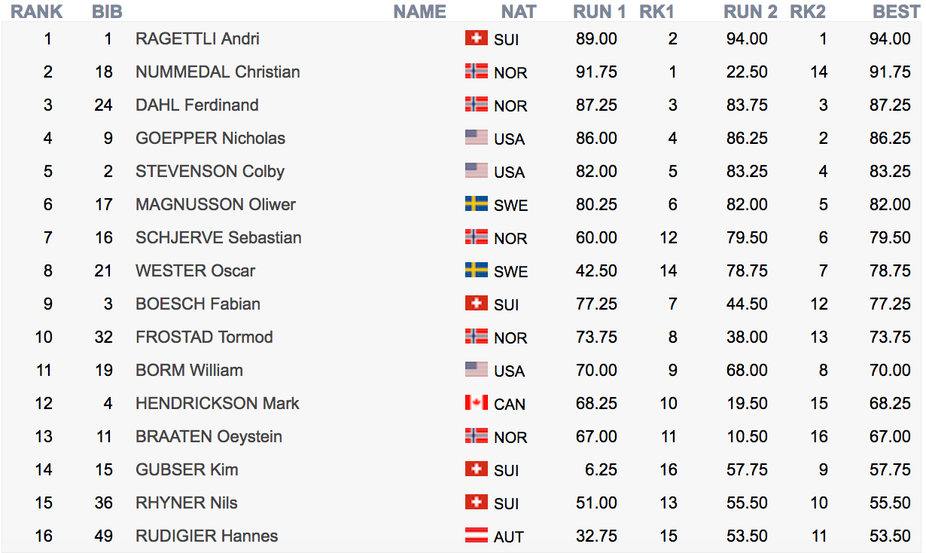 _
Unfortunately, we don't have any run highlights for you due to some technical issues. Full replay (may require a proxy depending on location):
https://www.newschoolers.com/videos/watch/981130/Saisonauftakt-im-Stubaital--Die-besten-Freeskier-innen-der-Welt---Sportschau