Cover Photo: Christian Stadler/FIS
Bright and early this morning, the final FIS World Cup of the season went down in Silvaplana, Switzerland on what could be argued to be the most interesting course of the season (bar Beijing). With three huge jumps, permanent fixtures of the Corvatsch Snowpark, the riders could throw down to their full potential and the mandatory quarterpipe (angled for rightside spins no less) to qp/sidehit takeoff meant that both some pipe skills and comfort hitting things a variety of ways was mandatory. On the flip side, there were only two banks of rails, one of which was basically a variety of cannons, meaning this really was one for the jump specialists. The rails that were on the course looked dope though, and they had enough challenge to catch half the field out. The weather played ball, with a beautiful sunny day and it made for a great show to end comp season.
_
Women:
Run 1:
There were only 7 women dropping into the final today, due to a DNS from Sandra Eie. But with 16 guys, we really need to see that leveled out if we're aiming for any kind of equality in the future... FIS we're looking at you on this one. Tess Ledeux was the first to put down a mostly clean run, solid on the rails but opening up early on her dub 12, limiting her score to the early 80s. Kirsty Muir went huge and stood out by hitting the QP switch, but couldn't put it down clean on her switch bio 9 blunt. All the other runs featured small mistakes but Lara Wolf's swag and frontflip of the side takeoff were definitely highlights. That was until Kelly Sildaru dropped with a super clean, controlled run of what were definitely the basics for her, scoring 88 with a right 5 mute on the QP and a switch 9 blunt the most notable tricks. She looked totally in control and capable of far more, but this was a course built for her skillset, including pipe hits and long rails.
Run 2:
Katie Summerhayes cleaned things up for run two, nailing the kfed on the first rail and keeping it clean on the jumps. She was just missing a dub and she'd have been a real podium contender. Kirsty Muir had a potential winning run, switch 2 p2 at the top in to switch 3 on the QP was dope, and her dub 12 was stomped but she opened up on the unatty cork 7. Johanne Killi cleaned up too but for the second run in a row, came off a little early on the final rail feature. Lara Wolf had the same issue as Kirsty on the same feature, leaving her in 5th, cool run though. That left Kelly Sildaru with a victory lap and the slopestyle crystal globe to boot.
Results:

_
Men:
Run 1:
Evan McEachran foreshadowed what was coming on the men's side with a switch dub 18 first run of the day. Javi Llsio had a dope right 9 to left 7 critical but perhaps lacked a bit on the rails, keeping his score to mid-80s, but taking the early lead. Chris McCormick's sw 2 p4 was dope on the first rail bank, super snappy style, and really clean, but he tickled a grab on his side takeoff hit. Oliwer Magnusson took provisional second with steezy dub 14s both ways (he caps blunt so well) and a 'down pipe' 9 from the side takeoff. Mac Forehand, fresh off a win at Steel City Showdown, did make the trip to Switzerland and smashed it on the jumps, but ironically, didn't look perfectly clean on the first rail to me. He did score a 91 though so I could be wrong. Alex Hall, second place in Pittsburgh, had a worse fate on rail one, but showed he had a jump run to be reckoned with. Christian Nummedal absolutely stomped his way through the course with flowing style and insane landings... and a switch 2 back 8 on the final rail. There was one questionable grab though and that kept the score down in the 80s. Andri Ragettli sailed through the course with perfection but it's unfortunate that I could call every one of his tricks before he did it. It was undeniably clean and huge both ways switch dub mistys (12&16) were insane. Birk Ruud was last to drop and he went to the moon on his first jump, landing past the final line and stomping a huge dub bio with his trademark tweaked mute and keeping it clean for a big lead with 94.5... no poles though.
Run 2:
Chris McCormick cleaned things up for run two, same snappy first hit and then switch right dub 14 safety to switch left dub 12 mute. Much better, but still only 77 on the board. Tormod Frostad was basically the only guy hitting the rail to qp option (properly) and nearly carved off the second jump with a super-controlled carved dub 12. He also stomped a bio 810 with a really cool axis on the final rail, but it was only enough for 5th. Looked like an underscore to me. Max Moffat was building an insane run, with a switch 450 on and an immaculate sw dub 12 true nose but didn't have enough speed for a 3 swap transfer on his final hit. Fabian Boesch did a switch front flip on the QP which probably killed his score because the rest of the run was super clean... both times. Not sure quite why he scored so low but he ended up middle of the field. Mac Forehand couldn't improve, leaving him waiting nervously in second. Sebastian Scherve put it down clean with another of the super snappy sw2 p4s but it wasn't quite enough for the podium, perhaps because he 'only' went downpipe 9 on the sidetakeoff. Alex Hall put it down, his trademark jump line (bringback right dub 10/9 the highlight) and a switch 2 continuing 4 with a tap but didn't score great. Nummedal put it down again, oozing steeze that he seems to have gleaned from Ferdi somehow, but again, scored low 80s. Andri Ragettli was the last guy to drop who could take top spot and he stomped again. Huge on all the jumps, stepped up the rail to misty 630... still third though. That left Birk Ruud with the second victory lap of the day and, he takes home both the overall crystal globe and Big Air as well.
Results: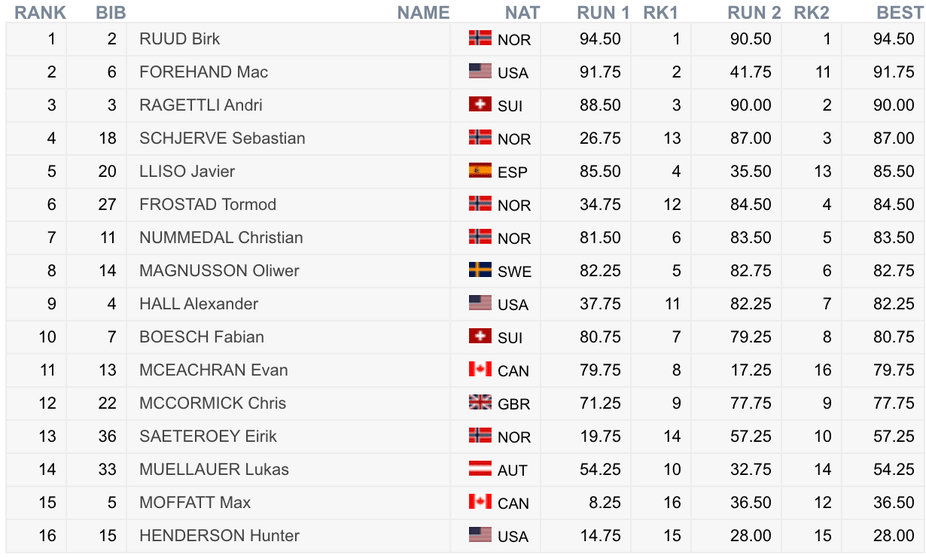 _
Men's Highlights:
https://www.newschoolers.com/videos/watch/1037686/Birk-Ruud--NOR----Winner---Men-s-Slopestyle-Highlights---Silvaplana---FIS-Freestyle-Skiing
_
Women's Highlights:
https://www.newschoolers.com/videos/watch/1037687/Kelly-Sildaru--EST----Winner---Women-s-Slopestyle-Highlights---Silvaplana---FIS-Freestyle-Skiing