Cover photo: Shannon Sweeney/FIS
The ever challenging World Cup in Font Romeu went down this morning and the course was, as in previous years, not the easiest for the riders to deal with. Three jumps and three banks of rails seems like a pretty standard course on the face of it, but takeoffs were narrow and speed seemed a little inconsistent, especially in the first run. It's always a challenge to build a slope course at this time of year in the Pyrenees and it does mean the event usually throws up some interesting results. That added an element of peril to Olympic qualification, with random moments like Cody Laplante's double eject on the takeoff of jump two having the potential to really mix things up.
_
Women's Highlights:
The women had some issues in run one with speed thanks to being first to drop on a very icy looking course. First place qualifier Tess Ledeux. Three variations of nines and a solid rail run were enough to take a commanding lead. Most of the main contenders already had enough points for qualifications and decided to skip the event in favor of rest or, in the case of the Swiss trio, training in Corvatsch.
Run two saw much improved conditions and a corresponding step up in the level. It does feel like the order of women's/men's runs in finals could be switched up sometimes to have the men drop first, especially if conditions clearly would be improved for later runners. Grace Henderson and Marin Hamill both stepped it up in their pursuit of an Olympic spot, with Marin stomping a clean run to solidify her second place. Her jumps (a 9 and two fives) and rails (front 2, switch to switch) were both on the basic side but damn her style is good. Lara Wolf managed to squeeze on to the podium despite almost crashing on the final rail, courtesy of a sendy top section, including a huge switch 9 to the bottom of the landing.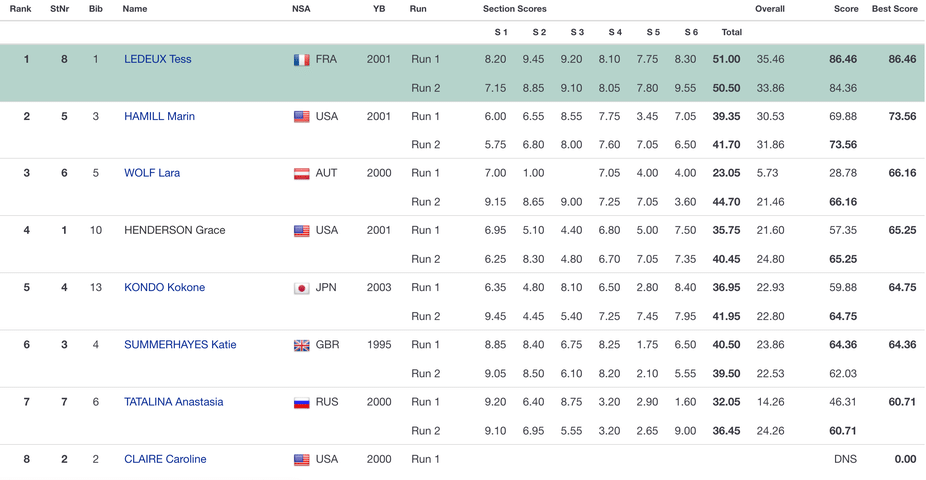 Podium Runs:
1st Tess Ledeux
https://www.newschoolers.com/videos/watch/1027115/Tess-Ledeux--FRA----Winner---Women-s-Slopestyle---Font-Romeu---FIS-Freestyle
2nd Marin Hamill
https://www.newschoolers.com/videos/watch/1027116/Marin-Hamill--USA----2nd-place---Women-s-Slopestyle---Font-Romeu---FIS-Freestyle
3rd Lara Wolf
https://www.newschoolers.com/videos/watch/1027117/Lara-Wolf--AUT----3rd-place---Women-s-Slopestyle---Font-Romeu---FIS-Freestyle
_
Men's Highlights:
Run 1:
After a couple of bobbled runs, the first moment that really grabbed the attention was an unfortunate incident for Cody LaPlante, who had insane takeoff double eject on a double 14 on the second jump. He held the rotation (and almost the boot grab) the whole way before a heavy crash (see Instagram). Teal Harle and Ben Barclay both put down pretty clean runs, and Edouard Therriault threw down with his trademark style but ultimately, it was the return of Andri Ragettli that was the highlight. A massive switch triple 12 to the bottom of the landing was a standout and he took a comfortable first place... not bad 8 months out of PCL surgery. Say what you like, he's a monster.
Run 2:
Ben Barclay cleaned up his run, with a switch 2, back swap, continuing 2 out on the long, low angle DFD that caught a lot of people out the highlight. Thibault Magnin stomped a switch triple 12 and a big 450 disaster continuing two, scoring surprisingly low on face value with just a provisional 4th place. Edouard Therriault went massive again, but the front 3swap continuing two on the dfd was a little loose and he couldn't improve from a tentative third place. Second last to drop, Valentin Morel delivered a style clinic. Capped grabs, stomped landings and a high risk front swap pretz two on the final transfer rail. Score seemed low but then again, the tricks perhaps lacked some technicality. That left the returning Andri Ragettli with a victory lap and he threw the huge switch triple again for good measure.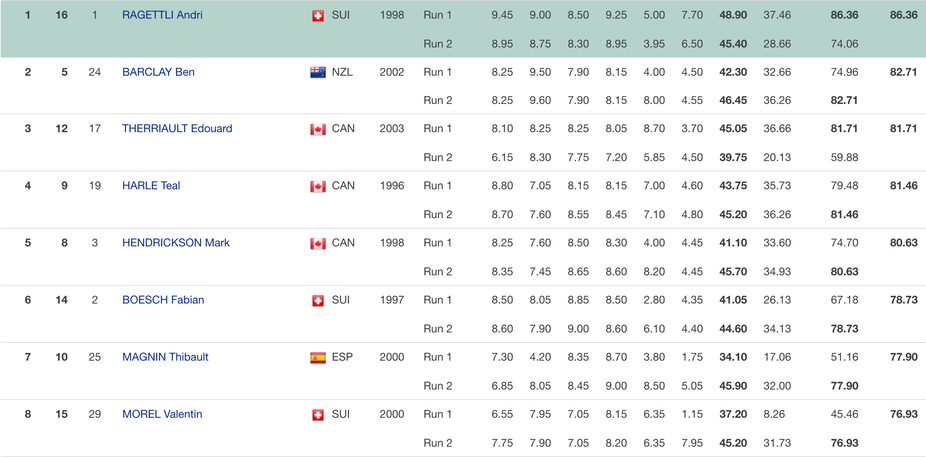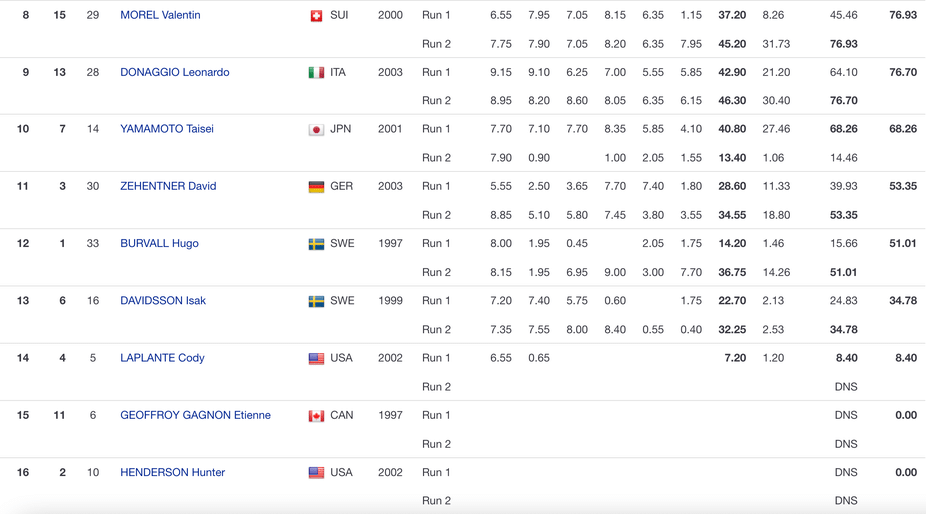 Podium Runs:
1st Andri Ragettli
https://www.newschoolers.com/videos/watch/1027118/Andri-Ragettli--SUI----Winner---Men-s-Slopestyle---Font-Romeu---FIS-Freestyle
2nd Ben Barclay
https://www.newschoolers.com/videos/watch/1027119/Ben-Barclay--NZL----2nd-place---Men-s-Slopestyle---Font-Romeu---FIS-Freestyle
3rd Eduard Therriault
https://www.newschoolers.com/videos/watch/1027120/Edouard-Therriault--CAN----3rd-place---Men-s-Slopestyle---Font-Romeu---FIS-Freestyle
_
Full Event Replay:
https://www.newschoolers.com/videos/watch/1027121/Slopestyle---Font-Romeu--FRA----FIS-Freestyle-Skiing