The final World Cup event before the Olympics went down this weekend in Mammoth. With blizzard conditions hitting the resort for several of the scheduled days, things got pushed back a couple of times. With halfpipe going down yesterday and the weather turning it on for Sunday's slopestyle, we've got a recap of all the action that went down in Mammoth.
_
Halfpipe
Women:
In women's halfpipe Eileen Gu showed off her true class putting down one of the greatest halfpipe runs ever. Starting things off with massive, back-to-back right and the left side 900s, Gu kept her incredible amplitude and control up throughout the rest of run, following up the left 9 with a right 720 blunt, into a switch down-the-pipe 720 safety, and finally an alley-oop flatspin 540 mute to cap things off, earning herself the highest halfpipe score of her career - a 97.50.
Kelly Sildaru was her stylish self, matching Gu with back-to-back 900s off the top, spinning all four ways, and squeezing the most hits into her run of anyone on the day. However, as she was not quite able to match the amplitude and variety of axis that Gu included in her run, she'd have to settle for runner-up.
Rounding out the women's podium in third place with a score of 87.75 was the USA's own Brita Sigourney, as the 31-year-old punched her ticket to her third Olympic Winter Games in Beijing with her classic style, including an alley-oop on her second hit that challenged most of the men even for the biggest air of the day.
Results: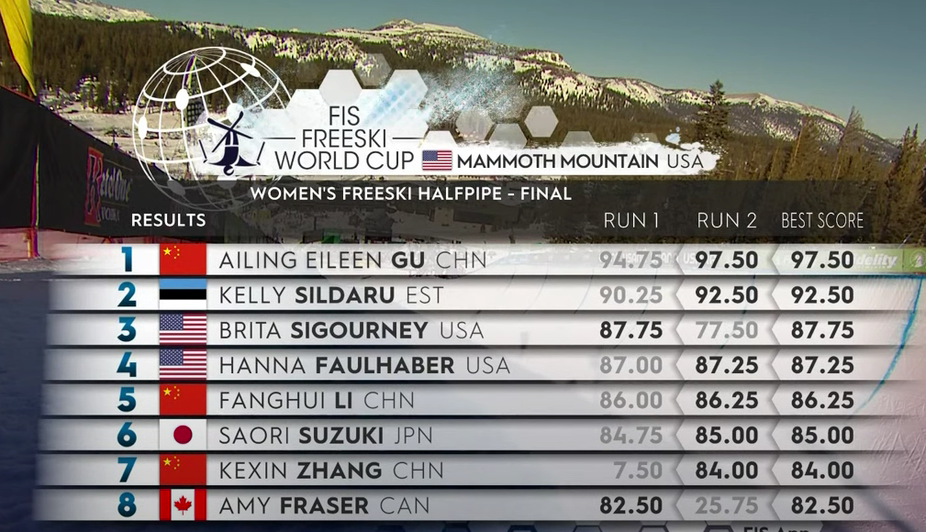 _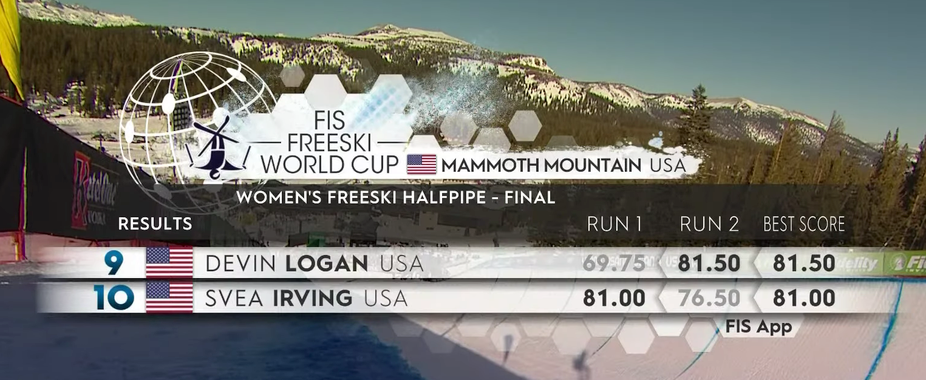 _
Men:
In a halfpipe shock, Alex Ferreira fell on both his runs, ending the Mammoth halfpipe competition in last place. Essentially handing the Canadian Brendan Mackay the Crystal Globe for the season.
Nico Porteous used his second and final attempt of the competition to put down the explosive kind of run that has become his signature, leading things off with a switch 900, into a switch dub 1080, then into his contest-breaker combo - a right dub 1620, into a left dub 1620 that no one else in the world can match right now. Finishing things off with an alley-oop dub flatspin, Porteous would earn a score of 97.00 and his career World Cup win.
Before Porteous' run it was looking like a podium sweep for the host U.S. team, but they would instead have to settle for second and third on the day, with David Wise and Aaron Blunck rounding out the podium.
Wise has been nothing if not unlucky so far this season, but on Saturday he was able to get back to the form we still expect from the 31-year-old two-time Olympic champion. Boosty, smooth and locked in properly on every one of his grabs, Wise's 95.25-scoring first run was highlighted by a huge switch dub 1080 on the second hit, and then back-to-back left and then right double cork 1260s.
Third-place finisher Blunck also stayed true-to-form on Saturday, with his sneakily technical brand of pipe destruction on full display. Dropping a massive right dub 1440 on his first hit, straight into his signature completely blind dub down-the-pipe flat spin, Blunck had some minor bobbles later on in his run that likely kept him from climbing higher on the podium.
_
Results: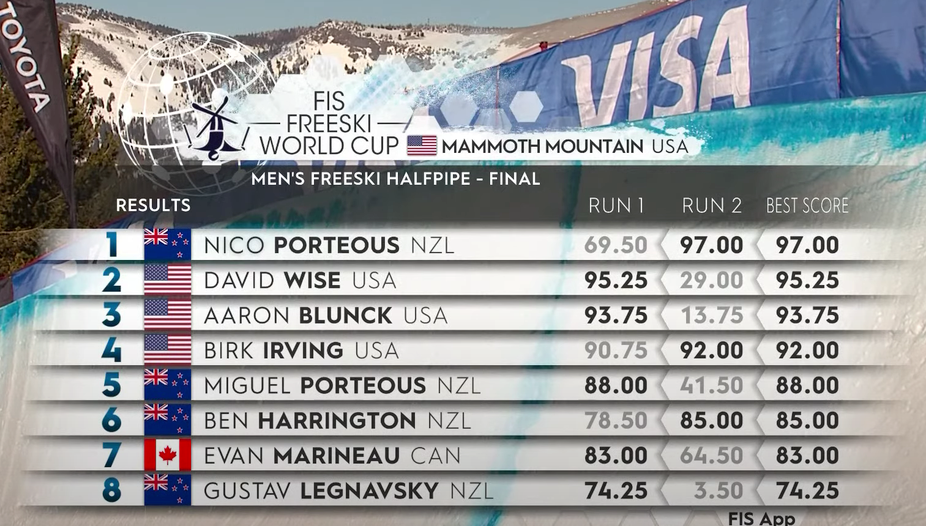 _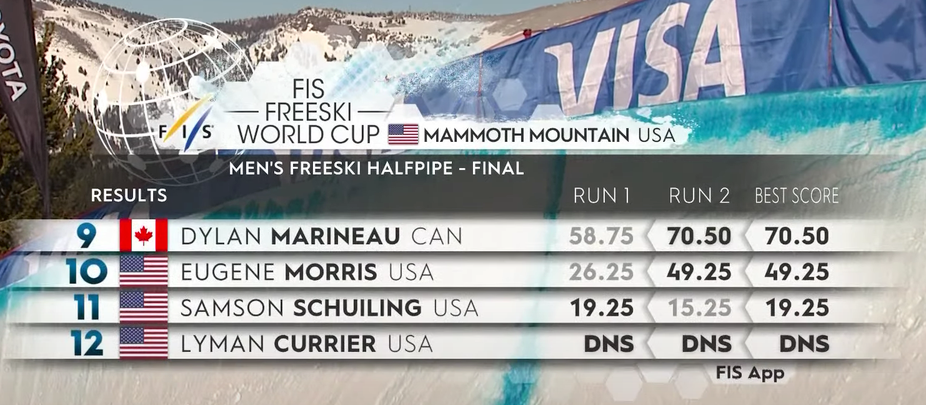 Full Halfpipe Replay:
https://www.newschoolers.com/videos/watch/1026035/Halfpipe---Mammoth-Mountain--USA----FIS-Freestyle-Skiing
_
Slopestyle
The slopestyle course this year was an interesting one, with only two jumps and a massive final rail option. A huge canon or rainbow to set up the speed for the booters. With spots to Beijing to play for this was set to go off.
_
Women
Run 1
Caroline Claire's opened things up, her switch 5 high safety was perfect. Coming off a top rail early and wiffing a grab docked her first run score a bit. Kirsty Muir was the first to go hard on the rails, switch 2 continuing 2, right lip continuing k-fed with right 7 to left 9. This run put Kirsty into provisional first with a score of 86.25. Maggie Voisin got caught up on the first rail so her run was a throwaway, although lacing a back 2 off the rainbow, although it looked like she was after the switch up and stomping her jumps; right 9 blunt, switch left 7. Marin's blind 2 off the rainbow was perfect and capped the run off with a beautiful switch 7 Japan going very deep; 80.25 to give her third.
Kelly brought her signature tech to rails, front swap pretz 2 and switch lip other way front swap; switch 10 to switch 9 blunt capped throughout. A deserved 93.75 to take the top spot and put some distance between her and the rest of the pack. Eileen Gu laid it down right after Kelly, for 91.00 and second. Olivia Asselin had the most stylish run off the ladies with a back 4 off the rainbow switch left 9 huge right flat 5 89.00 to pinch third at the end of run 1.
_
Run 2
Kirsty Muir didn't improve her first run score. Maggie Voisin cleaned up things, the switch 7 to finish the run was sick. The judges deliberated for a while before awarding her a 90 and a spot in third. Marin backed it up going to the parking lot on her switch 7, blind 2 off the rainbow was super nice, pressed through the noses to lock in, only enough for 7th but an excellent run from one of this year's shining stars.
Kelly's run was as awesome as the first, although I think the grab on the switch right 9 was capped longer the first time around. The judges agreed with me somewhat, her score didn't improve but she remained in first. Eileen Gu fell on her dub 12 going deep and not being able to hold on, staying in second with her 91.00. Olivia Asselin fell trying a dub flat 9 on the last jump, she skied with a huge style all final.
Results: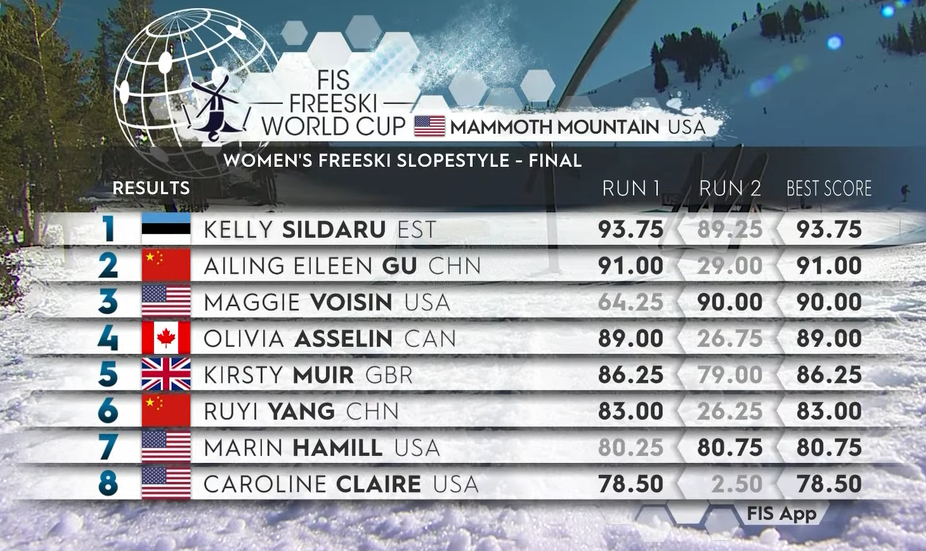 _

_
Men
Run 1:
The men struggled to find their feet on the first run. With lots of bobble around the rails and less than clean landings. Edouard Therriault had a loose run, catching his tails on a switch tails 4 continuing 4, and over-rotating his last jump. Taking a big slam but looking fine when he got up.
Fabien Boesch took to the course with craziness and creativity but couldn't hold onto an early rail, this one became practice through the jumps. Nick Geopper put down an absolute heater, dropping hammers including a 4 pretz 2 on the rainbow and a switch dub misty 12 on the jump; 92.75 put him in first. Mark Hendrickson managed to hold onto a back 3 swap after getting a little hung up and kept the run clean for an 83.75 and a very provisional second.
Jesper Tjader had a couple of bobbles on the top section. Needing to clean it up for the second run; his 6 on continuing 4 on the rainbow and dub 16 on the last jump would make for a competitive run from the Swede. Max Moffatt went down on the second rail, right 4 continuing 4 on the dipped rail, he l looked frustrated, but the handdrag 3 over the rainbow was super nice. Thibault Magnin did both ways 4 continuing 2s, although with some wobble on the second and pulled it back twice, once off the canon rail and off the last booter dub 10 pulled back to 9; 80.75 pushed him to third. Mac Forehand's run was looking perfect but he lost a shoe on the final jump landing to come back to post a score in run 2. Colby went for the 2p2 on the rail with the dip but couldn't quite grip it around. A Hall's 2 on frontswap continuing 6 on the rainbow turned heads but he couldn't keep it
_
Run 2:
Finn Bilous stepped things up a gear, adding spins to his rails and throwing down a triple on the last jump, he sat down through a bit too much of the landing getting docked hard. Edouard Therriault had both-way 4 ons and both way dub 14s for a killer run. The guys were already looking more on it run 2, Ed was awarded 87.25 to sit in third. The podium was then being shuffled until the end. Fabien Boesch took second briefly, switch lip backslide continuing 2, switch dub misty 12, dub 16 lead blunt earned him 91.00, second for a short stint. Goepper cleaned things up further, increasing his lead with a score of 94.75.
Mac Forehand came out of the gate swinging with his disaster lip 4 to switch, switch 2p2 to other way 2p4. With right 12, and switch left 14 to come in behind cap it off, earning a spot in second behind Goepper. Colby got undone by his 2p2 on the dip rail again but laced his jumps. Evan MacEchran went to the moon on his jumps, holding onto a gucci landing between the two dropping an 18 at the bottom, taking 93.00 not enough to upset Goepper leaving A Hall needing to throw down on the final run… which he did, cool as you like, his rails really stood out, 2 on front swap front 2 the dip rail and a 2 on back swap front 6 over the rainbow.
_
Results: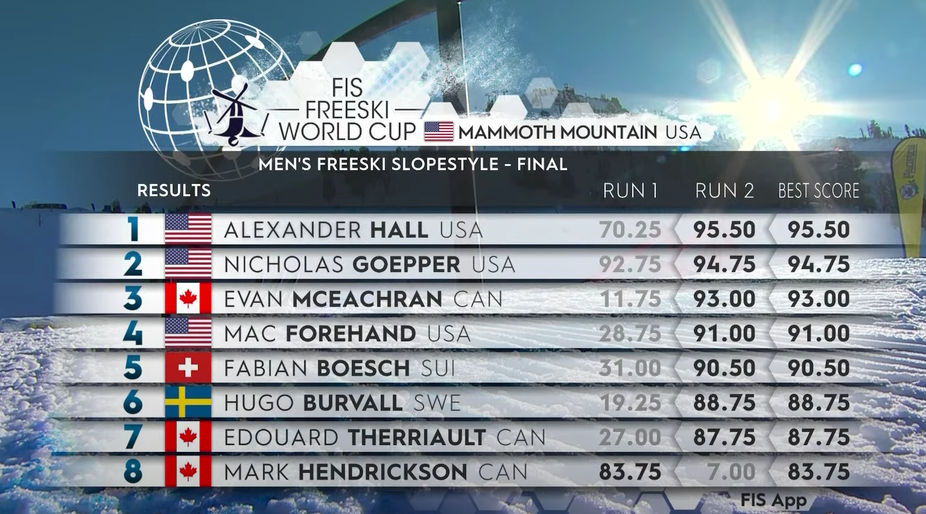 _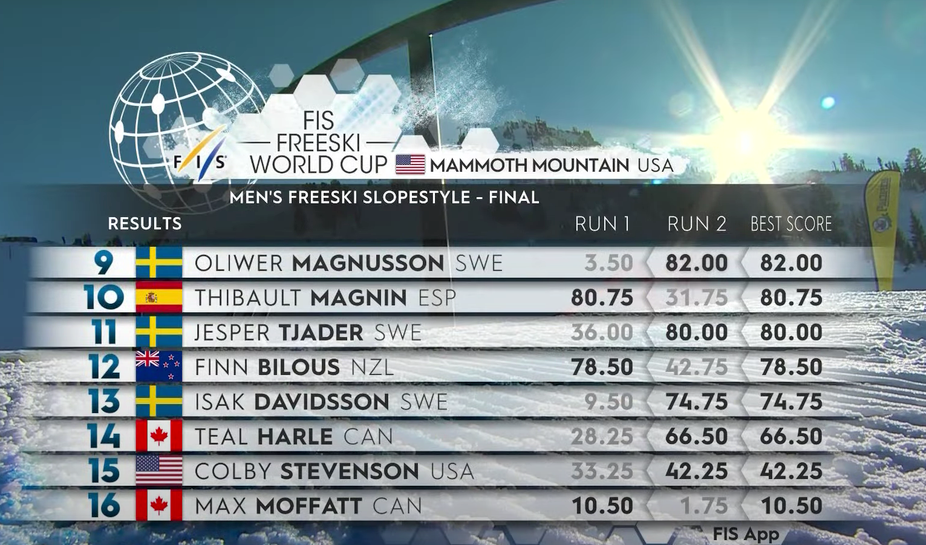 _
Slopestyle Full Replay:
https://www.newschoolers.com/videos/watch/1026036/Slopestyle---Mammoth-Mountain--USA----FIS-Freestyle-Skiing
_