City Big Airs are the most public events our sport offers up. With improvements in jump design and build over the last couple of years, they've become a good representation of the jump progression in freeskiing. The event format, which requires two different rotations from three runs with the best two scores counting, is well established. Yet creativity, or at least variety, is on the rise in the Big Air world. Sadly, most of the US and Canadian riders have been skipping the European World Cup season so far, presumably to focus on olympic qualification events on their own side of the Atlantic. It's a pity to be missing such a large percentage of the top athletes but nonetheless, tonight was a pretty spectacular show.
Men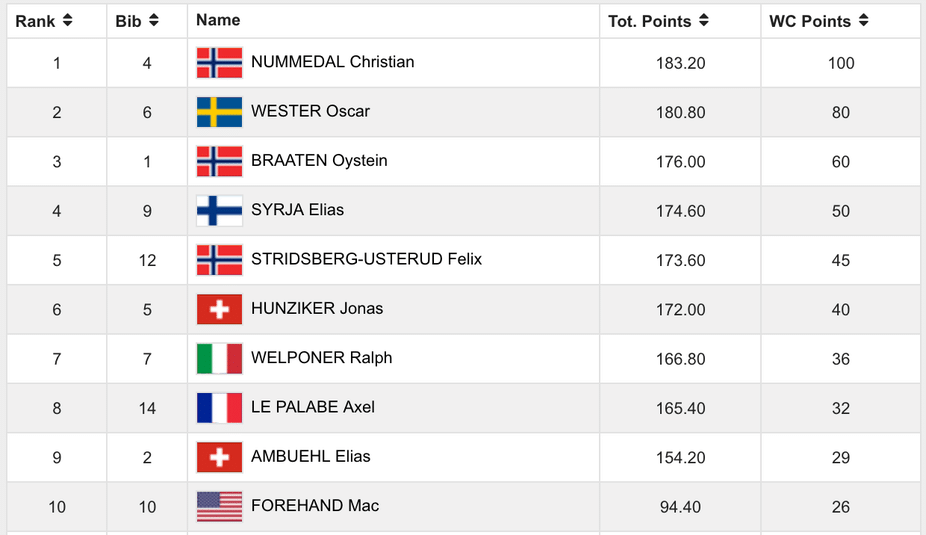 Tonight's judging also seemed solid, there were clearly multiple possible routes to winning the contest, although in the end, it was the big tricks that took it today. Doing something different, however, was clearly significantly rewarded. Big scores were doled out for all kinds of things, be it something new, a difficult grab or just plain sending. As such, in amongst the relentless trickery there were plenty of individual quirks too. Highlights included Elias Syrja's pre-safety grabs, one paired with a triple(ish) 10 (92.4), Axel Le Palabe sending it to the flat and Felix Usterud's super clean reverse mute dub 12 (90.4). At the end of the day, it was Christian Nummedal's triple 16 which made the difference and he took the win ahead of Oscar Wester and Oystein Braaten.
Elias Syrja 'only' managed fourth today, but he's having one hell of a season
Run 1:
Oystein Braaten, sw Dub 14 lead blunt, 90.2. Axel Le Palabe, huge dub bio 10, 88.6. Elias Syrja, pre-safety dub 9, 85.6. Oscar Wester Dub 14 blunt 91.6.
Run 2:
Ralph Welponer, steezy sw dub 12 safety, 79.2. Christian Nummedal, sw dub 14 mute, 89.6. Elias Ambuehl, triple 16 (sketchy). Jonas Hunziker, switch dub misty 14 safety, 90.0. Elias Syrja, switch dub 10 lead blunt. Felix Stridsberg-Usterud, dub 12 reverse mute (super nice), 90.4. Oscar Wester, dub misty 12 mute, 89.2.
Run 3:
Christian Nummedal, triple 16 safety, 93.4. Jonas Hunziker. triple 14 safety (slightly under-rotated) 92.0. Axel Le Palabe, MASSIVE switch dub 10 truck, too big to land clean but gnarly. Felix Usterud, switch dub 12 blunt, 83.2. Elias Syrja pre-safety triple wobble 10 (not quite defined enough on the third wobble/clean enough for the win but still nuts), 92.4.
Women
There was only ever really one woman in the contest from the moment Giulia Tanno landed her dub 10. She's the first woman who has had a dub that clearly locked, throwing it time after time and making it look easy. This development should make the slopestyle season that much more interesting because there's a new standard to match. Sarah Hoefflin rounded out a 1+2 for Swiss Freeski with a switch cork 7 mute and a misty 7 mute. Dominique Ohaco put it down for 3rd and became (we think) the first Chilean to win a freestyle World Cup medal.
Run 1:
Silvia Bertagna, switch left 7 mute, 81.2. Sarah Hoefflin, switch right 7 high mute, 84.2. Giulia Tanno, dub 10 safety, 94.2.
Run 2:
Dominique Ohaco, switch 9 mute, 83. Giulia Tanno, switch 9 safety, 80.4.
Run 3:
Sarah Hoefflin, misty 7 mute for 82.6.