Saturday morning saw the World Championships Slopestyle go down in Aspen, CO. There was some serious wind on course, which got worse through the event and mad and even getting enough speed hard, let alone judging it. The setup, with 3 jumps and 3 banks of rails was unremarkable and meant riders pretty much had to go full send to differentiate themselves. It's up for debate whether that is a good way forward but in the circumstances of this year, it's impressive enough that this comp went ahead at all. For whatever reason, there were a lot of crashes in both fields though, and it wasn't a great spectacle to watch until right at the end.
Interestingly, scores were broken down by feature, which has the potential to add a layer of clarity on the judges' thinking. It's interesting to see FIS go in the exact opposite direction of X Games with that but today's event didn't throw up too much controversy to test it out. They did mark Andri down heavily for switch 2 cont 2s on the flat bar though, so maybe it does work.
_
Highlights: Women's
- Eileen and Mathilde took the top two spots with runs that were arguably questionably scored. Eileen wasn't her normal dominant self on jumps but probably still did enough to win, while Mathilde came off the first rail super early. Two of our favorites to watch but it was a strange scoring.
- Megan Oldham put down a huge dub 12 down at the bottom to knock Tess Ledeux, who had a massive dub 12 of her own, out of the final podium spot on the last run.
- Marin Hamill. Dope as fuck from the first run. Charged the rails and stomped the jumps. Her jump tricks lacked tech compared to the other ladies but she looked stylish and clean. Scored super low for some reason but possibly deserved a podium.
- Kirstie Muir. First big final and kept it solid all day long, looks like a start of the future.
_
1st Place: Eileen Gu
_
2nd Place: Mathilde Gremaud
_
3rd Place: Megan Oldham
_
Newschoolers Award: Marin Hamill
_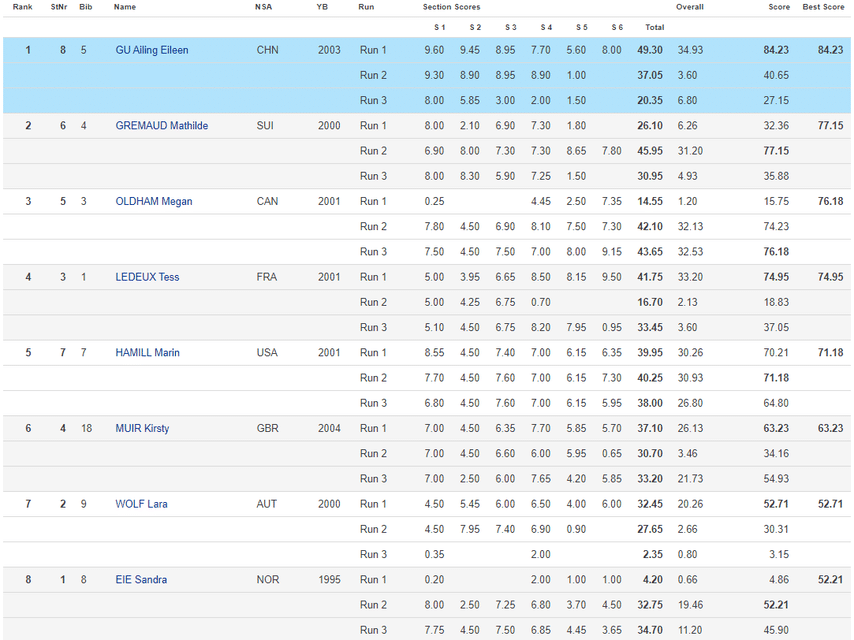 _
Highlights: Men's
- Andri's huge left dub 16 double blunt to the bottom, taking the W on his final run. He finally stepped up the sw2 cont 2 too although 2p4 was probably overscored.
- The Colby Stevenson show. Nosebutter 4 pretz to switch 2 backslide 2 out rail line and a dub 16 stale at the bottom. He could have been a touch cleaner though and maybe it cost him.
- Alex Hall finally putting down a run on the last run of the day and bumping Woodsy off the podium at the death. Could have gone either way with judging but impressive under pressure.
- The return of Woodsy: Huge gap lip 2 from the center takeoff to the gap of the up/down was the most surprising/enjoyable stunt of the event.
- Kim Gubser: Back to back triples way past Gucci on the first run. Almost carved out of the course on the final hit.
- Jesper: Lip 4 pretz 2 on the first rail.
1st Place: Andri Ragettli
_
2nd Place: Colby Stevenson
_
3rd Place: Alex Hall
_
Newschoolers Award: James Woods!
_