The final event of the FIS World Championships, Big Air, went down in Aspen this morning. The light was pretty flat, which made for not very welcoming-looking conditions but didn't seem to hinder the riders' motivation. Colby S was crushing it in the commentary booth too, it was cool to have a rider insight into things.
Birk Ruud, who qualified first in the men's field, had to return to Norway to be with his father, who is seriously ill and so did not start today's final. Even without arguably the biggest name in Big Air right now, there was some serious send on show. There were also some pretty huge overshoots from both fields in the first run, which made for an exciting conclusion to the contest with the bigger names requiring two stomps in a row for a shot at podium spots, and ultimately, some unexpected winners.
Anastasia Tatalina blew minds with perfectly mirrored both ways dub 12 mutes raising the bar for the women's field. We think that's the first time that has ever been done in a competition. A big shoutout goes to Silvia Bertagna for one of the greatest saves we've ever seen on an underrotated dub 12, which she managed to ride out Tokyo drift pistol squat style. Lana Prusukova backed up her compatriot with a right 9 blunt and a clean dub 12 mute of her own to take second. Meghan Oldham crashed hard on a final try switch 10 right at the death, leaving Eileen Gu with bronze, and a third medal in three events at these world championships. Sarah Hoefflin went close to a switch 10 dub mute, while Sandra Ei and Tess Ledeux also deserve honourable mentions for stomping big tricks but not being able to put two perfect ones down on the day.
We could probably rename the Gucci plateau the Gubser plateau at this point, with Kim stomping on the last line of the landing again, following his insane sends in slopestyle. He ultimately took third for his efforts. Run two saw, Andri Ragettli save a triple 18 overshoot by landing a triple 19.... say what you like about him, he's insanely talented. Alex Hall went absolutely massive on a switch dub 18 buick and his hand touched the ground swinging round the rotation, his score got hit pretty hard for it. Mac Forehand stomped a last run switch dub 18 just before Andri crashed hard (somehow) overrotating a triple 19, exploding a binding and possibly a knee too. We hope he's ok because that didn't look good. Eduard Therriault went to the Gubser plateau himself on a switch dub bio 18 safety for the second-highest score of the day and provisional first place. But despite a badly timed course hold, Oliwer Magnussen stomped a sw dub 18 tail on the final jump of the day to overtake him and take the world championship crown. Nerves of steel, congratulations.
_
Best runs - Women
Lana Prusakova - Right 9 tail, Dub 12 mute
Sandra Ei - Dub 10 Safety, switch 10 japan (tickled)
Eileen Gu - Left dub 10 japan (touched), right dub 12 (tail to?) mute (tickled)
Megan Oldham - Switch left 10 (tickled mute), dub 12 safety
Anastasia Tatalina - Rocking no goggles, left dub 12 mute (stomped), right dub 12 mute (stomped).
Tess Ledeux - Left dub 12 mute
Sarah Hoefflin - Switch dub 10 dub mute (shuffled, unfortunately)
_
First place - Anastasia Tatalina
_
Second place - Lana Prusakova
_
Third place - Eileen Gu
_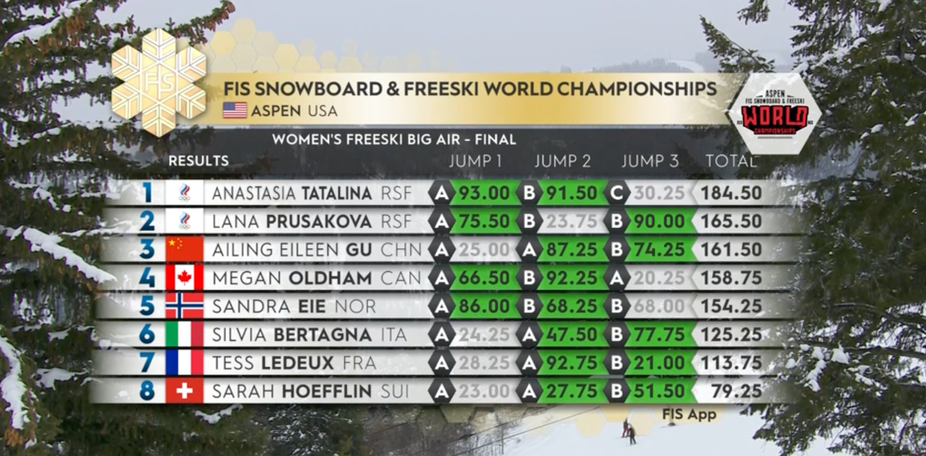 _
Best runs - Men
Thibault Magnin - Switch triple 10 (sketchy, unfortunately), dub bio 16 safety
Sebastian Scherve - Switch 18 tail, dub bio 18 mute (backseat)
Edouard Therriault - Dub 16 dub mute/guitar, Switch dub bio 18 safety
Jesper - Dub 18 blunt
Kim Gubser - Switch triple 14 'quattro', massive carved triple 16 mute
Andri Ragettli - Switch dub bio 18 (tindy/tafety), triple 19 mute (saved from a trip 18 attempt)
Evan McEachran - Triple 16 'evan grab', triple 16 mute, massive switch dub 18 tail
Mac Forehand - Dub 16 cuban to japan, switch dub 18 mute (kinda wobble style, super sick)
Oliwer Magnusson - Dub 18 Blunt (capped, huge, stomped), switch dub 18 tail
Alex Hall - Massive switch dub 18 buick (with a slight hand touch), dub 16 buick
_
First place - Oliwer Magnusson
_
Second place - Edouard Therriault
_
Third place - Kim Gubser
_