Cover Photo: Jörg Angeli/Prime Skiing
The sun was out and the course was a beauty today in Corvatsch for the final Slopestyle World Cup of the season. Snow conditions were looking a touch hard/icy but everyone threw down. This is the first cup of the season where both training and finals took place in good conditions and riders were calling it the best course too. The Hip/QP into rail double hit (section 2) was a sick addition to the course, mixing things up a bit and causing a few riders problems. Yesterday's qualifying saw the elimination of many heavy hitters, including Henrik Harlaut, Oscar Wester and James Woods. The men's slopestyle field is so stacked these days that it's inevitable. A heavy Swiss contingent made it to the final with five out of fifteen men as well as two ladies making the final. And that's not including Alex Hall who grew up there.
Men's:
Emil Granbom started the finals off with a swagger seldom seen in competition these days, sliming his way through the course. Fabian Boesch took the creative route on the hip feature, using it as a QP with a handspring frontflip to switch into a switch on back 630 and then spun like a fucking top on the jumps for a benchmark score of 90.25. Evan McEachran put down an insane switch 2 on continuing cork 4 safety which put him third despite a couple of bobbles, abandoning his run Colby Stevenson brought some flavor with a switch 2 backslide continuing 2 up top and somehow squeaked a switch dub 12 round that had yardsale written all over it, putting him provisional second with and 89. Finn Bilous had some issues on his run but stomped a beautiful carved and poked out dub 10 dripping in style. Nick Goepper went full big air dave on a triple 14 but couldn't quite hold on.
Run two saw Fabian Boesch turn it up to 11 with triple 16 at the bottom for 91.25. Teale Harle had a tiny bobble up top on a right 4 on which killed his score for that feature and pinned his score back to an 84 on an otherwise dope run. A Hall couldn't stomp his insane switch 2 on to backswap transfer clean up top meaning he didn't post a score today, before Colby Stevenson went full destruction mode, cleaning up his run and going first, somehow finding a stalefish on a switch dub 14 despite having initially missed it. Finn Bilous and Colin Wili both got hit by the 2 pretz 2 curse but went on to stomp a hung out to dry dub bio 10 blunt and switch triple 14 safety respectively. Birk Ruud put it down so clean it looked like he he was on train tracks, ending with a dub bio 14 safety for 90.13 and third place. First place qualifier Kim Gubser couldn't keep his run clean, before Andri Ragettli went insane on the last run of the day: switch on front swap transfer pretz 2, switch dub bio 10 to switch dub misty 12 to triple 16 on the jumps and spin to win on the bottom rail... and win he did knocking compatriot Fabian Boesch down to third and celebrating like... well, I'll leave that to your imagination.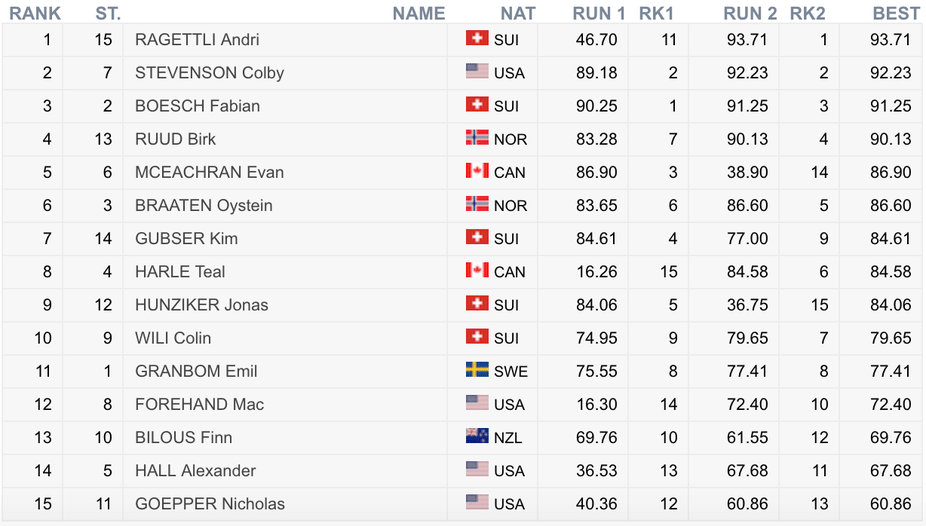 Women's:
Run one saw young Megan Oldham throw down and take an early lead, ahead of Tess Ledeux and Sarah Hoefflin who both had sick runs but had some bobbles up top. On the second run, Megan put it down again but better, with a super clean switch 2 continuing 2 up top and solid jumps including a nice switch 9, managing to bump her score up another point to 84. Silvia Bertagna had a couple of bobbles but put down a run worthy of provisional third, with clean rails and smooth flow. Sarah Hoefflin lost a shoe on a promising run after going deep on run 1. Tess Ledeux went loose but lit with a huge cork 9 (hand touch) and a big back six at the bottom (bit backseat) but definitely the most technical run of the day. Johanne Killi sent a switch 10 to the moon but couldn't stay up, leaving Megan Oldham the winner.

Winning Runs Men:
_
1. Andri Ragettli (SUI)
https://www.newschoolers.com/videos/watch/930061/Men-1st---Andri-Ragettli--Freeski-World-Cup-Corvatsch-2019
_
2. Colby Stevenson (USA)
https://www.newschoolers.com/videos/watch/930062/Men--s-2nd---Colby-Stevenson---Freeski-World-Cup--Corvatsch-2019
_
3. Fabian Bösch (SUI)
https://www.newschoolers.com/videos/watch/930063/Men-3rd---Fabian-Boesch---Freeski-World-Cup-Corvatsch-2019
_
Winning Runs Ladies:
_
1. Megan Oldham (CAN)
https://www.newschoolers.com/videos/watch/930064/Ladies-1st---Megan-Oldham---Freeski-World-Cup--Corvatsch-2019
_
2. Tess Ledeux (FRA)
https://www.newschoolers.com/videos/watch/930065/Ladies-2nd---Tess-Ledeux---Freeski-World-Cup-Corvatsch-2019
_
3. Silvia Bertagna(ITA)
https://www.newschoolers.com/videos/watch/930066/Ladies-3rd---Silvia-Beragna---Freeski-World-Cup-Corvatsch-2019