Sunny Italian skies greeted competitors for the final FIS World Cup of the season. Athletes had to endure some uncomfortable post run interviews but otherwise it was a good day in Seiser Alm. If you want to nitpick, there were clearly some speed issues with the last jump/jumps, especially on run 2 once things had warmed up but it was a good show nonetheless. Even with two Olympic medalists missing and numerous North American riders absent, the finals were stacked.
_
Men:
Run 1:
The first run is usually something of a safety but for the last slopestyle of the season, it seemed like everyone was going 100 from the off. Oscar Wester stomped a right 4 pretz 4 alongside technical jumps, Ferdinand Dahl put down a forward dub misty/bio 12 to back to back switch dub 14s and Woodsy stomped the first triple of the day but all had slight bobbles in their runs which hurt their scores. Quinn Wolferman laced a beautiful left dub misty 12 safety to back up a stellar rail run, but sadly crashed on the last hit. There were two major standouts who did put it all together though:
- Finn Bilous: Switch right 2 pretz 2, switch left 2 pretz 4, right 4 continuning 2, right dub 12 safety, switch right dub 12 and left dub 12 mute. Good enough for 88.4.
- Andri Ragettli: Andri: Switch right 2 cont 2, front swap pretz 6, sw left 2 cont 2, switch right dub 12 safety, switch triple 16 safety, switch dub misty 12 mute for 91.2.
Andri who had already clinched the overall world title, was clear about one thing in his post-run interview: "I want to win today".
_
Run 2:
The hammers kept on coming with a left dub 16 blunt from Fabian Boesch, who sadly crashed on his last hit, a notable standout. Speed was clearly worse this run with more guys crashing or tucking up harder to get things round. A tip of the hat needs to go to Antoine Adelisse for stomping back to back switch dub bios (14 to 10) and narrowly missing the podium but again, there were two standout runs:
- Woodsy: He kept his speed all the way through, went big and stomped: Switch 2 cont 2, front 6, switch 2 pretz 2, left dub 9 octo, trip 14 safety, dub 12 tail to go provisional second.
- Nick Goepper was the last guy to drop: Switch 2 continuing 2, disaster 2 pretz 2, opposite 2 cont 2, switch right dub 9, triple 14 mute, dub 12 blunt. First place! "Makes for good TV" was his comment and that meant Andri had to settle for second but did take home the overall world cup title.
_
It's fair to say there have been some question marks over judging this season and there are a couple of guys who might have questions again today. I couldn't see anything wrong massively wrong with Christian Nummedal's runs and he got super low scores on both despite seemingly solid rails and technical grab combos, so I imagine he's feeling fairly aggrieved right now. Quinn Wolferman got heavily punished for slightly opening up on his last hit which also looked harsh to me but I've only seen the runs once. I would say the final podium was fairly uncontroversial though, all three of those guys were a cut above today so ultimately it probably didn't change anything much.
_
1st: Nick Goepper
2nd: Andri Ragettli
3rd: James Woods
_
Overall World Cup Winner: Andri Ragettli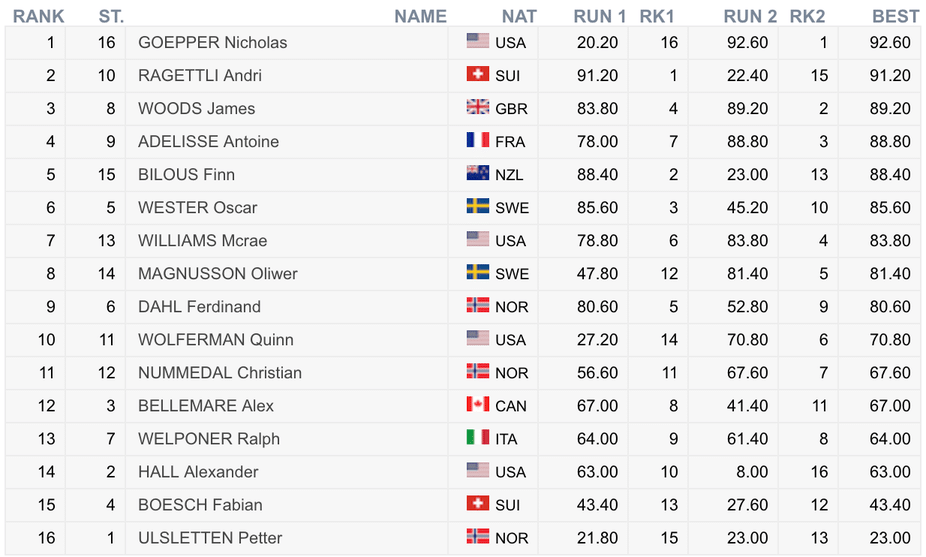 _
Women:
Some of the women were talking about speed issues from run one with Dominque Ohaco stating that she was just happy to make it over the knuckles. Only she and Caroline Claire stomped runs clean on the first time of asking, with Caroline's switch 2 on the third set of rail features setting her apart from the field. Isabel Atkin cleaned things up for run two, with her switch 9 to cork 7 combo at the bottom good enough for provisional second. Yuki Tsubota put down both ways switch 5s and a cork 7 right at the death to clinch third place but nobody could unseat Caroline Claire from the top spot today. While Jennie-Lee Burmansson couldn't put it down super cleanly in the final event of the season, she did take home the overall world cup title at the ridiculous age of 15. Who says style doesn't win anything.
1st: Caroline Claire
2nd: Isabel Atkin
3rd: Yuki Tsubota
_
Overall World Cup Winner: Jennie-Lee Burmansson