After yesterday's wind-blasted halfpipe event in Mammoth, I'm sure the slopestyle riders went to bed praying for a favor from the weather gods. If they did, it worked briefly, with conditions improved for the first run of slopestyle, and they all threw down as thanks. It was sick to see a course with a small jump in it too, so it wasn't all doubles and triples for once, we actually had mandatory 'style' tricks, or at least the best approximation of them. I have no idea why we had 16 men and just 8 women again, with the depth in women's slope these days that's just ridiculous, but maybe one day they will learn. Also, sixteen is just too many finalists on one side regardless of how good everyone is too. Otherwise, it was a pretty good watch with plenty of creativity on show from a wide range of riders.
_
Women:
Run 1:
Megan Oldham and Mathilde Gremaud couldn't put it down on the rails, so the first rider to put down a complete run was Ruyi Yang of China. I try not to hate so much these days, clearly I'm getting old, but with no poles, arms out wide, switch and forward snowplows, and clearly not much clue how to ski, it really didn't look good. And fuck it, I'm going to say it, the first obvious example of the Chinese gymnastics to freeski program in slopestyle. At the opposite end of the spectrum, shoutout to Ruby Star Andrews, not a perfect run but steezy as fuck up to the last hit and it gave her the lead at the time. That back swap continuing two was buttery smooth. Johanne Killi went K-Fed on the rainbow and back-to-back switch 7s on the jumps for a provisional lead. Sarah Hoefflin messed up her rails, did a beauty of a cork three, and then sent a switch five past the final landing line and somehow survived, even if her run didn't. Kirsty Muir, last to drop put down a peach of a safety run (left 2 cont 2, switch left 2 to forward, front 2 from the rainbow, switch right 7 safety, switch left 5 japan, right cork 7 safety, left 9 tail) to slot in behind Johanne (to my slight surprise).
_
Run 2:
Run two started with a smattering of crashes as the wind picked up a lot. Sandra Ei, who had the lowest first run score I remember seeing with a 2.8, had one of the craziest escapes I've ever seen lately with a dub 10 to flying v knuckle landing on the first jump. Otherwise, it was a good day to have put one down in run one because nobody could really stomp on run two. In fact, after Johanne Killi aborted mission on her penultimate jump, we saw the course put on hold. Even with a break, Sarah and Kirsty couldn't defeat the wind, leaving the podium the same as it was after run one. Congratulations to Ruby Star Andrews on her first-ever podium.
Results:

_
Men:
Run 1:
Alex Hall opened things with a beauty of a run. The switch lip to handrag back two was the highlight, but the dub 14 japan was up there and the single cork 7 with a bring back/stall to 5 was sick too, not sure we've seen that one but I could be wrong. The score seemed mega low but there we go, maybe he missed a grab somewhere? Cody Laplante did a cork 14 tail which was pretty unique and scored an 81 for his efforts. Konnor Ralph spun a lot... nice 2p2 up top, switch left dub 16 to right dub 14 was the most spinning we'd seen on the jumps at this point. He took the lead so it clearly paid off. Mark Hendrickson went to the moon on a last hit switch dub 14 mute and that put him in provisional second with an 84. Colby Stevenson wasn't perfect but he had a ton of bangers. Switch 4 continuing 4, back to back right nosebud 7 to left nosebutter dub 12, and a switch dub 14 stale on the last hit. Again, the score seemed low.
Noah Porter Maclennan had a dope run, but even he was stunned to receive a 91 at the end of it and take the lead. The laced switch 4 pretz 2 was definitely deserving of some points though. That lead didn't last long because Birk Ruud put it down. Nosebutter 4 pretz 2 and switch 2 pretz 4 up top, switch left dub 16 mute to forward left dub bio 14 at the bottom and 94 points. Max Moffat threw down too, the hand drag 5 over the rainbow was my favorite moment, but the back do back dub 14s on the final two jumps were sick too. Only an 89 but a provisional podium spot. Andri threw down too, switch 2 p 4 on the closeout, switch dub bio 12 double mute to dub 16 tail on the final two. Only fifth though so I guess it doesn't always go his way. Sebastian Scherve spun and won on the rails including a switch 2 continuing 3 swap continuing two on the flat gap down and the dub bio 14 mute on the final jump was laced, giving him second place at the end of run 1.
_
Run 2:
Before run 2, we saw another lengthy course hold and the wind started blasting the slopestyle course. Alex Hall tried to step up his final feature and came up short. Cody Laplante scratched and threw a dope cork 450 to tokyo drift on the final feature. Konnor Ralph had a huge overshoot on the final jump but luckily he was ok. At this point, it was pretty clear speed was seriously unpredictable once more. Mac Forehand absolutely laced a run that I thought might take the lead (front swap cont 4 on the closeout, switch 2p2 on the flat gap down, switch left 2 pretz 4 on the rainbow, left nosebutter 9, switch right dub 10, switch left dub 12 nose mute, right dub 16 cuban/stale, all with steeze) but it was only 93 for third. Colby Stevenson put down almost the same run as run one, but with 'just' the switch 4 to forward on the tire gap rail but everything else cleaner, he didn't score great and he was definitely surprised how low it was. Noah P put it down 'better' in his own opinion but scored a full 11 points lower. Birk couldn't improve, leaving the door slightly ajar for those looking to challenge his lead but ultimately it wasn't to be. Andri stepped up his penultimate hit to switch dub bio 16. Enough for third but in fairness, his rails weren't as good as the two leaders. Sebastian Scherve was last to drop but it wasn't to be, leaving Birk with the win but taking home a silver for his own efforts.
Results: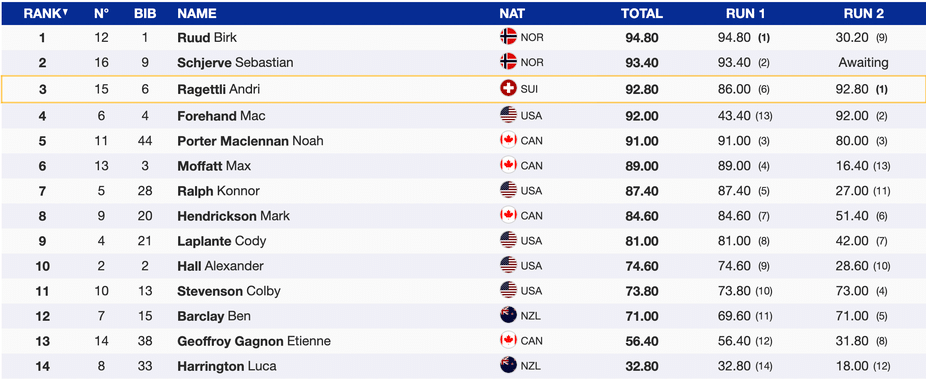 _
Full replay (may need a VPN):
https://www.newschoolers.com/videos/watch/1063376/FIS-Freestyle-Skiing-World-Cup---Slopestyle---Mammoth
*Sorry this appears to have been taken down*