The second World Cup of the year went down this morning in Stubai, another competition that will determine who we see in Beijing. With a 2 runs, best run counts format, a great looking course and perfect conditions, this was set for this to be a belter.
The runs were judged in 5 sections with two jumps leading into three scored rail sections; he inverse of what we normally see with the money booters at the bottom. A few big names were missing from the start list and a few fresh faces filled the gaps. Eileen Gu fell in training and so did not ski in qualifiers with Alex Hall and Henrik Harlaut failing to qualify also.
_
Women's Highlights
Run 1:
Kirsty Muir put down a good first run with a 9 blunt and switch bio 9 on the jumps followed by a strong rail section. It was a strong first run awarded 69.46, landing her third place for the remainder of the first round. Sarah Hoefflin came out swinging lacing up a switch 10 mute to switch 7 safety tweaked really nice, bringing the tech into the bottom section with a clean lip 2 on and front swaps to forward scoring well; 80.30 put Sarah in first for the time being. Most of the rest of the field took falls or had sketchy landings that rendered their scores uncompetitive. Kelly Sildaru made her mark on the jumps with a switch 10 mute followed by switch 9 lead blunt. Her first run score of 87.07 put her in first.
_
Run 2:
The second set of runs contained 4 competitively scoring runs. Mathilde Gremaud took nasty slam on a switch 7 taking a fall hard to her back, although sitting up post-fall Mathilde, was evacuated by helicopter. Heal up quick! Kirsty Muir managed to clean up her run and some flavour. She boosted her score to 74.46 worthy of the bubble spot of 3rd for the rest of the round. Sarah Hoefflin couldn't clean up her run so stayed with her first run score of 80.30, and sitting comfortably in second.
Joanne Killi went huge on the jumps, 9 blunt to switch 9 japan (to the Gucci plateau) and had a nice techy rail section, this was a little less clean than Kirsty's runs but the extra tech awarded her a couple extra points, giving her a final score of 78.32 and bumping Kirsty into 4th. Kelly Sildaru came through and gave herself even more breathing space at the top of the podium, dropping a super clean switch 10 to switch 9 on the jump section with a bolts 2p2 on the down rail, really setting this section apart from the rest of the field. She gained an extra couple of points to take the W with 88.68
_
Podium Runs:
Johanne Killi
https://www.newschoolers.com/videos/watch/1018772/Kill-R2-Trimmed-m4v
_
Sarah Hoefflin (some stream issues meant this isn't the most well captured run...)
https://www.newschoolers.com/videos/watch/1018773/Sarah-Trimmed-m4v
_
Kelly Sildaru:
https://www.newschoolers.com/videos/watch/1018781/Kelly-R2-Trimmed-m4v
Results: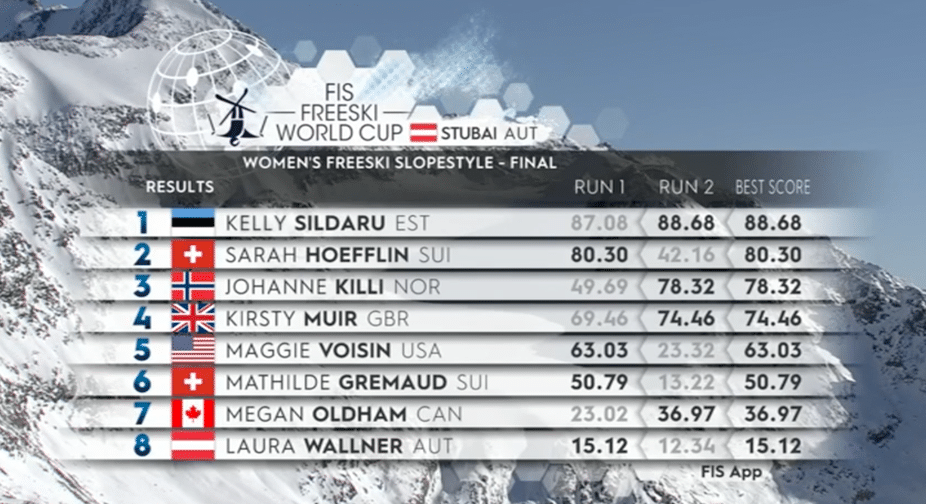 _
Mens Highlights:
_
Run 1:
Only a couple of runs scored in the 80s in the first runs, coming from Birk Ruud and Hunter Henderson. Birk Ruud took the top spot with an ultra clean run; Switch left dub 16 mute, right dub 14 safety followed by 2 continuing 2, 4 to forward, with a backslide to switch on the set up feature ending with a bolts switch 4. earning him a 87.60 and the top spot. Hunter Henderson went into 2nd place with a 83.74, lacing back-to-back dub 14 lead blunts. He nailed the wallride feature with a 180 in to switch 2 pretz 2. Ferdi, who had by far the best rail section of the day both runs finished up run 1 in third on 78.98
_
Run 2:
Ferdi cleaned up the jumps for run 2; switch dub bio 12 blunt to dub bio 12 safety. His rails were techy and smooth choosing to come off the first of the flat down transfer rails early, to then switch lip 2 continuing 2 the down rail. Ending the run with a super fed on the S-rail and being the only rider of the day to hit it earning 86.06, just unable to take second from Max Moffatt laid down a clinic in fast techy rail riding after nailing his jump runs, who'd earned 86.26 in his second run. Birk Ruud didn't improve on his first run score of 87.60 taking home the first slopestyle W of the winter.
_
Podium Runs:
_
Ferdinand Dahl
https://www.newschoolers.com/videos/watch/1018778/ferdi-trimmed-m4v
_
Max Moffatt
https://www.newschoolers.com/videos/watch/1018777/Moffatt-trimmed-m4v
_
Birk Ruud
https://www.newschoolers.com/videos/watch/1018779/Ruud-trimmed-m4v
_
Results: