Cover photo: US Ski & Snowboard (from sunny qualis day)
Today saw the Toyota U.S. Grand Prix, a FIS World Cup Halfpipe event and US Team Olympic qualifier, go down. Athletes in Copper this last week have been calling this one of the best halfpipes they've ridden in a long time. Both Canada and US Freeski fielded stacked rosters of skiers who were competing for both the medals and ranking points towards their Olympic places. The stage was set for an all time show, but unfortunately, the weather gods didn't quite get the memo. Conditions in Copper were overcast...
_
Highlights:
Run 1:
Women. Right off the bat, the women made it abundantly clear that we were going to see a healthy amount of variations in all their bags. Flat 5s, clean grabs, it's all clicking for the women with strong foundational scores at the end of the first runs. Eileen Gu would find herself sitting atop the boards after the first round with a score of 90.50, followed closely by Kelly Sildaru with an 88.50.
Men. Double cork 12s both directions as an opening runs from Marineau and David Wise, followed by a clean dub 14 from Birk Irving was enough of an indicator that the guys were not holding back. Consecutive absolute knockout punches from Alex Ferreira would give him the top slot with a score of 93.50 at the end of the first round, just holding out against the kiwi Nico Porteous and Brendan MacKay.
_
Run 2:
Women. Rachel Karker punches back from last place in the first round and finds herself sitting comfortably in second place after her second run. Locked in spin game propelled her forward with a score of 89.50 knocking on the door of Gu, who could not manage to improve her score this round.
Men. Not too much shuffling of the scoreboard this round, but MacKay was able to bump his score up by a quarter of a point with back-to-back dub 12s and solid grabs, but remains in that 3rd place slot. Noah Bowman and Dylan Marineau would be the only others out of a field of 10 to improve their scores in this round.
_
Run 3:
Women. Karker was again able to bump her score with clean re-entries and locked in 10s in the final round. Although claiming only another half-point, she gets to finish the day with a solid score of an even 90.
Men. Even fewer improvements for the men in this final round, as the guys just couldn't seem to zip it up tight when they needed to the most.
_
Results: Close scores from all the top slots today, can't wait to see all these competitors back duking it out again soon.
Women: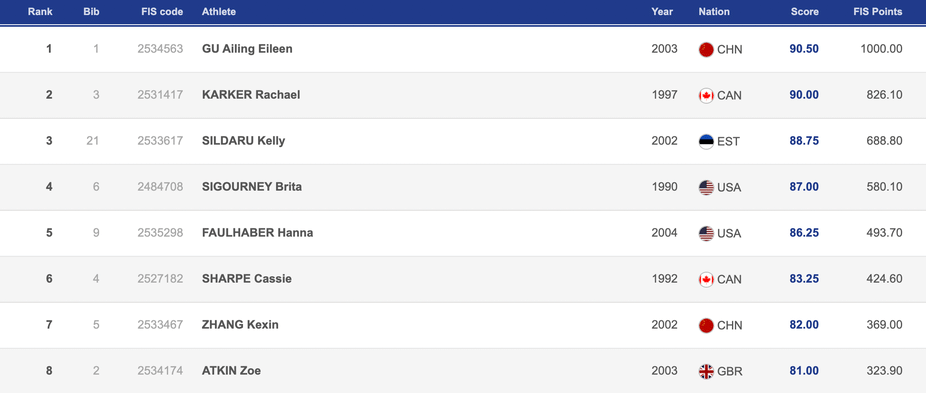 Men: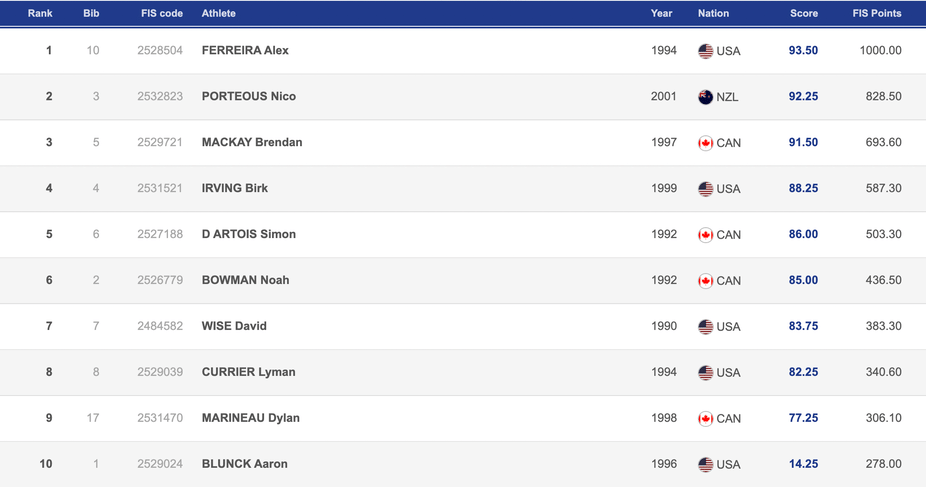 _
1st Place: Eileen Gu
https://www.newschoolers.com/videos/watch/1021781/Gu-Ailing-Eileen--CHN----Winner---Women-s-Halfpipe---Copper-Mountain---FIS-Freestyle
_
2nd Place: Rachel Karker
https://www.newschoolers.com/videos/watch/1021783/Rachael-Karker--CAN----2nd-place---Women-s-Halfpipe---Copper-Mountain---FIS-Freestyle
_
3rd Place: Kelly Sildaru
https://www.newschoolers.com/videos/watch/1021782/Kelly-Sildaru--EST----3rd-place---Women-s-Halfpipe---Copper-Mountain---FIS-Freestyle
_
1st Place: Alex Ferreira
https://www.newschoolers.com/videos/watch/1021784/Alex-Ferreira--USA----Winner---Men-s-Halfpipe---Copper-Mountain---FIS-Freestyle
_
2nd Place: Nico Porteous
https://www.newschoolers.com/videos/watch/1021785/Nico-Porteous--NZL----2nd-place---Men-s-Halfpipe---Copper-Mountain---FIS-Freestyle
_
3rd Place: Brandon Mackay
https://www.newschoolers.com/videos/watch/1021786/Brendan-Mackay--CAN----3rd-place---Men-s-Halfpipe---Copper-Mountain---FIS-Freestyle